Manchester United vs. Chelsea: Breaking Down the Tactical Battles Ahead
Getty Images/Getty Images
It somehow seems too early in the season to have one of the standout fixtures on the calendar.
For most teams, the Premier League is only one game old. We're still getting used to having a weekly serving of football.
But on Monday night, Manchester United play host to Chelsea at Old Trafford.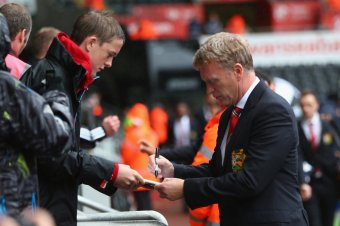 Michael Steele/Getty Images
The match, featuring two newly-hired managers, is sure to be a fiery one.
Jose Mourinho and David Moyes have already spent much of the summer battling for Wayne Rooney's services, but this time football takes centre stage.
The Blues are thought by many to be the favourites to win the league this season, with United not far behind.
They are two giants of the British game.
This article will preview the main tactical battles that will occur this Monday.
Phil Jones vs. Eden Hazard
Belgian attacking midfielder Eden Hazard will be Mourinho's key attacking body this season.
Speaking to reporters, Mourinho said of the 22-year-old, via ESPN:
I think at this talent level he is somebody very above us. I want to give him that responsibility and ambition for the kid to be better and better and to express himself on the pitch match after match.
Last season Hazard started strongly, then briefly dipped in form, before reminding everyone what a top talent he is in the latter stages.
He is an elite player capable of scaring the socks off opposing defenders.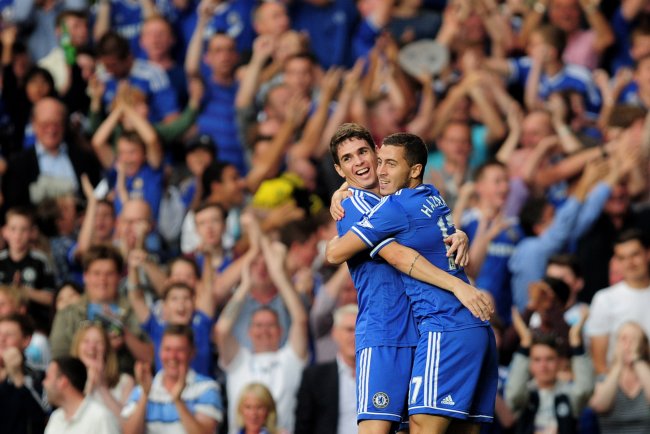 Jamie McDonald/Getty Images
He is quick, skillful, can pass and shoot and do just about anything a world-class attacking midfielder needs to.
United's Phil Jones will likely be the player tasked with marking Hazard on Monday.
Jones also seems to be key in his manager's thinking as he tries to fulfill the immense expectations his previous boss has of him.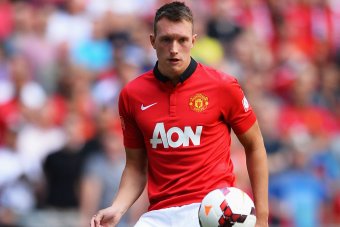 Laurence Griffiths/Getty Images
As he showed last season, he is an adept man-marker.
If Moyes is bold, he may sacrifice the defender simply to keep a lid on Hazard.
Jones' balance will be of vital importance in this matchup. Hazard can go left and he can go right without so much as a warning.
For Hazard, he must use Jones' occasional over-exuberance against him, luring him into ill-advised slide tackles and overly-aggressive play.
He is the quicker, more agile player.
Nemanja Vidic vs. Fernando Torres

Manchester United powerhouse Nemanja Vidic surely has the edge over Chelsea striker Fernando Torres.
But then, the Serbia international usually has the edge over most forwards.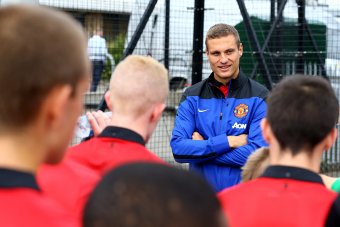 Jan Kruger/Getty Images
After Robin van Persie, Vidic is arguably the player most vital to the Red Devils' hopes every season.
His injury last term led to massive defensive failings, threatening the side's title chase.
His return in December unsurprisingly coincided with a complete turnaround in fortunes as the side conceded only three goals in an 11 game stretch.
He is physical, tactically astute and aerially dominant.
Torres meanwhile seems to be edging teammates Romelu Lukaku and Demba Ba for the starting role for Mourinho's side.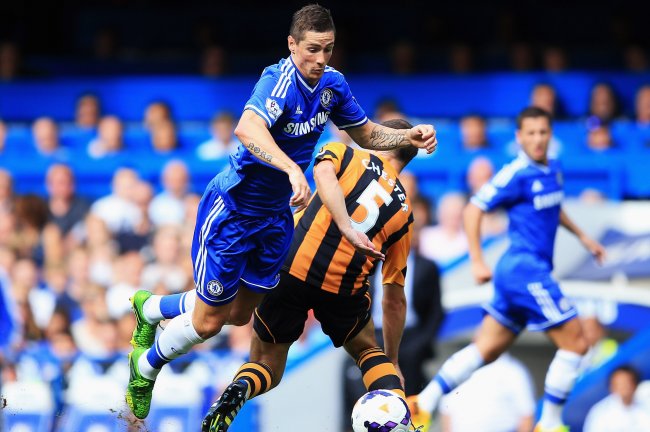 Richard Heathcote/Getty Images
Despite talks of a comeback, he is yet have shown he can be that reliable presence up front that the Blues need.
His weaknesses are the reason the club is chasing Rooney.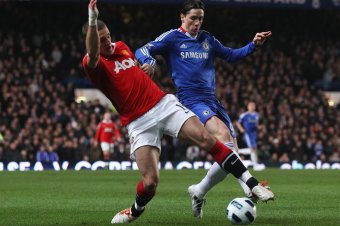 Clive Rose/Getty Images
Vidic must not underestimate the Spaniard though, who is still capable of providing a creative outlet for those around him.
The defender will dominate in the air, but he must be wary of Torres when he has his back to goal.
The Chelsea attacking trio of Hazard, Andre Schurrle and Oscar will be looking to feed off him wherever possible.
Vidic must cut off the channels, while Torres must look to create space in and around the penalty area as much as possible.
The Heart of the Game
Holding midfielder Michael Carrick has had mixed performances against the Blues in recent times.
It wasn't too long ago that Ramires by far got the better of the Englishman in gaining and keeping control of the middle of the park.
Carrick's style is far more understated than the bustling, dynamic Ramires.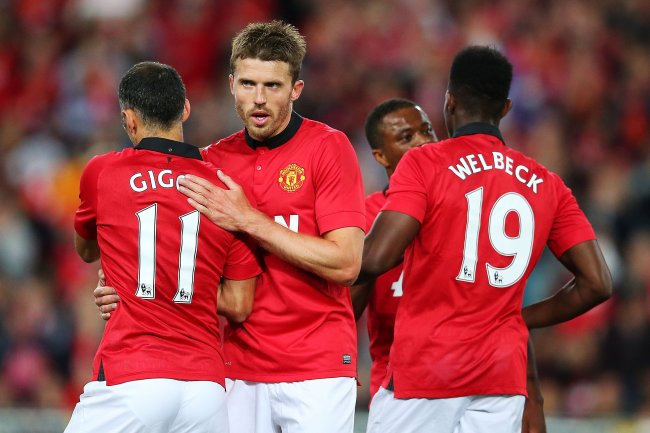 Brendon Thorne/Getty Images
His is a controlled, almost static style that allows his teammates to move around him.
In the 4-3-3, his midfield partners Tom Cleverley and Shinji Kagawa do the leg work, he distributes and provides a home base if you will.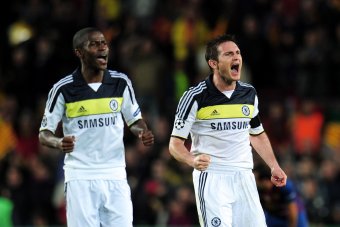 Shaun Botterill/Getty Images
Ramires and Frank Lampard will take it turns bombing forward. Carrick must be aware of this and track accordingly.
The Blues will favour central penetration, while United will look to push the ball out to the wings far more.
Also key for both teams is the degree to which pressure is exerted higher up the pitch.
So far under Moyes, United have applied this well, Chelsea less so.
Ultimately, it would be fair to say that whichever team wins the central midfield battle, will ultimately triumph.
Robin van Persie vs. Branislav Ivanovic
It may seem crazy to say, but Robin van Persie can still improve for Manchester United.
The Dutchman scored 30 goals in all competitions last term, and yet there is surely more to come.
Take for instance his form in the early parts of 2013: he was largely anonymous.
His aerial ability also needs to develop, especially in Moyes' width-orientated system. His header against Wigan Athletic in the Community Shield was a fine start.
Much of the responsibility for stopping van Persie Monday will fall on Branislav Ivanovic's shoulders.
The Serbian centre-back was perhaps lucky not to see red in the Blues' midweek win over Aston Villa, so will start at Old Trafford.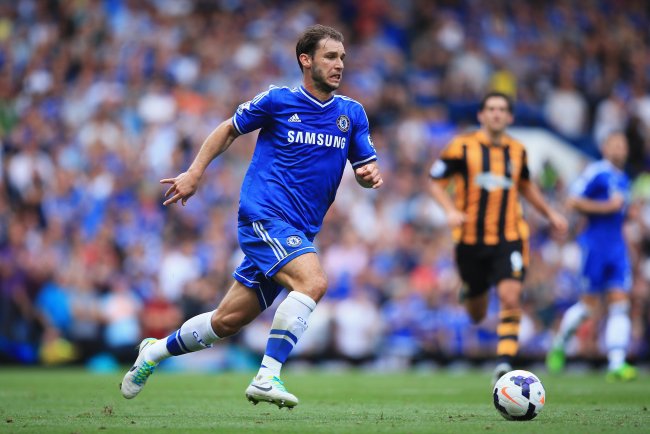 Richard Heathcote/Getty Images
He may seem reckless and potentially error-prone at times, but the 29-year-old has all the tools needed for a player in his position, much like Vidic.
RvP is a supreme technical player, but part of his strength is his ability to drop back and play across the face of the box, causing havoc between the lines.
Ivanovic will not man-mark the Dutchman, but will, with Gary Cahill, be charged with tracking the No.20 when he roams.
Give him an inch of space in the box, and the Blues will be punished.
Excuse the cliche, but basically, stick to him like glue.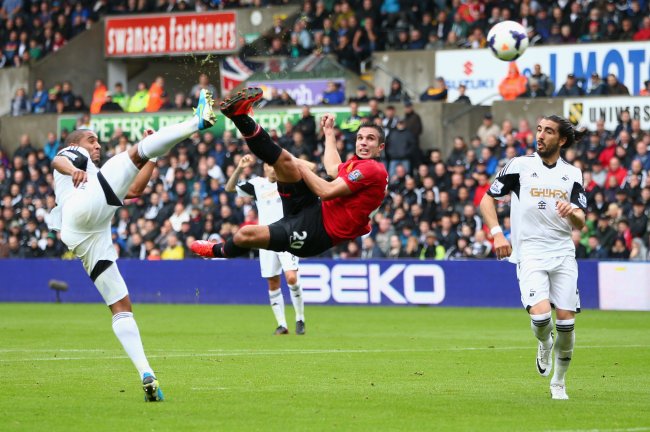 Michael Steele/Getty Images
Based on recent results, it is difficult to pick a winner for when the two sides meet.
Whoever wins more of these tactical battles, though, will stand a fair chance of emerging victorious.
Who do you think will win this Monday?
This article is
What is the duplicate article?
Why is this article offensive?
Where is this article plagiarized from?
Why is this article poorly edited?