Fantasy Football 2013: What Did We Learn from Friday's Preseason Week 3 Games?
Jeff Hanisch-USA TODAY Sports

Week 3 of the NFL preseason is underway, and before you know it, the Baltimore Ravens and Denver Broncos will be kicking off the 2013 season on Sept. 5.
That means we've hit the home stretch of fantasy draft season, with only two more big weekends of drafts before the season gets underway. For fantasy owners who haven't drafted yet, the pressure's on to make final preparations.
Examining the "dress rehearsal" preseason games from this weekend is a big part of last-minute planning. With that, here's a look at what we learned from the pair of contests on Friday night.
Begin Slideshow

»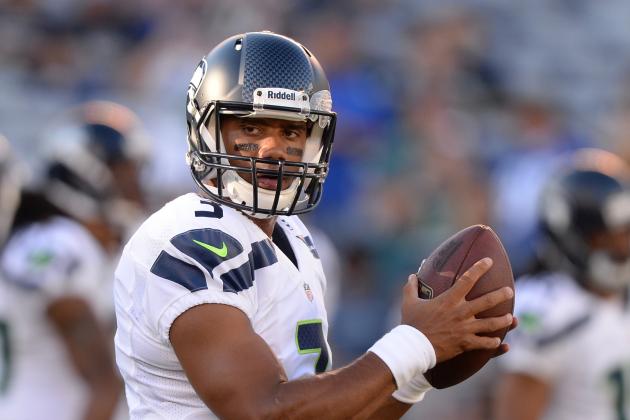 Harry How/Getty Images

If you're looking for a reason to wait on a fantasy quarterback in 2013, look no further than Seattle's Russell Wilson.
From Week 12 to Week 16 last year (the fantasy stretch run and playoffs), Wilson was fantasy football's third-ranked quarterback. However, despite that finish, Wilson isn't generating a great deal of interest from fantasy drafters in 2013. He has an average draft position of QB No. 11, according to My Fantasy League.
If the opening quarter of Friday's game was any indication, that might make Wilson one of the steals of 2013 under center.
Wilson was ruthlessly efficient in the first quarter against the Packers, connecting on all six of his pass attempts for 90 yards while adding a 13-yard scramble. Granted, Wilson cooled off after that and threw two interceptions, but his fantasy upside still far outweighs his asking price on draft day.
That may not have been evident for most of the game Friday night, but wait until the Seahawks open up the playbook and break out the read-option, which they haven't done in the exhibition season.
There will be a lot more quarters that look like the first quarter did on Friday.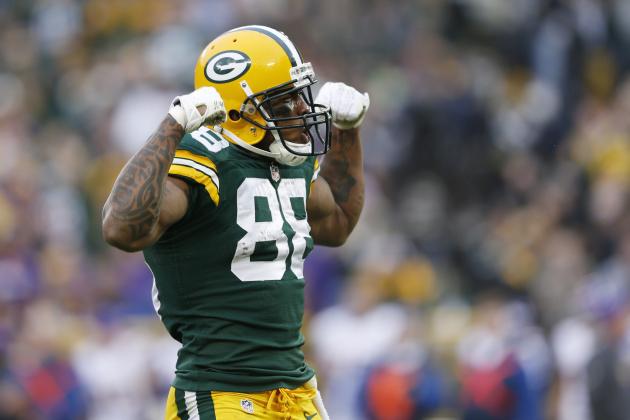 Joe Robbins/Getty Images

If you say the name "Jermichael Finley" to most fantasy owners, you'll likely get a dirty look followed by some muttered words I can't write here.
The reason for that disdain is that for all of Finley's potential in the prolific Green Bay offense, the 26-year-old has never turned that potential into statistical production. With that said, in a year where there's quite a bit of fantasy uncertainty at the tight end position, it appears that Finley may finally be ready to have his breakout year.
Finley was a big part of the passing game in Green Bay's second preseason game, reeling in four passes for 78 yards. That momentum carried over into Friday's contest, with Finley ranking second on the team in targets while Aaron Rodgers was in the game.
Finley was also regularly targeted by backup Graham Harrell, although given Harrell's inaccuracy, "targeted" may not be the best choice of words.
Finley, who Bleacher Report's own Zach Kruse recently wrote "has all the ingredients necessary to finally produce his breakout campaign," just missed a pair of touchdown catches. Though we seemingly hear it every year, his fantasy value is trending upward.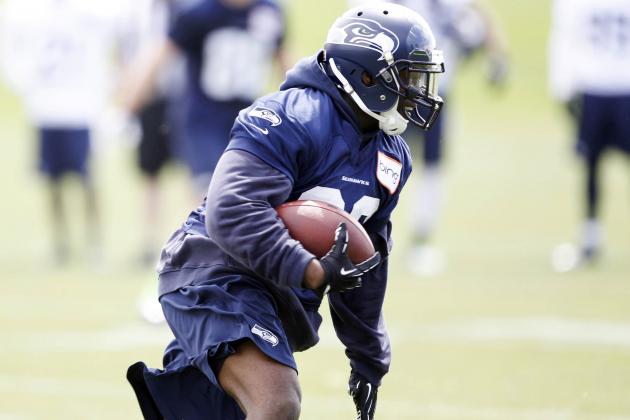 Joe Nicholson-USA TODAY Sports

When the Seattle Seahawks drafted Texas A&M running back Christine Michael in the second round of April's NFL draft, it raised some eyebrows in the fantasy community.
Would Michael supplant second-year pro Robert Turbin as Lynch's primary backup (and fantasy handcuff)?
That question appears to have been answered, and the answer is no.
When Lynch exited against the Packers, it was Turbin who came into the game. The former Utah State star ran effectively, gaining 50 yards on 10 carries and adding four catches for 22 yards.
Michael gashed the Packers for a 43-yard touchdown in the third quarter and showed some explosiveness, but fantasy owners looking for late-round insurance against a Lynch injury should look to Turbin.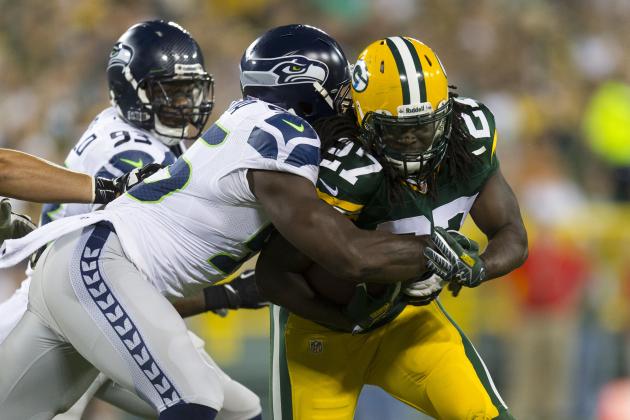 Jeff Hanisch-USA TODAY Sports

Rookie Eddie Lacy made his preseason debut against the St. Louis Rams last week, and after picking up 40 yards on eight carries, his fantasy draft stock got a boost.
The game against the Seahawks threw some cold water on Lacy's fantasy prospects this year.
First, while he received the most carries of any Green Bay back, it was DuJuan Harris who drew the start. Even when Lacy did get into the game, he struggled mightily against a stout Seattle defense. Lacy's first five carries amounted to six yards. On the next two, he lost five of those back.
It wasn't just Lacy. Green Bay was awful running the ball as a team against a Seattle defense that was 10th in the NFL against the run last year. However, Lacy's stat line of eight carries for minus-five yards (yes, you read that right) is hard to imagine.
It's been more than 40 regular-season games since the Packers had a 100-yard rusher, and counting on Lacy to reverse that trend with regularity may be wishful thinking.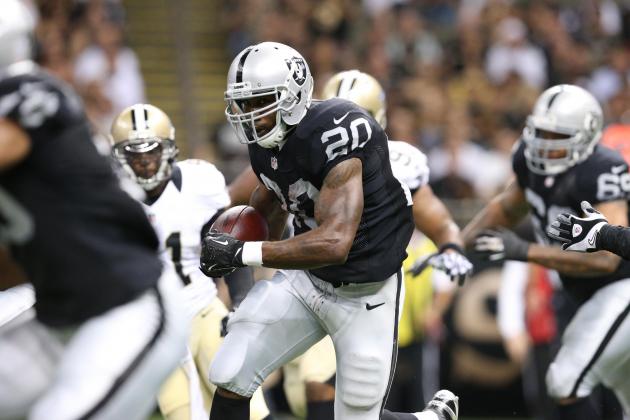 Crystal LoGiudice-USA TODAY Spor

In news that should come as a surprise to absolutely no one, Oakland Raiders running back Darren McFadden sat out Friday's game with the Chicago Bears.
According to Kevin Patra of NFL.com, McFadden was rested as a precaution after the 25-year-old suffered a "minor" shoulder injury in last week's game with the New Orleans Saints.
The injury might be minor, but it underscores a major problem with McFadden for fantasy owners. For whatever reason, he just cannot stay healthy.
He had missed 16 games over the past three seasons, and now McFadden is once again nicked up. The games haven't even started to count yet.
Talented though he may be, counting on Darren McFadden as your second fantasy running back is begging for trouble.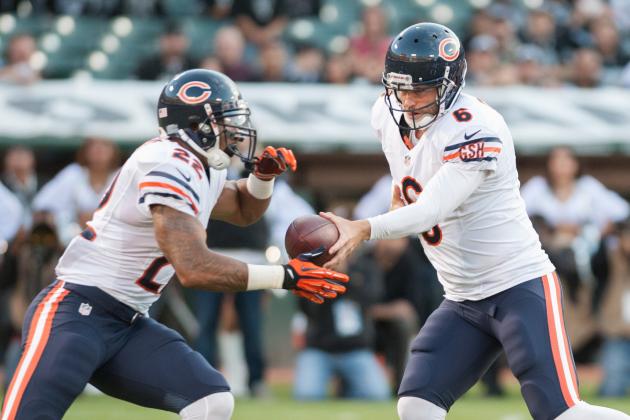 Ed Szczepanski-USA TODAY Sports

According to the average draft position data at My Fantasy League, Chicago Bears running back Matt Forte is the 11th player at his position being selected in fantasy drafts this year.
If the past two preseason games are any indication, that ranking is low.
Last week against the San Diego Chargers, Forte carried the ball eight times for 74 yards, including a 58-yard scamper.
Forte did that one better in the first half of Chicago's game with the Raiders, picking up 110 yards on eight touches, including a 32-yard screen pass for a touchdown.
For those keeping score, that's 16 touches for 184 yards and a score in about four quarters.
Granted, it's a small sample size against two subpar teams, but if Michael "The Buzzard" Bush hadn't vultured two touchdowns, Forte's numbers would have been staggering.
Forte is shaping up as a fantastic second-round pick, especially for a team that elects to grab Detroit Lions wide receiver Calvin Johnson in the first.
Kelley L Cox-USA TODAY Sports

We have learned something about the Oakland Raiders in the 2013 preseason.
They're terrible. Like 0-16 terrible.
The Raiders have a quarterback who can't throw the ball, a running back who can't stay healthy and a defense that would give up 20 points per game in the Pac-12.
This is not an exaggeration. The Oakland starters have been thoroughly outclassed over the past two preseason games.
At this point, drafting any Oakland offensive players, whether it's McFadden or wideout Denarius Moore, is risky at best.
Sorry, Raider Nation. It's going to be a long year.
Ed Szczepanski-USA TODAY Sports

It's never wise to read too much into one preseason game, but fantasy owners considering using a pick on Chicago Bears wide receiver Alshon Jeffery (or those who already did) had to like what they saw Friday night.
After ignoring any wideout not named Brandon Marshall against the Chargers, Jay Cutler was locked onto Jeffery against the Raiders.
The second-year pro was targeted eight times against Oakland by Cutler, reeling in seven of those passes for 77 yards.
It's only one game, but Jeffery showed considerable promise before injuries derailed his rookie year, and the youngster could make for a nice upside WR No. 4 pick.