The Most Original NBA Jerseys of the Last 20 Years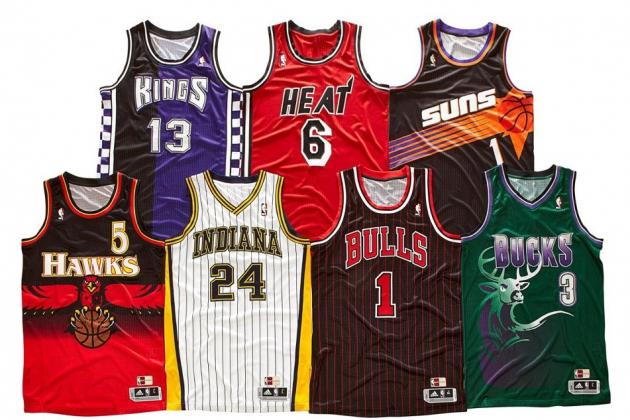 Photo courtesy of dayandadream.com.
The New Orleans Pelicans recently unveiled the uniforms they'll be wearing for the 2013-14 season, and the overwhelming sentiment seemed to be this: boring. And that's not too surprising.
To be frank, there hasn't been all that much creativity or originality when it comes to NBA jerseys in recent years. Not even in the alternates. It's easy to understand why there have been so few risk-takers—boring is still better than ugly, and some of history's more unique designs are definitely hard to look at.
Still, there's something to be said about an original jersey, even if some of them are a little tough on the eyes. So to make up for yet another disappointing reveal, let's take a look at a few of the most unique jerseys of the last 20 years.
All dates courtesy of NBA.com unless specifically stated otherwise.
Begin Slideshow

»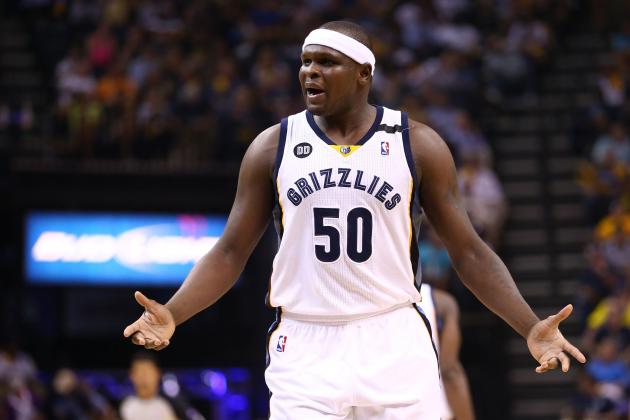 Ronald Martinez/Getty Images
Something tells me Zach Randolph (or really any of the Grizzlies) wouldn't have loved suiting up in the franchise's old jersey.
This jersey makes the cut thanks to the horrendous-looking trim surrounding the neck and shoulder areas. You certainly don't see that very often. Probably because it's one of the uglier things to ever be put on a jersey, but still. Definitely original.
There's a red chili pepper on this jersey.
Honestly, aside from its bizarre color scheme (one that coincidentally matches the Vancouver Grizzlies' original uniform perfectly), that's about all that lands this get-up on the list. But again, it's a chili pepper on an NBA jersey. That seems like enough to merit inclusion.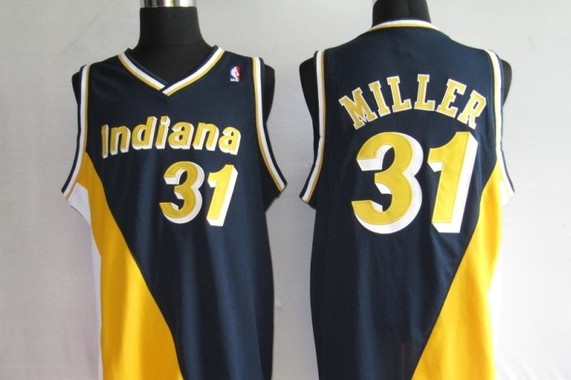 Photo courtesy of shortstodoors.com.
If this jersey reminds you a bit of running gear, don't be surprised—it was actually designed by Olympic sprinter Florence Griffith-Joyner (per NBA.com).
There's not all that much to this jersey in terms of design, but the diagonal slash running across the front of it (as well as the shorts) isn't something you see too often, and it gives the jersey a unique look despite its simplicity. The Indiana Pacers wore this jersey for the better part of the '90s before switching to a pinstriped design in '98.
Nothing against the Pacers' current attire, but give me this holdover from the Reggie Miller era any day of the week.
Photo courtesy of americanmemorabilia.com.
This jersey makes the cut simply because whoever designed it wisely chose to scrap the nonsensical "Jazz" idea and focus on something that actually relates to Utah.
It's not exactly a secret that the "Jazz" moniker doesn't hold the same relevance in Utah as it did in New Orleans. Yet somehow, it took until 1996 for the Utah Jazz franchise to have a jersey that actually represented the state.
To be honest, the Jazz haven't exactly taken a lot of risks when it comes to jersey design (seriously, just check out a few of them), and it's nice to see that one was taken for this particular uniform. Even if that risk equated to a giant set of cartoon mountains.
Photo courtesy of totalprosports.com.
Putting a cartoon mascot on the front of a jersey alone can't be counted as original (not in the '90s, anyways), but when it's the size of the mascot on this Atlanta Hawks jersey? Yup, that'll do it.
I mean, just look at that thing. The entire front of the jersey isn't enough for it—its wings actually extend all the way around to the back. It's enormous. That basketball it's holding might actually be life-sized. This will never, ever happen on a jersey again. Guaranteed.
Even the color scheme on this one is pretty unique. The black fading into red at the bottom of the uniform looks great and is something the Hawks should consider messing with on future alternates.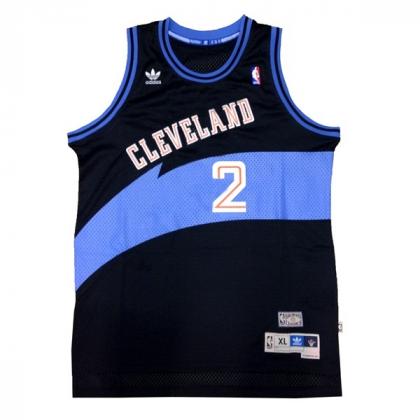 Photo courtesy of cavaliersteamshop.com.
The Cleveland Cavaliers trotted out quite a few different jerseys before this bad boy was introduced in 1994, but this is the first that's really eye-catching in terms of design.
The blue and black color scheme is a drastic departure from the franchise's original wine and gold, and the jagged slash and diagonal "Cleveland" running across the jersey's front are a pretty neat look as well.
The Cavs' record in this uniform (132-114 per NBA.com) was solid, but unfortunately the franchise switched over to another design just three years later.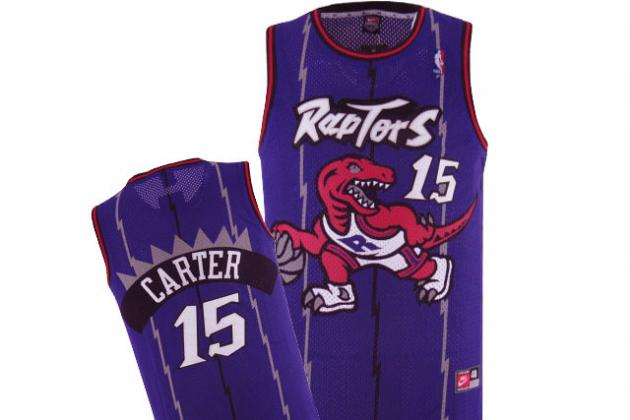 Photo courtesy of newfashionjerseys.com.
Hoo boy. This 1990s Toronto Raptors jersey is original in a couple of ways.
The color scheme is probably the first thing that jumps out at you—purple with silver and black pinstripes isn't exactly a common look. But what really makes this jersey so different is the big, cartoon dinosaur plastered to its center.
Honestly, the cartoon raptor has to be right up there in the imaginary "Sports Logos Hall of Fame" just because it's so bizarre. The designers were clearly going for a ferocious-looking dinosaur, but really hijacked the whole thing by dressing it in a full basketball jersey and what appears to be a pair of sandals. Good try though, guys. Still get points for originality.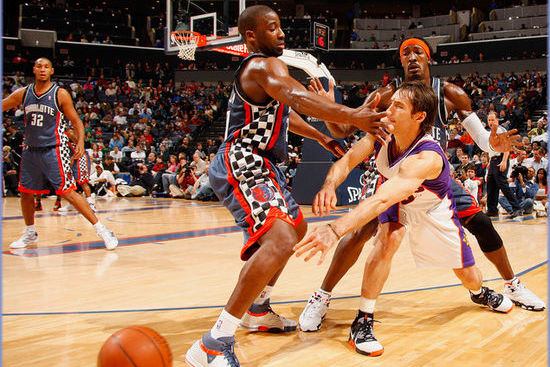 Photo courtesy of unathleticmag.com.
It's a NASCAR-themed jersey. Seriously. The checkered pattern running down the uni's side represents the checkered flag dropped to signal the end of a race.
Pretty sure there's no need to explain why something like this is unique, but just in case...how many other NASCAR-themed NBA jerseys have you seen in your lifetime? None? Sounds about right. In all honesty, this and the jersey following it would have been even higher if they were worn a bit more often.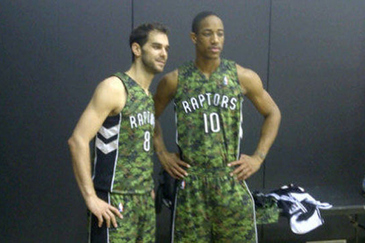 Photo courtesy of buzzfed.com.
Like it or hate it (and if you actually like it, then you're probably the first), you have to admit that the Toronto Raptors' camouflage jersey is pretty dang original.
The Raptors are the only NBA team in history to suit up in camouflage (per ESPN.com's Paul Lukas), and while the actual jersey itself isn't very cool, their continued support of the Canadian military certainly is. The best thing about this jersey? The fact that DeMar DeRozan whipped out this vicious reverse while in it.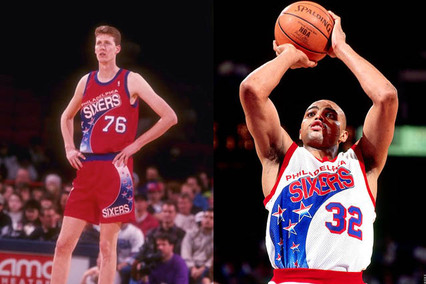 Photo courtesy of elitedaily.com.
For the most part, the Philadelphia 76ers franchise has a history of bland uniforms. They're not necessarily bad, they just seem uninspired. And that's what makes a jersey like the one shown above a breath of fresh air.
To be fair, the design on this jersey—a royal blue streak filled with red, white and blue stars—is a little bit much. But it's very different than most uniforms, including those of the 76ers (which previously looked nearly the exact same but with "Phila" or "Sixers" written in different fonts). Say what you will, this jersey has a unique flair to it and fits in well with the spirit of the 76ers.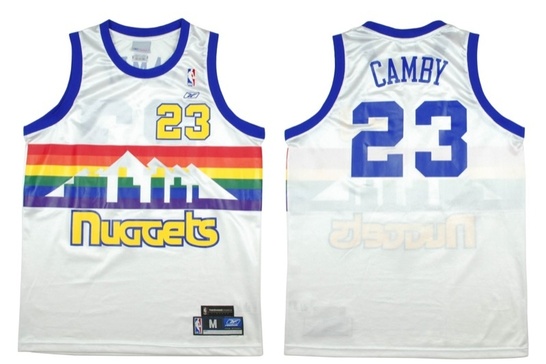 Photo courtesy of media.cmgdigital.com.
Admit it, you knew this jersey was making the list (though it was certainly close—the Denver Nuggets stopped wearing them in 1993). How could it not? It's rainbow colored. Even to this day, it's without peer.
The rainbow pattern speaks for itself in terms of originality, but the jersey's logo also serves to set it apart. The simple mountain design in the background has been duplicated, but the multicolored "city" sitting in the foreground definitely hasn't. Throwing the actual Denver skyline into the mix was a stroke of genus and might have been enough to land this jersey on the list regardless of its color.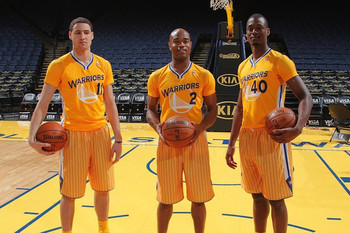 Photo courtesy of examiner.com.
From the sounds of it, the Golden State Warriors' short-sleeve jersey won't be unique for all that much longer (per ESPN.com's Darren Rovell). But as of right now, it's still the first jersey to sport sleeves in the modern era, and that means it has to top this list.
Sure, there are jerseys with more unique designs and color schemes, but in the end, those are nothing more than cosmetic changes. Adding sleeves is a structural change and one that seems to be catching on. Love or hate the jersey (and let's be honest, everyone hates those things—especially the players who have to wear them), that's as original as it gets.