Atlanta Falcons: 10 Things We Learned Through Week 3 of Preseason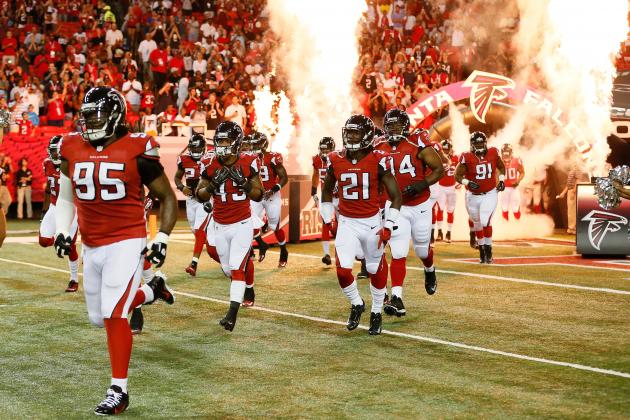 Kevin C. Cox/Getty Images

The Atlanta Falcons have three preseason games in the books and have already made their 14 cuts needed to get down to the 75-man roster. The Falcons gave us a ton of information to process, and we've learned quite a bit about this year's Falcons in the past three games.
It also doesn't hurt that there is more technology out there to where we can all see the games. That and Pro Football Focus tracking the snaps all preseason also has made predicting how the depth chart looks right now a lot easier.
Follow along for the 10 biggest things we learned through the first three weeks of the preseason.
Begin Slideshow

»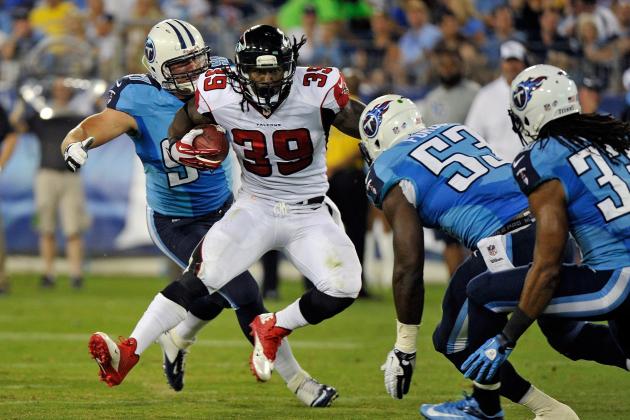 Frederick Breedon/Getty Images

Despite being 30 years old, the Falcons coaching staff doesn't expect Steven Jackson to have much of a drop-off this year. And his numbers in the preseason suggest that he could be in line for a great year.
After starting out with just eight yards on five carries in the first game, he's gained 93 yards on 20 carries for an average of 4.65 yards per carry. With the offensive line finally starting to get back on the same page after the loss of Tyson Clabo and Mike Johnson, they have been opening holes for Jackson to bust through.
In addition to that, Jackson looks right at home in the passing offense. He has five catches and 28 yards as a receiver out of the backfield this preseason, and this looks like just the tip of the proverbial iceberg that will be Jackson's possibly epic season.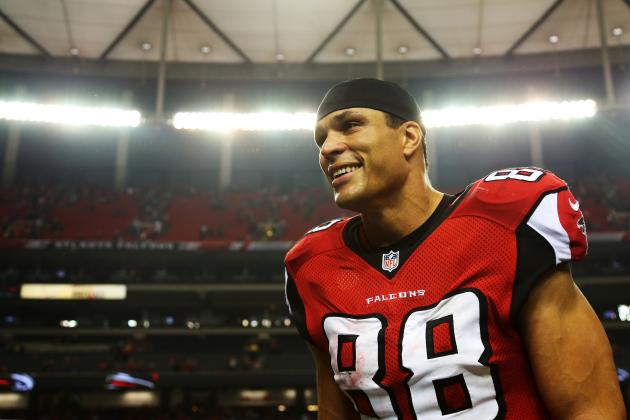 Mike Ehrmann/Getty Images

After spending most of his offseason back in California with his family, Tony Gonzalez looks like he's more than ready to return to his rightful throne as the best tight end in the game. In his 34 snaps against the Titans, he was able to show that he hasn't lost a step.
He had two catches on two targets for a combined 21 yards. He also forced the defense to key on him, allowing other receivers to be much more open than they normally would be. That's the key of having Gonzalez on the field.
He also earned a plus-1.5 run-blocking grade from Pro Football Focus on his nine run-blocking snaps. Gonzalez is in his final year, but father time has yet to catch up with the greatest tight end to play the game.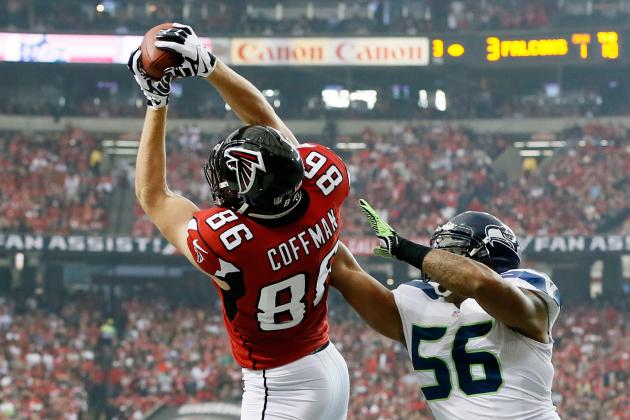 Kevin C. Cox/Getty Images

Drew Davis had excellent games in the first two games of the preseason, gaining six catches for 98 yards. He also had a fumble, but his ability to contribute on special teams is what will make him worthy of the fourth receiver spot. He's also shown some deep-ball ability in the offense as well.
Darius Johnson has exploded offensively for the Falcons in the preseason. His 12 catches for 139 yards and a touchdown have shown that he can be a great option in the offense. He's quick off the ball and can get early separation. He also helps provide yet another deep option for the offense with Julio Jones, Roddy White and Harry Douglas.
Chase Coffman was once a top-tier tight end prospect. Now he's the Falcons backup tight end to the ageless Tony Gonzalez. He's been a solid run-blocker during the preseason and has also added seven catches for 66 yards including some clutch plays.
These three talents look like they earned their roles on the 2013 Falcons. And whether it's on special teams or with the offense, the Falcons will benefit from having them on the roster. Coffman as the No. 2 tight end with Johnson and Davis as the No. 4 and No. 5 wide receivers is only going to help Atlanta have an even more explosive offense.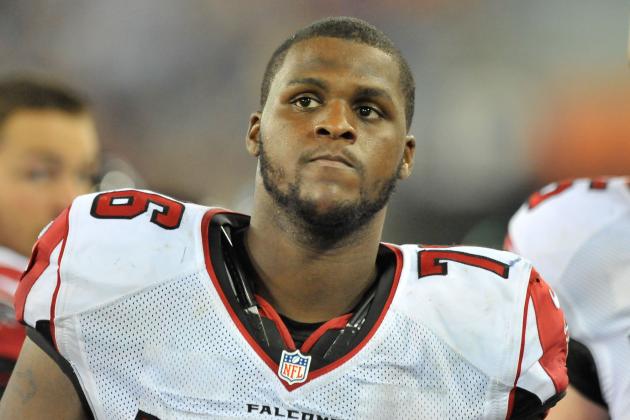 Jim Brown-USA TODAY Sports

The Falcons have allowed seven sacks, five hits and 29 pressures on the quarterback this preseason in 129 passing plays. The combined pressures occur on over 30 percent of the passing plays. That means there's at least one pressure every third snap.
This is unacceptable for Atlanta if it wants to be a top passing team again this season. Justin Blalock and Lamar Holmes have been a bit disappointing in their play as they have allowed four of the seven sacks so far. The lack of pass protection could be fixed with better game-planning.
But in the end, the overall line just has to improve its blocking for the season. Additional chips and blitz protections will only help. Adding dump-offs and screens will also help. The Falcons have run only a couple screens in the preseason, and this will definitely change with the additional game-planning. More screens plus better game-planning plus improved play will lead to more time for Matt Ryan, and that's needed.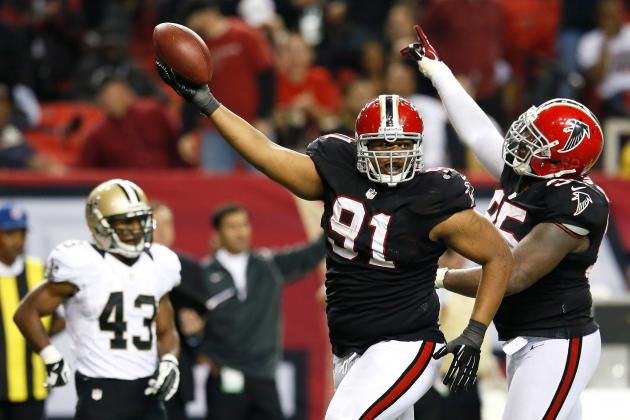 Kevin C. Cox/Getty Images

The Falcons do have a decent pass rush when they are able to create it with blitzes. However, they have trouble getting after quarterbacks without the blitz. The Falcons have a ton of talent across their front four including newly acquired Osi Umenyiora and veteran Jonathan Babineaux.
Atlanta needs to run some more stunts and even double A-gap blitzes to get after the quarterback better. But it could also run some zone blitzes and overloads to truly confuse offensive lines.
Despite the high number of sacks, hits and hurries over the first three games in preseason, the line needs to create more on its own. If it can finally do that, there will be much more help for the young members of the secondary to make plays.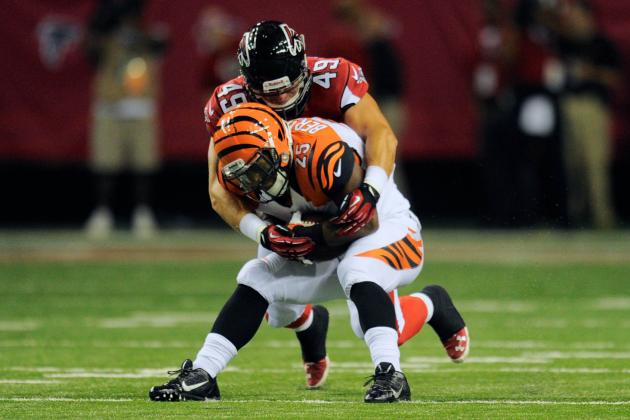 Dale Zanine-USA TODAY Sports

Joplo Bartu and Paul Worrilow are a pair of talented linebackers who will make the Falcons' lives that much easier this year both in defensive depth and on special teams. Bartu has shown enough to start playing with the first team, and Worrilow is showing his abilities both as the second-team middle linebacker and as a special teams gunner.
Bartu has shown some great abilities in coverage this preseason. While he hasn't done much on his few special teams snaps, the former Texas State linebacker has been able to play with the first and second teams, and his 110 snaps on defense lead all of the linebackers. His strength in coverage combined with his ability to pick up the varied defense quickly makes him a top-valued backup.
Worrilow's 18 tackles lead the Falcons, and he's also been able to contribute a sack and a pass deflection. Also, he's been doing well in coverage, allowing just three catches on his five targets for 17 yards and a 3.40 yards-per-attempt average. His coverage, solid tackling and even positive play on special teams have made him someone who needs to make the roster.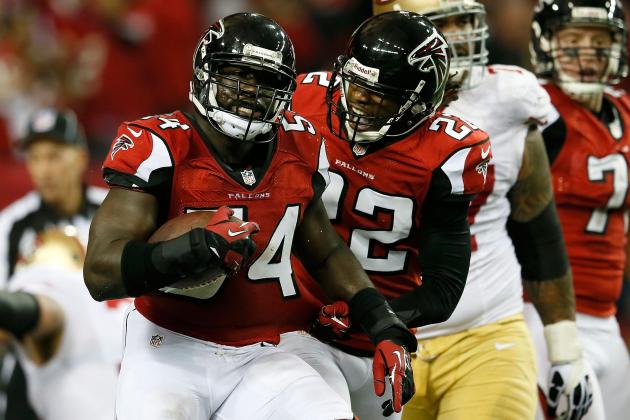 Kevin C. Cox/Getty Images

Stephen Nicholas is a top veteran on the Falcons, but he could be looking at his final season in the red and black.
With how Joplo Bartu and Paul Worrilow have performed in the first three preseason games to go along with Kroy Biermann's new role, the Falcons could look to cut the veteran before the season and save some cap space now and in the future.
Nicholas getting cut would save $2.5 million in 2013, $2.0 million in 2014 and $5.5 million in 2015 if cut before the season. If he's cut after the season, the savings would be the same unless there's a post-June 2 designation.
That's some extra cap to help absorb the future contracts of Julio Jones and Sean Weatherspoon. But most of all, it gets rid of a declining talent before it's too late so that up-and-coming talents can have a spot to shine.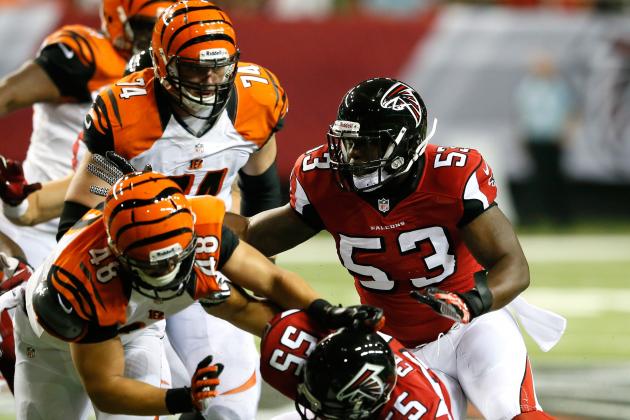 Kevin C. Cox/Getty Images

As great as the Brian Banks story is, he just hasn't earned his way onto the Falcons roster. There may be a place for him in the NFL, but it won't be playing linebacker in Atlanta.
He's not only seen the lowest number of snaps on the Falcons defense at linebacker at just 21, but he's also not seen a single play on special teams all preseason. When a guy is only used in garbage time, it doesn't bode well for his career.
His off-the-field spirit and heart are more than capable of being in the NFL, but he just doesn't have the talent, instincts or ability to be an NFL linebacker.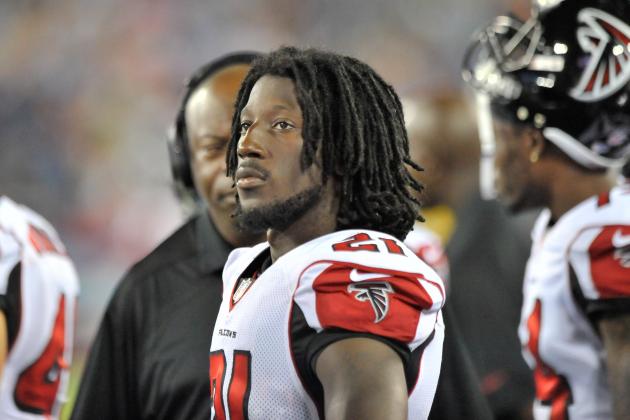 Jim Brown-USA TODAY Sports

Desmond Trufant and Robert Alford have been a work in progress this summer. They were repeatedly beat in practice by Pro Bowl performers Julio Jones and Roddy White. They also have given up some catches and had lapses in coverage in all three of the preseason games.
In the three games, Trufant has been targeted five times in his 47 coverage snaps. Of those five targets, he's allowed a total of four catches for 51 yards and a 10.2 yards-per-attempt average to go with no touchdowns allowed and no penalties. He's also only missed one tackle. While he's not looking like an instant Pro Bowl player, Trufant has lockdown potential as the right corner for years.
On the opposite side, Alford has had a bit more of a bumpy roller-coaster ride. He has been targeted 13 times in his 71 coverage snaps. And while there has been some good with three pass deflections and an interception, he's also allowed three touchdowns on seven catches and 130 yards and 10.0 yards per attempt as well. On the bright side, he's a sure tackler like Trufant and has yet to miss one.
So yes, they have talent. They have shown their talent in games. They have also shown that they are still rookies and need time to develop. But once this pairing does develop, they have the potential to be the best young cornerback duo in the NFL.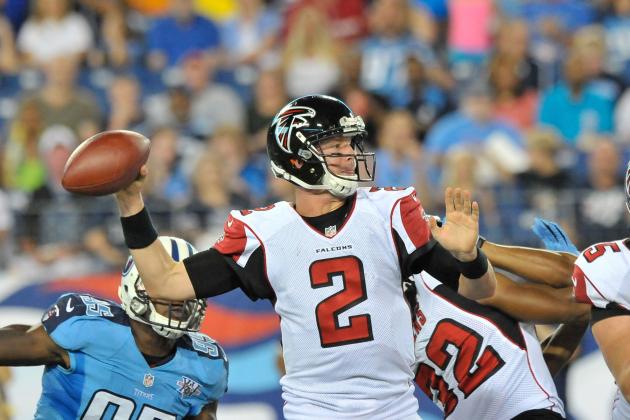 Jim Brown-USA TODAY Sports

The biggest issue that is still seeping into the Falcons as a whole is their inability to close out drives on offense with touchdowns. It was a huge drawback on last year's 13-3 team and a big reason why most fans complained about the team not being able to "go for the jugular" and blow a team out.
Offensively, they were missing Roddy White, and he is an integral part of the red-zone pie. However, if they can't figure out how to score touchdowns without White on the field drawing coverage or without one of the major weapons, the Falcons could be in for a long season.
Then again, maybe the Titans and Ravens defenses are just that good. And maybe just maybe, the expanded playbook in the regular season will allow the offense to showcase all of the pieces and truly look like a pick-your-poison offense.
All stats used are either from Pro Football Focus's Premium Stats, ESPN, CFBStats or the NFL. All contract information is courtesy Spotrac and Rotoworld. All recruiting rankings come from 247Sports.com.
Scott Carasik is a Featured Columnist for Bleacher Report. He covers the Atlanta Falcons, NFL and NFL Draft. He also runs DraftFalcons.com.