Seattle Seahawks at Green Bay Packers Live Blog: Drive Analysis, Reactions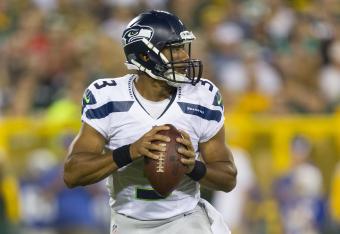 Jeff Hanisch-USA TODAY Sports
There's a long list of players not expected to play tonight for the Seahawks, but none of them are a surprise. The big names on the list are Chris Clemons, Sidney Rice, Percy Harvin, Jordan Hill, Michael Robinson, Cliff Avril, Zach Miller and Jesse Williams.
Notably absent from that list are Bruce Irvin and Christine Michael. It appears that both are going to play tonight, but it is unclear just how many snaps they'll see.
#Seahawks beat the #Packers, 17-10. Hawks are have won 7 straight pre-season games.

— KING 5 Sports (@KING5Sports) August 24, 2013
That's game. Seahawks 17 - 10 Packers
Not much to be excited about for either team. This was fairly bad football being played tonight. Even Russell Wilson had a bad game.
Seahawks are in victory formation. No Golden Tate touchdown celebration tonight. I heard he had something funny planned. Too bad WE didn't get to see it.
This game has been about as ugly as games get. Penalties, turnovers, poor blocking, this game has been a bit of an example of how not to play the game.
The Seahawks getting close to 200 yards of penalties. Ridiculous was a while ago. I don't know what to call it at this point.
This offense is much more efficient with Jackson in at QB instead of Quinn. Of course, as soon as I type that he gets called for intentional grounding.
Winston Guy is battling with Jeron Johnson for that backup SS spot. Makes a great play to get the Seahawks the ball back. Both have made plays tonight. No idea which of them is going to make the team at this point.
John Moffitt with the sack....wait, oh yeah that's right...

— Jordan B. (@bleednsea84) August 24, 2013
Actually it was Siliga, who was a Denver Bronco 4 days ago.
"No simultaneous catch." He was waiting for that all night, huh?

— Brian Nemhauser (@hawkblogger) August 24, 2013
Stephen Williams: all he does is catch touchdowns. Can we steal the Chris Carter line, or is that trademarked?
Packer down on the field after trying to tackle Christine Michael. The Seahawks love RBs who finish runs by punishing a defender.
#Seahawks now have 135 penalty and rushing yards :)

— Liz Mathews 710 ESPN (@Liz_Mathews) August 24, 2013
That's not the balance you are looking for. (read that in your best Obi Wan voice)
I want TJack! I want TJack! I want TJack! ... As the backup.

— Phoebe Naguit (@PhoebeNaguit) August 24, 2013
Seahawks fans have begun chanting for Tarvaris Jackson. I'm wasn't sure that was possible, but Brady Quinn is happening.
10 penalties in 3 quarters. Wait, they just had an 11th while I was typing that.
Ok Seahawks OLine... A little less yoga this week... and more practicing.

— Tim Williams (@12thmanTim) August 24, 2013
This hasn't been the best game for the offensive line. In other news, the sky is blue. Sometimes the obvious needs to said.
Wow. I didn't know he could throw.

— Liz Mathews 710 ESPN (@Liz_Mathews) August 24, 2013
Quinn in there with the 2's for reasons that are not comprehensible to me. Is there anyone who still believes that he's going to beat out Jackson for the backup QB job?
Packers need some help with math. 12 is more than 11. They've had that problem multiple times tonight.
Christine Michael is making his case to surpass Turbin to be the #2 back. I feel like he should already be there, but only Pete Carroll's opinion matter on the subject.
That penalty by Lotulelei completely changed this drive. 23 yard swing (8 yard loss to 15 yard gain) and a first down.

— Brian Nemhauser (@hawkblogger) August 24, 2013
4:17, Third Quarter - Vince Young is good practice for the Seahawks defense. He doesn't things that Cam Newton does for Carolina, and the Seahawks will be playing them in week one.
All the secondary and linebackers turned their back in coverage, and no one saw that Young was running until it was too late.
9:38, third quarter - As soon as I hit "submit" on that last update Christine Michael took the ball to the house down the right sideline. Michael's speed is a nice addition to the power backfield the Seahawks have.
The key to getting that play into the endzone was a great block by Jermaine Kearse. That's one of the things that the Seahawks WRs do very well, and Kearse is probably the best blocker of the group.
Vince Young in at QB for the Packers.
10:04, Third Quarter - That halftime felt very short to me as a guy trying to get some writing done. I know, I'll stop complaining.
The starters on defense are out there to start the 2nd half. The 2nd half begins with more stupid penalties, but the Packers can't do anything with the extra chances and have to punt.
Walter Thurmond with a nifty little punt return. I like Tate as the returner, but it's nice to know that Thurmond can be explosive in the return game if he's needed.
Wilson and the starters on offense are out there as well. Wilson comes close to throwing his 3rd interception.
Stephen Williams sighting, and it's another big play. I'm not sure how the Seahawks got him for nothing. All he does is make big plays whenever he's in there.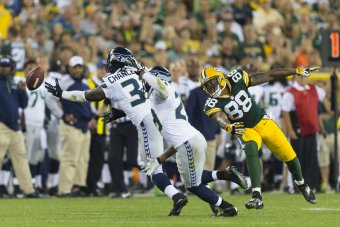 Jeff Hanisch-USA TODAY Sports
Halftime: Seahawks 3 - 3 Packers
The Seahawks offense has moved the ball better than 3 points would suggest. Two Russell Wilson interceptions and some dumb penalties have prevented the team from scoring.
The pass blocking has been solid for the most part. It's the run blocking that hasn't been up to the usual level of expectations for the Seahawks so far. Zone blocking teams like Seattle tend to have a difficult time running the ball in the preseason because they can't cut block in practice. With 5 returning starters, I was expecting the run blocking to be better by now, but perhaps I'm just being impatient.
Defensively, the Seahawks have looked decent. Rodgers has a way of making the best defenses look bad, and the Seahawks held up fairly well. The pass rush has been inconsistent, but was better than a week ago.
The Packers had 13 players on the field giving the Seahawks a first down. Wilson follows that up by almost throwing an interception, and then throwing an interception on consecutive plays. That was an extremely ugly sequence for Wilson.
I think the first one was a problem with one of the receivers running the wrong route, but the actual interception was just a bad pass. That's very uncharacteristic of Wilson.
Harrell isn't impressing anyone tonight with the way he's playing replacing Rodgers at QB. Lots of ugly passes that have no hope of being caught. Quick 3 and out after the interception.
Golden Tate with a great kick return that wont count. Offsetting penalties mean the Packers will punt it again. I'm sure he's going to get some flack from his teammates for getting tackled by the kicker.
The 2nd punt also didn't count. Another penalty, so the Packers punt it a 3rd time. There's more flags on this one as well. These ones are all on Seattle, so the Packer's punt team can finally head to the sideline.
Christine Michael gets one carry and gets us to the break. I'll post some general thoughts and comments in a moment.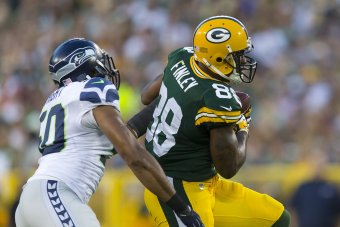 Jeff Hanisch-USA TODAY Sports
2:12, second quarter - The Packers are testing Richard Sherman today. That was the 2nd deep ball in his direction. neither was close to being a completion, but they were rewarded with questionable pass interference penalty.
The Seahawks have been getting pressure, which is an improvement from earlier.
The Seahawks thought they had the stop on that drive, but the Packers went for it on fourth and two and convert on a pass to Finley. Bobby Wagner had good coverage, but the throw was better.
On second thought, this might not be a touchdown. Reply shows that he dropped it. Seahawks ball. I wonder how many "replacement refs" jokes are being made on twitter right now.
5:28 second quarter - The Seahawks continue to try and shoot themselves in the foot with penalties. It's been a problem for a couple years, and it appears it's going to be a problem this year as well.
Spencer Ware in at HB for the Seahawks now. A very good run for his first carry. No Christine Michael yet.
Wilson has a pass tipped up into the air and it's intercepted by Hayward. Before you ask, no, it's not because of Wilson's height, so stop asking.
Yet another JR Sweezy penalty. I think that's his 3rd one already. I'd say that the team would bring in John Moffitt, but he's no longer on the team.
Wilson makes a good throw to Golden Tate on 3rd down, but its ruled out of bounds. I don't think he had the first down anyways. That's a 3 and out for the Seahawks. There's been very few of those so far in the preseason for the Seahawks.
Bruce Irvin with a great play blowing up a run play for a 5 yard loss. Schofield got the start at SAM for the Seahawks, but Irvin is in their now. His speed shows up whenever he's on the field.
After a third down conversion for the Packers, the Seahawks defense forces a fumble. It was ruled down by contact, but Pete Carroll challenged the play. It looks like a fumble to me. I think this is going to be Seattle ball.
This article is
What is the duplicate article?
Why is this article offensive?
Where is this article plagiarized from?
Why is this article poorly edited?

Seattle Seahawks: Like this team?