New York Giants: Biggest Snubs and Surprises from 53-Man Roster Cut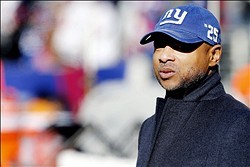 The Star-Ledger-USA TODAY Sports
Giants Senior Vice President and General Manager Jerry Reese
Putting together a 53-man NFL roster is not as easy as it looks.
Injuries, performance drop-offs, surprises and salary cap issues all factor into what players are kept and which players are let go as part of the league's mandatory annual roster cut-down date.
Despite the notion that the cuts made by teams on Aug. 31 were for the "final 53," teams are going to teak their rosters well into the month of September with waiver-wire pickups and free agents.
For now, however, let's look at some of the more notable decisions that went into the New York Giants roster.
Begin Slideshow

»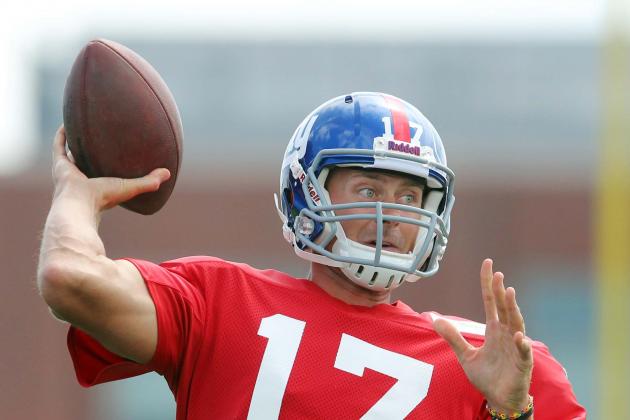 Brad Penner-USA TODAY Sports

When quarterback Curtis Painter was signed to a reserve/futures contract, many people didn't give the transaction a second thought, figuring that Painter would be nothing more than an extra arm for training camp—if he made it to training camp.
Well, not only did Painter make it to camp, before too long, he had created what offensive coordinator Kevin Gilbride called "a legitimate competition" with longtime Giants veteran David Carr for the role of Eli Manning's understudy.
When it was Carr, and not Painter, who was announced as being on the team's roster transactions, many people were shocked that they would go with Painter, who last year was out of football, over Carr, who's been in the Giants system four of the last five seasons.
A closer look at the numbers, though, reveal why head coach Tom Coughlin opined that Painter had a better preseason performance.
Painter topped Carr in passing yards (289 to 163) and touchdowns (one to zero), which in itself wasn't that impressive.
What was impressive, however, is that he engineered five scoring drives for 19 of the Giants' 71 preseason points while working with the same second- and third-string players as Carr, who only engineered three of 10 drives into nine points.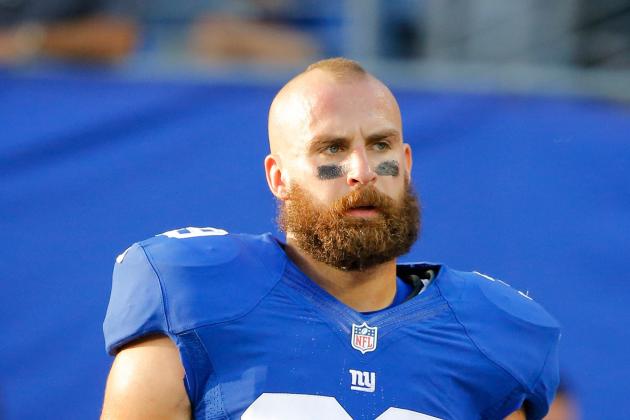 Jim O'Connor-USA TODAY Sports

The handwriting seemed to be on the wall as early as March for third-year safety Tyler Sash, a career backup and special-teams player, who saw the Giants sign free agent Ryan Mundy and draft Cooper Taylor to go along with the very talented Will Hill as the depth behind starters Antrel Rolle and Stevie Brown.
However, misfortunes started hitting the Giants safety unit. Hill, in his second season, was handed another four-game suspension by the NFL, this one for violating the league's Policy and Program for Substances of Abuse.
Then Taylor, who impressed in the spring, ended up missing a large part of training camp with a hamstring injury. When he did finally get on the field for the final preseason game, his performance didn't exactly inspire confidence that he would be ready to line up against the Dallas Cowboys on opening night.
The third blow to the safety unit's depth came when Brown suffered a season-ending knee injury against the Jets on Aug. 24.
With all the stars aligning in Sash's favor, in retrospect, there were a few subtle clues that told a very different story for former 2011 sixth-round draft pick's chances.
First, he was removed from the punt protector role with the first team, a role he held as a rookie, during training camp.
The second, and perhaps the most telling, came when Brown was injured. Instead of sending Sash into the game to replace Brown, the coaches sent Hill into the game, a curious decision at the time, given that Hill was headed for the four-week absence while Sash, had he been the next man up as originally thought, would have probably benefited more from the extra snaps.
Still, the Giants decision to leave themselves with just three safeties—Antrel Rolle, Mundy and Taylor—is a big risk to take if they keep it that way heading into Dallas. Sash's knowledge of the playbook and his ability to contribute on special teams figured to serve the Giants well until Hill was eligible for reinstatement, but instead the team chose to waive Sash, who suffered a concussion in the preseason finale, with an injury settlement.
Looking ahead, the Giants will go with what they have at safety, though they can always incorporate corners Aaron Ross or Terrell Thomas into the mix.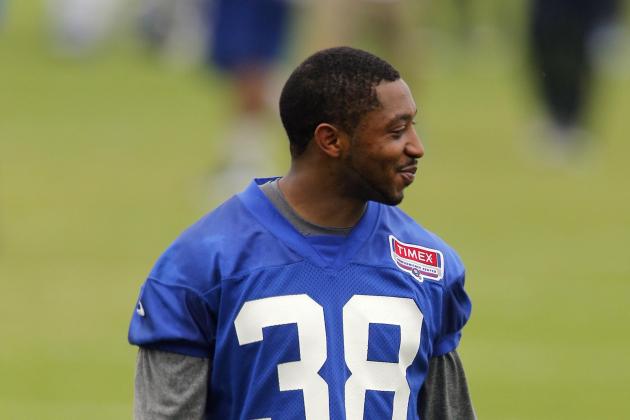 Jim O'Connor-USA TODAY Sports

There wasn't much doubt that the Giants might seriously be thinking of keeping six cornerbacks to start the season, given Corey Webster's groin and MCL (knee) issues; the uncertainty surrounding Terrell Thomas' comeback from two consecutive ACL surgeries; and Jayron Hosley's ankle sprain suffered late in the preseason.
The question, though, was whether Trumaine McBride, a six-year NFL veteran who was out of the game last year after being released by the Jacksonville Jaguars, or Charles James, an undrafted rookie free agent, would be that sixth corner.
James began to flash later in camp practices, and, because he was able to return punts, it looked as if he might get the nod in the end, especially with Hosley banged up.
However, the coaches needed to see that same production in games, which didn't come.
According to ProFootballFocus.com (subscription required), James was only thrown at twice in the preseason, allowing both to be completed for 23 yards. It also didn't help James' case that he muffed a punt that he fortunately recovered.
Those factors probably led the coaches to the decision to go with the more experienced McBride, who has 10 career starts in five seasons.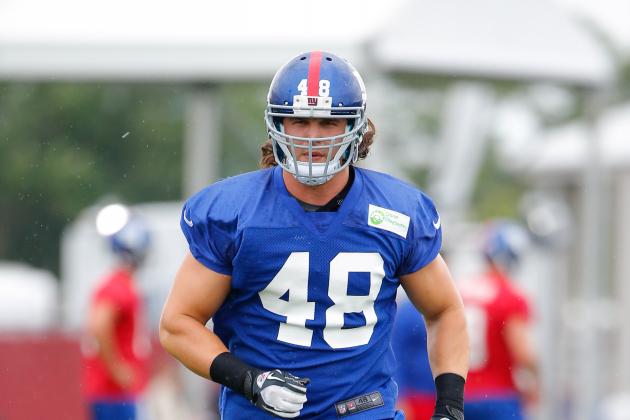 Jim O'Connor-USA TODAY Sports

Linebacker Kyle Bosworth was nothing short of a special-teams demon during training camp practices for the Giants.
Bosworth looked so good that he soon worked his way up from the third string to the second string by the time the preseason games began. That promotion also included snaps with the second-string defense, with Bosworth beating out Aaron Curry, the fourth overall pick of the 2009 draft, during the first round of roster cuts.
So why, then, didn't Bosworth make the final cut?
There's no doubt that injuries had something to do with the coaches' decision to keep more players at some units and fewer at others.
It also probably didn't help Bosworth's case that, in four preseason games, he was credited for one special-teams tackle; on defense, playing with the subs, his best performance came against the Jets when he finished second on the team, behind linebacker Mark Herzlich, with seven tackles (six solo).
Save for the Jets game, Bosworth's defensive stats didn't stand out; in those three combined, he had just four assisted tackles on defense.
Still, if the Giants had hopes of bringing Bosworth back for special teams, those were dashed when the Dallas Cowboys, New York's opening-day opponent, scooped him off up waivers the day after the Giants cut him.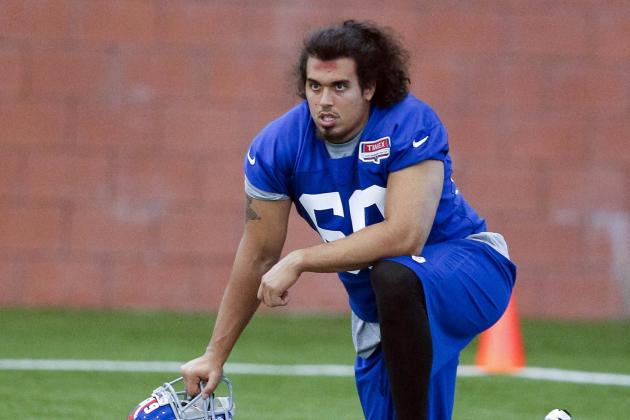 Jim O'Connor-USA TODAY Sports

At the start of this year's training camp, some Giants fans had visions of second-year defensive end Adewale Ojomo, who last year captured the hearts and imaginations of many with his late-game defensive heroics, becoming the defense's version of Victor Cruz.
Then there were others who were optimistic for Adrian Tracy, the defensive end-turned-linebacker-turned-defensive end, whom teammates dubbed "YOsi" (Young Osi) after former pass rushing specialist Osi Umenyiora.
Justin Trattou? If there was ever a time when being the underdog worked in one's favor, that would be Trattou, an undrafted free agent who signed with the Giants in 2011.
As an NFL rookie, Trattou, the Ramsey, N.J., native who played his college ball at the University of Florida, bounced back and forth between the Giants' active roster and the practice squad before finally landing on the 53-man roster on Nov. 26, 2011.
In 2012, Trattou suffered an ankle injury early in training camp that knocked him out for the year. Before that, though, he had started to show signs of being a playmaker who used his football intelligence to get around the ball, much in the same way another former unheralded Giants defensive end, Dave Tollefson, used to do.
So what did Trattou do in the preseason? He posted more tackles than either Tracy or Ojomo in two of the four games, and tied with Tracy for the lead (out of Tracy, Trattou and Ojomo) in one other.
Trattou also made several little plays that helped teammates. With each snap he took, it became apparent to the coaches that he was the best of the three.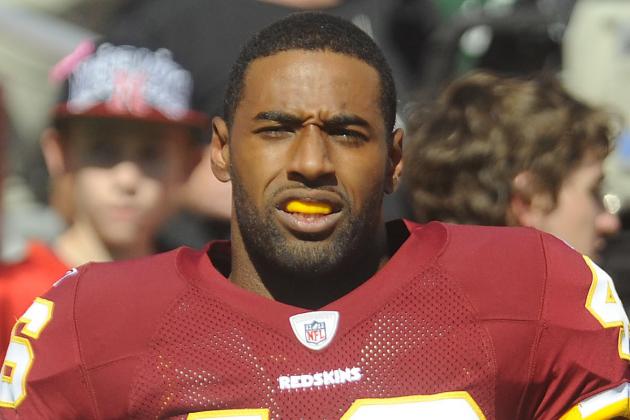 Brad Mills-USA TODAY Sports

The Giants signed former Redskins running back Ryan Torain on Nov. 27, 2012, to help provide depth to a unit that had seen starter Ahmad Bradshaw suffer yet another foot injury and Andre Brown go down with a broken leg for the season.
However, Torain was on the field for only two games as a member of the Giants last year, failing to post any statistics, as New York instead went with Kregg Lumpkin to handle the pass blocking duties previously held by Brown and Bradshaw.
As a restricted free agent this past offseason, Torain was not tendered by the Giants, who instead re-signed him to a veteran minimum contract.
Even when the Giants decided to take a chance on Michael Cox in the seventh round of this year's draft, the team kept Torain around because of his potential shown during the spring OTAs and minicamp.
In the preseason, Torain finished third on the team in rushes (18) and yards (66) for a 3.7-yards-per-carry average.
By contrast, the man who edged him off the roster, Da'Rel Scott, finished the preseason with 15 carries for 37 yards, a flimsy 2.5-yards-per-carry average.
Why, then, did the Giants keep Scott, whom the team selected in the seventh round of the 2011 draft, over Torain?
That's a question to which the answer isn't as obvious based on the entire preseason stats, though it could probably be argued that Scott's showing against the Patriots, in which he had 25 yards on four carries, topped Torain's six carries for 14 yards in a competition that was decided in the preseason finale.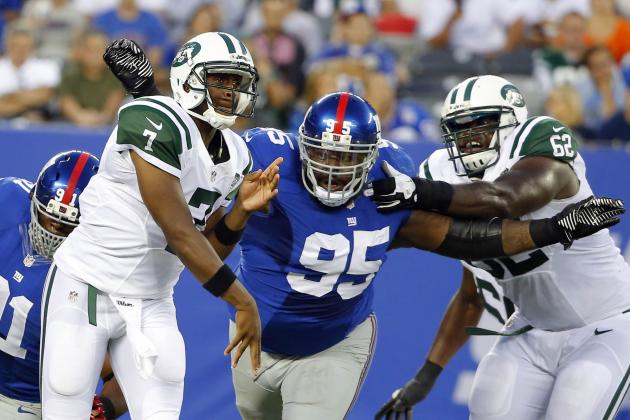 Jim O'Connor-USA TODAY Sports

After signing with the Giants as a free agent on April 26, 2012, defensive tackle Shaun Rogers looked to be on his way toward a roster spot when a blood clot developed in his calf, forcing him to miss the 2012 season.
Still, Rogers showed enough to the coaches and to general manager Jerry Reese to make them bring him back on another one-year veteran minimum contract to compete for a roster spot.
Not only did Rogers compete his heart out, he also proved to be a very valuable teammate in the locker room in terms of sharing his knowledge with his younger teammates.
He also got his chances to contribute, working mostly with the second-string defense, though when Justin Tuck was out of the lineup, and Cullen Jenkins had to move from tackle to end, Rogers stepped in with the starters.
The problem for Rogers was that Mike Patterson was also picked up as a free agent this year.
Patterson, who is 29 to Rogers' 34 years of age, had such a strong training camp that it looked as if the Giants might only be able to keep one of the two veterans.
Credit Rogers for fighting his way onto the roster. According to ProFootballFocus.com (subscription required), he played in four preseason games, taking a total of 79 snaps, 37 against the run and 42 against the pass.
He finished with six tackles and a half sack, but it was his surprising mobility for a man of his size in collapsing the pocket and in occupying blockers that likely made him too good to cut.
Instead, the Giants parted ways with former second round pick Marvin Austin, who never really panned out for various reasons. Meanwhile, Rogers and Patterson were both rewarded with roster spots.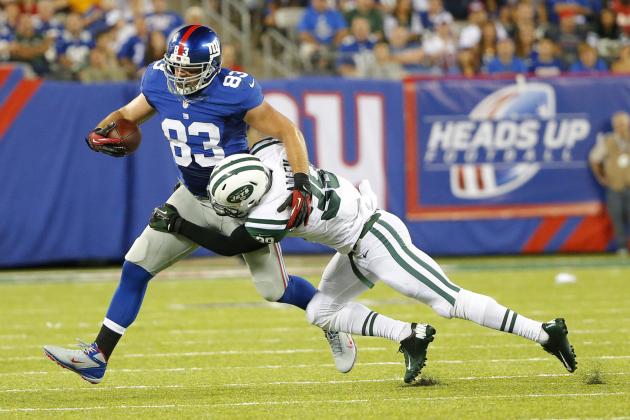 Jim O'Connor-USA TODAY Sports

The bread and butter of the Giants' passing offense is their receiving corps, a unit that, according to last year's statistics, was involved in 66.2 percent of the pass completions.
The tight ends? In the last few years, their primary job description has been to block first, and, as the situation calls for it, go out into a pass pattern and try to make a reception if the ball is thrown their way.
So why, then, would the Giants opt to keep four at this position while short-changing themselves elsewhere such as receiver, where they kept five instead of six; safety, where they kept three instead of four; and linebacker, where they kept five instead of six?
The answer is probably two-fold. First, Adrien Robinson, the athletic second-year player, ended the preseason with a sprained foot that may or may not be a lingering issue moving forward, and Bear Pascoe may or may not be needed for another week or two at fullback, depending on the status of starter Henry Hynoski, who is recovering from knee surgery.
If either or both of these scenarios were a concern for the Giants, then keeping a fourth player makes sense.
Another theory is that the team is optimistic about the futures of both Robinson and Larry Donnell to where they didn't want to risk exposing either to the waiver wire, not with Brandon Myers and Pascoe both set to become unrestricted free agents next year.
Patricia Traina (@Patricia_Traina) is the senior editor for Inside Football. All quotes obtained firsthand unless otherwise noted.