2013 MLB Waiver Trade Deadline: Grades for Notable Trades and Claims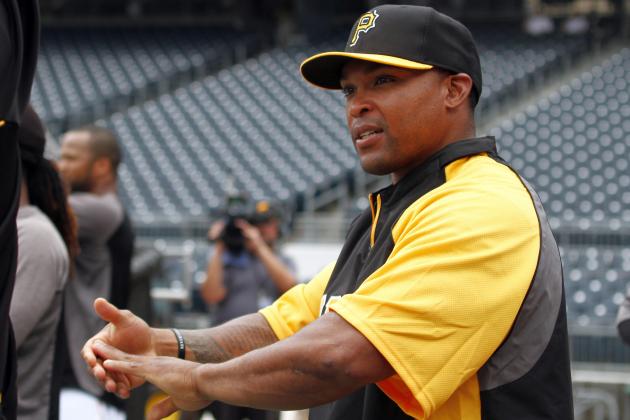 Justin K. Aller/Getty Images
Marlon Byrd has quickly grown accustomed to the black and yellow of the NL Central-leading Pittsburgh Pirates.
As suspected, August was jam-packed with notable trades and claims involving veteran position players. Even a few tenured pitchers changed uniforms.
Both the non-contenders and acquiring teams now must be graded for their activity based on the actual and anticipated performance of these individuals down the stretch.
Not every deal is worth analyzing, of course. Well-traveled outfielder/pitcher Casper Wells isn't going to affect the pennant race, nor will Quintin Berry or John McDonald, the newest additions to the Boston Red Sox organization.
Rather, we'll focus on several of 2013's overachievers and others who have shown the ability to carry a lineup in recent years. The priority for competitive teams, obviously, was to obtain players capable of filling meaningful roles while surrendering as little talent as possible. The sellers simply coveted developing players with decent odds of reaching high ceilings.
Let's use what we know—or at least what we think we know—to reflect on these relocations.
Begin Slideshow

»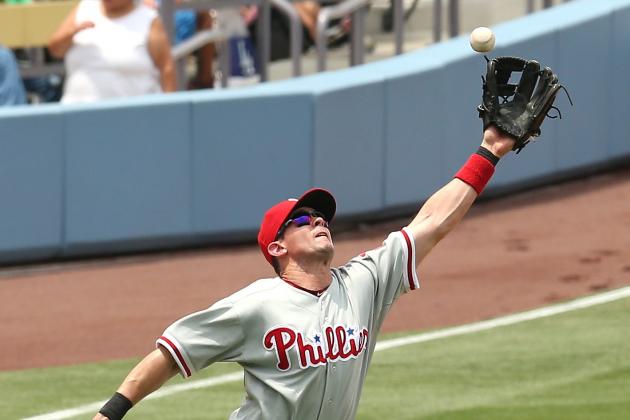 Stephen Dunn/Getty Images

Transaction Date: Aug. 31
Full Trade: Los Angeles Dodgers trade Rob Rasmussen to the Philadelphia Phillies for Michael Young and cash.
Adrian Gonzalez and Hanley Ramirez have been stellar for L.A. at first base and shortstop, respectively. Young will presumably serve as an alternative to Mark Ellis and Juan Uribe at the other infield positions.
The fit is puzzling because, like both of them, Young bats right-handed while providing inferior defense. It's even difficult to imagine him contributing more than Nick Punto currently does as a reserve.
On the bright side, the southern California native could make a sizable impact should any of them suffer an injury this September.
Rasmussen is already 24 years old, so it isn't surprising that the Dodgers tried to accelerate him through the farm system after he began the season with a couple extraordinary months at Double-A. They demoted the southpaw back to that level, however, when he struggled to deliver quality starts for the Albuquerque affiliate.
ESPN's Keith Law tweets that his most likely major league role is that of a lefty specialist. Any surefire MLB player is a decent return considering Young—an expensive impending free agent—has regressed to replacement-level performance at this stage of his career.
Grades
Dodgers: C
Phillies: B+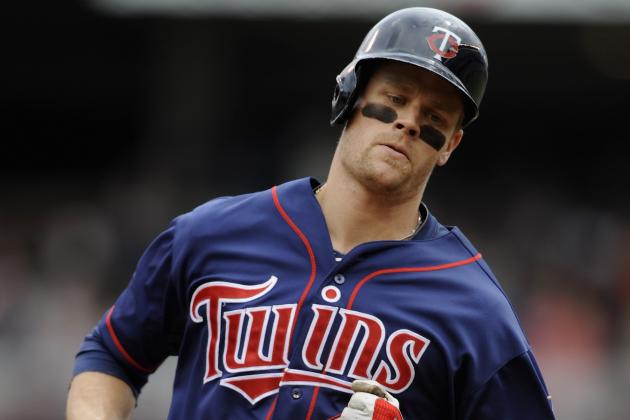 Hannah Foslien/Getty Images

Transaction Date: Aug. 31
Full Trade: The Pittsburgh Pirates trade Alex Presley and Duke Welker to the Minnesota Twins for Justin Morneau.
The Twins have been fixated on moving Morneau for most of this summer. A first-half power outage, however, made him widely undesired prior to the non-waiver trade deadline.
A total of 16 extra-base hits in August—including nine home runs—sparked interest around the league.
Perhaps Morneau adds a tiny bit of defensive value that Garrett Jones currently doesn't as the larger half of Pittsburgh's platoon at first base. When taking ballpark factors into consideration, their 2013 batting lines have been virtually identical.
The 28-year-old Presley won't sell any additional season ticket packages at Target Field. He's been hidden from left-handed pitching in limited major league action, and his .657 OPS versus righties is nothing to write home about. Even Presley's defense fails to justify meaningful playing time.
Welker isn't a particularly valuable piece either. The reliever's strikeout rate has spiked during the past couple years in the high minors, but he's still struggling mightily with pitch location at age 27.
Grades
Pirates: C+
Twins: C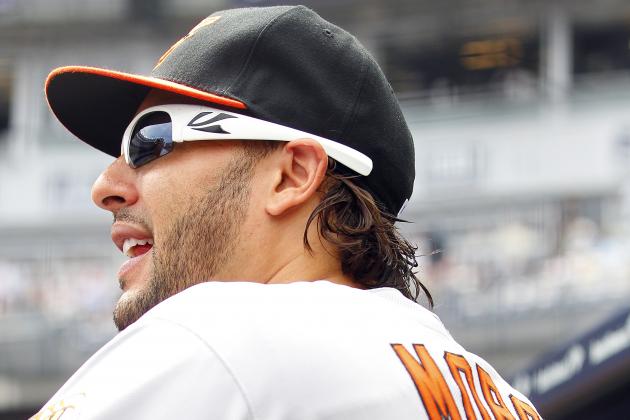 Rich Schultz/Getty Images

Transaction Date: Aug. 30
Full Trade: Baltimore Orioles trade Xavier Avery to the Seattle Mariners for Mike Morse.
The O's have remained playoff contenders this entire season without any stability at designated hitter. Five different players have served as a DH at least 10 times, and only Danny Valencia (.913 OPS in 93 PA) has been effective.
Why not give Morse a try? Even during this mediocre campaign, he's been a league average hitter against left-handed pitching. Wilson Betemit can platoon with him.
There was some excitement surrounding Seattle's acquisition of Morse, but he quickly became an awkward fit. Kendrys Morales' presence on the roster forced the 31-year-old into the outfield, where he's been a total train wreck (minus-17 Defensive Runs Saved).
With Morse headed toward free agency and sporting an ugly .693 OPS, the Mariners were fortunate to get anything in return, and Avery could legitimately help them.
The Georgia native made his major league debut in 2012, but he has struggled too much with the bat this summer to merit another call-up. Given Avery's speed and defensive ability, he could prove to be very useful as a reserve outfielder.
Grades
Orioles: B
Mariners: A+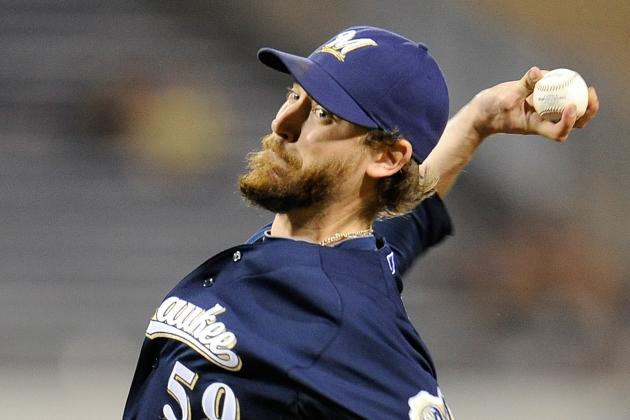 Joe Sargent/Getty Images

Transaction Date: Aug. 30
Full Trade: St. Louis Cardinals trade Michael Blazek to the Milwaukee Brewers for John Axford.
The fact that Axford was the most accomplished MLB pitcher dealt this August serves as evidence that non-contenders had unreasonably high asking prices.
Following a superb rookie season in 2010, he battled with Craig Kimbrel and J.J. Putz the next summer for the distinction of being the National League's top closer.
Ever since then, however, the Canadian right-hander has been mysteriously mediocre. His fastball velocity is still excellent, according to FanGraphs, but a general inability to throw first-pitch strikes has put him in more difficult counts. Batters have been sitting on his heater and drilling it into the bleachers with alarming frequency.
Barring significant mechanical adjustments, Axford won't be trustworthy in high-leverage situations. Moreover, past saves totals resulted in a bloated arbitration settlement prior to this season, so the Cards will almost certainly decline to tender him a contract for 2014.
Blazek, 24, has exactly 9.0 K/9 through 527.0 IP in the minors but an underwhelming 6.97 ERA in 11 appearances for St. Louis.
Grades
Cardinals: C+
Brewers: A-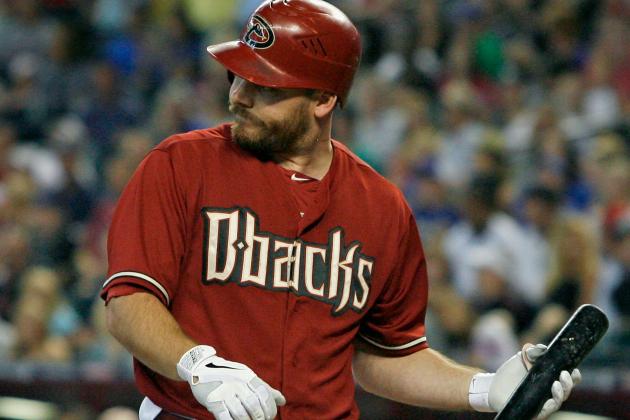 Ralph Freso/Getty Images

Transaction Date: Aug. 30
Full Trade: Cleveland Indians trade a player to be named later to the Arizona Diamondbacks for Jason Kubel and cash.
It's a nightmarish resolution for the D-Backs considering that Kubel launched 30 home runs with an .833 OPS in 2012. One summer later, they couldn't even find a team to absorb the couple million dollars left on his contract.
Prior to the trade, he was only slashing .220/.288/.324 with five long balls (267 plate appearances).
His fit with the Tribe isn't a smooth one. Kubel essentially shares Jason Giambi's skill set, just in a younger body. Although the 31-year-old can physically stand in the outfield, using him in either corner spot would considerably weaken Cleveland's defense.
With all that said, we cannot blame the Indians for taking such a small risk on someone who so recently produced at a high level.
Grades
Indians: B-
Diamondbacks: C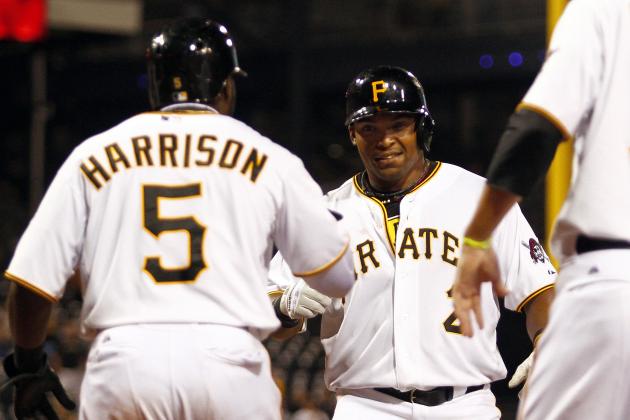 Justin K. Aller/Getty Images

Transaction Date: Aug. 27
Full Trade: Pittsburgh Pirates trade Dilson Herrera and a player to be named later to the New York Mets for John Buck, Marlon Byrd and cash.
Overachieving in his age-35 season made Byrd seem like an obvious candidate to move at the July 31 non-waiver trade deadline.
The Mets surprisingly held onto the veteran outfielder despite having tumbled toward mediocrity. They wanted to give their fans as many victories as possible down the stretch, a mindset that they finally decided to desert when Matt Harvey hurt his elbow.
Packaging Buck—a fellow free-agent-to-be—along with Byrd solved a logistical problem for New York. The team had promoted top prospect Travis d'Arnaud to the majors and planned for him to start regularly.
Herrera, 19, posted a .751 OPS for Pittsburgh's Single-A affiliate prior to this exchange. Although a bit strikeout-prone, adding some weight to his athletic frame could lead to an everyday infielder's job at the major league level later this decade.
With Starling Marte and Michael McKenry both on the disabled list, Buck and Byrd fit perfectly on the Bucs roster. Getting the pair required a slight overpay, however.
Grades
Pirates: B+
Mets: A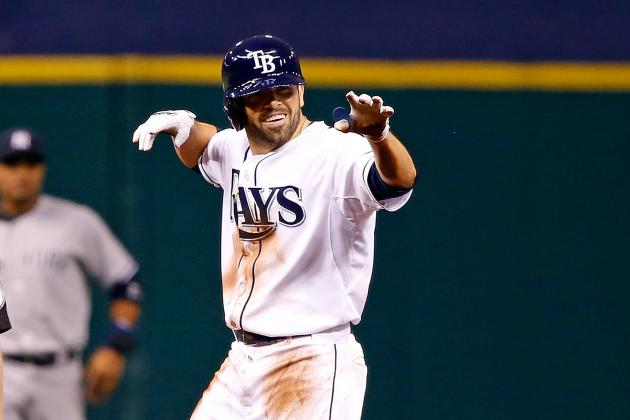 J. Meric/Getty Images

Transaction Date: Aug. 23
Full Trade: Tampa Bay Rays trade a player to be named later to the Washington Nationals for David DeJesus.
The Nats had no desire to keep DeJesus with the second NL Wild Card a half-dozen games out of reach. Meanwhile, the Rays weren't confident about starting an offensive liability like Sam Fuld on a semi-regular basis down the stretch.
This appears to be a win-win, although the balance could tilt in Tampa Bay's favor if the 33-year-old performs well enough to justify his $6.5 million club option for next season.
Based on his .320/.370/.400 batting line since the deal and highlight-reel defense (courtesy of MLB.com), that's not a crazy possibility. Baseball-Reference.com shows that DeJesus is arguably the Rays' best weapon against right-handed starting pitching.
Grades
Rays: B+
Nationals: B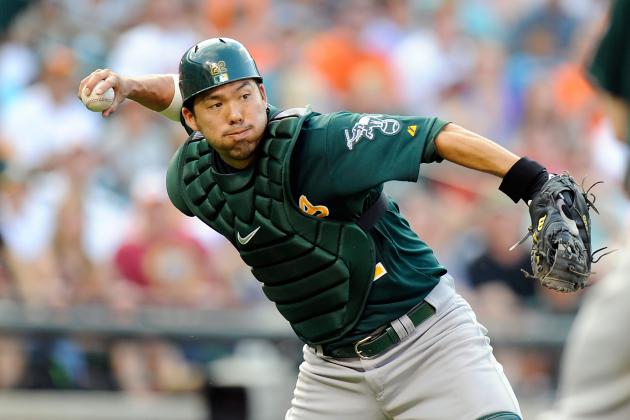 Greg Fiume/Getty Images

Transaction Date: Aug. 23
Full Trade: Oakland Athletics trade Dakota Bacus and cash to the Washington Nationals for Kurt Suzuki.
Barely one year after being dealt away by the A's organization, Suzuki returns to the Bay Area.
Even if all continues to go well for John Jaso and Derek Norris in rehab, via Jane Lee of MLB.com, Oakland could not afford to be complacent. Excellence in these final weeks will be required to leapfrog the Texas Rangers in the AL West standings.
This is the second straight season in which Suzuki has demonstrated a severe lack of power at the plate, which suggests it might never fully return for the soon-to-be 30-year-old. His caught-stealing percentage was a putrid 12 percent in 120 games for the Nationals in 2012 and this season, although that's partially reflective of that pitching staff's slow deliveries and poor awareness.
The buyout on Suzuki's 2014 club option is merely $650,000, but the alternative is a $8.5 million salary.
Bacus, a right-hander, posted a 3.56 ERA and 1.34 WHIP for Oakland's Single-A affiliate in 26 appearances (16 starts) earlier this summer. The 22-year-old is a former ninth-round draft pick with fastball velocity in the low-90s and a slider and changeup as secondary offerings.
His ceiling doesn't seem particularly high, although he made a great first impression in the South Atlantic League with six scoreless innings.
Grades
Athletics: B
Nationals: C+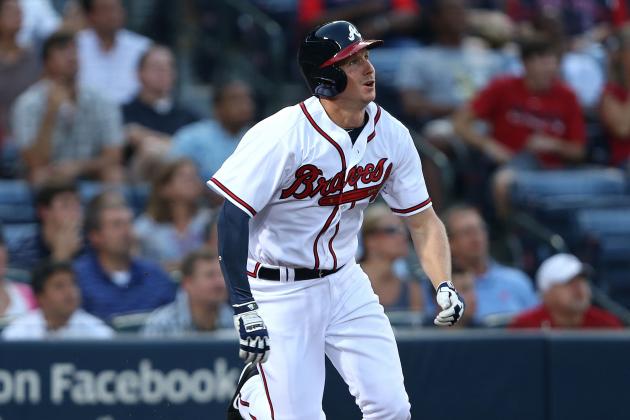 Mike Zarrilli/Getty Images

Transaction Date: Aug. 21
This was a straight-up waiver claim by the Atlanta Braves.
They used Elliot Johnson as their regular second baseman until Dan Uggla returned from the disabled list, and they have since exploited Johnson's versatility and given him a few starts in left field.
Manager Fredi Gonzalez has clearly made it a priority to rest his star players with Atlanta's NL East lead steadily growing. That means the role guys, Johnson included, will be largely responsible for ensuring that the club's stranglehold on the National League's best record doesn't loosen.
Grades
Braves: B+
Royals: C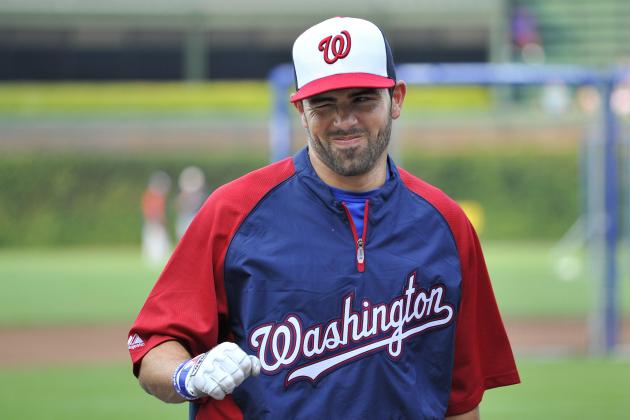 Brian Kersey/Getty Images

Transaction Date: Aug. 19
Full Trade: Washington Nationals trade a player to be named later to the Chicago Cubs for David DeJesus.
DeJesus posted a .273/.333/.455 batting line through the end of July, and the Cubbies were surely entertaining offers for him. The Nats smartly waited a few extra weeks, as an 8-for-53 slump culminated in a more reasonable asking price.
Of course, he was never a fit in the nation's capital. Washington doesn't need a well-paid, reputable fourth outfielder on its roster with Bryce Harper, Denard Span and Jayson Werth locked into the everyday lineup.
Immediately following the acquisition, the club placed DeJesus on waivers. The hope is that the unnamed player it receives from the Tampa Bay Rays will provide more value that whomever they send to Chicago.
That's actually a logical gamble by the front office.
Chicago continues to rebuild by getting younger and slashing payroll. On the other hand, DeJesus had a very positive impact on that clubhouse, and his club option for 2014 would have made sense for the franchise.
Grades
Nationals: B
Cubs: B-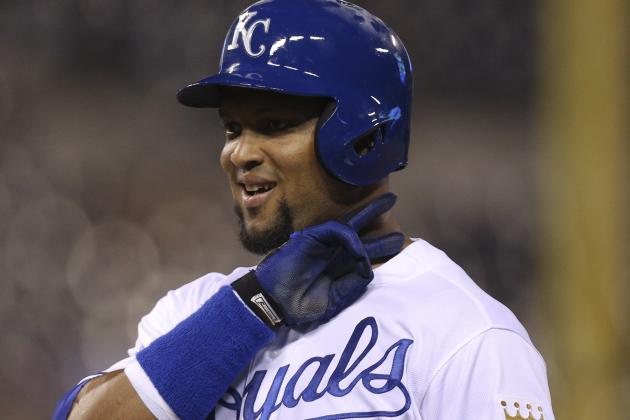 Ed Zurga/Getty Images

Transaction Date: Aug. 14
Full Trade: Kansas City Royals will trade a player to be named later or cash to the Toronto Blue Jays for Emilio Bonifacio.
Per Sportsnet's Shi Davidi, expect K.C. to complete the transaction with cash.
So long as it's only a six-figure sum, the Royals should be celebrating. They bought low on Bonifacio during a season in which he was showing poor plate discipline—.258 OBP, 66/13 K/BB with Toronto—and stealing bases inefficiently.
However, he has improved in all the triple-slash categories since relocating while dominating on the basepaths. The speedster's starting experience at six different defensive positions should make him a good value in 2014, even if the arbitration process raises his salary near $3 million.
Any money that the Blue Jays can recoup from a frustrating campaign is extremely important considering all the long-term contracts already on their books. Unfortunately, this move alone doesn't remedy their financial predicament.
Grades
Royals: B+
Blue Jays: C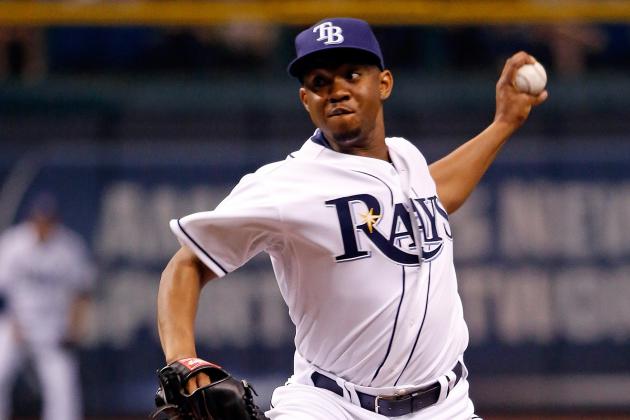 J. Meric/Getty Images

Transaction Date: Aug. 12
Full Trade: Tampa Bay Rays send cash to the Houston Astros for Wesley Wright.
Wright was one of the only remaining players on Houston's roster earning more than $1 million in salary. His 2013 workload will ensure a modest raise in his second year of arbitration eligibility.
It has become increasingly likely that Jesse Crain won't pitch for the Rays down the stretch, according to Marc Topkin of the Tampa Bay Times. At least the team acquired this 28-year-old southpaw knowing that he'd have no serious injuries preventing him from taking the mound.
Considering that Wright finished 2012 with a 3.27 earned run average in 77 appearances, the Astros hoped to receive compensation in the form of both cash and talent.
At the same time, his contribution to Tampa Bay probably won't be a memorable one. He has struggled against both left-handed and right-handed batters this season, and prior to that breakout 2012 campaign, his performance barely merited a spot on the active roster.
Grades
Rays: B-
Astros: B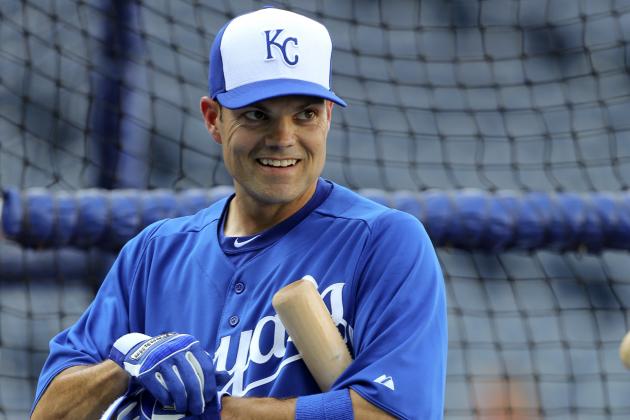 Ed Zurga/Getty Images

Transaction Date: Aug. 11
Full Trade: Kansas City Royals send cash to the Minnesota Twins for Jamey Carroll.
When this deal was first announced, Kansas City's motives weren't clear. A few days later, however, Miguel Tejada's 105-game suspension for amphetamines officially opened the door for Carroll and Emilio Bonifacio to fight for playing time at second base.
The Royals figured they were buying low on the 39-year-old, who had a career-worst .230/.283/.262 battling line with Minnesota through four-plus months of part-time duty.
If possible, he's been even worse since changing uniforms. Carroll has recorded one hit through nine games for K.C., which adds up to a .040 batting average and .213 OPS. In limited opportunities, he's doing everything possible to sabotage the already-bleak odds the club has of qualifying for the playoffs.
With Carroll out of the picture, the Twins saved a significant chunk of money—his 2013 salary was $3.75 million—and opened up more plate appearances for higher-upside individuals down the stretch.
Grades
Royals: F
Twins: A+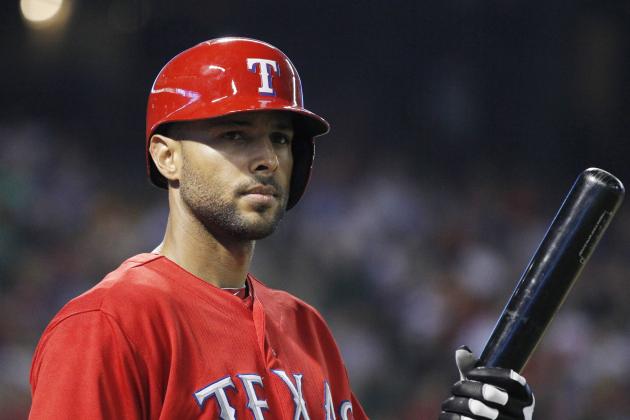 Tim Heitman-USA TODAY Sports

Transaction Date: Aug. 9
Full Trade: Texas Rangers trade Leury Garcia to the Chicago White Sox for Alex Rios.
Rios bolstered the Rangers offense immediately, amassing four hits in his first seven at-bats following the trade and driving in a pair of runs as the team rolled to consecutive victories. Since then, unfortunately, his overall contribution has basically been that of a replacement-level player.
Those three weeks pretty much sum up the outfielder's MLB career: mediocrity sporadically interrupted by brilliance.
Texas needed somebody to fill the void in right field after Nelson Cruz's suspension, and Rios didn't cost the team much. His $12.5 million salary for 2014, of course, isn't ideal, but the only talent sacrificed in the transaction was Garcia. The 22-year-old was blocked on the Rangers' depth chart behind All-Star-caliber infielders who have their own long-term contracts.
At least Rios is durable—at least 140 games played per season from 2007-2012—and a superior fielder to Cruz.
Grades
Rangers: B
White Sox: B+