All 30 MLB Teams' Breakout Star of the Year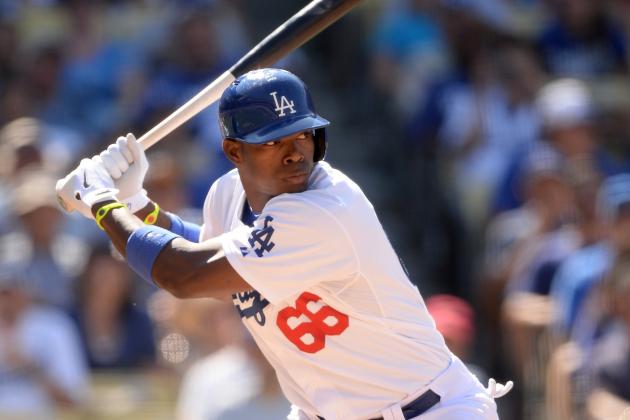 Harry How/Getty Images
Yasiel Puig has wasted no time emerging as a dominant player in his rookie season.
Ordinary MLB prospects and journeymen blossom into breakout stars every season, and (nearly) every team in 2013 has kept one for itself.
Bleacher Report's Rick Weiner distinguishes these players from the regular population by the way they have been "elevating their games to levels we've not seen before—and increasing the expectations that we have of them going forward." A simple yet satisfactory definition for our purposes.
Prior to this summer, names like Chris Johnson, Yasiel Puig, Matt Harvey and Matt Carpenter were recognized, but certainly not revered. After all, we had never seen them sustain excellence at the major league level.
My, how things have changed.
In several cases where a true breakout hasn't happened, we'll praise midseason call-ups who have contributed immediately.
*Stats courtesy of FanGraphs unless otherwise noted and updated through the games of August 28.
Begin Slideshow

»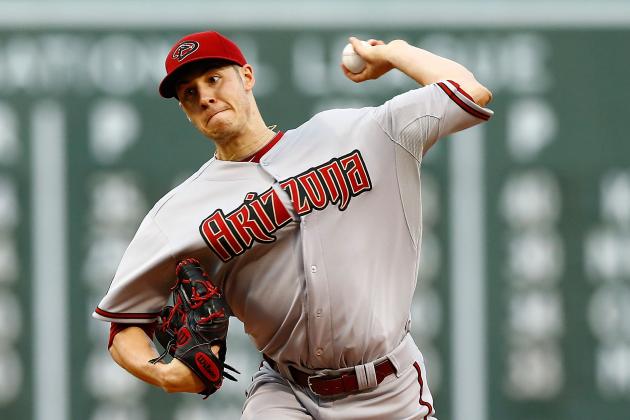 Jared Wickerham/Getty Images

To think that only six months ago, Patrick Corbin was busting his butt in spring training just to crack the Arizona Diamondbacks' starting rotation. With a few ugly outings, Randall Delgado might have leapfrogged him on the depth chart, resulting in a demotion to the bullpen or minor leagues.
There's some flukiness responsible for Corbin's 2013 success (namely his .263 BABIP), so don't declare him a perennial All-Star just yet.
Still, the D-Backs' front office can sleep well at night knowing that he'll be a part of their rotation for many years to come. Corbin is the rotation leader in earned run average, batting average against and almost everything in between.
First baseman Paul Goldschmidt has enjoyed an even better season for the D-Backs (.952 OPS, 31 HR in 580 PA), but he doesn't quite fit into the breakout mold. Remember that he slashed .286/.359/.490 in 145 games for Arizona last year. Nobody perceived him as anything less than a legitimate power threat.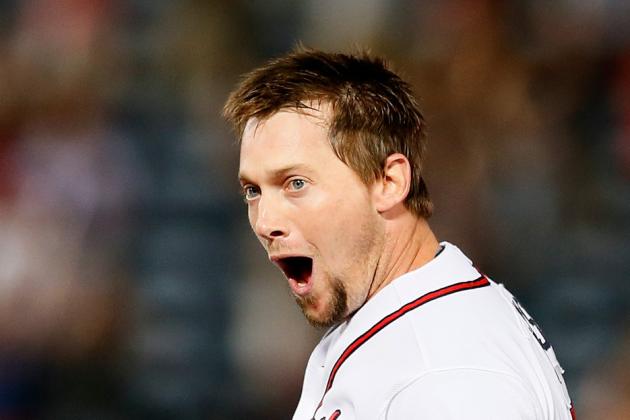 Kevin C. Cox/Getty Images

The Arizona Diamondbacks were far too kind, trading Justin Upton to the Atlanta Braves and including Chris Johnson as a throw-in.
Little did we know that the afterthought would have a greater effect on the team's championship aspirations that the budding superstar.
With a history of mediocrity against left-handed pitching, Johnson began 2013 in a platoon with Juan Francisco at third base. That didn't last long, as the 28-year-old soared to a .400 batting average in mid-April, while Francisco struggled.
Johnson continues to threaten for the National League batting title and demonstrates decent power for his position.
Honorable Mentions: Evan Gattis, Andrelton Simmons
Gattis' star has gradually faded with Brian McCann returning to full strength and the corner outfielders producing. Even so, a .764 OPS is much better than what the Braves realistically expected from the former janitor.
There's understandably some frustration about Simmons and his .247/.295/.368 batting line, but primarily among casual fans who have been out of touch with baseball reality. Those numbers fall precisely in line with what other MLB shortstops do at the plate. Baseball-Reference.com proves it.
Meanwhile, MLB.com shows us a few examples of defensive gems that distinguish Simmons from everybody else. Such athleticism has enabled him to smash the single-season record for most Defensive Runs Saved.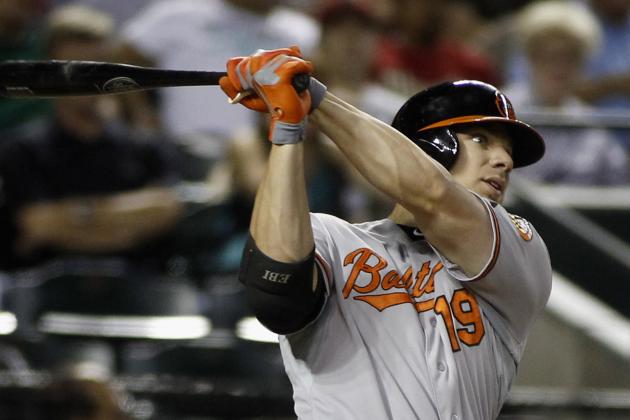 Ralph Freso/Getty Images

Simply spending the entire 2012 season in the majors was seen as a significant feat for Chris Davis considering his recurring difficulties with putting balls in play. Gradual improvement as the summer wore on left no doubt that an everyday job would be his in 2013.
Even so, his historically great power display has been stunning.
He sits atop the baseball industry with 47 home runs, basically one good week away from setting a new Baltimore Orioles single-season record. Davis also has a non-zero chance of catching Roger Maris for the all-time "clean" mark.
The first baseman attributes his new-found success to a more selective approach at the plate.
Honorable Mention: Manny Machado
Many in the media made an irresponsible stretch in claiming that the third baseman's contribution as a rookie was the No. 1 reason Baltimore ended its playoff drought last year. His effect at age 20 was tangible but greatly exaggerated.
Now, however, he's undeniably one of the league's greatest difference-makers.
Although still overanxious at the plate, Machado has slashed a robust .296/.324/.450 with only 91 strikeouts in 594 plate appearances. His fielding percentage improved since 2012, and the awe-inspiring defensive plays have become even more commonplace.
FanGraphs considers him fifth in the American League in Wins Above Replacement.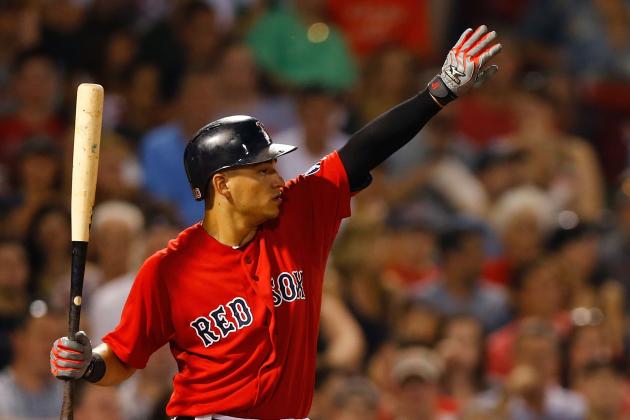 Jared Wickerham/Getty Images

In the ultimate act of distrust, the Boston Red Sox overpaid for free agent Stephen Drew rather than letting the homegrown Jose Iglesias step into the starting shortstop's job.
Given the information we had about Iglesias at the time, how could you blame them? He was an extremely one-dimensional player at Triple-A the previous summer. Everybody marveled at his defense, but without providing any value as a batter or baserunner, it was difficult to justify regular playing time at the highest level.
Iglesias' initial role on the active roster was that of a reserve right-side infielder. Fortunately, Drew's injuries and the struggles of Will Middlebrooks led to ample opportunities.
The 23-year-old maintained a .400 batting average for the majority of the first half while sparkling with the glove. His stock soared so much that the Red Sox used him as the centerpiece of a package to acquire All-Star starter Jake Peavy in a three-team blockbuster trade. Iglesias had a .330/.376/.409 batting line at the time.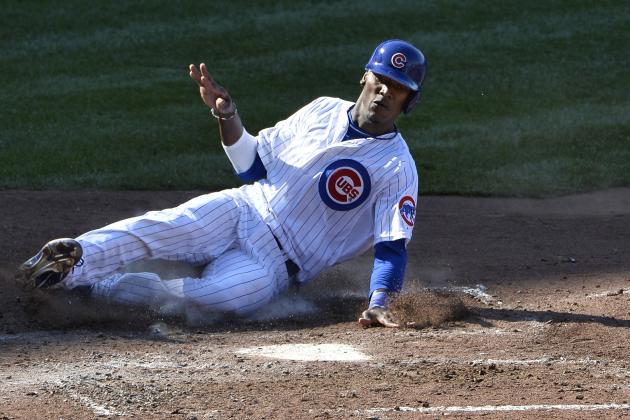 Brian Kersey/Getty Images

The Chicago Cubs have dealt numerous veterans during the past several seasons to clear roster space for their promising prospects. While many of them have failed to take advantage of promotions, Junior Lake has already asserted himself into the club's present and future plans.
He and backup catcher Dioner Navarro are the only healthy Cubs flirting with a .300 batting average.
Lake whiffs too often, but he also contributes extra-base hits that the shaky Chicago offense sorely needs.
Honorable mention: Travis Wood
Wood frankly isn't pitching much differently than he did during his Windy City debut last summer. His velocity has not changed, nor has his pitch selection, ground-ball rate or strikeout-to-walk ratio. Even his BABIP is particularly lucky once again.
Nonetheless, the left-hander has experienced much better results on the mound in 2013 while also breaking out with the bat (.255/.281/.436, 3 HR).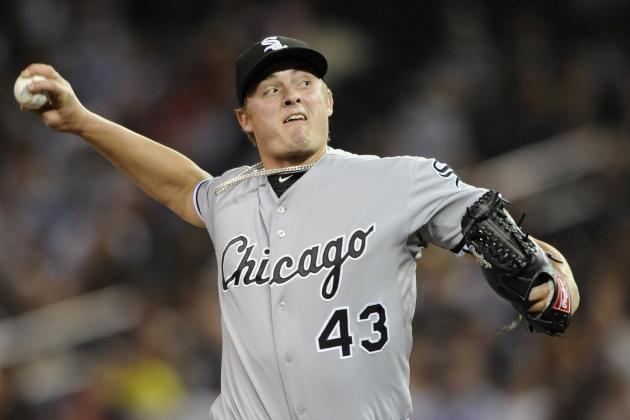 Hannah Foslien/Getty Images

The Chicago White Sox haven't been competitive at any point this season, but you wouldn't know it from Addison Reed's workload.
The 24-year-old has made 60 appearances for the club out of the bullpen, posting a 3.27 earned run average. Manager Robin Ventura won't ease off the accelrator, using him four straight games from Aug. 25-28 and 16 total times so far in August.
Reed's save total ranks fifth in the majors.
Honorable Mention: Jesse Crain
Crain quietly spent his first nine MLB seasons as a great setup man with the Minnesota Twins and White Sox.
In 2013, however, he finally captured our attention with a lengthy scoreless-innings streak and league-leading 0.74 earned run average. That resulted in his first All-Star selection.
Sad to learn that rehab from his shoulder injury has stalled, via Marc Topkin of the Tampa Bay Times.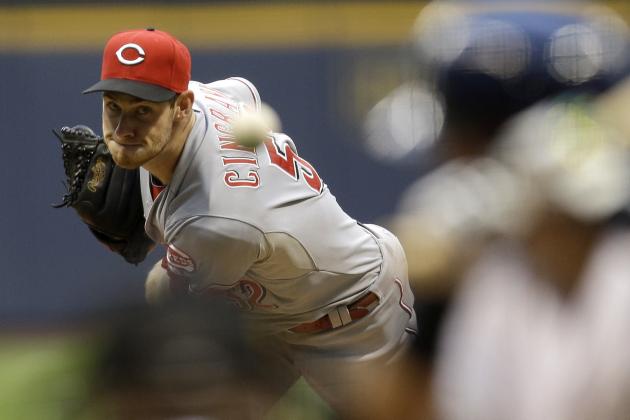 Mike McGinnis/Getty Images

A lower back strain has officially ruined any chance Tony Cingrani may have had at claiming National League Rookie of the Year honors.
Of course, the Cincinnati Reds still express gratitude for what he's been able to provide.
The southpaw has started in place of injured ace Johnny Cueto 16 times this season. Across all 21 of his appearances, Cingrani has a 2.76 ERA and 10.3 K/9 while limiting the opposition to a .190 BAA. He also expertly holds baserunners and contributes to his own cause with a .500 OPS.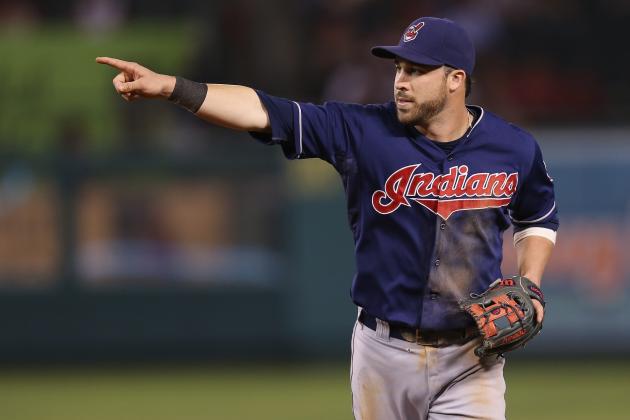 Jeff Gross/Getty Images

Jason Kipnis' athleticism was on full display in 2012, as he racked up 14 home runs and 31 stolen bases for the Cleveland Indians.
Those totals haven't grown much this season, but his progression as an overall player is undeniable. Batting .285/.367/.467 (135 OPS+) distinguishes him as an elite second baseman, even in the American League, where the position is ridiculously deep.
One of the few remaining weaknesses to his game is a 21.7 K%.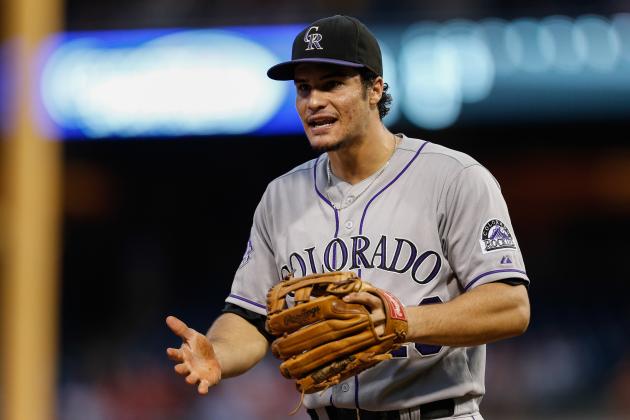 Brian Garfinkel/Getty Images

Nolan Arenado's defense at the hot corner is must-see TV, and his hitting has gradually caught up. He's batting .319/.345/.449 since the All-Star break.
If not for a month spent with the Colorado Rockies' Triple-A affiliate, Arenado might be contending with Andrelton Simmons for the DRS title. He has 29 through 108 contests.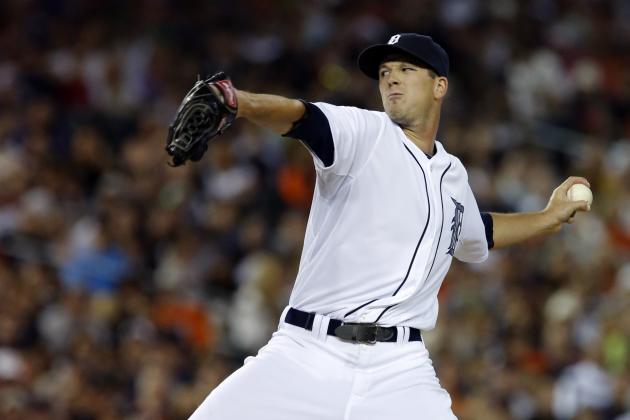 Duane Burleson/Getty Images

Max Scherzer has been magnificent, but last season's 257 strikeouts (playoffs included) ignited his rise to prominence.
The fresher success story is Drew Smyly, a back-end starter turned relief ace. He has been absolutely lethal against left-handed batters, and per FanGraphs, he's had one of the heaviest workloads among relievers.
Bullpen issues threatened to wreck the Detroit Tigers earlier this summer. If not for this 24-year-old, the team certainly wouldn't be vying for the American League's best record.
Honorable mention: Matt Tuiasosopo

The Washington native has been fading back to reality in the season's second half.
Nonetheless, his adequacy at the plate—even at a platoon disadvantage—has allowed the team to keep top outfield prospect Nick Castellanos stashed in the minors.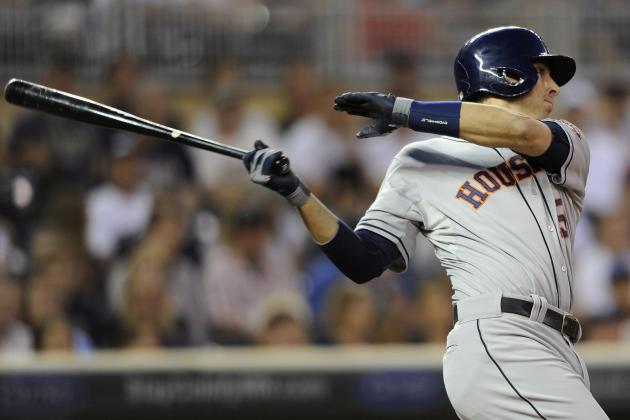 Hannah Foslien/Getty Images

The former top draft pick didn't leave a great first impression on the Houston Astros. Jason Castro produced below replacement level in a half-season with the club in 2010, then missed the entire 2011 campaign with a torn ACL.
We saw progress last summer when he slashed .257/.334/.401 and claimed the starting catcher's job. But even so, who could've anticipated a breakout of this magnitude?
Castro is participating with Joe Mauer in a two-horse race for the best WAR among American League catchers. If not for that Miguel Cabrera guy, he would be under serious consideration for AL Player of the Month for his August awesomeness.
Houston has already locked up Jose Altuve, but doing the same with its 26-year-old backstop will require a longer, more lucrative deal.
Honorable Mention: Jose Veras
The Astros signed Veras to close games for them this past offseason. They didn't know if he could do so effectively, but they figured anything was better than their internal options.
The right-hander has panned out beautifully, commanding his pitches better than ever—3.14 strikeout-to-walk ratio—and showing himself to be practically automatic in the few ninth-inning opportunities he received. Veras proved to be particularly trustworthy when given one-run leads to work with.
Keep in mind, this is a guy who entered 2013 with a lifetime 4.01 ERA, a 4.9 BB/9 and the "journeyman" label.
Modest salary and excellent performance made him highly sought-after on the July trade market. Flipping him for outfielder Danry Vasquez and a player to be named later was Houston's dream scenario.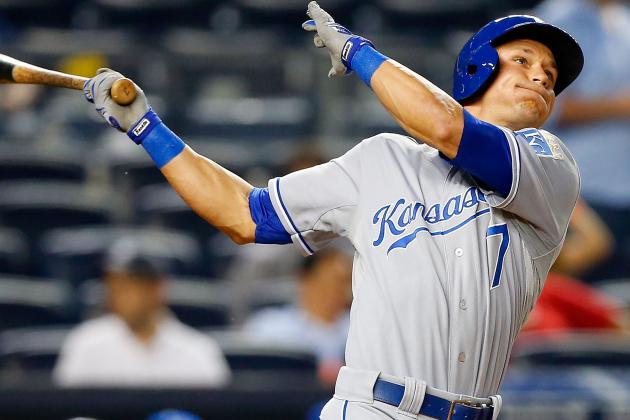 Jim McIsaac/Getty Images

Although David Lough cannot replace Jeff Francoeur's arm strength, he's been far superior to the former Kansas City Royals right fielder in all other facets.
Much of Lough's excellent defensive value comes from his outstanding range. As a batter, he demonstrates solid contact skills and no fear against opposing southpaws.
Honorable Mention: Luke Hochevar
If K.C. had traded Hochevar prior to spring training, it would've been a straight salary dump.
He'd shown basically no improvement during parts of five seasons in the Royals' starting rotation (5.45 ERA, 1.41 WHIP from 2008-2012). Moreover, all of the major league service time he'd accumulated made the price of his arbitration years relatively expensive.
The right-hander is making $4.56 million this summer, and against all odds, he has actually been a good value.
Offseason acquisitions of Ervin Santana and James Shields relegated Hochevar to a long man role in the bullpen. Steady excellence in low-leverage situations convinced the coaching staff to utilize him under more meaningful circumstances. His strikeout rate is well above average, and for the first time in several summers, he hasn't been victimized by a high home run rate.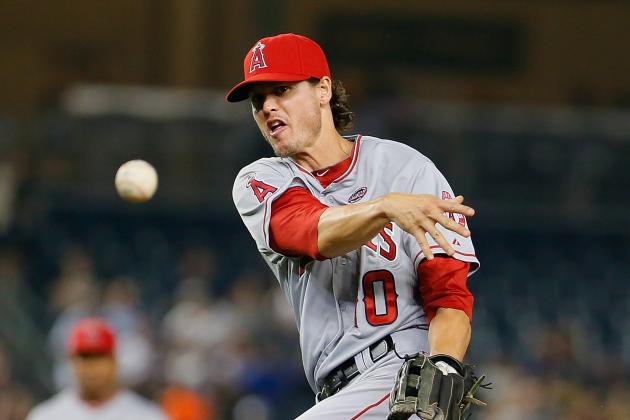 Mike Stobe/Getty Images

Indeed, it's a stretch to claim that one month of great performance qualifies anyone as a "breakout star," but the Los Angeles Angels don't give us any other choice. None of their other young players have emerged as viable contributors during a year in which the team sorely needed them to.
L.A. finalized a trade for Green on July 30 with its playoff odds already depressingly slim. He spent a single home stand with the Triple-A Salt Lake Bees before joining the Halos as a replacement for Howie Kendrick at second base.
The Southern California native is replicating Kendrick's .341 on-base percentage, which ranks third on the club beyond only Mike Trout and Chris Iannetta.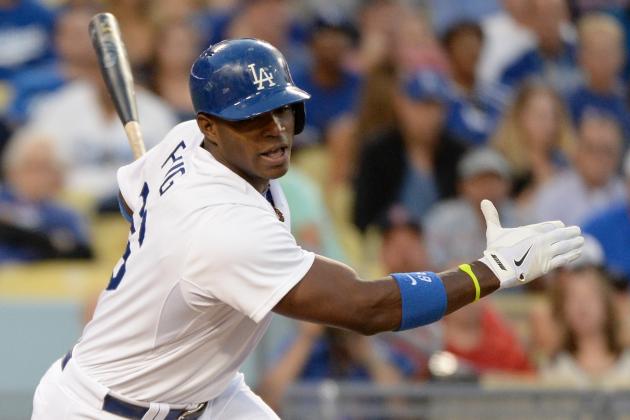 Harry How/Getty Images

Speaking of Yasiel Puig, ESPN provides an interesting bit of info about the torrid start to his career: Among active players, only Ichiro Suzuki recorded his first 100 major league hits in fewer at-bats than Puig's 285. It's worth noting that Suzuki captured AL MVP honors that summer.
Puig's late call-up and rocky relationship with the media all but eliminate the possibility of him receiving the same recognition, but boy, he's been electrifying.
You won't find many players with superior arm strength or agility, and certainly none who combine those tools like Puig does. In what was easily the worst month of his rookie campaign, the Cuban outfielder still produced a .287/.352/.436 batting line while playing on a daily basis.
Some regression is inevitable considering his league-leading BABIP, but even the "real" Puig is an All-Star-caliber player and an indispensable marketing tool for the Los Angeles Dodgers.
Honorable mention: Hyun-jin Ryu
Ryu has been largely overshadowed by his teammate's meteoric rise, but a 2.5 WAR is extremely uncommon for a first-year player, especially one with no prior experience in American professional baseball (Puig came to the U.S. in 2012).
The Korean lefty is averaging nearly six-and-a-half innings per start, much like highly paid rotation buddy Zack Greinke. He's been remarkably consistent from game to game and month to month and at his best in front of the home crowd (2.12 ERA, 68/19 K/BB in 80.2 IP at Dodger Stadium).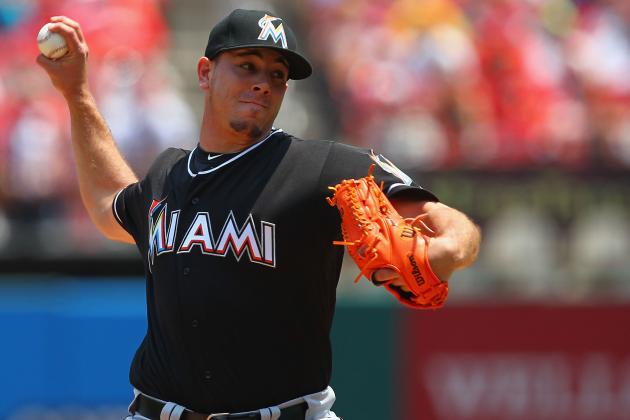 Dilip Vishwanat/Getty Images

Jose Fernandez was wholly expected to be the ace of his starting rotation.
The Double-A Jacksonville Suns rotation, that is. He entered 2013 with only 27 professional appearances, including none above the High-A.
However, a slew of spring training injuries left the Miami Marlins with no other attractive alternatives. The premature promotion now looks like the franchise's best personnel decision in recent memory.
Pitching most of this season as a 20-year-old, Fernandez earned an All-Star selection and continues to improve from outing to outing. Since June 1, he hasn't surrendered more than three runs in any game. He boasts a microscopic 1.52 earned run average in that span with four double-digit strikeout performances, and the Fish have won 12 of those 15 starts.
In two decades of the Marlins' existence, there have been precious few examples of comparable dominance—and certainly none from a rookie.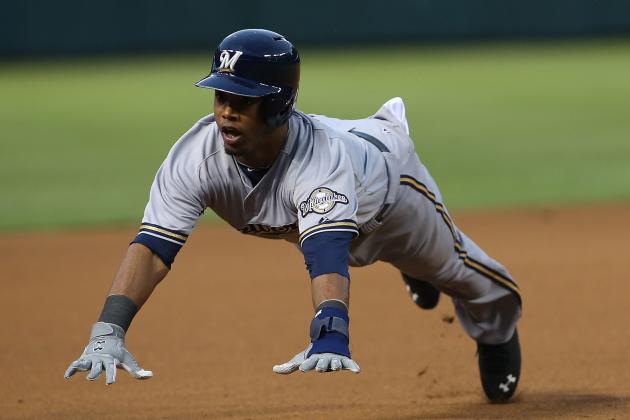 Rick Yeatts/Getty Images

The scouts never considered Jean Segura a can't-miss prospect while he developed in the Los Angeles Angels organization. He was, however, an excellent athlete with plus contact skills.
When obtained in last summer's Zack Greinke trade, the Milwaukee Brewers figured that they were getting someone capable of being an effective everyday shortstop.
In his first full major league season, Segura has already established himself as one. He won't necessarily improve in the power department, but he could continue challenging for the league lead in stolen bases and triples through the end of the decade.
Honorable mention: Jim Henderson
Better late than never to realize your MLB potential.
Henderson debuted for the Milwaukee Brewers last summer as a 29-year-old with a prolific 13.2 K/9 but questionable command.
Despite throwing far fewer strikes in 2013, he has trimmed his batting average against down to .186 and halved his earned run average. Probably not sustainable, but it's been a tough enough year in Milwaukee without any unwarranted nitpicking.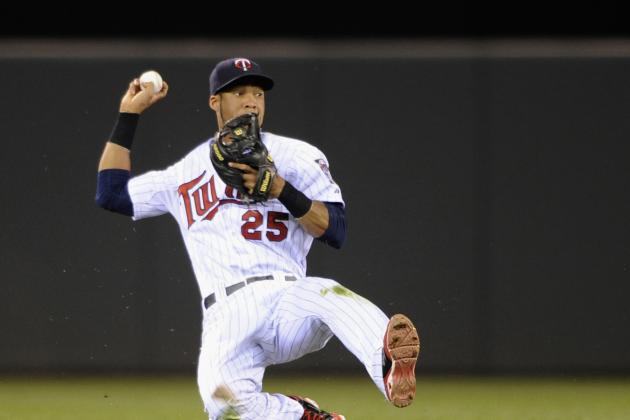 Hannah Foslien/Getty Images

The Minnesota Twins will need to relinquish serious prospects or spend serious money to build a solid middle infield like they had in 2010. Or they could preserve their stacked farm system and keep the payroll reasonable by sticking with Pedro Florimon.
Although a sub-.300 on-base percentage can cause frustration, his heads-up baserunning and occasional power partially compensate for that. On top of that, magnificent glove work makes him wholly deserving of a starting job.
The road back to relevancy won't be a simple one, but Florimon will help guide the Twins in the right direction.
Honorable Mention: Caleb Thielbar
Thriving in an independent professional league doesn't ensure that a player will intrigue an MLB team. Thielbar had better-than-average odds, however, because he latched on with the St. Paul Saints, who are based in the Twins' backyard.
The southpaw signed with the franchise in 2011, tore through the farm system and debuted at the major league level this summer. By all measures, he's been a terrific addition to the bullpen with the ability to neutralize batters of either handedness.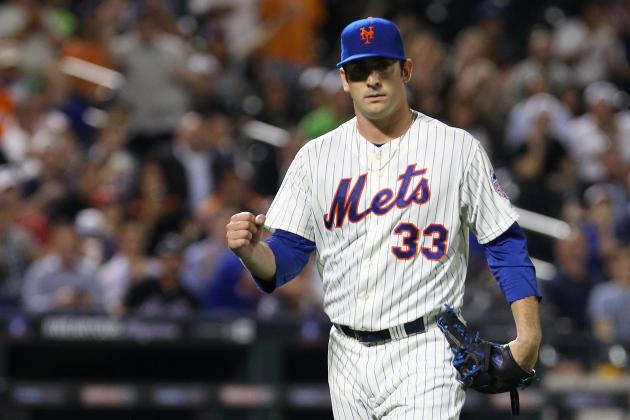 Mike Stobe/Getty Images

A partially torn ulnar collateral ligament means we won't see any more of Matt Harvey in 2013. Still worse, the New York Mets could decide to put him through Tommy John surgery this winter, effectively eliminating him from returning to the majors until 2015.
Harvey heads to the disabled list having made a seismic impression on the baseball landscape. With a 2.27 ERA, 0.93 WHIP and 9.6 K/9, he started the Midsummer Classic for the National League and was seen as the only legitimate threat to Clayton Kershaw in the NL Cy Young Award race.
Moreover, the right-hander endeared himself to the public by posing nude for ESPN The Magazine and spoofing his anonymity in a Late Night with Jimmy Fallon segment.
Even in the event that Harvey needs to sit out a year to recover, his return will be highly anticipated.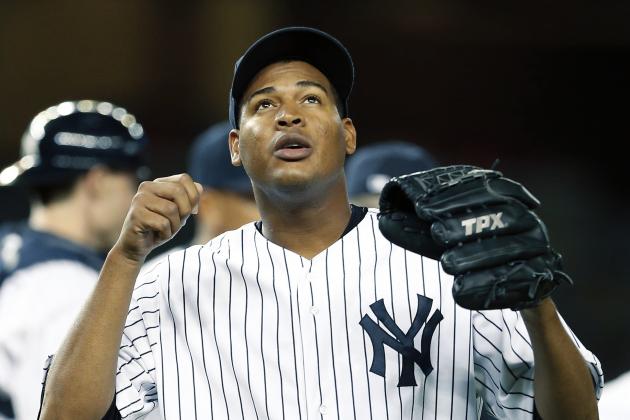 Rich Schultz/Getty Images

Many New York Yankees fans became enamored with Ivan Nova in 2011, when the rookie right-hander finished with a 16-4 record.
Of course, a closer look at his stats showed an ordinary starter with incredible run support and decent luck on balls in play.
Without nearly as much help, Nova has now entrenched himself in a rotation that otherwise faces uncertainty beyond this season. He boasts a 8.3 K/9 while consistently pitching lower in the strike zone to suppress extra-base hits.
He's easily been the most effective Yankees starter since the All-Star break as the team desperately pushes for a playoff berth.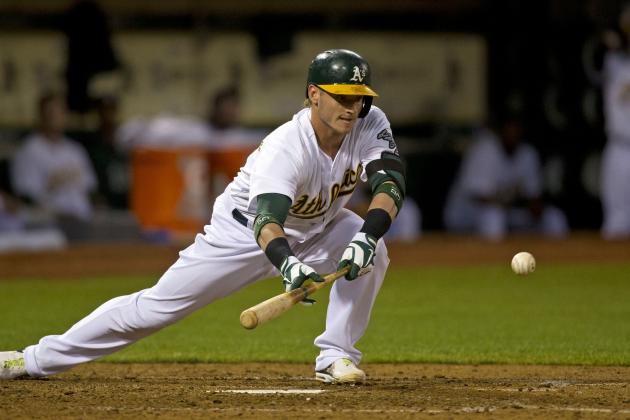 Jason O. Watson/Getty Images

Josh Donaldson was one of many unheralded impact players on the 2012 Oakland Athletics. After twice failing to establish himself on their active roster during the first half, he took over as their starting third baseman down the stretch and into October.
He has officially broken out in 2013 by sustaining his hot hitting (.295/.372/.479, 19 HR) for an entire summer while continuing to excel with the glove.
Arguably the most blatant snub from the All-Star selection process, Donaldson leads the A's in extra-base hits, OPS and games played.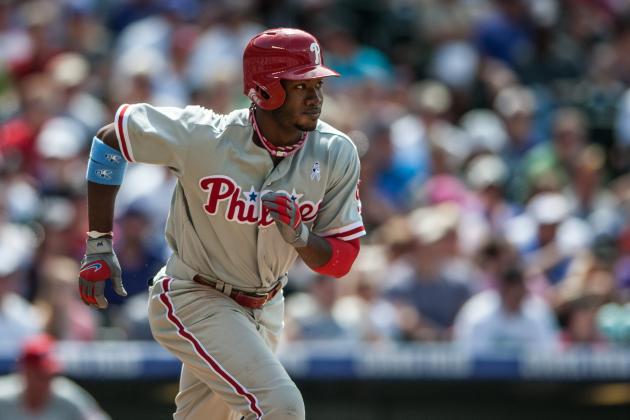 Dustin Bradford/Getty Images

The Philadelphia Phillies made no secret of the fact that they were rooting for Domonic Brown to succeed in the majors. Although linked to free-agent outfielders like Josh Hamilton and Cody Ross this past winter, they ultimately opted to spend extra cash on pitching and allow their former top prospect one last opportunity to establish himself.
That patience has certainly paid off, as Brown is now one of the best offensive outfielders in the National League.
He exploded in May with 12 home runs—tying his 2010-2012 total with Phillies—and has racked up 27 overall. He could sit out the remainder of this season and still lead the club in that category.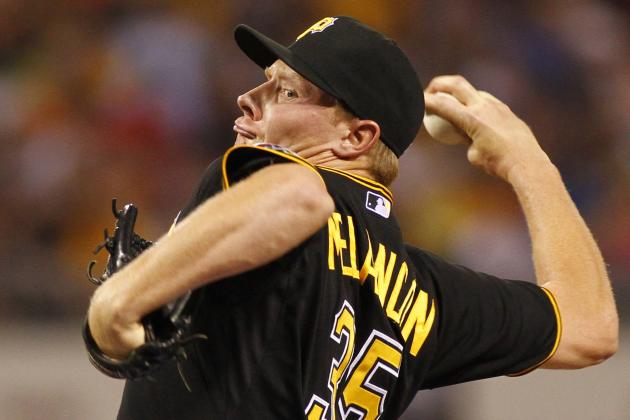 Justin K. Aller/Getty Images

Mark Melancon has been traded three times in as many years, coveted by the Houston Astros, Boston Red Sox and Pittsburgh Pirates for his consistent strike-throwing.
His 2011 campaign for Houston was a pseudo-breakout. Although Melancon spent much of that summer closing and did so quite effectively, he surely wouldn't have earned so much responsibility on a competitive team. His 3.25 FIP from that year wasn't significantly better than the National League average.
At age 28, he's once again pitching in the ninth inning, but he's refusing to offer his opposition even the slightest illusion of hope. Melancon ranks top 10 among qualified relievers in both WAR, ERA and WHIP.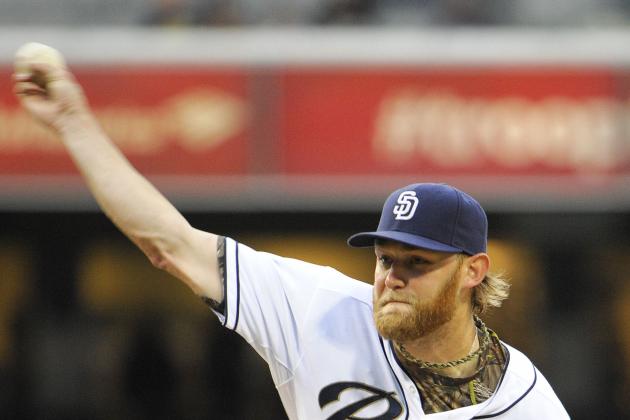 Denis Poroy/Getty Images

The future of the San Diego Padres' starting rotation is still very murky, but Andrew Cashner looks like one power arm they can trust for the next several years.
He's rocking a 3.55 earned run average and a 2.33 strikeout-to-walk ratio—3.53 ERA, 2.46 K/BB as a starter—in his first full MLB campaign. Hardly anybody in the Senior Circuit has been steadier since the All-Star break.
According to FanGraphs, only Eric Stults has provided more Wins Above Replacement for the 2013 Padres.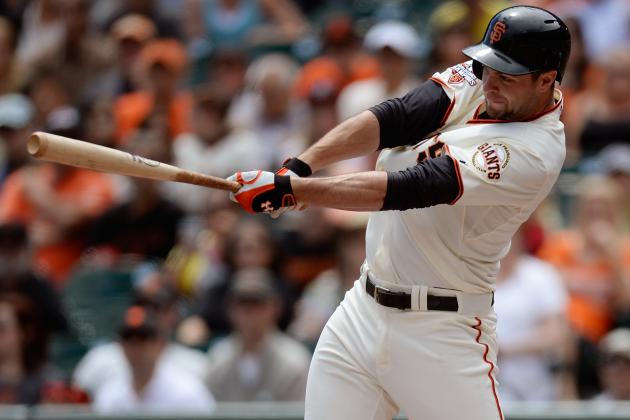 Thearon W. Henderson/Getty Images

At an average of more than once per week during the 2012 season, Buster Posey would start games at first base in place of Brandon Belt. The defensive switch would ensure a day of reduced physical strain for the best hitter on the San Francisco Giants.
We've seen much less of that in 2013, and that's because Belt has dramatically reduced the production gap between himself and the reigning NL MVP.
Here's a stat comparison:
2013 Stats

| | | | | | |
| --- | --- | --- | --- | --- | --- |
| Player | Batting Average | On-Base Percentage | Slugging Percentage | Home Runs | WAR |
| Brandon Belt | .280 | .357 | .480 | 15 | 3.1 |
| Buster Posey | .305 | .374 | .475 | 14 | 4.2 |
Each position has unique expectations for offensive output, which accounts for the sabermetric difference above.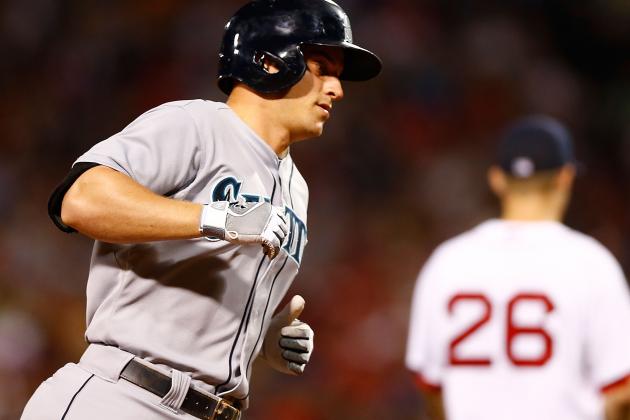 Jared Wickerham/Getty Images

Judging by WAR, Kyle Seager has merely been the same player we saw with the Seattle Mariners in 2012. His contributions have simply become more detectable.
The homegrown third baseman is less valuable at the hot corner, but he's obviously more valuable offensively. His .259/.316/.423 batting line from last year has climbed to .277/.348/.465. Seager hits for extra power while striking out less, and he has missed only three games in 2013.
Honorable Mention: Brad Miller
The left side of Seattle's infield is set for the foreseeable future.
Miller spent merely a month at Triple-A because the M's were anxious to use him as an upgrade over Brendan Ryan at shortstop. Although not quite a vacuum for them up the middle, his .745 OPS has clearly bolstered the top of the lineup.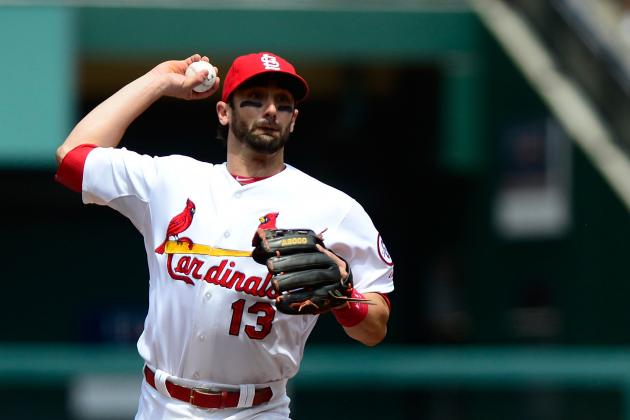 Jeff Curry/Getty Images

The St. Louis Cardinals have a knack for instilling an advanced hitting approach in their homegrown position players.
Matt Carpenter is a shining example of that. He bounced around the infield in his sporadic playing time last summer, but he's now found a home at second base and mashed at a .314/.383/.476 clip. While not Allen Craig-caliber, Carpenter's 1.020 OPS with runners in scoring position is awfully important to St. Louis' success.
Among all major league leadoff hitters, only Shin-Soo Choo boasts a superior on-base percentage (and that's only true because he's been plunked by pitches a couple dozen times).
Honorable Mention: Shelby Miller
Chris Carpenter's preseason struggles with numbness put extra pressure on Miller to stabilize the rotation. Then, in May, when Jaime Garcia underwent season-ending elbow surgery, there was no longer any doubt that the rookie right-hander needed to excel for the Cardinals to remain relevant.
Coming off a summer when Miller was inconsistent at Triple-A, he's been extremely impressive.
The 22-year-old boasts a 2.90 ERA and 3.33 FIP through 25 starts, including a pair of double-digit strikeout performances. Only once has the opposition scored more than four runs against him in a game.
St. Louis fans can finally see the plus fastball and nasty curve that made Miller a top prospect heading into 2013.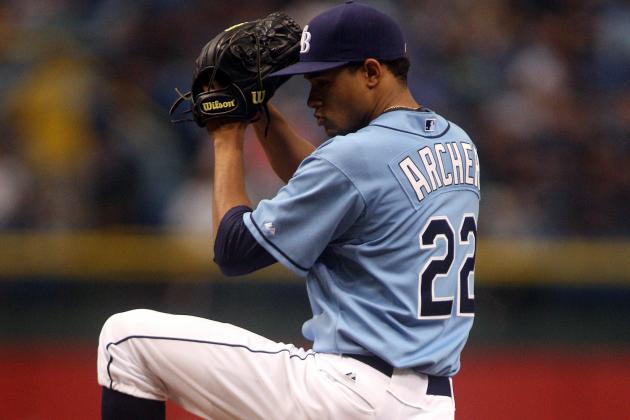 Charles Sonnenblick/Getty Images

Chris Archer made a few spot starts for the Tampa Bay Rays in 2012, but this is still technically his rookie season. It has already featured two complete-game shutouts.
To put that in perspective, exceptionally talented staff aces like Madison Bumgarner and Chris Sale have only thrown one apiece in their entire careers.
Here's the list of American League pitchers with earned run averages below 3.00 (min. 100 IP): Anibal Sanchez, Yu Darvish, Max Scherzer, Hiroki Kuroda, Bartolo Colon, Felix Hernandez, Alex Cobb and Archer.
Honorable Mentions: Alex Cobb, Wil Myers
Most eyes turned to Cobb when a line drive smacked off the side of his head. He made a full recovery, thankfully, and picked up right where he left off when rejoining the Rays' rotation in mid-August.
The right-hander's stats have been eerily similar to Archer's in 2013, albeit with a slightly higher batting average against and strikeout-to-walk ratio.
Myers seemed like a lock to represent Tampa Bay on this slide prior to experiencing his first speed bump on the road to greatness. The 22-year-old batted .326/.379/.525 through 47 MLB games, but he has zero extra-base hits since then. He hasn't even singled since Aug. 21.
All in all, still a very impressive rookie demonstration from the highly touted outfielder.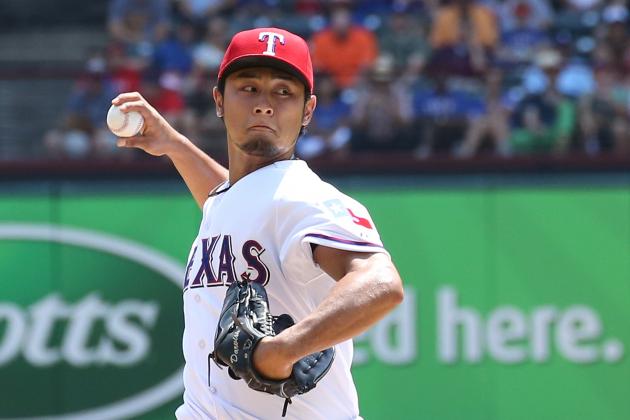 Rick Yeatts/Getty Images

Between bidding for the rights to negotiate and actually signing Yu Darvish, the Texas Rangers easily spent nine figures on the highly touted Japanese right-hander. All eyes were on him in 2012, even though he wasn't particularly elite.
As Darvish sews up the MLB strikeout title with five separate performances of at least 14 K's, it's safe to acknowledge him as a genuine dream-crusher. He boasts a surreal 1.85 earned run average and .186 batting average against since returning from a brief stint on the disabled list, and he hasn't issued more than four walks in any of his 25 starts this season.
Only a few weeks removed from his 27th birthday, Darvish could potentially spend the next decade contending for major award recognition.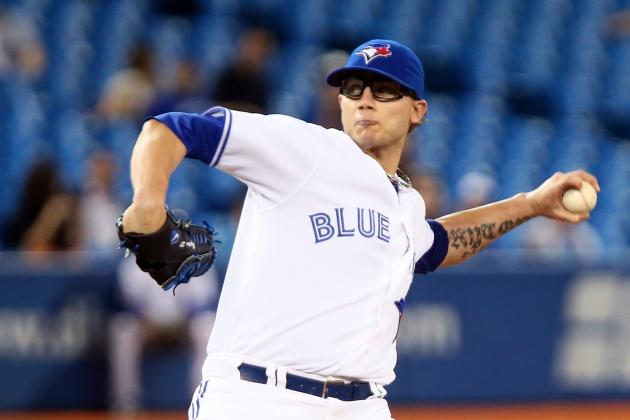 Abelimages/Getty Images

The Toronto Blue Jays sorely needed less reputable players to break out in the starting rotation and everyday lineup to offset several of their tremendously disappointing winter acquisitions.
That didn't happen, but at least the bullpen appears to be a strength heading into 2014.
Brett Cecil spent parts of four major league seasons attempting to prove himself worthy of pitching every fifth day. Unfortunately, he couldn't generate enough swings-and-misses or prevent his mistakes from leaving the ballpark.
Relegation to a relief role has been a blessing in disguise, allowing Cecil to dial up his fastball into the mid-90s when necessary.
His earned run average has improved three full runs from last summer's thanks to positive trends in batting average against and strikeout-to-walk ratio.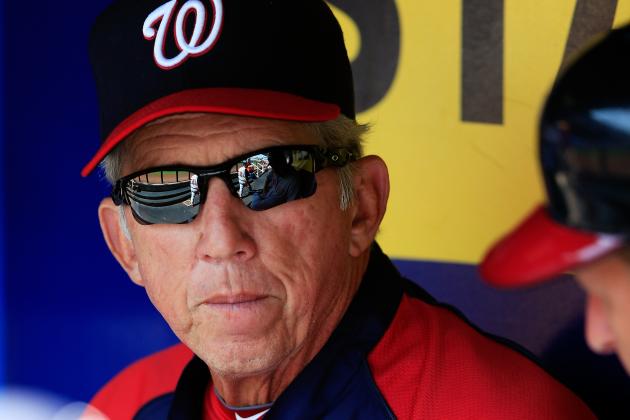 Jamie Squire/Getty Images
Needless to say, Davey Johnson is disappointed about this.
The Washington Nationals still have a faint pulse in the wild-card race, but no individual breakout candidate has been enough of an influence to merit recognition.
After all, the return of so many established stars was responsible for the extraordinary preseason hype in the nation's capital. Fans were eager to see Bryce Harper and Stephen Strasburg with another year of maturation and were optimistic that free-agent additions like Dan Haren and Alfonso Soriano could solve any depth concerns.
Right-hander Taylor Jordan is the lone young player to debut in 2013 and make a meaningful contribution. He filled the void at the back end of the rotation for a couple months, posting a 3.66 ERA and 1.36 WHIP in nine starts, which isn't star-caliber under any context. Moreover, management has already shut him down for the rest of the summer due to workload concerns.