Daniel Bryan and Randy Orton Will Make SmackDown Relevant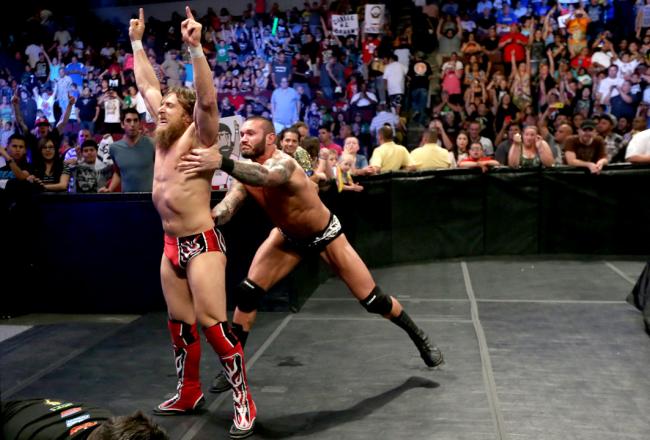 Randy Orton attacks Daniel Bryan (Photo by WWE.com)

Let's face it, as good as SmackDown can be from week to week, it's usually fairly...inconsequential. Sure, as the designated "wrestling" show, the matches all get room to breathe, but very little of importance happens on the program.
From a continuity standpoint, it's skippable.
This was all amplified by the absence of John Cena and CM Punk from SmackDown most weeks. Since they dominated the WWE Championship picture for the past two years, storylines involving the title very rarely ventured over from Raw.
Recent in-person appearances by WWE champion on SmackDown

| | | | | |
| --- | --- | --- | --- | --- |
| Date | Champion | Type of Segment | Other Performers | Notes |
| 12/18/12 | CM Punk | Promo | Paul Heyman, Ryback | Set up TLC match. |
| 1/25/13 | CM Punk | Promo | Paul Heyman | Royal Rumble hype. |
| 3/29/13 | The Rock | Promo | John Laurinaitis | Comedy segment. |
TheHistoryOfWWE.com
That brings us to the episode of SmackDown that aired Friday night. The show opened with Randy Orton coming out to cut a promo, only to be interrupted by Daniel Bryan. The show closed with Orton attacking Bryan after he defeated his recent "secondary" rival Wade Barrett in a cage match.
Most weeks, this would be no big deal: Both Orton and Bryan have been on SmackDown for months, and their storylines have been intertwined for a while, too.
Friday night was different, though: This was the first SmackDown since Bryan won the WWE Championship, Orton cashed in the Money in the Bank contract to win the title (and turn heel) with Triple H's help and Cena announced his departure to heal a torn tricep. Orton is clearly the top heel in WWE right now, while Bryan has usurped Cena and CM Punk as top babyface.
It didn't click in my head until today that in addition to revamping the main event scene, this is a huge shot in the arm for SmackDown.
As simple as the opening and closing angles were, they felt new and fresh in the context of being the featured segments on SmackDown. Suddenly, it wasn't just a canned wrestling show with a bunch of good matches but very little drama.
More importantly, the opening segment was Orton's first solo promo since turning heel and winning the title. On Raw, Triple H did most of the talking for the Orton/McMahon family unit. So not only was the main event storyline making its way on to SmackDown, but the SmackDown angles played a fairly important role in the ongoing story.
Does the WWE Championship feud make you more likely to watch SmackDown?
SmackDown wasn't just good Friday night. It was, for the first time in a long while, relevant to the biggest angle in the company. I didn't feel like I was watching a fun diversion; I felt like I was watching something that mattered in the grand scheme of things.
Everyone wins: The fans get more enjoyment out of the SmackDown, and WWE gets to place some long-overdue importance on the show. It'll be interesting to see how the ratings pan out in the next few weeks: Will SmackDown's viewership go up now that it "matters" more?
Regardless, it's a pretty cool turn of events. Let's just hope nobody in WWE arbitrarily decides to pull Orton and Bryan off SmackDown to do things "the old way..."
David Bixenspan has been Bleacher Report's WWE Team Leader and a contracted columnist since 2011. You can follow him on Twitter @davidbix and check out his wrestling podcasts at LLTPod.com.
This article is
What is the duplicate article?
Why is this article offensive?
Where is this article plagiarized from?
Why is this article poorly edited?