Tiger Woods at Barclays 2013 Tracker: Day 2 Highlights, Updates and Analysis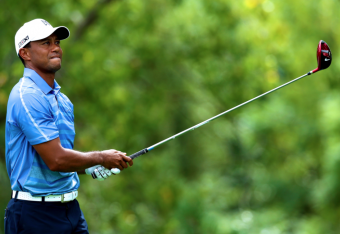 Play has been suspended at The Barclays due to darkness with Tiger Woods at five-under through 13 holes in the first tournament of the FedEx Cup playoffs.
At one-under on his round, Tiger is five shots back of playing partner Kuchar, who is looking for his third victory of the year.
Woods will have a short look at birdie on the par-three 14th when play resumes tomorrow morning at Liberty National.
It was a relatively uneven day for Woods who started with three birdies in the first five holes and then suffered a trio of bogeys between the seventh and 11th holes to give it all back.
A birdie on the 13th gave the world No. 1 some momentum heading into an early Saturday conclusion to his second round.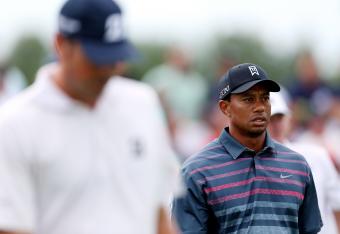 Woods will return tomorrow morning with a chance to get to six-under on the 14th and to two-under on his round.
A strong finish will put him in a good position for a weekend run at his first Barclay's title and his sixth PGA Tour win on the season.
As fast as it went away, it appears Tiger's fine form is back. Tiger hit it to inside 12 feet on the par-three and will have a chance for a second straight birdie.
The effort will have to wait until tomorrow, however, as play has officially been suspended at Liberty National.
I know it makes for long days for the competitors, but who doesn't like this night golf with all the stars on the screen?

— Tim Rosaforte (@TimRosaforte) August 23, 2013
The birdie putt falls and Woods looks in much better spirits walking off the 13th hole.
Tiger is now five-under, and sits five shots behind Kuchar, who also birdied the hole. Chances are there is enough light left for to get Tiger through the par-three 14th before play is suspended.
A terrific chip back down the green for Tiger. A much needed birdie is likely forthcoming.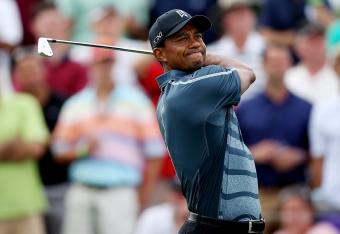 Tiger ripped a three-iron over the green with his second shot but should have a good chance to get-up-down for birdie on the par-five.
Given he's three-over since the seventh hole, he could definitely use something positive as his afternoon prepares to end.
Meanwhile, Matt Kuchar has an eagle putt within 10 feet to take the outright lead.
There might be enough daylight left for two more holes. The question is whether Tiger can find some momentum in the dusk on the par-five 13th.
Knocks approach pin high, left of hole. Downhill put, 20 feet. Nice roll, stops just in front of hole. Taps in for par.

— GC Tiger Tracker (@GCTigerTracker) August 23, 2013
Par on the 12th hole. Woods remains at four-under, right where he started this rather uneven day.
Wondering if the @GolfChannel will start tape delaying @TigerWoods shots so that they can bleep his F words. #TigerEarlier #PGA #Barclays

— Steve (@stingrays01) August 23, 2013
A fairway found but another green missed for Woods. Tiger left his approach on 12 to the left of the green.
Should be an easy up-and-down but given the Tiger has played the past five or six holes, who knows?
He could certainly use an easy par to settle his rather foul mood.
Finally, a fairway for Woods on the 12th hole.
Looking to snap a run of consecutive bogeys, Tiger found the short grass on the par-four and will now look to give himself a birdie opportunity for the first time in more than an hour.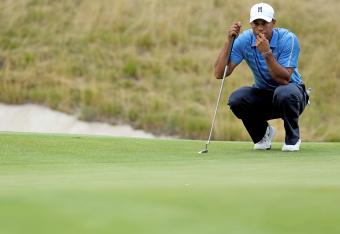 Not only did Woods get a talking to from commentators for naughty language, he suffered his second straight bogey and the third in the past five holes on the 11th.
After such a promising start, the wheels have certainly fallen off the Woods wagon and he's not handling it particularly well at the moment.
He needs to pull it together over the next 45 minutes or he'll find himself out of the tournament before Saturday even comes.
He is currently at level par for the day and four-under for the event.
Another hole, another bunker for Woods.
Tiger hit his tee shot on the par-three 11th into the back trap and for yet another hole will have to scramble to save par.
He is left with about 20 feet for par and looks unhappy to say the least.
@TigerWoods falling back, partly or entirely because of a bad back. He's wincing, walking gingerly, and struggling with 2nd bogey in 4 holes

— Steve DiMeglio (@Steve_DiMeglio) August 23, 2013
This time Woods couldn't get up and down.
Tiger ran his par putt some four feet past the hole on the 10th and has his second bogey of the day. He is now five-under and four shots off the lead.
Oil is really starting to leak on his second round.
Tiger's back (is hurting). #thebarclays #fedexcupthingy

— Paul Mahoney (@paulmahoneygolf) August 23, 2013
Stop me if you've heard this one; another poor drive has Woods scrambling at Liberty National.
Tiger came up well short of the 10th green from a fairway bunker and has a lot of work left to do to avoid a second bogey of the day.
He's is struggling off the tee with or without driver and has to pull it back together over the final four or five holes before play is suspended for the day.
After hot start, Tiger Woods' round cools down & his back tightens up. He's gingerly moving down to pick up tee.

— Kelly Tilghman (@KellyTilghmanGC) August 23, 2013
After hitting his trademark stinger down on the fairway on the 10th, Woods appeared to be favoring his back as he bent all the way down to pick up his tee.
Shouldn't bother him the rest of the way today, but he's going to have a lot of golf to play tomorrow. It's something to keep an eye on as the second round progresses.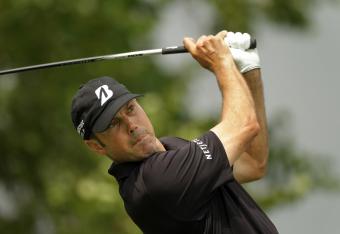 Tiger got off to the hot start, but Kuchar finished the front nine with a flurry.
A two-time winner on tour this year, Kuchar birdied three of the final four holes to make the turn at eight-under, just one shot behind Simpson.
After three early birdies, Woods made the turn at two-under for the day and two shots behind his playing partner.
@TigerWoods is at -6 and has not made birdie on the first 5 par-5s he's played this week at #libertynational

— Steve DiMeglio (@Steve_DiMeglio) August 23, 2013
After a solid chip, Woods makes par on the ninth but has to feel like he has left some birdies out on the course today.
Tiger parred the two par-fives on the front nine and is level par on the long holes in five opportunities so far at Liberty National.
He needs to take advantage of those holes if he is going to be in contention come Sunday.
Tiger's issues from off the tee are starting to cause him some troubles. His approach from the bunker on the ninth missed the green and is some rather deep rough.
A challenging up-and-down awaits for Tiger to stay at six-under as his round has definitely stalled.
Bubble Boy Ben Crane WD's from the Barclays due to a back injury. He shot a 67 in the opening round: http://t.co/1CRKVPJVwI

— Golf.com (@si_golf) August 23, 2013
The FedEx Cup playoffs already has its first casualty.
Ben Crane entered The Barclays 125th in the standings and needed a strong showing at Liberty National to be among the top 100 qualifiers for next week's Deutsche Bank.
Instead, Crane was forced to withdraw from the event due to injury. Twenty-four others will join him on the sidelines on Sunday.
We hope Tiger brought plenty of sunscreen with him to Liberty National. Woods has once again found a fairway bunker from off the tee on the ninth.
Despite being two-under, he has been in more than his share of sand during the second round.
Tiger can't get enough of the bunkers at Liberty National today! I think that was the third hole in a row? IT'S LIKE THERE's A MAGNET .

— Stephanie Wei (@StephanieWei) August 23, 2013
The second shot into the bunker ends up costing Woods another birdie opportunity.
His putt just brushed by the hole on the eighth and Tiger has to settle for another par. He is now one shot behind playing partner Matt Kuchar, who birdied the hole.
Despite a long bunker shot and the ball sitting down in the sand, Woods plays a solid shot to about 10 feet pin high.
Another good look at birdie is coming up for Tiger who is looking to get his round going again after that bogey on seven.
Saturday's tee times have been moved up. Players will go in threesomes off both tees. More info: http://t.co/VI6quJO0Lb #FedExCup

— PGA TOUR (@PGATOUR) August 23, 2013
Thursday's long weather delays continue to cause changes to The Barclays' schedule. After the second round completes tomorrow morning, golfers will go out in threesomes for the third round.
Tiger's approach rolls out and into a green-side bunker. A tough up-and-down awaits for the world's top golfer.
Tiger gets another par-five to recover from his first bogey of the week and opts to hit driver off the eighth tee.
He misses the fairway to the right but the lie appears to be decent. At least he didn't hide from the club this time.
Turns out flagsticks are Tiger's toughest opponents in 2013. He fails to get up & down for 1st time this week, notches 1st bogey

— Kelly Tilghman (@KellyTilghmanGC) August 23, 2013
Twenty-five holes into The Barclays, Tiger makes his first bogey. He just missed the nine-foot par putt on the seventh hole and falls back to six-under, three back of the lead. Kuchar makes par and remains at that same number.
This article is
What is the duplicate article?
Why is this article offensive?
Where is this article plagiarized from?
Why is this article poorly edited?