The Detroit Lions certainly made impressive work of their regular-season dress rehearsal Thursday night, beating the New England Patriots by 31 points in a game where many of the starters played an entire half.
While there isn't always much to glean from preseason games—even the important third contest—the Lions did teach us a few things about how the club might operate once the lights of the regular season come on.
The offense has clearly identified a second playmaker in the passing game outside Calvin Johnson, but personal fouls remain an issue. The defensive line will create all kind of problems for opposing offenses, and it's likely the backup running back situation has been decided. And maybe most importantly, both sides of the football appeared to take steps forward from previous preseason games.
Again, it's worth making note of the relative unimportance of exhibition games. The 40-9 scoreline is not indicative of how the Lions will stack up to the Patriots in the regular season. However, there's nothing wrong with establishing some confidence ahead of a season, and that's exactly what Thursday night's performance against New England should do.
Now, can the Lions carry over any tangible momentum to the Sept. 8 opener?
Here's five things we learned about the Lions Thursday.
Reggie Bush is Going to Catch A lot of Passes
If this idea wasn't obvious when the Lions signed Bush in free agency, it is crystal clear now.
With Calvin Johnson out of the lineup, Detroit went to Bush on 11 of its first 19 plays against the Patriots. He carried six times for just one yard, but he also caught five passes for 103 in one half of work. Matthew Stafford continually went to Bush on checkdowns and designed screens, and Bush made the rest happen with his trademark ability after the catch.
On a screen pass in which Stafford had to sidearm the delivery, Bush made a number of tacklers miss on a 69-yard scamper. It was vintage Reggie Bush in the open field.
The 28-year-old back has now caught 10 passes for 147 yards over the last two preseason games.
The Lions will obviously shift their focus back to Johnson during the regular season, but Bush appears to be a very real candidate to become Detroit's second-leading receiver. In fact, it wouldn't be at all shocking if he came close to repeating these receiving numbers from his first two seasons in New Orleans:
Reggie Bush's Receiving Numbers, 2006-07

| | | | | |
| --- | --- | --- | --- | --- |
| | G | Rec | Yrds | TD |
| 2006 | 16 | 88 | 742 | 2 |
| 2007 | 12 | 73 | 417 | 2 |
| Totals | 28 | 161 | 1,159 | 4 |
| Averages | 14 | 80.5 | 579.5 | 2 |
Source: NFL.com
The Lions are as pass-happy an offense as there is in football. Bush is one of the most accomplished receivers at his position. The tendencies of both offense and player mesh perfectly here, which should guarantee the Lions get every penny out of Bush in 2013.
The Defensive Line is Going to Cause Problems
Thursday's game re-enforced that there may not be a more talented defensive tackle duo in football than Ndamukong Suh and Nick Fairley. At times, the two dominated the Patriots interior offensive line, especially in the run game. The two have the ability to push an offensive line backwards on any snap.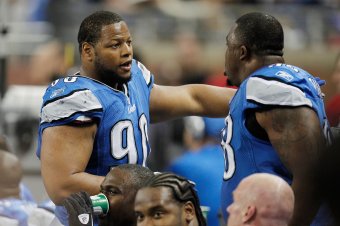 Gregory Shamus/Getty Images
But the combo isn't alone.
Free-agent pickup Jason Jones has been a huge hit early on, especially as a versatile rusher. There have been snaps where the Lions line up Suh and Fairley in the traditional defensive end spots and let Jones and first-round pick Ezekiel Ansah do their work inside. It could be a devastating look for the Lions in 2013.
Chris Burke of Sports Illustrated had a strong breakdown of how the Lions might mix and match along the defensive line this season.
Of course, Israel Idonije and Willie Young haven't even been mentioned yet.
Like previous seasons, the Lions are deep and talented across the defensive line in 2013. If this defense has any chance to be good, it will be through the effort up front. On Thursday night, we saw that theory in action.
Player Discipline Hasn't Been Fixed
The Lions have the talent on both sides of the football to compete for a playoff berth this season. But an old wart of this club has continued to show up this preseason.
Detroit committed five personal fouls against the Patriots, including a pair of late hits, an unnecessary roughness call and a ridiculous taunting violation from defensive end Willie Young. Lions head coach Jim Schwartz benched Young after his silly stunt toward quarterback Tom Brady.
It's also worth noting that the Lions committed three personal foul penalties in their loss to the Cleveland Browns a week earlier. All three were after-the-whistle infractions that resulted from a player losing his cool.
The dumb penalties continue to be a trend of Schwartz's reign in Detroit. Oftentimes, the 15-yard decisions have hurt the Lions.
Detroit might not be able to get over the hump in the win-loss column unless the hot-headed mistakes stop happening. So far this preseason, they have proven to still be a real problem.
The Starting Offense and Defense Took Positive Steps Forward
Neither the first-team offense nor the defense was perfect against the Patriots, but both units have to feel much better about the way they played Thursday night.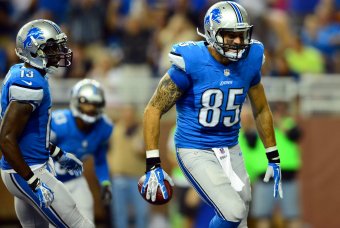 Andrew Weber-USA TODAY Sports
Even without Calvin Johnson available, the starting offense found the end zone for the first time this preseason and scored 16 total points in one half of work.
The running game struggled to gain footing early on, but Reggie Bush helped spark the offense with short receptions that he turned into big yards. Matthew Stafford was somewhat erratic accuracy-wise, but he did find tight end Tony Scheffler for a score in the second quarter. Overall, it was a performance to build on, especially considering Johnson wasn't in the lineup.
The defense had to be happy about the four turnovers it forced, and the three points allowed to a Tom Brady-led offense (even if it is still gelling in New England) were a good sign. Chris Houston intercepted Brady when a pick-play went wrong, and Detroit also forced three first-half fumbles. Brady threw for nearly 200 yards, but the Lions can handle volume stats as long as turnovers come and points are kept off of the scoreboard.
Caution is always suggested when analyzing preseason performances, but the Lions now have some positive film to build off of as the regular season approaches. The mini-steps forward certainly beat the alternative.
Backup Running Back is Settled
Can we call the Lions' backup running back race? It certainly looks like it.
Joique Bell was once again the clear No. 2 back Thursday night. He made the most of his opportunity, carrying five times for 52 yards and catching two passes for another 49 in an impressive performance. Overall, Bell has been the much better back this preseason.
Decided? Lions Backup Running Backs This Preseason

| | | | | | |
| --- | --- | --- | --- | --- | --- |
| | G | Att | Yrd | Avg | Rec |
| J. Bell | 3 | 12 | 78 | 6.5 | 7 |
| M. Leshoure | 3 | 12 | 56 | 4.7 | 0 |
NFL.com
Meanwhile, likely third-stringer Mikel Leshoure rushed five times for 32 yards, but he was the fourth running back off of the bench against the Patriots. Unless he turns on the jets over the last week or so, there's no telling what his role could be once the regular season starts.
Through three preseason games, it's abundantly clear that Bell has earned the job as Reggie Bush's backup. Leshoure, who was once a promising second-round pick, might have to carve out a role on special teams to have much of an impact for the Lions.