Slovakia Olympic Hockey Team 2014: Projecting 25-Man Roster for Sochi Games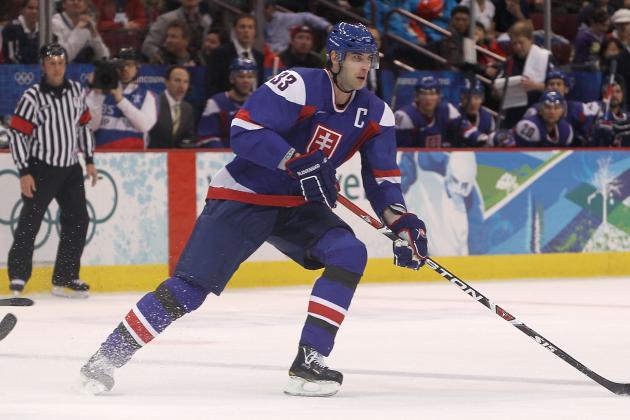 Bruce Bennett/Getty Images
Zdeno Chara anchors the Slovakian defense.
When the Slovakian team takes the ice at the Olympics in Sochi, they are going to be all business in their effort to get a medal.
That's because this country has never won an Olympic medal in hockey in five previous competitions. They came close in 2010 when Slovakia finished fourth in Vancouver. But fourth is not good enough for Zdeno Chara, Marian Hossa and Marian Gaborik.
While the Slovaks may not have the depth to compare with Canada or the United States, Chara and Hossa don't have to take a back seat to anyone in talent. If they are playing at a peak level, the Slovaks are capable of winning any game.
But they will have to face the host nation and the defending silver medalists in early in the tournament, as Russia, the United States and Slovenia join them in Group A.
Let's take a look at a roster projection for Slovakia, predict the best lines/pairings and determine where it will finish in Sochi.
Begin Slideshow

»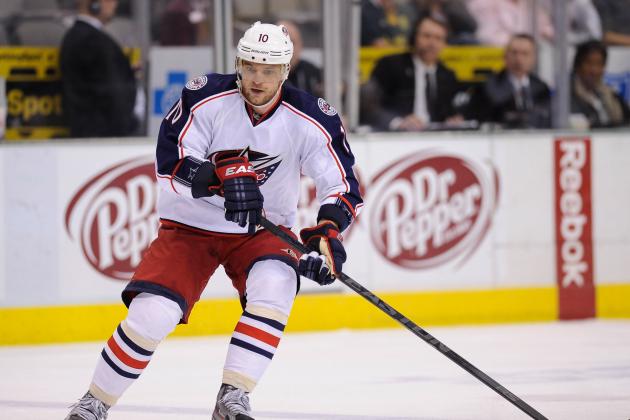 USA TODAY Sports
Marian Gaborik
Unlike many of the other nations that will be competing in Sochi, Slovakia has not released a preliminary roster of Olympic candidates. Here's a look at the projected final roster for the Slovakian team.
| | | |
| --- | --- | --- |
| Position | Player | Team |
| Defense | Zdeno Chara | Boston Bruins |
| Defense | Lubomir Visnovsky | New York Islanders |
| Defense | Andrej Sekera | Carolina Hurricanes |
| Defense | Andrej Meszaros | Philadelphia Flyers |
| Defense | Milan Jurcina | Lukko Rauma (SM-Liiga) |
| Defense | Ivan Baranka | Ufa (KHL) |
| Defense | Dominik Granak | Moscow Dynamo (KHL) |
| Defense | Martin Strbak | Rogle A (SWE) |
| Defense | Marek Viedensky | San Francisco Bulls (ECHL) |
| Center | Marko Danao | Bratislava (KHL) |
| Center | Tomas Kopecky | Trencin (SLO) |
| Center | Michal Handzus | Chicago Blackhawks |
| Center | Tomas Tatar | Detroit Red Wings |
| Center | Jozef Stumpel | Nitra (SLO) |
| Right Wing | Ziggy Palffy | Skalica (SLO) |
| Left Wing | Marian Hossa | Chicago Blackhawks |
| Left Wing | Mario Bliznak | Bratislava (KHL) |
| Left Wing | Martin Cibak | Nizkhnekamsk (KHL) |
| Left Wing | Stefan Ruzicka | Ufa (KHL) |
| Right Wing | Marian Gaborik | Columbus Blue Jackets |
| Right Wing | Miroslav Satan | Bratislava (KHL) |
| Right Wing | Richard Panik | Tampa Bay Lightning |
| Right Wing | Branko Radivojevic | Moscow Spartak (KHL) |
| Goaltender | Jaroslav Halak | St. Louis Blues |
| Goaltender | Peter Budaj | Montreal Canadiens |
Goaltender Jaroslav Janus Bratislava (KHL)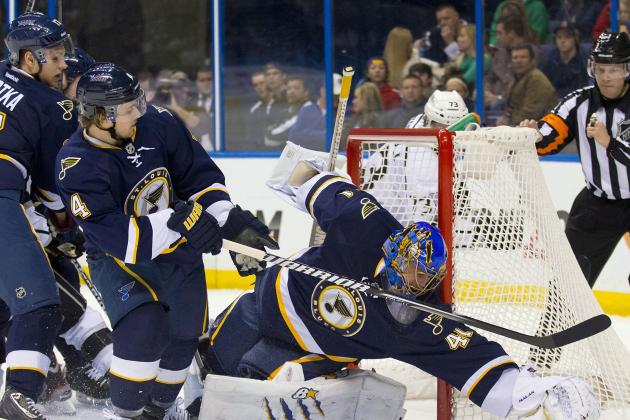 Scott Rovak-USA TODAY Sports

Projected Starter: Jaroslav Halak (St. Louis Blues)
Halak is the streakiest of goaltenders, and if he gets on a run for the Slovakian team, he is capable of stealing games with his acrobatic play. Halak had a solid 2.14 goals-against average in 2013 for the Blues, but his .899 save percentage was a concern.
He was much more consistent in 2011-12 for St. Louis. He had a 1.97 GAA and a .926 save percentage along with six shutouts. The year before, he had seven shutouts for St. Louis.
Projected Backups: Peter Budaj (Montreal Canadiens), Jaroslav Janus (Bratislava)
Budaj has some talent, but not enough to make a serious challenge at the starting job for Slovakia. He can step in for a game, but if he is asked to string them together, it might be too much to ask. Budaj is coming off an 8-1-1 season with the Canadiens last year.
Janus was a workhorse for Bratislava last year with an 18-16-3 record and a 2.17 GAA.
Projected Defensive Pairings
| | | |
| --- | --- | --- |
| Pairing | Player | Player |
| 1 | Zdeno Chara | Lubomir Visnovsky |
| 2 | Andrej Sekera | Andrej Meszaros |
| 3 | Milan Jurcina | Ivan Baranka |
The Slovakian defense will be formidable because of Chara. Dubbed the Trencin Tower by Kevin Paul Dupont of the Boston Globe, Chara is capable of shutting down the most powerful and versatile offenses. He is at his best when he is teamed with a solid partner, and Visnovsky certainly fills the bill.
Chara is not infallible, and quick players tend to give him problems. However, when he's at his best, he is a force at both ends of the ice. Sekera and Meszaros are both capable defensemen, but they will have a difficult time with the most skilled offensive players.
Jurcina has a hard right-handed shot and the size to thump opposing forwards, but he tends to cough up the puck and make mistakes. Baranka has size, experience and is a decent passer.
Projected Forward Lines
| | | | |
| --- | --- | --- | --- |
| Line | LW | C | RW |
| 1 | Marian Hossa | Tomas Kopecky | Marian Gaborik |
| 2 | Mario Bliznak | Marko Dano | Miroslav Satan |
| 3 | Martin Cibak | Tomas Tatar | Richard Panik |
| 4 | Stefan Ruzicka | Michal Handzus | Branko Radivojevic |
Slovakia is going to put forth one of the most talented lines in Pool C as Kopecky will be surrounded by Hossa and Gaborik. If Hossa is fully healthy and Gaborik is fully motivated, those two will have a chance to work some magic together.
Dano is a talented center, and NHL fans will remember that Satan is a capable goal scorer who can make opposing goaltenders look foolish when he gets time and space. Tatar and Panik are going to surprise some opponents with their ability to make plays from the third line.
Handzus is a s solid faceoff man and a good penalty killer.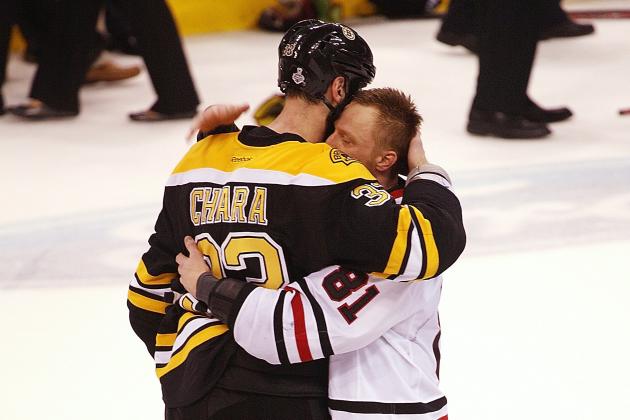 Gail Oskin/Getty Images

Strengths
Star Power and Maturity: The two best players on the Slovak team happen to be best friends. Marian Hossa and Zdeno Chara grew up playing together, live in the same town and are basically neighbors. Between them, they have won three of the last four Stanley Cups. Hossa is a dynamic offensive player with size, speed, strength, a blistering wrist shot and the instincts to get open.
Chara is the most powerful player in the game. He is a thunderous hitter, a capable puck mover and his slap shot is a lethal weapon.
Goaltending: Jaroslav Halak is one of the best goaltenders in the game when he is on a hot streak. He flashed his talent with the Montreal Canadiens in the 2010 postseason when he led them to upset wins over Washington and Pittsburgh. Since coming to St. Louis, he has become an established commodity.
Weaknesses
Lack of Speed: The Slovaks are a talented team, but they are not going to want to get in speed duels with the faster skating teams in the Olympic tournament.
Chara has some issues when dealing with quickness, and older players like Miroslav Satan and Ziggy Palffy (if he makes the team) could have problems if they get involved in foot races with opponents.
Youthful Exuberance: The Slovaks have great veteran leadership, but their young players are untested at this level. Marko Dano and Tomas Tatar could prove to be extraordinary players, but without previous Olympic experience they could get overwhelmed by more established players. At the least, they are question marks.
Zdeno Chara, Defenseman
Chara is not only big, strong and hard-hitting, he is also quite smart. If he senses that the Slovakian team has a legitimate chance to earn itself a medal, he will take over as a dynamic leader and play like it was the Stanley Cup Final.
However, if he senses that his team is not good enough to compete and that an Olympic medal is a pipe dream, look for him to dial it down and save his energy for his return to the NHL. That could happen if the Slovaks lose the opening game of the Olympics to Sweden, likely their biggest rival in Group C.
Jaroslav Halak, Goaltender
Halak has the kind of quickness and anticipation that allow him to make highlight-reel saves on an every-night basis. When he gets off to a good start in a game and he maintains his concentration, he is going to be very tough to beat.
When Halak has an off-night, it's usually because his positioning is not what it should be. When he gets off his line, he can get beaten by soft shots. A few poor goals could dishearten the Slovak team and end their medal chances quickly.
Marian Gaborik, Right Wing

Gaborik is not as strong an all-around player as Marian Hossa, but when he is motivated he can be a game-changing player. Gaborik has game-breaking speed, and when he comes in alone on the goaltender he knows what to do with the puck.
Gaborik's spirit was nearly ruined by his association with former New York Rangers and current Vancouver Canucks head coach John Tortorella, but he was relieved when he was traded to Columbus late in the 2013 season. If Gaborik gets off to a good start with the Blue Jackets this year, look for him to play with enthusiasm and effectiveness in Sochi.

The Slovaks have size, strength and talent. They are capable of playing with the best teams in the world on a given night, but that doesn't mean they are going to play consistently.
They certainly have a chance to get in the medal hunt. Assuming their stars are healthy, they will have a fighting chance.
The key to winning is the play of their middle-tier players. If Miroslav Satan, Tomas Kopecky and Tomas Tatar can hold up their end on offense and Andrej Meszaros and Andrej Sekera can do the same on the defensive end, Slovakian team will be difficult to beat.
The Slovaks have a tough task in the group stage, as both Russia and the United States will bring talented rosters to the tournament. While there are recognizable NHL names on all three squads, the Americans and Russians have far more depth.
Prediction: Due to stiff competition in the group, the Slovaks are unlikely to earn an automatic bid to the quarterfinals, and that would pave a difficult path to the semifinals. Don't expect Slovakia to medal at the 2014 games.