It may seem like the world is ending for the Houston Texans with star running back Arian Foster's health in question, but that just means another star has the chance to emerge and carry the load.
Ben Tate is not an average backup running back. In a league where committees are starting to become the norm, Houston may have the greatest one-two punch of all.
Tate's fresh legs and talent mean the overworked Foster can take the time he needs to recover from a calf strain he suffered in May, which later combined with back issues. Foster himself says he will be ready for Week 1, per ESPN's Adam Schefter, who also reports Foster is officially off the PUP list:
Arian Foster coming off PUP today.

— Adam Schefter (@AdamSchefter) August 21, 2013
Texans RB Arian Foster, asked if he'll be ready for the regular-season opener vs the Chargers on Monday Sept. 9: "Yeah, I'll be ready."

— Adam Schefter (@AdamSchefter) August 22, 2013
While that is great for Foster, the Texans coaching staff may want to pump the brakes. The team has run Foster into the ground the past three years:
Arian Foster 2010-2012

| | | | | |
| --- | --- | --- | --- | --- |
| Year | Attempts | Playoff Attempts | Total | |
| 2010 | 327 | N/A | 327 | |
| 2011 | 278 | 51 | 329 | |
| 2012 | 351 | 54 | 405 | |
NFL.com
Tate is still fresh. He has been in the league three years but missed his entire rookie season after being placed on injured reserve. His next two seasons did not see him carry much of the load, but when he did, he had starter-caliber production:
Ben Tate 2011-2012

| | | | | |
| --- | --- | --- | --- | --- |
| Year | Attempts | Yards | Average | Touchdowns |
| 2011 | 175 | 942 | 5.4 | 4 |
| 2012 | 65 | 279 | 4.3 | 2 |
| | | | | |
NFL.com
It simply does not make sense for the Texans to keep abusing Foster and not only ignore the talent on the bench but ignore the effective trend sweeping the NFL.
Tate is very much a similar runner to Foster. He's a bit smaller at 5'11" and 214 pounds to Foster's 6'1" and 230 pounds, but he is a one-cut runner perfectly suited for the zone-blocking scheme Houston runs.
Fans saw this scenario unfold in 2011 when Foster missed three games and Tate shouldered the load. He nearly broke the 1,000-yard barrier and posted four 100-yard games. The Houston coaching staff seems to be taking this approach to the preseason, as Drew Dougherty detailed:
"Ben's going to play a lot. Will probably get spelled by Deji"- Kubiak on @BenTateRB & Deji Karim this Sunday vs. Saints.

— Drew Dougherty (@DoughertyDrew) August 22, 2013
Even if Foster is healthy, the coaching staff should look for more of an even split rather than feeding him the rock 300 times. Last year, the Texans rushed about 500 times total, 351 of which went to Foster—with only 65 going to Tate.
Give Tate another 175-200 carries, like in 2011, and Houston could have two 1,000-yard rushers while keeping both men fresh for the playoffs.
Foster wound up carrying the ball over 400 times last year, postseason included. If the Texans can have him entering the playoffs—should the team make it—with only 200-250 carries to his name, Houston could have an unstoppable ground game to ride.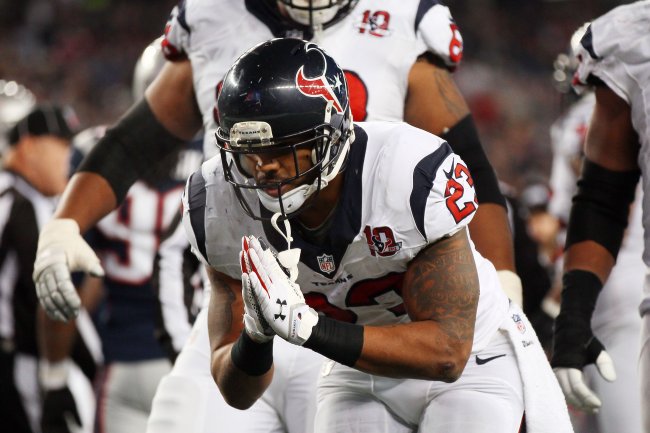 Elsa/Getty Images
Can the Texans survive with Tate as the featured back if necessary?
Tate has had his fair share of lingering injury issues as well, hence his only appearing in 11 games last season. Balancing the carry total between he and Foster will go a long will in mitigating these types of issues.
The Texans will be fine riding Tate early in the season before a brutal four-game stretch beginning in Week 3, where Houston has to face the stout defenses of Baltimore, Seattle, San Francisco and St. Louis in quick succession.
Tate can carry the load if need be. His set of skills is perfectly paired with the scheme in Houston, and he has shown the ability in the past. The bigger picture here is Houston's need to use both Tate and Foster together to take the next step.
Houston has something special at the position if head coach Gary Kubiak chooses to split the carries in a smart manner. Tate will prevent the Texans from having issues without Foster, but the two together at full strength will take the Texans to new heights.
Follow B/R's Chris Roling on Twitter for more news and analysis: @Chris_Roling.