Little League World Series 2013: Key Players to Watch in Friday's US Semifinal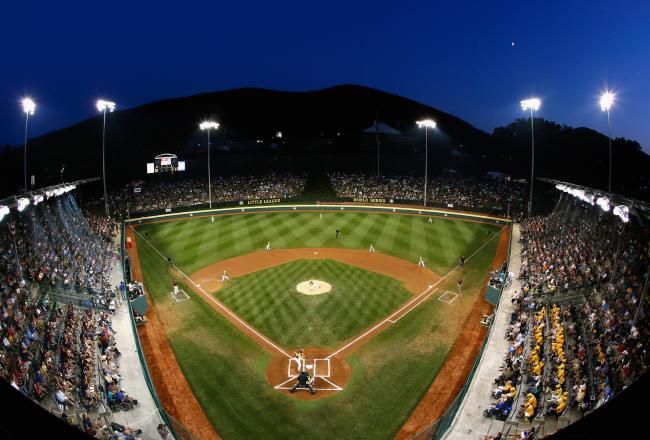 Rob Carr/Getty Images
Good things come to those who wait, and for either Sammamish, Wash., or Westport, Conn., the wait will be well worth it Friday.
The two meet in the semifinal of the United States Championship at the 2013 Little League World Series. They were originally schedule to play Thursday night, but rain pushed the game to Friday afternoon at 3 p.m, via Little League's official Twitter account.
We are playin tomorrow! Northwest vs New England, 8/23 at 3 pm on ESPN #LLWS http://t.co/VwAK2lxFKM

— Little League (@LittleLeague) August 23, 2013
Sammamish and Westport met earlier in the LLWS. The New England team picked up a 9-7 win on Aug. 18.
The semifinal should be a spirited affair, featuring plenty of talented players. Here are two stars to watch from each team.
New England
Matt Brown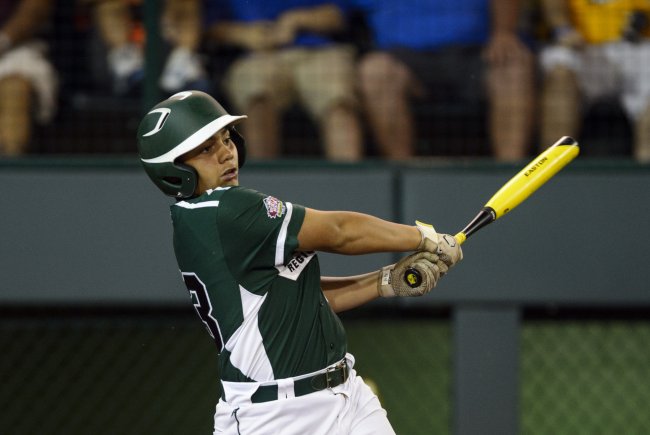 Howard Smith-USA TODAY Sports
It took one swing of the bat for Matt Brown to make his presence felt in the Little League World Series. His three-run homer against Grant Holman were the first runs Holman had surrendered in the tournament, as per Little League's official Twitter account.
New England's Matt Brown knocks one out of Lamade, and Holman lets up his first runs of the series Connecticut up 3-1 over California #LLWS

— Little League (@LittleLeague) August 22, 2013
Alas, it wasn't enough as Westport fell, 6-3, to Chula Vista, Calif.
That home run is Brown's only hit of the tournament. He went 0-for-1 in each of Westport's first two games of the LLWS.
With his power, Brown is a threat to go yard any time he swings the bat. He doesn't need to get on base often. It just takes that one swing to turn a game on its head.
Chad Knight
Chad Knight had two hits in Westport's first two games. Then against Chula Vista, he went hitless and was a big reason why his team fell to California. You cannot have a player like that not contributing anything to your offense and still hope to beat a tough opponent.
Knight is a very patient hitter. He's the kind of batter you don't want to face if you're a pitcher. He works the count very well, so if you end up getting him out, you've had to work very hard to do so.
Even if he doesn't drive in any runs or get timely hits, Knight's ability to sit back and take some pitches will prove invaluable. He helps to tire out the opposing pitcher, making him vulnerable later in the game.
Northwest
Jacob Dahlstrom
Jacob Dahlstrom has gone hitless in three of Sammamish's four games. He saved the majority of his offense in what was a critical 6-5 win over Urbandale, Iowa.
Dahlstrom went 4-for-4 and drove in two of Sammamish's six runs.
Far from just being an offensive threat, Dahlstrom has been one of Washington's best pitchers as well. However, even with the additional day off, he won't be able to pitch against Westport because of Little League's pitch count rules.
Still, if Dahlstrom can get a couple of hits, he'll be doing more than enough to see Sammamish through to the final.
Dalton Chandler
Although Dahlstrom cannot pitch, Dalton Chandler can. He was the scheduled starter for Thursday, and he should remain there for Friday.
Chandler picked up the win in the game against Urbandale. He gave Sammamish 3.2 pretty good innings and added a hit on the offensive end.
Good pitching always beats good hitting. Both teams have offenses that are capable of getting a healthy amount of runs.
If Chandler can limit Westport to two or three runs, he will have done his job. Sammamish is good enough at small ball that it can get runners on base and work them around to great success.
This article is
What is the duplicate article?
Why is this article offensive?
Where is this article plagiarized from?
Why is this article poorly edited?