3 Anderson Silva Records That Georges St-Pierre Will Break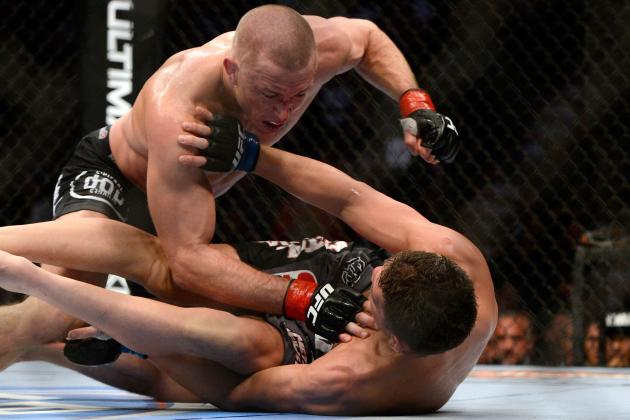 Eric Bolte-USA TODAY Sports

Before July 6, most of the records set by former pound-for-pound linchpin Anderson Silva seemed etched in stone.
After all, prior to his stunning setback to Chris Weidman at UFC 162, "The Spider" had utterly wreaked havoc on the company's middleweight and light heavyweight divisions. In the process, the 38-year-old Silva set plenty of records that appeared would never get shattered.
But with longtime welterweight king Georges St-Pierre still in his heyday, some of The Spider's records appear in clear danger of getting shattered.
Here are three pertinent Silva records that the 32-year-old GSP will smash.
Begin Slideshow

»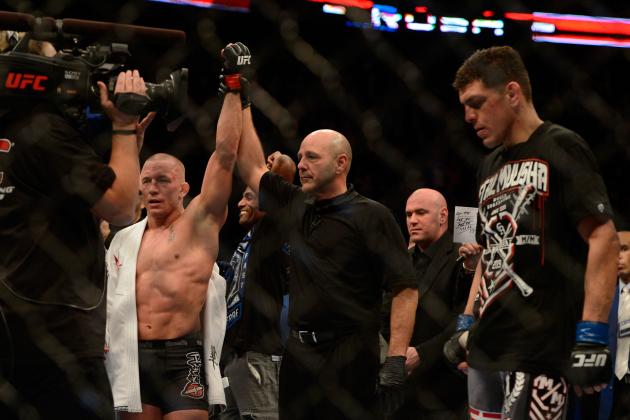 Eric Bolte-USA TODAY Sports

It almost seems preposterous to suggest that another fighter could duplicate Silva's feat of 16 straight UFC wins. But if anyone could pull it off it's St-Pierre, who's already in striking distance of the mind-boggling milestone.
After losing in shocking fashion to Matt Serra at UFC 69, St-Pierre defeated Josh Koscheck by unanimous decision at UFC 74 in 2007, a victory that began an 11-fight winning streak.
Only Silva, St-Pierre and Hall of Famer Royce Gracie can say they've won 11 or more fights in a row in the UFC. Gracie won 11 straight during the company's infancy in 1993 and 1994.
If St-Pierre can get past heavy-handed former NCAA Division I wrestling champ Johny Hendricks at UFC 167, then the Canadian will move within five victories of breaking Silva's consecutive wins record.
But since he typically only fights twice a year when healthy, fans shouldn't expect GSP to sniff one of Silva's most impressive records until after his 35th birthday.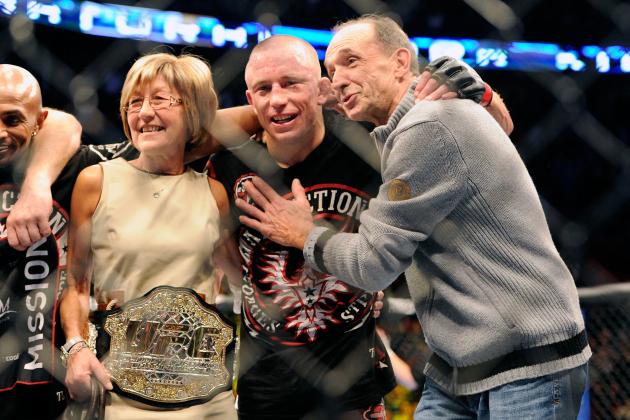 Eric Bolte-USA TODAY Sports

Since failing to defend his strap against Serra in his third title fight with the company at UFC 69, St-Pierre has looked nearly unbeatable in championship bouts.
GSP has prevailed in eight straight title fights, winning 41 of 43 rounds along the way. Only Carlos Condit and Jake Shields can brag of stealing a round apiece from St-Pierre during the run.
Between October 2006 and July 2012, Silva won 10 middleweight consecutive title bouts, dropping just a handful of rounds to the likes of Dan Henderson and Chael Sonnen along the way.
St-Pierre can pull within a win of tying Silva's remarkable record if he can outshine Johny Hendricks at UFC 167 in November.
But unlike GSP's last few opponents, Nick Diaz and Condit, "Bigg Rigg" seemingly possesses the wrestling chops to stay off his back against St-Pierre.
However, the odds laid out by aggregate betting website Bovada.com illustrate St-Pierre's solid chances of defending his belt for a ninth straight time. Bovada has deemed GSP a 2.3-to-1 (-230) favorite to trump the hard-hitting Hendricks (+180).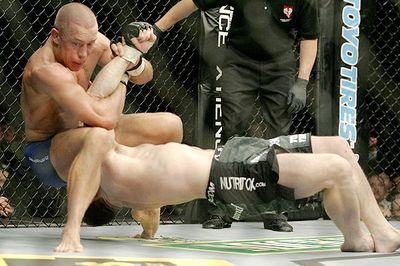 Photo credit: ESPN.com
Silva stood atop the middleweight mountain for nearly seven years before getting upset by Weidman in July.
That night at UFC 162, The Spider reluctantly surrendered the 185-pound belt that he astoundingly owned for 2,457 days.
Including his win over Matt Hughes at UFC 79 in an interim title bout, St-Pierre has held the 170-pound strap for 2,089 days.
However, since becoming the undisputed welterweight champ with his win over Serra at UFC 83, GSP has carried the belt for 1,949 days.
Regardless of the criteria, St-Pierre needs roughly three more wins in title fights to outlast Silva's record.
Diaz and Condit signify the only two welterweights in the UFC's top 10 rankings that GSP's bested. That means that even if he thumps Hendricks, several fresh and capable challengers will still have St-Pierre in their sights.
While passing his next test against Hendricks wouldn't push St-Pierre over the top in his quest to break a slew of Silva's records, it would certainly put him in the driver's seat to do so.
Truth be told, aside from Hendricks and Tristar Gym teammate Rory MacDonald, few 170-pounders in the UFC's top 10 rankings appear to have the necessary ingredients to stop St-Pierre's lengthy reign of dominance.