6 Unheralded Players Poised to Break out for the Minnesota Vikings in 2013-14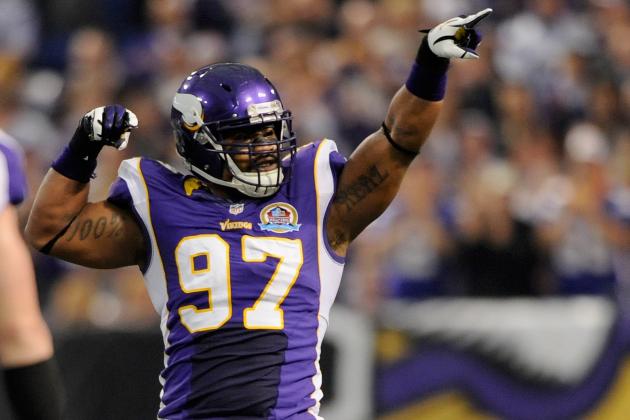 Hannah Foslien/Getty Images

The Minnesota Vikings are at a unique crossroads in the NFL, and this odd circumstance means they have quite the set of potential breakout players who have gone unnoticed by national media.
Seen as both potential underdogs and returning playoff hopefuls, the Vikings don't get the respect of a top-tier team but will also see anything other than a near playoff berth as a failure.
Sporting a lot of talent at the top with Adrian Peterson, Jared Allen and Kevin Williams, the Vikings also have a number of young risers who could be part of the next wave of premier players in Sharrif Floyd, Harrison Smith and Kyle Rudolph.
But in between those two categories of players, the Vikings have a number of relative unknowns who could do some damage to other teams come the 2013 season.
Here are six of them.
Begin Slideshow

»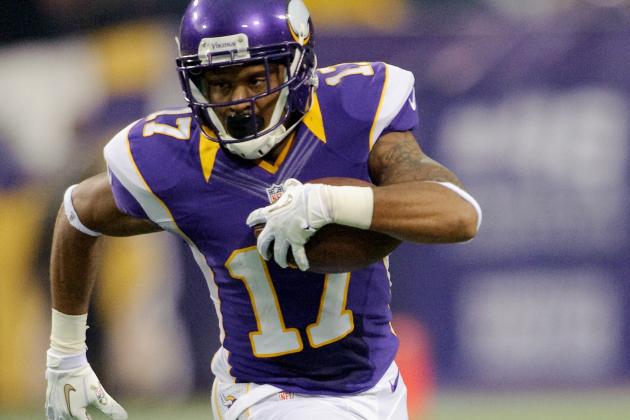 Hannah Foslien/Getty Images

It shouldn't come as any surprise that Jarius Wright could be poised for a breakout season, but to those who aren't Vikings fans, he is a relative unknown.
Despite turning it on for the last half of the season, he still didn't catch the eyes of NFL talent evaluators, fantasy football mavens or statisticians, which is evidenced by his consensus 79th overall ranking by fantasy experts.
Naturally this has as much to do with quarterback play and system as it does with talent, but the fantasy experts do have a bit of a point. He only had three games of 50 yards receiving or more (and one game of 49 yards) in that final stretch, and he did fall all the way to the fourth round of his draft class.
But the lack of recognition he has received is still a little confusing. He was unranked in Matt Miller's top 100 list of wide receivers behind such luminaries as Devin Aromashodu and Michael Jenkins.
Aaron Schatz, however, noticed Wright's late-season push. At ESPN Insider (a subscription service), Wright was one of two Vikings to crack his list of the NFL's top breakout prospects at No. 20. Among other things, Schatz had this to say:
As soon as Minnesota gave him a chance last year (after Percy Harvin's injury), he quickly became the only receiver who could consistently get open for the Vikings. Wright finished with 4.4 percent DVOA, light-years ahead of the veterans who started ahead of him (Jerome Simpson and Michael Jenkins combined for minus-19.3 percent DVOA). Wright's best performance was in Week 17, when he torched Casey Hayward a few times in the game that landed Minnesota in the playoffs.
By all accounts—including my own observations at training camp and in the preseason—Wright has had an impressive offseason and looks set to prove he deserves a spot as a starter alongside Greg Jennings. The configuration of the roster makes it tough, but he's a heady player who already figures to get major snaps as the team's primary slot receiver.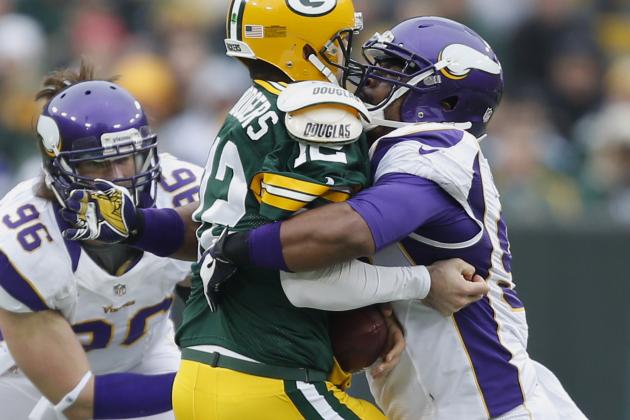 Wesley Hitt/Getty Images

Aaron Schatz, the founder of Football Outsiders, also argued that another Viking would have a breakout year: Everson Griffen.
Ranked first overall in Schatz's list of unknown but talented football players, Griffen appeared on the list a year earlier at third overall. In that sense, Schatz did a good job sussing out his talent because it's hard to argue that he doesn't carry potential. Schatz had this to say about Griffen heading into the 2013 season:
Griffen has very fluid movement, an explosive burst off the line and good inside quickness. He's also been strong setting the edge in run defense. We expect Griffen to get even more playing time this year, and then things get interesting: Griffen's rookie contract is up after this year, but so are the contracts of both of Minnesota's veteran starters at defensive end (Jared Allen and Brian Robison).
With eight sacks in 2012 (to add to his four sacks from 2011), Griffen has already made an impact in the league and grabbed some attention.
Matt Miller recognized Griffen's good play in 2012 and argued that he was the 40th-best 4-3 defensive end in the NFL, but he's still not well-known around the league. In all honesty, there's a good argument that he's a top-32 defensive end.
It will be difficult for him to see the field, but the Vikings have done their best to make sure he can make an impact on as many snaps as possible. Sometimes that means lining him up as a pass-rushing nose tackle on passing downs, a linebacker in mixed sets or a defensive end in rotation.
While it may be asking a lot to see a repeat of his eight-sack performance as a backup, he'll catch more attention around the league as a potential star at defensive end when he hits free agency.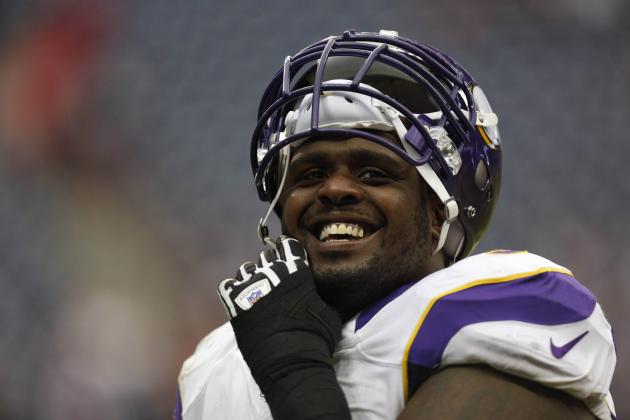 Thomas Campbell-USA TODAY Sports

Fred Evans has yet to establish himself and may be entering the dusk of his career. But in his short time with Minnesota, he has outperformed other players at the nose tackle spot and could do enough to take over the position in 2013 partway through the season.
While he is somewhat diminutive for a nose tackle at 305 pounds, his explosion off the line is among the best in the NFL. Sam Monson at Pro Football Focus continues to bang the drum for Evans to start and confirms the fact that he gets off the ball faster than almost any defensive tackle in the league.
Should he find significant time on the field, he'll outperform Letroy Guion both as a run defender and pass-rusher, making sure to collapse the pocket and record tackles. He's been able to pressure the quarterback with his explosive and powerful play, and he's difficult to handle without a double-team.
Unfortunately, he isn't a solid foundation against the run, so he will still potentially be a liability there. Nevertheless, he could blossom late into his career and be a tough nut to crack for opposing defenses. If the answer to Evans' pressure is to run the ball, the linebacker corps should be up to snuff.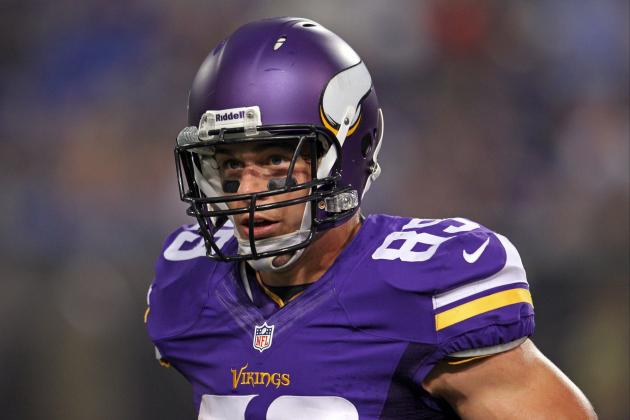 Brace Hemmelgarn-USA TODAY Sport

John Carlson was recently identified as the second-most overpaid player in the NFL by Forbes, and the magazine has a point. Despite the fact that Forbes whiffed with its selection for first overall (Pro Bowl fullback Jerome Felton) and lists incorrect contract numbers for Carlson, who restructured, it's hard to argue that he has been value for production so far.
But Carlson has the fundamental talent and capability to be a productive player in the NFL, so long as he can develop chemistry with Christian Ponder and stay healthy. In previous seasons with Seattle, he surpassed 500 yards twice.
Having looked like a productive player in the preseason and at training camp, he has all the pieces to be a performer and bring the Vikings closer to the two-tight-end sets they value so much and accelerate their running game.
It's difficult to project him as a high-performing tight end, particularly given how he did the year before. But with one more year in the system, having the specter of no guaranteed money and remaining injury free, he should offer more production after one of the Vikings' more baffling free-agency signings from the year before.
Hannah Foslien/Getty Images

Despite never having played as a nickel cornerback covering the slot before, Josh Robinson is slated to have a much better season than last year.
Aside from a potentially solid camp, where he was able to hold the starting corner position over first-round pick Xavier Rhodes, Robinson has not looked like the liability he was last season. Having played in 28 snaps total, Pro Football Focus' proprietary grading system rated him average (subscription required) over the course of two preseason games.
He is one of the fastest corners in the league, and his lightning-fast combine time shows up on the field. He also has the agility to man the unique duties over the slot, making him ideal for the position despite his lack of experience.
He'll be up against a different type of receiver in the slot and will have to maximize his recognition skills while maintaining an important role in the running game.
Because linebackers are taken off the field in nickel packages, it falls on the nickel corner to make up some ground in run defense. Unfortunately, with the departure of Antoine Winfield, the Vikings are left with a gap in terms of nickel-package run defense.
Hopefully for the Vikings, Robinson uses his thicker frame to provide a fraction of what was lost and continue to make plays for Minnesota.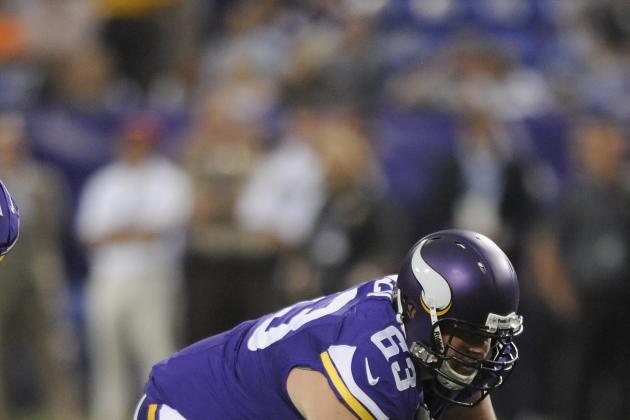 Hannah Foslien/Getty Images

Entering his third year in the NFL, Brandon Fusco will be assured of the starting right guard spot for the first time in his career. In 2012, even after being named the starter, he regularly rotated with Geoff Schwartz at guard and many times fell short.
I was able to talk to Fusco at the conclusion of training camp, and he spoke about how this season will be different than the last one.
"I put myself in that position, so the only person I could blame for that is myself," he said. "This year, I know what to expect and so come out here and prove it every day. Just be confident."
He pointed to the fact that he'll have a lot more chemistry this year. He'll also find ways to make sure he doesn't drop off as dramatically as he did last year—getting his techniques on film made him vulnerable later in the season.
Should his development curve continue at its previous pace, he'll be a solid guard in the league and could be part of an even more potent rushing attack.