Best Goal Scored by Each La Liga Team Last Season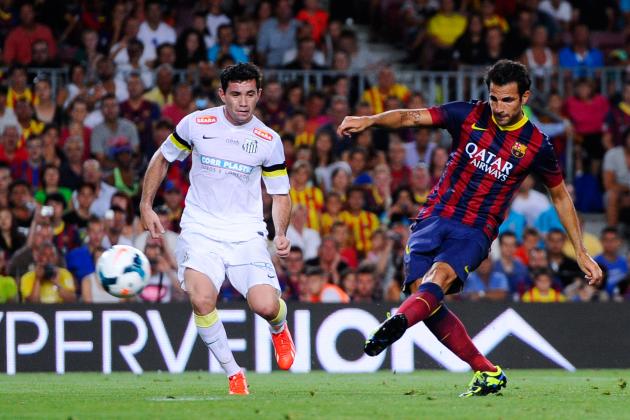 David Ramos/Getty Images

La Liga was back with a bang at the weekend.
Carlos Vela reminded us how fond he is of a chip, Diego Perotti hammered one in against Atletico Madrid and Barcelona took Levante for seven.
The goals are only going to keep coming—and, if the quality is anything like last season, there will be few complaints.
In case you'd forgot any, though, let the following slides take you to goals heaven by recapping the best goal scored by each of La Liga's participants last season.
Begin Slideshow

»
Almeria returned to La Liga via the playoffs last season.
This goal, by Carlos Calvo, was one of many memorable strikes. Don't worry about watching the whole video, just skip to 4 minutes 40 for some Calvo magic.
Fancy scoring the opener against your fiercest rivals? Ibai Gomez certainly did, hammering home this cross first time when Athletic Bilbao met Real Sociedad last season.
Unfortunately for Athletic, they went on to lose the game.
Radamel Falcao scored most of Atleti's goals last season, including five against Deportivo de La Coruna, so it's not a surprise to see him claim Los Rojiblancos' entry.
At Camp Nou back in December, he left Sergio Busquets for dead, before delicately chipping Victor Valdes to give Diego Simeone's men the lead.
Adrian's effort against Celta Vigo and Koke's versus Levante were pretty good, too.
Adriano, feel aggrieved. Feel very aggrieved. Your goal against Valencia was a treat. Your one against Atletico Madrid was quite good, too.
Lionel Messi—does it need saying?—scored plenty of beauties as well.
However, taking Barcelona's crown is this Cesc Fabregas goal from the win against Mallorca. The clip, which is 1 minute 30 long, features endless amounts of Barca passing, before a change in tempo and a quick one-two allows Cesc to slot home. Defining.
Celta Vigo only went and took the lead against Barcelona, didn't they?
And to make it even sweeter, they only went and did it by playing like Barca, too. Nacho Insa prodded home the finish, but the goal was about much more than just him.
Moments like this are exactly why Elche were promoted as champions. The three minutes of added time had actually passed when Edu Albacar sent this free-kick flying in to the back of the net, earning his club two points in the process. Talk about timing.
Simao showed he's still got some magic in those boots of his, bending in this free-kick for Espanyol against Mallorca during the club's revival under Javier Aguirre.
Sergio Garica's goal against Malaga was a close second.
It wasn't a season full of wonder goals for Getafe, but this Angel Lafita cut inside and finish against Real Valladolid wasn't too bad.
Alvaro Vasquez's debatable overhead kick against Athletic Bilbao was edged into second.
It wasn't a season of many goals for Granada, hence the arrivals of Riki and Piti, but there was plenty of quality in the few that they did score.
Brayan Rodriguez's innovative finish against Valencia takes the top spot, though.
Fran Rico (against Real Betis) and Odion Ighalo (against Celta Vigo) were honorable contenders.
Michel crossed the city divide this summer, swapping Levante for Valencia, but hopefully fans of his former club will still remember this sweet strike against Getafe from last season.
This is a volley of the absolute highest quality. Malaga's Eliseu plucks the ball from nowhere to smash home against Anderlecht in the club's Champions League group stage win.
Efforts from Isco and Roque Santa Cruz don't even come close to this one.
Osasuna didn't score in great quantities last season, and those that they did score were often scored by the departed Kike Sola.
Here, against Espanyol, he says goodbye to a defender and the 'keeper before rolling into an empty net. Athletic Bilbao fans will be hoping for more of the same.
David Beckham eat your heart out.
New Swansea City defender Jordi Amat scored from pretty close to the half-way line for Rayo Vallecano last season, providing one of La Liga's more memorable moments.
Piti weighed in with plenty of goals, too, but none came close to this.
The one that got away.
Real Betis manager Pepe Mel was desperate to bring Joel Campbell back to Seville on loan for another season, but couldn't sort out an agreement with Arsenal.
This golazo shows why they were so keen on securing him for a second term.
Cedrick, signed from Numancia this summer, can hopefully offer Los Beticos the same this season.
Real Madrid score a lot of goals. Some are bound to be pretty special.
Cristiano Ronaldo's free-kick in El Derbi was good, his left-foot rocket against Sevilla was better and Mesut Oezil and Luka Modric both weighed in with screamers against Mallorca.
Gonzalo Higuain bettered them all, though. Check out the technique in this volley against Levante.
Weren't Real Sociedad wonderful last season? And didn't they score a lot of great goals?
Alberto de la Bella tricked everyone, possibly even himself, with this goal against Valencia at Mestalla. Then there was Imanol Agirretxe's chip in the return fixture.
However, the cream of the crop is Antoine Griezmann's goal against Real Valladolid. The long pass was expertly controlled and then fired home by the Frenchman, all without the ball even touching the ground.
Welcome to Patrick Ebert hour.
Real Valladolid's German scored a whole collection of golazos last season. Imagine how many more there could have been if he didn't spend large parts injured?
He had a couple in a match against Mallorca, fired home this free-kick against Granada, but it was his chip against Osasuna which steals the show.
Ivan Rakitic helped the ball into an empty net against Rayo Vallecano and Alvaro Negredo scored four in one match against Valencia, but it is the latter's goal against Osasuna which was Sevilla's finest.
Jesus Navas' pass was perfect and Negredo took his time, cooly rounding both 'keeper and defender before rolling home.
As a final treat, why not enjoy the 10 best goals which Villarreal scored as they returned to La Liga last season?
The top three are certainly the best, but whether you agree with the order depends on how you like your goals.
Jony Pereira's chip in is brilliant and Marcos Senna's free-kick is so, well, so Senna. However, the award here goes to Fernando Cavenaghi.
Agree? I'm not so sure.