5 Unheralded Players Poised to Break out for Dallas Cowboys in 2013-14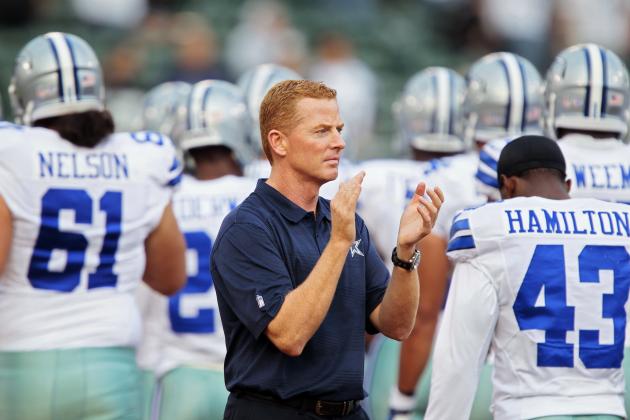 Brian Bahr/Getty Images

The Dallas Cowboys are hoping to make it back to the playoffs for the first time since 2009. To do so, they will need a collective group effort from all 53 men on the roster.
Of course, Dallas will rely on its superstars to perform well, but it will take more than that. In order to have a successful 16-game season, some lesser-known players must step up.
It's difficult to predict under-the-radar players to erupt because most haven't seen the field much. Players like Sean Lee and Bruce Carter are expected to be great this season because of what they've shown us in the past.
The Cowboys' roster is one of the most skilled in the NFL, but here are five less-familiar guys poised for a breakout year.
All statistics via Pro Football Reference unless indicated otherwise.
Begin Slideshow

»
Brian Bahr/Getty Images
Barry Church needs to make plays in the secondary.
Barry Church has only started four games for the Cowboys, yet has the most upside of any safety on the roster. The fourth-year man from Toledo will be the starting free safety Week 1, barring any major injury.
Church's 2012 campaign was cut short because of a season-ending Achilles injury.
There are high hopes for the safety because of the fact that Dallas hasn't had a playmaker at the position in several years. Not since the days of Darren Woodson or Roy Williams has there been someone exciting to watch in the back of the secondary.
It will be interesting to see how Church reacts to being the starter for an entire year. He's shown real potential in his time on the field, however, that's never been for more than a few games at a time.
Church could be great because of his ability to be around the ball and deliver big hits. He's a dangerous weapon in the middle of the field and will help defend against the run as well.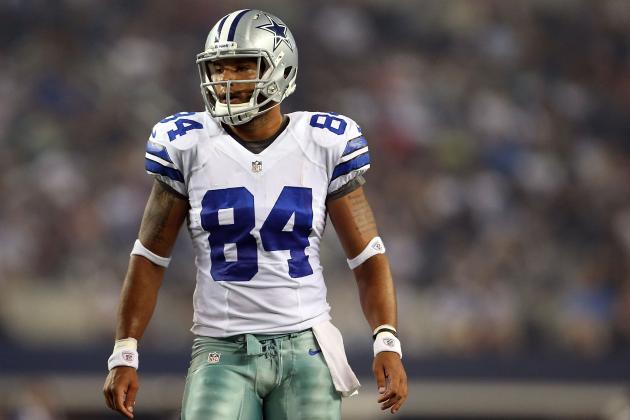 Ronald Martinez/Getty Images
James Hanna will be a nice target for Romo.
James Hanna is the next big weapon for Tony Romo on the Cowboys offense. The second-year tight end out of Oklahoma showed real signs of being great last season and is looking to break out in 2013.
There's no doubt that Jason Witten is No. 1 at tight end, but the Cowboys have shown they will be utilizing multiple tight end sets on offense. This means it's time for another end to step up and take some pressure off of the Pro Bowler.
Hanna is a real big target at 6'4", 250 pounds, and he has tremendous hands, too. He only has eight career receptions, but his athleticism is evident every second he's on the field.
Although Witten is still playing at the top of his game, it wouldn't surprise me if Hanna put up similar numbers this season. The majority of the offense should run through DeMarco Murray and Dez Bryant, leaving Hanna and Witten as the fallback guys.
There's no question that Dallas' offensive line isn't the team's strong point, so the tight end spot is key for Romo. When he's under pressure, he'll turn to bailout options like Hanna.
If things work out and Hanna stays healthy, he could easily be one of the top receivers on the team.
Norm Hall/Getty Images
Lance Dunbar showed his speed in Arizona.
It's very difficult for teams to feature only one running back all year long. The position takes a lot of punishment, and most teams in today's game use at least two backs.
Murray is undoubtedly the starter, but Lance Dunbar could be a special change-of-pace backup.
Dallas drafted Felix Jones several years ago to do just that, but it didn't pan out for either side. Dunbar appears to be ready to take over that role this offseason.
The second-year back had very few touches last year, but his potential showed on every one of them. He's very explosive at the point of attack and has breakaway speed as well. Dunbar isn't a polished rusher yet, but that will come with time.
Thus far in the preseason, Dunbar has looked amazing. He's had a combined eight carries for 45 yards and several nice catches, including a 43-yard skirmish last week against Arizona (even though he fumbled).
Unfortunately for Dunbar and the Cowboys, the young back sprained his left foot against the Cardinals. He's been sitting out of practice, but hopes to return soon and be ready for the opener against New York.
Dunbar is a truly exciting runner and a homerun threat every time he gets a touch.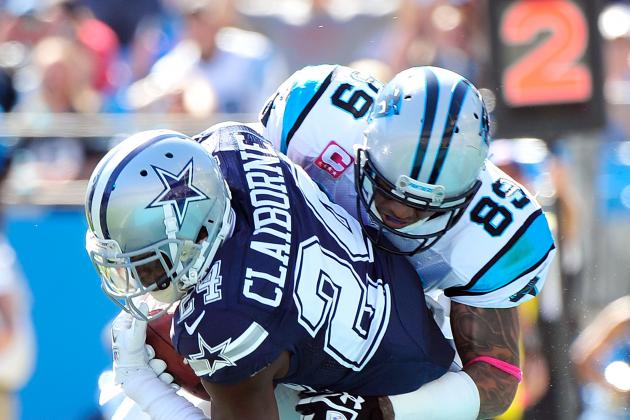 Grant Halverson/Getty Images
Morris Claiborne will be a great corner for a long time.
Although Morris Claiborne isn't unheralded within the Cowboys nation, he is one of the lesser-known players at his position league wide. I feel comfortable putting the former first-round pick on this list because he's not even the top cornerback on the roster.
Even though he's not a star yet, Claiborne will be one in the near future.
In his rookie season, the former LSU Tiger started 15 games and combined with Brandon Carr to form the best starting cornerback combination Dallas has seen in a long time.
Dallas should be excited about its corner because of his quality of play at such a young age. Cornerback is one of the toughest positions to be successful at, especially for rookies.
Claiborne had eight pass deflections and caused two turnovers last season.
With more experience in the league and a better front seven in front of him, the sky is the limit for Mo. The Cowboys defense will be improved all around in 2013, and Claiborne will be a big part of that by becoming a shutdown corner.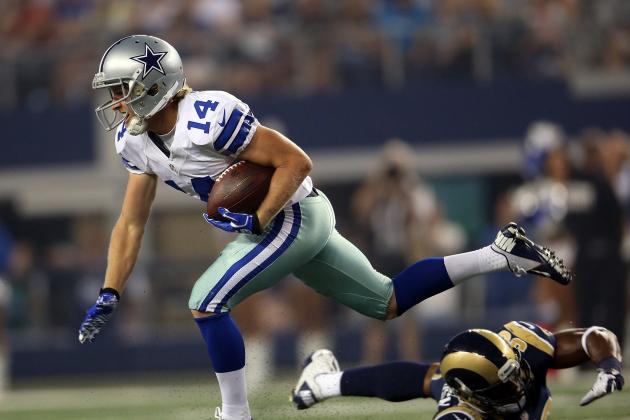 Ronald Martinez/Getty Images
Cole Beasley will have many opportunities in 2013.
The last player poised to have a breakout year for the Cowboys is Cole Beasley.
Dallas' offense last year was based around passing the football. Even though it should be more balanced this year with a healthy Murray and new play-caller Bill Callahan, Dallas will still be among the league leaders in pass attempts.
Dez Bryant and Miles Austin are without question the top targets on the outside, but the slot position is still up for grabs.
Both Dwayne Harris and Beasley have shown what they can do in open space, but I see Beasley fitting in perfectly as the No. 3 option. Despite his small stature at 5'8", 180 pounds, the 24-year-old receiver from Southern Methodist finds ways to get open. Beasley runs great routes and has good chemistry with Romo.
I don't see Beasley ever becoming a top target on the Cowboys, however, he could be someone to challenge the middle of defenses and become a Wes Welker-type player.