NFL Stars Playing for a New Contract This Season
Jonathan Daniel/Getty Images
As the 2013 NFL regular season remains less than two weeks away, one can realize that some things never change when it comes to stars looking for a new contract.
Each season there are players who rise to the top while playing in their contract year, as they have the motivation to earn one lucrative payday over the course of their career.
This season, there are plenty of veterans who are looking to seize the opportunity to earn a new contract. Who are the notable and established players that will be most determined to earn a new deal?
Here are the names that come to mind.
Jacksonville Jaguars RB Maurice Jones-Drew
Sam Greenwood/Getty Images
After an injury-plagued season in 2012, Maurice Jones-Drew will be as motivated as ever to prove that he is capable of performing at a level that rivals the elite running backs.
Quite frankly, he has the perfect opportunity to bounce back and earn his new paycheck. While nothing is set in stone, it seems to be very likely that Jones-Drew will be playing his last year with the Jaguars organization. The franchise is undergoing a major rebuilding plan, and the idea of signing an aging running back to a lucrative contract does not seem to be in the realm of possibility.
Thus, the Jaguars could be inclined to use Jones-Drew as much as possible in his last year with the team as there is a major concern at the quarterback position. What does this mean for him?
It's quite simple. If he can perform at an elite level while proving he is durable, he could ultimately get the contract he is seeking from a team with championship aspirations.
Buffalo Bills S Jairus Byrd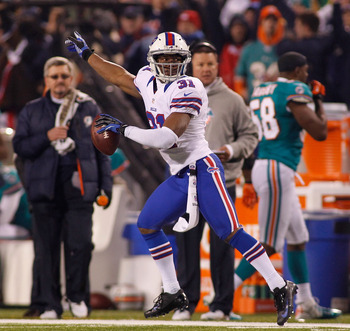 Rick Stewart/Getty Images
The crop of elite free safeties in the NFL is very limited, as it is not often that there are players who can transform secondaries and become a factor in every facet of the game.
Jairus Byrd is one who qualifies on that list, and he has stood out as one of the league's best safeties despite playing on a struggling Bills roster.
As Dan Hanzus of NFL.com mentions, there has been chatter regarding the possibility of the Bills placing Byrd on the trading block. A big reason why is the fact that Byrd is in the final year of his deal and would be set to receive a contract that made him one of the highest-paid safeties in the game.
Yet, it remains to be seen whether it will work out. Byrd did sign his franchise tender for one year, a move that was announced by the franchise on Aug. 20. However, another quality season with a new coaching staff could result in the Bills making a serious financial commitment to him.
Jacksonville Jaguars OT Eugene Monroe
Rick Stewart/Getty Images
As the NFL continues to shift toward being a quarterback-driven league, the most successful franchises make a commitment to establishing a quality offensive line.
Could one of the league's elite offensive tackles become a free agent next offseason?
Eugene Monroe enters the final year of his five-year, $26 million contract in 2013. Monroe was the lone bright spot for the Jaguars last season, as he was an effective pass-protector for both Blaine Gabbert and Chad Henne.
Although it would seem as if the Jaguars must absolutely lock up Monroe, the selection of Luke Joeckel could lead to the organization spending the money on its defense under rookie head coach Gus Bradley.
Ultimately, the Jaguars should be the favorite to sign Monroe to a long-term deal. If not, Monroe could earn a record-breaking contract out on the open market.
Tampa Bay Buccaneers QB Josh Freeman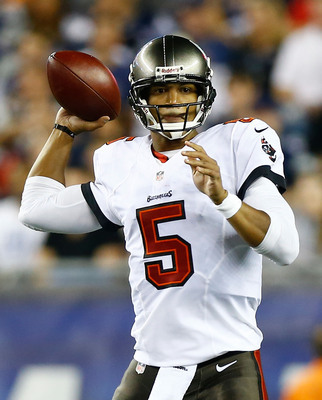 Jared Wickerham/Getty Images
A franchise quarterback is difficult enough to find. So, what could a young quarterback, who has the physical tools to be successful, command on the open market?
There are a few quarterback who may find themselves in this position, most notably Josh Freeman. The secret has been out for quite a while that Freeman does not have the full support of Greg Schiano, according to Stephen F. Holder of the Tampa Bay Times. It became more apparent when the Buccaneers drafted Mike Glennon, a quarterback who has the physical tools to become a starting quarterback for the franchise by 2014.
Clearly, it will depend on how the season pans out, as the Buccaneers look to take the next step with Freeman at the helm. He has all the motivation in the world to prove his worth to the franchise that drafted him and will earn a new contract if he elevates his play in 2013.
However, what if Freeman shows inconsistency, which has been a problem over the course of his career? That may not matter if Freeman were to enter the free-agent market and command a high price tag from a team desperate for an improvement at the position.
Chicago Bears QB Jay Cutler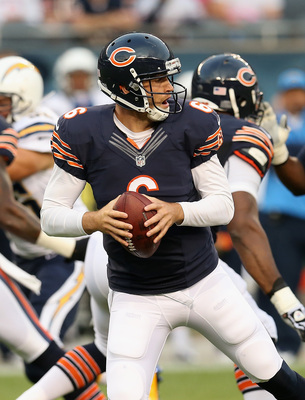 Jonathan Daniel/Getty Images
Josh Freeman isn't the only quarterback who is looking for assurance from his own franchise. Gun-slinger Jay Cutler is right on top of the list of signal-callers looking for long-term stability.
Cutler's situation with the Bears is a bit different than Freeman's is with Tampa Bay. Cutler has a quality supporting cast around him and a rookie head coach in Marc Trestman who wants to utilize his strong arm in their aerial passing attack.
His future will greatly depend on how successful Chicago is in 2013, as the team will need to decide if Cutler is worth a contract that rivals the deals that the league's top quarterbacks have received.
Eventually, the Bears may come to the realization that there is no better option at the position than Cutler, and that their focus should turn toward keeping him off the open market next offseason.
New Orleans Saints TE Jimmy Graham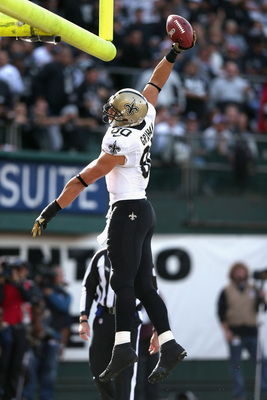 Ezra Shaw/Getty Images
The tight end position continues to evolve in the National Football League. With teams now implementing two-tight end sets in their offense, it's critical for teams who have the top-tier tight ends to ensure that they are a staple of their success for years to come.
That needs to be the case for the New Orleans Saints, who have the league's best tight end in a contract season and looking to receive a record payday.
Graham has flourished under quarterback Drew Brees, accumulating 20 touchdowns and nearly 2,700 receiving yards in two seasons as the starter.
From a financial standpoint, the Saints will need to get creative with a contract extension for Graham since Brees' salary is a major chunk in the team's cap space.
Nonetheless, the franchise can least afford to lose its quarterback's most explosive offensive weapon in the prime of his career.
Keep Reading