Madden 25 Review: Breaking Down the Biggest Features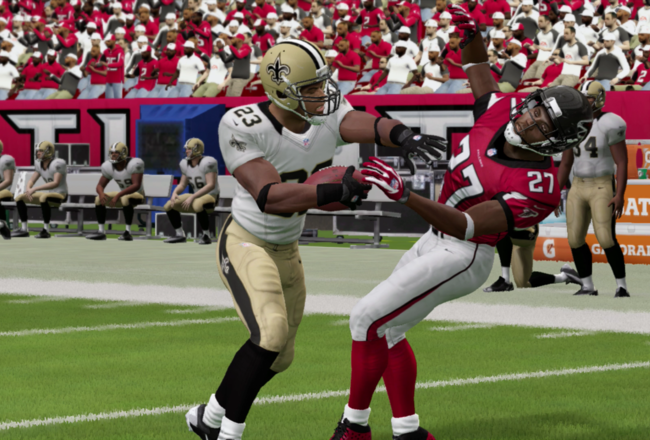 image from Madden 25

After Madden 13 gave fans a taste of what next-level gameplay in a football video game could look like, many are anxious to see if Madden 25 enhances the realism in virtual football. There was more good in last year's version than bad, so the expectations are high this year.
In order for Madden 25 to be considered a success, here are a few questions we'd love to see answered positively.


Have the features that were omitted from Madden 13, such as fantasy drafts and importing draft classes, returned?


Will the CPU demonstrate smarter A.I. late in games?


Do offensive linemen play with more realistic awareness?


Will defensive players respond as they should in zone coverage?


Has the presentation taken a step forward?


After spending a week with the game, I'm able to answer all of these questions and more. Let's take a look.

Graphics and Presentation: Hits and Misses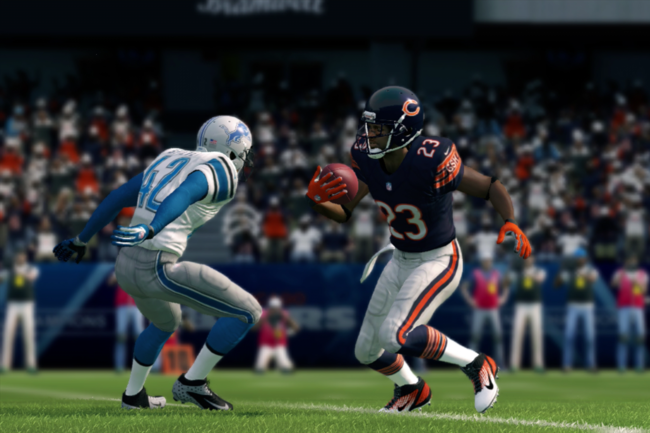 image from Madden 25

Hits
The Lighting
The lighting is the best it has ever been in the Madden series. The day-to-night progression is cool to witness in games that begin at 4 p.m. Overall, this is the smartest way to improve the visual appeal at this point in the current consoles' existence.
More Facial Renders
There are more player faces captured in this year's version than ever before. This shines through most of all during the cut scenes on the sidelines. It is a small detail, but generally contributes to what is a well-presented game.
Celebrations
Though it has nothing to do with gameplay, this year's Madden features a host of signature celebrations from the game's biggest stars. Because there are so many and they are accurately recreated, you'll be less likely to ignore them when they happen during gameplay.
Animation
The Infinity Engine made its debut last year, and while the real-time physics approach was definitely a step in the right direction, there were a few kinks. This year, it still isn't perfect, but it is clear to see that strides have been made to make the engine even more realistic.
There aren't as many unnatural falls and entanglements of players and body parts. The more this concept is perfected, the more realistic the gameplay will be.
Misses
Coaches' Player Models
The facial renders for coaches have improved, but their player models are still a little husky. Obviously, the way they look isn't as important as the appearance of the actual players on the field, but coaches are still a fairly big focus for hardcore gamers.
Brief and Limited Halftime Show
For years, I've been longing for a more detailed and engrossing halftime show. Some sort of highlight presentation with commentary and references to the first-half stats and plays. Mock interviews and other things we see in a real broadcast would be a great addition.
These elements are still missing from the game's presentation package. Though there is a glimpse of the best plays from the first half, it still isn't as grand or comprehensive as it could be.
Sideline reporter Danielle Bellini offers a few words, but again, there could be more here.
Offense Gameplay: Hits and Misses
Many of the new gameplay improvements have been about improving the play on offense. Most of them have added to the realism and fun of the game itself. Here's a look at the positives and some areas that could improve even further.
Hits
O-Line Play
The offensive line play has improved drastically. No longer will you be made to scream at your Big Uglies for not blocking defenders they should engage. It is a change that many gamers will be happy to see.
More Aware Receivers Near the Sidelines
In previous versions of Madden, receivers would aimlessly drift out of bounds on routes close to the sideline. In Madden 25, there is an increased awareness for the white lines and receivers will at least make an effort to stay in bounds.
It makes for some nice looking animations on the sidelines. Because working the sidelines is so important in late-game situations, this improvement has helped increase the CPU's effectiveness in clutch situations.
You won't get many wins late because the CPU did something unnatural.
Precision Modifiers Are Awesome
Think of PMs as the dribble stick in a basketball video game. We couldn't imagine playing virtual hoops without the ability to put on dynamic moves with the analog stick. Madden 25 brings the same type of freedom—hence the term "Run Free"—to virtual football.
Holding the left trigger (L2 on PS3) will allow you to unleash a vast array of moves with the ball-carrier. This is not a gimmick, people. This enhancement is the real deal and fun to master.
Misses
QBs Are a Little Too Accurate
Take a gander at the completion percentages for your signal-callers in most games. Unless you're the worst Madden player in the world, it'll probably be in the high 70s every game.
There are a few reasons for this. I'll get into some in the next slide, but one reason is because almost every quarterback has radar if his feet are set. This could be turned down a little.
The great thing is that this is easily fixable with a patch and could already be tweaked by the time you read this.
Some Ball-Carriers Are a Little Too Strong
I love the truck stick, but when you're able to bowl guys over with the likes of Devin Hester, that aspect of the game could be turned down a bit. Again, this is something that could potentially be tweaked shortly after release.
Defense Gameplay: Hits and Misses
Defense still wins championships, so let's look at that side of the ball in Madden 25.
Hits
Diving Wrap-Up Tackles
Lunging at the legs of a ball-carrier just as he breaks away is a major part of defense. It can result in game-saving tackles. Madden 25 has incorporated this element in the game.
The animations involved are pretty to look at and the physics are spot-on during these instances.
Big Hits
With the NFL so focused on player safety, I had some concerns about how hard the players would tackle in Madden 25. If you had the same worries, you can put them to rest. Defenders lay the lumber and the results are bone-crunching blows that remind us football is still a very physical sport.
Playing the Zone Better
Linebackers and safeties make smarter plays on the ball and their man in zone coverage. This helps to allow defenses to function more intelligently in the game.
Gang Tackling
This element of gameplay was improved in Madden 13, but it is even better this year. If a ball-carrier is about to break away from the first defender, a second and third tackler can stack him up and bring him down.
Misses
Defensive Linemen Need Better Pass-Rushing Skills
This could have been included in the previous slide, but I hesitate to say anything with O-line A.I. should be touched.
Instead, ramping up the pass-rushing abilities of defensive linemen would be more ideal. It is difficult for edge-rushers to get pressure at this point, and that contributes to the high completion percentage for quarterbacks.
Again, this is an area that is easily remedied.
Defenders Still Drop a Few Too Many Passes
This is a tough one as some improvements have been made. You don't want to make interceptions automatic as defenders will drop the occasional gift from a QB, but this still happens a little too much.
Gamers could tweak this themselves with sliders or it can be addressed through a patch.
Options: Hits and Misses
It is hard to find fault in any aspect of the options available in Madden 25. Here's a look at them.
Hits
Connected Franchise
Last year, there were gripes because fantasy drafts and importing draft classes were removed. In Madden 25, everything has come together in the most complete franchise mode any football video game has ever seen.
Fantasy drafts are back, as well as complete team control for all 32 teams, the importing of draft classes and the addictive Owner mode. You can even relocate your team and incorporate legends like Barry Sanders and Joe Montana into your virtual football world.
What's even cooler is that you can do almost everything online.
(Keep in mind, all thoughts on online components are based on the assumption that the servers don't experience any major issues. This is an evaluation of the online concepts.)
CF has taken the three best modes the franchise has had and melded them into one superlative video game football experience. There are almost no limitations here.

Ultimate Team
This popular mode has returned with more emphasis on chemistry. You can even take your team through a 10-game season, the playoffs and more. This has been a nice progression for the mode that combines card collecting with fantasy football elements.
Madden Share
I love custom rosters and other content. Madden Share allows gamers to share their creations and settings with others in the Madden community. If someone creates an awesome custom roster, any Madden 25 gamer online will be able to download it if the creator is willing to share.
This is awesome.
Wishes More Than Misses
This feature set is so tight, I can't call anything a miss, but here are a few wishes.
Fantasy Draft Online
Having this option available during Online CFs would be great, but it isn't a killer of the concept by any means.
Creating Uniforms for Ultimate Teams
One aspect that could make UT even better is the ability to create custom uniforms for your squad. Using an application like Team Builder, which is available with the NCAA Football series, would be ideal.
The Answers to the Questions and the Bottom Line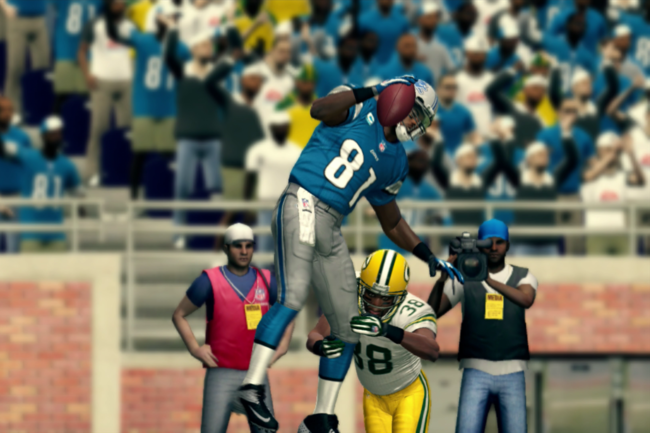 image from Madden 25

Now we're ready to revisit the burning questions:
Will the CPU demonstrate smarter A.I. late in games?
Yes, not only will receivers play the sidelines smarter, but the play-calling is even better late in games.
Do offensive linemen play with more realistic awareness?
Absolutely. This is the best O-line play in the history of the series.
Will defensive players respond as they should in zone coverage?
Yes, the defense is smarter, but at the time of release the offense still has a decided edge. The gap could be closed, though, with a title update shortly.
Has the presentation taken a step forward?
Yes, slightly. There is still room for improvement on this front, but the commentary is a little better from Phil Simms and Jim Nantz. A pregame, halftime and postgame show would have been an intriguing addition for the presentation.
Here's a look at Madden 25 by the numbers:
Graphics and Animation: 9.25 out of 10
Gameplay and Realism: 9 out of 10
Sound and Presentation: 8 out of 10
Game Modes and Options: 9.75 out of 10
Bottom Line: 9 out of 10
Every year there are new expectations for the latest game in a sports series. With last year's game receiving a nine out 10 rating, this year's version needed to continue the momentum from last year to warrant the same score or a higher one.
It did just that.
Follow me and witness my passion for sports and video games.
Keep Reading