Full Stat Predictions for Miami Dolphins Regular Season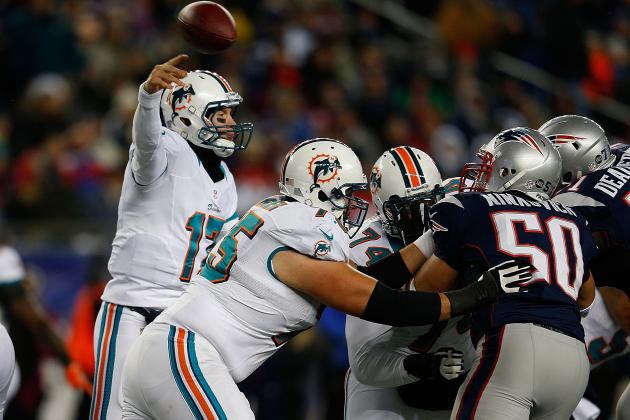 Jim Rogash/Getty Images

The NFL season opener approaches and fantasy drafts are in full bloom. As such, there is a lot of demand for accurate estimates of how various members of the team will fare during the season.
A few days ago, I engaged in a deep exploration of the individual game win-loss results I expect for the Dolphins in the 2013 NFL season. In that analysis, I laid out a number of expectations for how various aspects of the team will interact with the team's opposite. I explained what could make a particular facet of the team a weakness in some games and a strength in other games.
Consider the following full statistical prediction of the Miami Dolphins' 2013 NFL season to be the natural extension of that analysis.
Begin Slideshow

»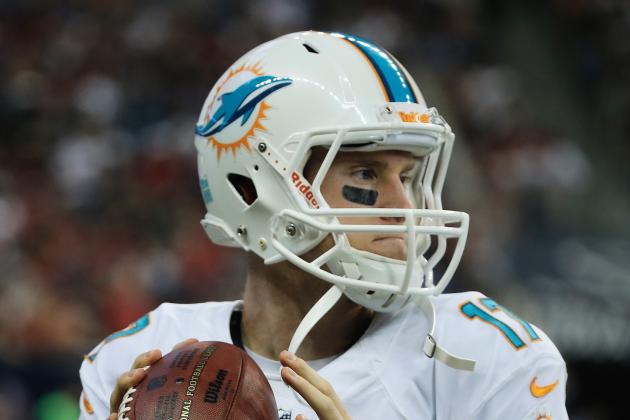 Scott Halleran/Getty Images

Right away we get to the biggest hot-button issue on most fans' minds for the 2013 NFL season: How will Ryan Tannehill fare?
The key in determining the extent of Ryan Tannehill's improvement during the 2013 season lies in the interplay of his tendencies as a quarterback with those of his receivers, as well as with the scheme of offensive coordinator Mike Sherman.
As I have stated in my past analysis, I believe that Ryan Tannehill will be at his best near the end zone, producing touchdowns out of tight red-zone opportunities.
This was a key skill he possessed in college which didn't necessarily shine through in his rookie campaign. I believe a combination of maturation and more dangerous touchdown threats will help him improve in the red zone.
On this basis, I have increased his touchdown percentage quite a bit.
On the other hand, I do not believe Ryan Tannehill will rid himself of interceptions. He is and has always been a guy who will throw interceptions in bunches. He relies upon a lot of timing throws that require execution by his receivers. Any lapse in focus on their part can result in a takeaway.
Additionally, the construction of Mike Sherman's offense shows signs of predictability. As such, I expect more batted balls at the line of scrimmage as well as robbers dropping back into hot route lanes. Further, with the offensive line protection bound to struggle at times, you could continue to see pressures turn into a few interceptions.
Overall, I have Ryan achieving a passer rating in the high 80s. I believe the addition of Mike Wallace will help him be more efficient on a yardage-per-attempt basis. I also believe he will account for more touchdowns in the offense, though turnovers will continue to plague him as he is put under pressure due to shaky offensive line protection.
| | | | | | | | | |
| --- | --- | --- | --- | --- | --- | --- | --- | --- |
| Year | Cmp | Att | Yards | YPA | TD | INT | SK | RTD |
| 2012 | 282 | 484 | 3,294 | 6.8 | 12 | 13 | 35 | 2 |
| 2013 | 315 | 516 | 3,664 | 7.1 | 26 | 15 | 37 | 2 |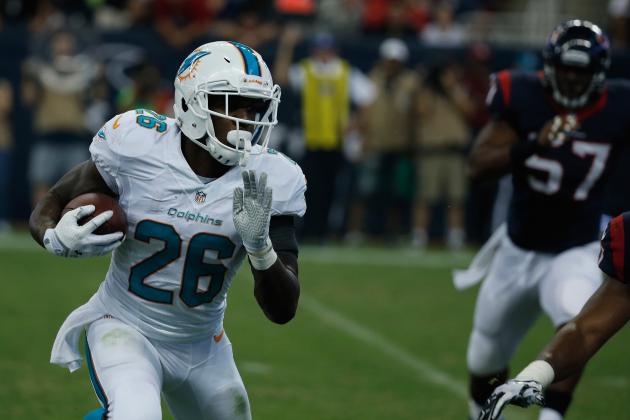 Scott Halleran/Getty Images

I believe the offensive line will struggle to jell as a run-blocking unit. Right tackle newcomer Tyson Clabo is not a strong run-blocker at this stage of his career. Whether the Dolphins choose John Jerry or Lance Louis to play right guard for them, they will not get good run-blocking out of that position.
The Dolphins exchanged a strong run-blocking tight end in Anthony Fasano for increased pass-catching prowess from Dustin Keller.
That backfired, and now the Dolphins may be left with notably weak blockers Charles Clay and Michael Egnew as the team's top two tight ends.
Though I expect Lamar Miller to solidify his role as offensive coordinator Mike Sherman's primary tailback in the mold of past tailbacks such as Ahman Green and Ricky Watters, I expect that Lamar will spend a couple of games injured during the year.
I do not have any faith in Daniel Thomas to perform like the talented tailback many believed him to be coming out of Kansas State. Inconsistency of instincts and vision continues to plague him, and I believe he may give way near the goal line to backup runner Jonas Gray.
| | | | | | | |
| --- | --- | --- | --- | --- | --- | --- |
| Runner | Att | Yards | TD | Rec | Yards | TD |
| Lamar Miller | 253 | 1,063 | 5 | 30 | 222 | 2 |
| Daniel Thomas | 70 | 266 | 1 | 20 | 150 | 1 |
| Jonas Gray | 65 | 260 | 4 | 5 | 49 | 0 |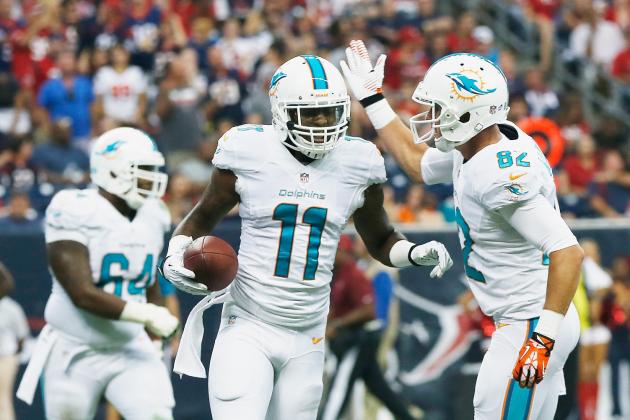 Scott Halleran/Getty Images

I see the Miami Dolphins passing game and offense as a whole as one that could struggle to move the football consistently between the 20-yard lines. However, I believe the offense will be able to punch the football in for touchdowns on the occasions when they do get close to paydirt.
Those expectations are built into my receiver and passing-game projections.
While I do not expect the yardage tally out of Mike Wallace that some do, I believe he will get a fair number of touchdowns. I also believe Brian Hartline will score a few more touchdowns than he did in 2012. Brandon Gibson may not be a dynamic receiver, but I expect him to present an effective threat in the red zone from the slot.
I have Chad Bumphis making the final roster and actually contributing during the season. I believe he will play on offense at some point and create a big play that inflates his yards-per-catch average.
| | | | | |
| --- | --- | --- | --- | --- |
| Receiver | Rec | Yards | TD | YPC |
| Mike Wallace | 64 | 951 | 7 | 14.9 |
| Brian Hartline | 72 | 864 | 3 | 12.0 |
| Brandon Gibson | 42 | 462 | 4 | 11.0 |
| Rishard Matthews | 22 | 297 | 2 | 13.5 |
| Chad Bumphis | 8 | 130 | 1 | 16.3 |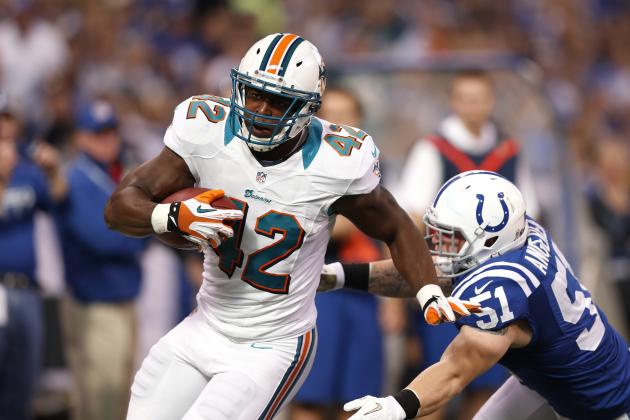 Joe Robbins/Getty Images

The tight end position suffered a massive blow when newcomer Dustin Keller tore his ACL, MCL and PCL during the preseason game against the Houston Texans.
The team is left with tight ends who lack experience or a resume. As a result, the Dolphins will rely upon the wide receivers far more than the tight ends in the passing game.
Despite this, I believe Charles Clay in particular could prove to be an effective red-zone weapon for Ryan Tannehill, and I therefore expect a disproportionate number of touchdown catches for Clay relative to his catches and yardage.
| | | | | |
| --- | --- | --- | --- | --- |
| Tight End | Rec | Yards | TD | YPC |
| Charles Clay | 32 | 302 | 4 | 9.4 |
| Michael Egnew | 12 | 132 | 1 | 11.0 |
| Dion Sims | 8 | 105 | 1 | 13.1 |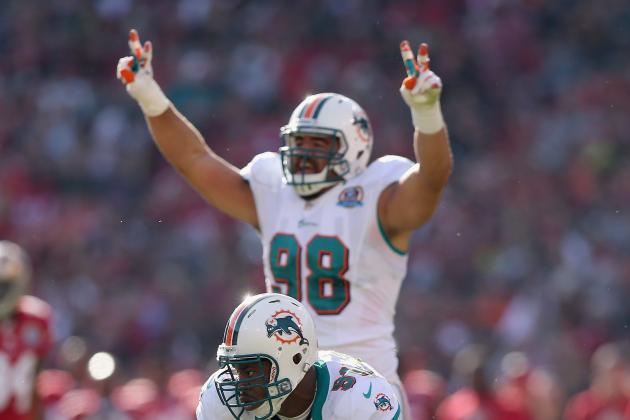 Ezra Shaw/Getty Images

As I stated in my prediction of postseason awards, I believe veteran corner Brent Grimes and rookie corner Will Davis will both make big splashes on the defense in 2013.
When you stack up Will Davis' accomplishments next to those of the more heralded third overall pick Dion Jordan, I believe Davis will get the nod for rookie of the year. Additionally, when you stack up Brent Grimes' accomplishments next to those of new acquisitions like Mike Wallace, Dannell Ellerbe and Phil Wheeler, I believe Grimes will be renowned as the team's newcomer of the year.
All in all, I see the defense increasing its number of interceptions in 2013 compared to the low number in 2012.
I do not expect rookie Dion Jordan to crack into double-digit sacks during the 2013 season. As a part-time pass-rush specialist who may miss parts of the season recovering from offseason shoulder surgery, I believe 8.0 sacks is a more reasonable expectation.
On the other hand, I expect Cameron Wake to be as productive as ever, and I also expect defensive tackles Randy Starks and Jared Odrick to be active in sacking the quarterback.
Given defensive coordinator Kevin Coyle's blitzing tendencies, I would not be surprised to see the team's primary linebackers account for about 6.0 sacks. However, I do not expect the unit to be strong in coverage. As such, the only interceptions I have projected to the linebackers go to Phil Wheeler, who will have the most extensive coverage duties.
Defensive Line

Cameron Wake: 14.0 sacks
Dion Jordan: 8.0 sacks
Olivier Vernon: 3.0 sacks
Jared Odrick: 5.5 sacks
Randy Starks: 4.5 sacks
Linebackers
Dannell Ellerbe: 1.5 sacks, 120 total tackles, 0 interceptions
Phil Wheeler: 2.5 sacks, 100 total tackles, 2 interceptions
Koa Misi: 2.0 sacks, 65 total tackles, 0 interceptions
Secondary
Reshad Jones: 110 tackles, 4 interceptions, 2.0 sacks
Chris Clemons: 90 tackles, 1 interception, 0.0 sacks
Brent Grimes: 55 tackles, 5 interceptions, 0.0 sacks
Dimitri Patterson: 40 tackles, 1 interceptions, 0.0 sacks
Nolan Carroll: 60 tackles, 1 interception, 1.0 sacks
Will Davis: 35 tackles, 4 interceptions, 1.0 sacks