Lessons Dwight Howard Must Learn from Lakers Tenure to Succeed with Rockets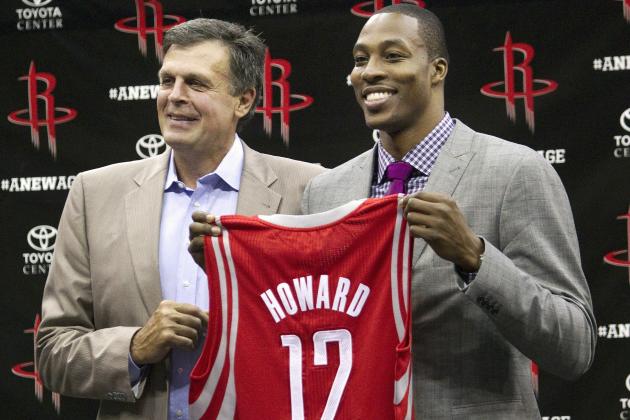 Bob Levey/Getty Images
Kevin McHale (left) and Dwight Howard (right)
Dwight Howard's stint with the Los Angeles Lakers resulted in a few mistakes that he must learn from if he wishes to enjoy a successful career with the Houston Rockets.
Upon joining the Lakers in the 2012 offseason, Howard made it clear that his goal was to bring a title to Los Angeles. He has since made the same proclamation as a member of the Rockets. However, some have openly questioned his commitment on that front and his detractors have used his blunders as evidence to validate that.
Thus, it is important that Howard does not reproduce some of the mistakes he made with the Purple and Gold to ensure he is not everyone's favorite target. Otherwise, the consequences could be unnecessary added pressure, which could affect the mood of a player that thrives on performing with a smile.
We will look at Howard's miscues (some of which were a matter of perception as opposed to fact) with the Lakers in no specific order and then extract the lesson from them.
Begin Slideshow

»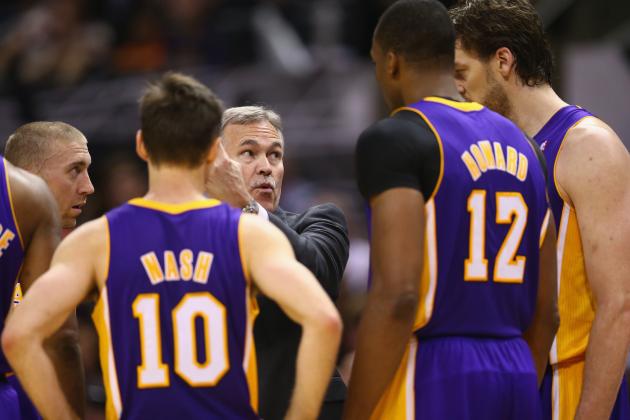 Ronald Martinez/Getty Images
LA Lakers huddle
It is fair to wonder whether Dwight Howard ever embraced his situation with the Los Angeles Lakers. Word leaked out that he did not enjoy playing with Kobe Bryant and also that he disliked the offense.
His inability to accept these factors resulted in Howard publicly complaining about his touches at the end of a contest against the Chicago Bulls in 2012-13. He asked that all study the stat sheet with the hope of coming to the conclusion that he was not being featured enough.
By his own admission, Howard's behavior was immature.
Nonetheless, those actions made him look somewhat childish and petty. It stands to reason the superstar center will make the best of his situation with the Houston Rockets and air his grievances in private.
Discussing issues behind closed doors will do wonders for both the franchise and team harmony. That latter point is crucial given that Howard's teams have operated with the idea he had one foot out the door since the start of the 2010-11 season, when he requested a trade to the then New Jersey Nets.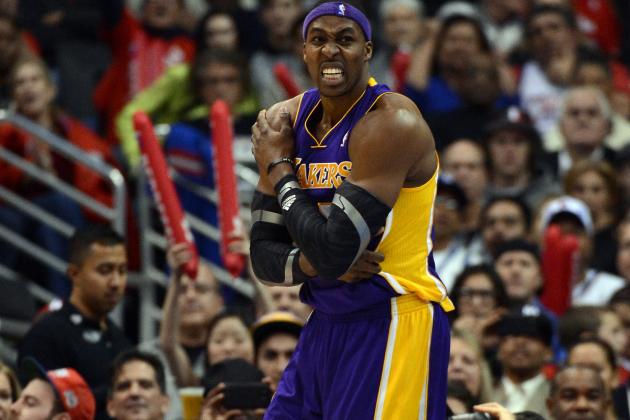 Harry How/Getty Images
Dwight Howard
Fans, teammates, coaches and the media are not quite fond of excuses, and Dwight Howard provided at least one publicly: his injury. To be fair, his issues with his back were clearly bothersome and affected his mobility. However, Howard conducted interviews in which he mentioned the issues he was battling with and how it affected his play. Although the information he shared was pertinent, it did little to ingratiate him with his teammates.
Kobe Bryant has spent his entire 17-year career playing with a slew of injuries and has also refused to acknowledge the constraints it put on his game. Instead, he has simply suited up and played with the pain.
The Los Angeles Lakers and their fans have become accustomed to that and when Howard could not follow in Bryant's footsteps, they chastised him. Howard will have to assume ownership of his performance and not blame it on anything or anyone else.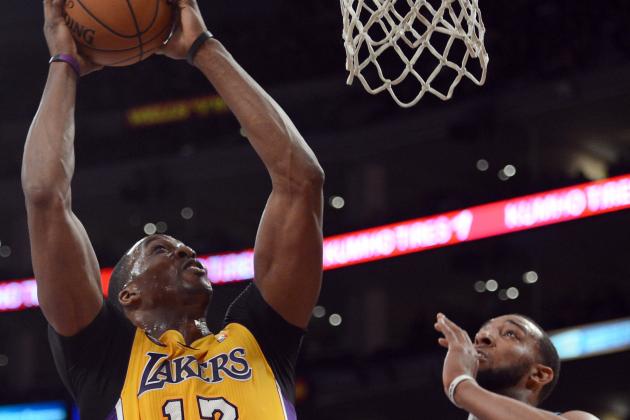 Harry How/Getty Images
Dwight Howard rebounds the ball.
As a member of the Los Angeles Lakers during the 2012-13 season, Dwight Howard led the league in rebounding but still faced some criticism for his sub-par play. His back injury clearly affected him,but he did not get a proverbial pass.
In other words, regardless of the issues he might be facing, the three-time Defensive Player of the Year will be expected to produce. Thus, if his health does not allow him to play at an optimal level, he will be better off missing time on the court and returning once he can consistently play at a high level.
For clarity's sake, he should suit up when faced with small injuries and play at a high level. However, in the event he is truly hampered, sitting out is best since he may in fact end up hindering the team.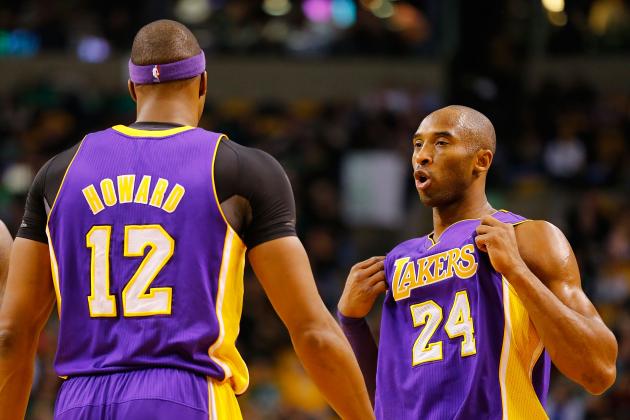 Jared Wickerham/Getty Images
Dwight Howard (left) and Kobe Bryant (right)
In his lone season with the Los Angeles Lakers, Dwight Howard passive-aggressively clashed with Kobe Bryant when the icon publicly challenged him to play through pain.
Howard responded through the media that Bryant was not a doctor, and, consequently, that he was in no position to offer insights on his availability. The big man may have been correct in his assessment, but taking the two-time Finals MVP to task is hardly ideal.
Steve Nash sided with Bryant, which gave credence to Bryant's complaints.
Howard was never going to win a battle versus the Lakers' all-time leading scorer in Los Angeles. As a member of the Houston Rockets, it will be in his best interest to avoid such instances with his teammates and he should instead simply concentrate on being the best player he can be.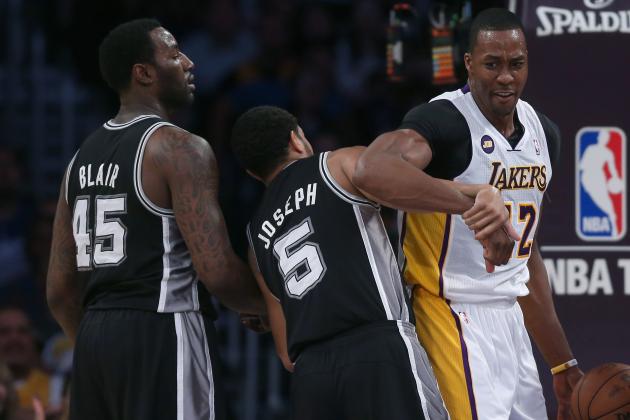 Jeff Gross/Getty Images
Dwight Howard with the hit
There were times during the 2012-13 season when Dwight Howard simply lost his composure during games and made some awful decisions that limited his play. Indeed, the former Orlando Magic player was often bothered by physical play and retaliated by committing infractions, which forced him to sit for long stretches with foul trouble.
Furthermore, he also got carried away at times and hit players far too hard or simply abused the referees one time too many. Consequently, he was tossed from games and left the Los Angeles Lakers with a huge void on the interior.
This occurred in his final playoff game with the Purple and Gold against the San Antonio Spurs. Howard has probably learned from these instances and will do a better job in 2013-14 of remaining on the court with the Houston Rockets.
His overall mood and demeanor will be better given that he picked the Rockets and will be in a situation where he wishes to be. Perhaps he would have already been better in Houston because of this, but the heat he took in L.A. for losing his composure will help him fare better in his new surroundings.