Full Stat Predictions for St. Louis Rams' Regular Season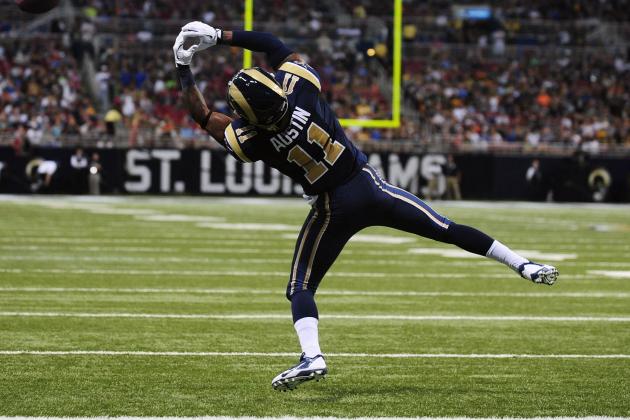 Jeff Curry-USA TODAY Sports

Predicting NFL stats is like predicting the stock market—all you can do is speculate, and in the end, accurate predictions result from luck more than knowledge (unless you have insider information).
Regardless, I'm going to take a shot at predicting player stats for the St. Louis Rams. For one, it's a fun thing to do, especially for fantasy football nuts. Also, it's interesting to pull up these articles in the future and see what we thought of players at various points in time.
I'm not going to get carried away and predict stats for the entire team, but this article will cover the key players on offense and defense, and I'll provide an explanation for the predictions.
Begin Slideshow

»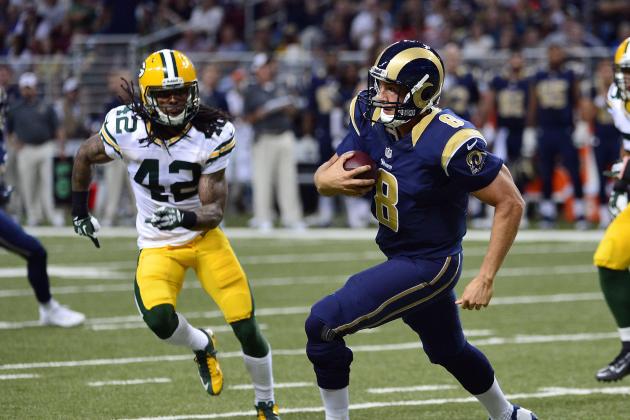 Scott Rovak-USA TODAY Sports

Barring injury, Sam Bradford will start 16 games and play every snap. The Rams have Johnny "Hot Hands" Hekker at punter, so we'll likely see a pass or two from him on trick plays, but we'll just stick to Bradford's numbers on this slide.
Bradford surpassed 3,500 yards as a rookie and had 3,702 yards in 2012. He has picked up decent yardage despite playing with a weak offense, so the new weapons on offense should push him beyond 4,000 yards for the first time in his career.
The Rams have a questionable run game, so offensive coordinator Brian Schottenheimer will compensate by going airborne more than he's used to, which gives Bradford a golden opportunity for the best statistical season of his career.
If Bradford plays the way he's expected to play, he'll be a borderline top-10 quarterback in 2013.
Sam Bradford 2013 Stats

355-for-572 (62.1 percent), 4,147 yards, 28 touchdowns, 12 interceptions, 91.5 QB rating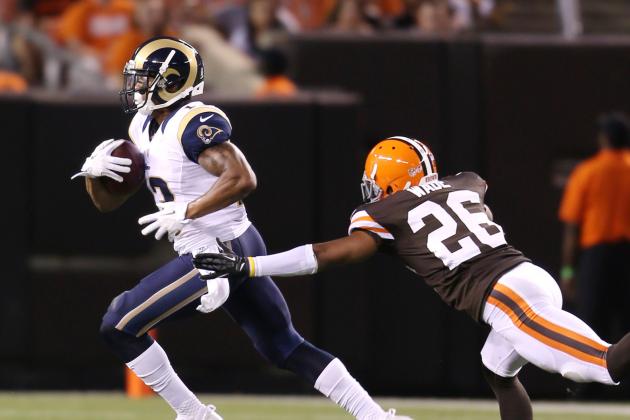 Ron Schwane-USA TODAY Sports

The only way the receiving statistics can make sense is by going off Bradford's predicted stats.
I can't have the receivers' combined yards and receptions exceed Bradford's predicted yards and completions. I have to be consistent. So basically, there are 355 receptions and 4,174 yards to divide up among the receivers.
Givens was electric as a rookie and has been lights-out this preseason, racking up four catches for 139 yards and a touchdown. As a result, I have him leading the Rams in every category.
Jared Cook has a decent number of receptions in this scenario. His big-play ability jacks up his yards-per-catch average, resulting in an impressive yards total.
Tavon Austin will catch plenty of passes out of the slot, but many of those catches will come on short, quick routes that will force a modest yards-per-catch average, regardless of his lightning-fast moves and ability to break away for a big gain.
Outside of the top three, expect Brian Quick, Stedman Bailey and Lance Kendricks to pick up most of the scraps. Kendricks was a valuable member of the offense last season, while Quick and Bailey have stood out this preseason with the second-team offense.
Predictions
Chris Givens, WR
74 receptions, 1,012 yards, 13.6 yards/catch, 8 touchdowns
Jared Cook, TE
59 receptions, 831 yards, 14.1 yards/catch, 6 touchdowns
Tavon Austin, WR
62 receptions, 582 yards, 9.4 yards/catch, 5 touchdowns
Lance Kendricks, TE
40 receptions, 348 yards, 8.7 yards/catch, 2 touchdowns
Brian Quick, WR
39 receptions, 460 yards, 11.8 yards/catch, 3 touchdowns
Stedman Bailey, WR
37 receptions, 392 yards, 10.5 yards/catch, 1 touchdown
Austin Pettis, WR
21 receptions, 212 yards, 10.1 yards/catch, 1 touchdown
Backup Receivers and Backs
23 receptions, 310 yards, 2 touchdowns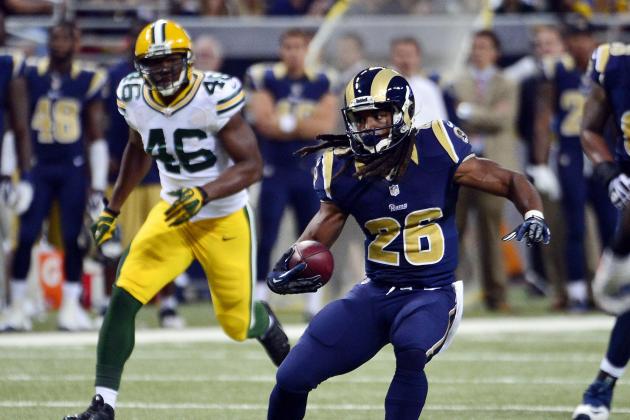 Scott Rovak-USA TODAY Sports

The rushing predictions are roughly based on the Rams' 2012 rushing totals—409 attempts, 1,723 yards.
In this scenario, the backs slightly exceed those numbers, which might not be realistic since the Rams are expected to throw more and run less. But it's never wise to bet against a healthy run game when it comes to a Jeff Fisher team.
Daryl Richardson will lead the Rams in rushing yards. You can call him a scat back or a third-down back, but he's also the best back on the team. At this point, is there any other back on the roster who can be trusted with 200 carries in the upcoming season?
Isaiah Pead is next in line. The former second-round pick will get a solid portion of the carries, but his production has been inconsistent this preseason, so he'll have to show improvement before he's handed a larger role.
Rookies Zac Stacy and Benny Cunningham will see limited action, but they'll certainly carry the ball several times throughout the season.
Predictions
Daryl Richardson, RB
205 carries, 840 yards, 4.1 yards/carry, 4 touchdowns
Isaiah Pead, RB
112 carries, 414 yards, 3.7 yards/carry, 1 touchdown
Zac Stacy, RB
64 carries, 256 yards, 4.0 yards/carry, 2 touchdowns
Benny Cunningham, RB
24 carries, 103 yards, 4.3 yards/carry, 1 touchdown
Tavon Austin, WR
19 carries, 165 yards, 8.7 yards/carry, 2 touchdowns
Kim Klement-USA TODAY Sports

The defense is a little more difficult to predict.
On offense, we know the Rams are going to throw more and run less, and we know who Bradford's favorite targets are, so it's a little easier to decide which players to favor with the predictions.
On defense, the only thing we can truly reference is last season's stats.
In 2012, the Rams led the NFL with 52 sacks. That trend that will likely continue in 2013, which is why I predicted 44 total sacks for the starting defense.
They also finished with 17 interceptions in 2012, so I decided to give the 2013 starters 16 interceptions and divided them up accordingly.
As far as tackles, I tried to give each player a number close their 2012 total, except for Jo-Lonn Dunbar, who is serving a four-game suspension according to NBC Sports, so I cut down on his totals.
Predictions
Defensive Line
Chris Long, DE
11.0 sacks, 30 total tackles, 1 forced fumble
Robert Quinn, DE
15.5 sacks, 28 total tackles
Kendall Langford, DT
3.5 sacks, 25 total tackles
Michael Brockers, DT
7.5 sacks, 31 total tackles, 1 forced fumble
Linebacker
James Laurinaitis, MLB
2 interceptions, 131 total tackles, 1.0 sacks
Jo-Lonn Dunbar, OLB
1 interception, 81 total tackles, 1.5 sacks
Alec Ogletree, OLB
2 interceptions, 101 total tackles, 2.0 sacks
Defensive Backs
Janoris Jenkins, CB
6 interceptions, 78 total tackles, 1.0 sacks, 1 fumble recovery
Cortland Finnegan, CB
3 interceptions, 95 total tackles, 1 forced fumble
T.J. McDonald, S
1 interception, 80 total tackles, 1.0 sacks
Darian Stewart, S
1 interception, 71 total tackles