Georgia Football: Meet the Bulldogs' 7 New Starters for 2013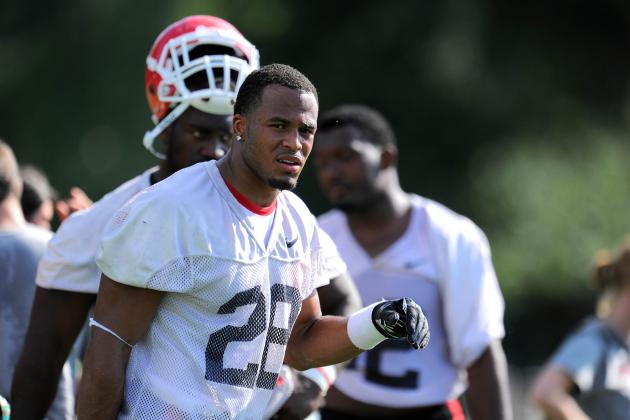 Dale Zanine-USA TODAY Sports

The 2013 college football season is less than a week away and the Georgia Bulldogs are getting in the final preparations before they travel to Clemson on August 31 to face the Tigers.
With this being a new season, the Bulldogs will have some new faces in the starting lineup and they are expected to help the team repeat as SEC East champs.
Some of the new faces have experience and should not have any issues taking on what is expected of them. But there are a few new faces that have little to zero experience, and fans hope they are not in for a rude awakening once the season begins.
So, without further ado, here are the new starters for the Bulldogs this season.
Begin Slideshow

»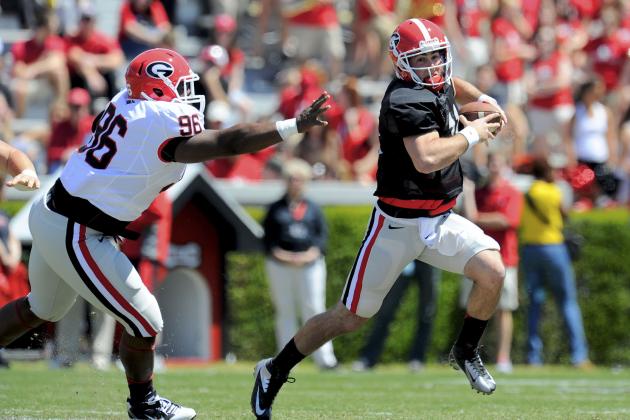 Dale Zanine-USA TODAY Sports

Height: 6'1''
Weight: 290
Position: Nose Tackle
Player Replacing: John Jenkins
Mike Thornton is coming into his third season and he's a 4-star prospect from Atlanta.
He played in all 14 games last year, but had no tackles or sacks while playing reserve for John Jenkins and Kwame Geathers.
Thornton is not nearly as big as Jenkins and Geathers, but what he lacks in size makes up in effort which is why he's been able to hold on to the starting spot since spring.
With Thornton being low to the ground, that gives him an opportunity to get under offensive lineman; if he can do that consistently, he will have a successful 2013 season.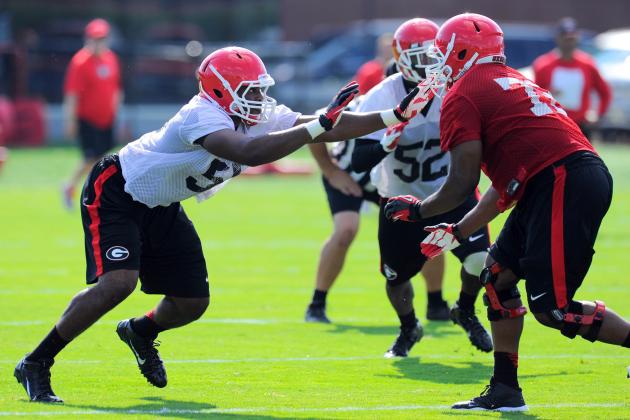 Dale Zanine-USA TODAY Sports

Height: 6'3''
Weight: 282
Position: Defensive End
Player Replacing: Cornelius Washington
After playing in three games last year, Sterling Bailey is ready to be the next great defensive end for the Bulldogs.
He was one of the premier defensive ends in the nation coming out of East Hall High School in Gainesville, Georgia as he was ranked the No. 8 defensive end in the country, according to Rivals.
Bailey has the potential to be what Cornelius Washington was for the Bulldogs the last two years, and that's getting a rush off the edge despite playing end in a 3-4 technique.
However, there is another end that can do the same thing and is fighting for the same spot as Bailey.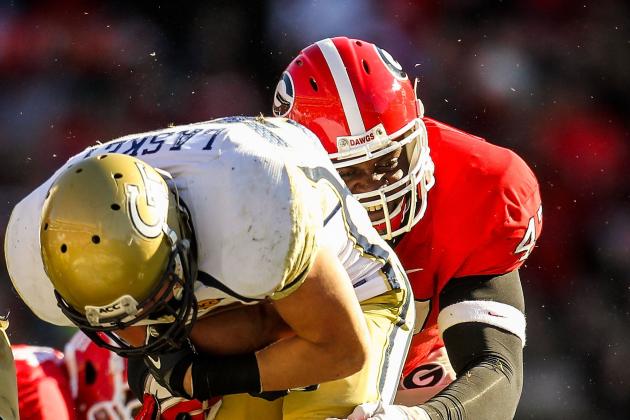 Daniel Shirey-USA TODAY Sports

Height: 6'5''
Weight: 276
Position: Defensive End
Player Replacing: Cornelius Washington
Ray Drew was one of the most sought out prospects two years ago.
Drew was a USA Today All-USA Player, ranked as the 13th best player in the country by ESPNU and Rivals had him listed as a 5-star prospect.
After playing in 20 games the last two seasons, Drew is ready to be the player that fans have expected him to be.
Drew and Bailey are fighting for the same spot and defensive line coach Chris Wilson loves how both players are motivating each other. No matter who starts, both will see a lot of action this season.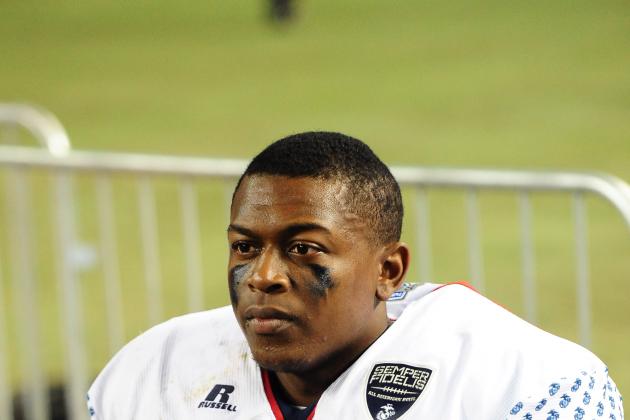 Mark J. Rebilas-USA TODAY Sports

Height: 6'3''
Weight: 265
Position: Outside Linebacker
Player Replacing: Jarvis Jones
James DeLoach appeared in 13 games last year and tallied four tackles.
He has worked his way into the starting lineup after performing well in spring practice, especially in the G-Day game where he totaled six tackles and one sack.
The 4-star prospect isn't expected to put up the same numbers as Jarvis Jones because Jordan Jenkins is the likely candidate to be the team's sacks leader after tallying five sacks in 2012. But DeLoach is expected to handle the edge and can make plays from sideline to sideline.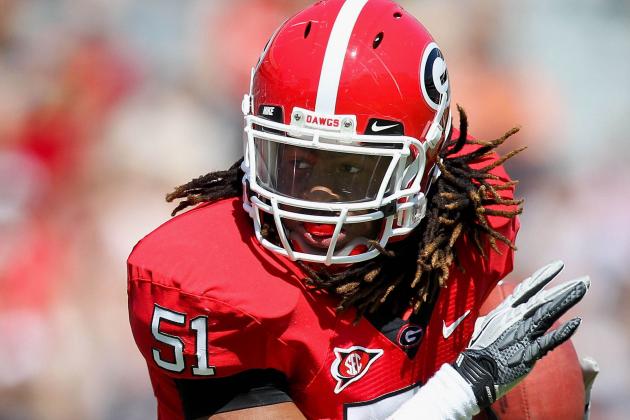 Daniel Shirey-USA TODAY Sports

Height: 6'2"
Weight: 232
Position: Inside Linebacker
Player Replacing: Alec Ogletree
Ramik Wilson, a 3-star recruit from Tampa, Florida has played in 18 games the last two seasons, but has made no starts.
Because of his performance during the G-Day game where he recorded eight tackles and one sack, Wilson has made his way to the starting lineup playing alongside Amarlo Herrera.
Wilson has also done well in the fall scrimmages, getting four tackles and one tackle for loss in the first scrimmage of camp.
Alec Ogletree made such an impact, it will be hard for anybody to fill his shoes. But Wilson has earned the right to take his place. And if he continues to practice well, he will have no issues making plays during the season.
USA TODAY Sports

Height: 6'2''
Weight: 190
Position: Cornerback
Player Replacing: Sanders Commings
Sheldon Dawson is another player that has some experience after playing in 13 games last season.
Scout named Dawson as the No. 1 player in Tennessee early last year, so it's no surprise Dawson has taken over the starting cornerback job his sophomore year.
Dawson will be in familiar territory because Damian Swann also took over the starting cornerback job last year as a sophomore. So having Swann in the secondary will help Dawson in more ways than one.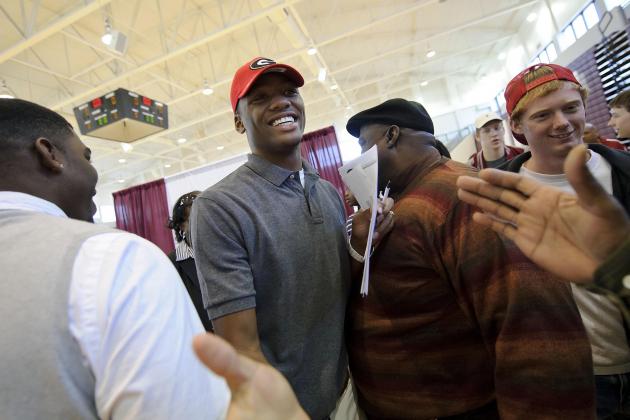 Paul Abell-USA TODAY Sports

Height: 6'5''
Weight: 212
Position: Strong Safety/Star
Replacing: Shawn Williams
Georgia has a great lineage of strong safeties over the years. And the coaches hope that trend continues with Josh Harvey-Clemons.
The 5-star player from Valdosta, Georgia played in 14 games last year and recorded 14 tackles.
Harvey-Clemons is also coming off a tremendous spring practice where he was named defensive MVP.
With him being suspended for the game against Clemson, the defense will have to adjust because Harvey-Clemons is an X-factor for the unit. But once he comes back for the South Carolina game, he will be all over the field because the coaches like his skill set and athleticism. In fact, don't be surprised if he plays some linebacker this season because he has been working with that group during camp.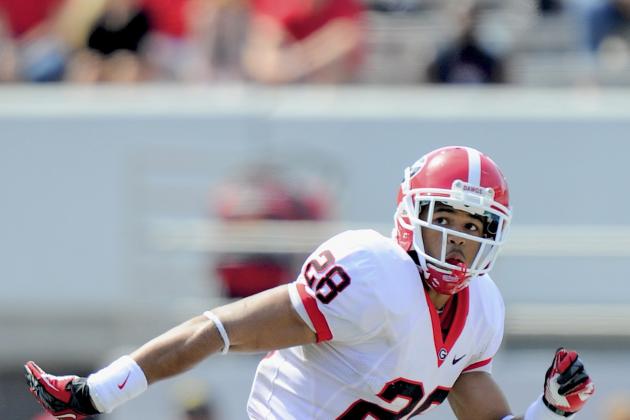 Dale Zanine-USA TODAY Sports

Height: 6'0''
Weight: 196
Position: Free Safety
Replacing: Bacarri Rambo
He's only a true freshman, but Tray Matthews is already making an impact.
The 4-star prospect from Newnan, Georgia enrolled in January as was named Most Improved Defensive Player at the conclusion of spring practice.
The players have been impressed by the way Matthews has worked this offseason and they believe he can make an impact right away.
He will have his share of growing pains, but Matthews has the ability to be an All-American when his career is all said and done.