Full Stat Predictions for Oakland Raiders' Regular Season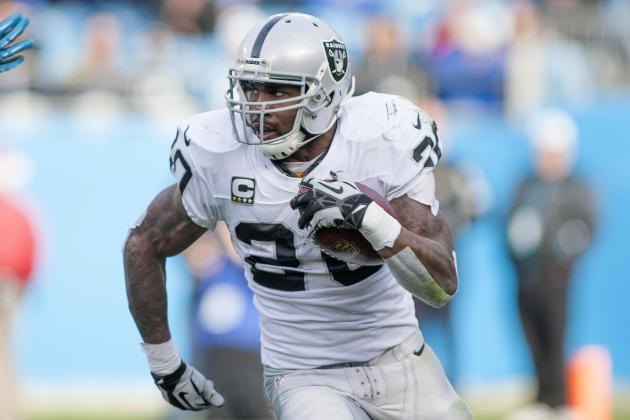 USA TODAY Sports

With the kickoff of the 2013 NFL season now just a few weeks away, the Oakland Raiders' roster is beginning to take shape.
As such, fans and fantasy football owners can start to project just how each player is going to fare in the role he looks to be fitting into on the roster.
Of course, the foundation of the Raiders' offense will be the running game, but success there would open up the play-action passing game as well.
In the receiving corps, with a No. 1 receiver yet to step up, receptions should be well divided between what is a crowded group.
Here is a look at the player stat predictions for the Oakland Raiders' 2013 regular season.
Begin Slideshow

»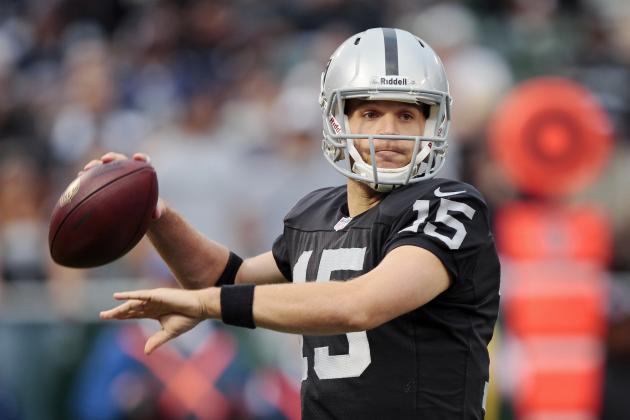 Brian Bahr/Getty Images

Matt Flynn is the Raiders' starting quarterback and, working under the assumption that he remains which throughout the season, he should turn in some decent numbers.
No, Flynn is probably not a 4,000-yard passer, but he doesn't have to be for the Raiders to succeed. Instead, expect him to finish the season below that mark, but a fair bit above 3,000.
Flynn should be able to spread the ball around to a number of young targets, finishing the season with a touchdown number in the mid-20s, but with an interception number in the teens.
These kind of numbers from the quarterback position should allow the Raiders to be much more competitive than many anticipate.
Prediction:
3,600 Passing Yards
25 TDs
16 INTs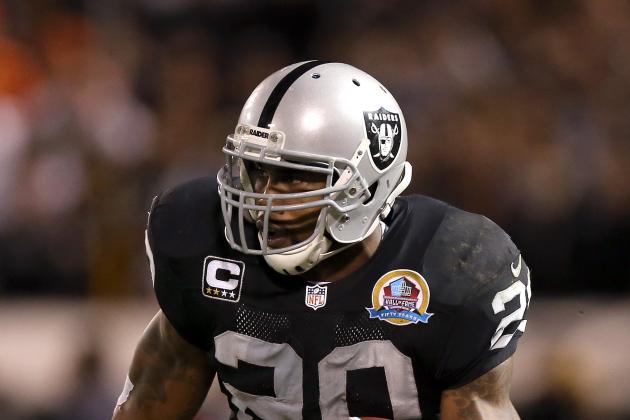 Ezra Shaw/Getty Images

Based on an awful performance from the offensive line in the Raiders' second preseason game, many will be down on Darren McFadden's chances for a bounce-back year in 2013.
While that will be a concern, it is important to remember how early it still is for an offensive line making a scheme change and losing its best player for an extended period of time in the process.
One preseason game, good or bad, has never been considered enough to properly forecast a given unit's regular season performance, and it isn't in this case either.
It may take a few weeks for the line to come together, but the Raiders' running game should be improved if for nothing else than McFadden's comfort in a scheme that gets him running downhill.
If he can stay healthy in what is a contract year for him, Darren McFadden could be in for one of his best seasons in the NFL.
Prediction:
1450 Rushing Yards
9 Rushing TDs
40 Receptions
350 Receiving Yards
2 Receiving TDs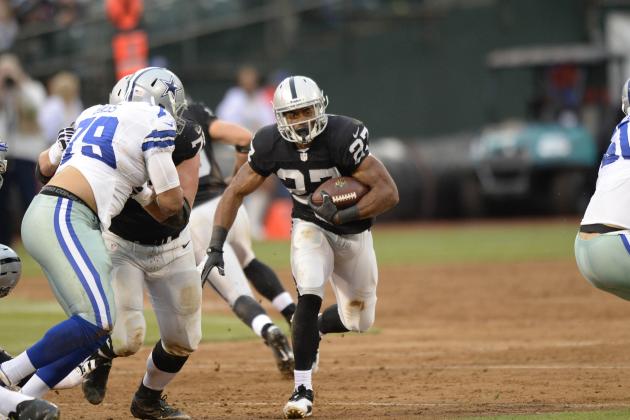 Bob Stanton-USA TODAY Sports

The Raiders needed to address the backup running back situation this offseason, and did so by signing the former Jacksonville Jaguar Rashad Jennings.
After an impressive start to his career as a complimentary back to Maurice Jones-Drew, Jennings struggled in 2012, evidently hurting his free agent stock.
However, that 2012 season seems to be the outlier in what is still a very young career.
In Jennings, the Raiders get a big, talented back that should contribute both as a change of pace to Darren McFadden, and in short-yardage situations.
Prediction:
550 Rushing Yards
3 Rushing TDs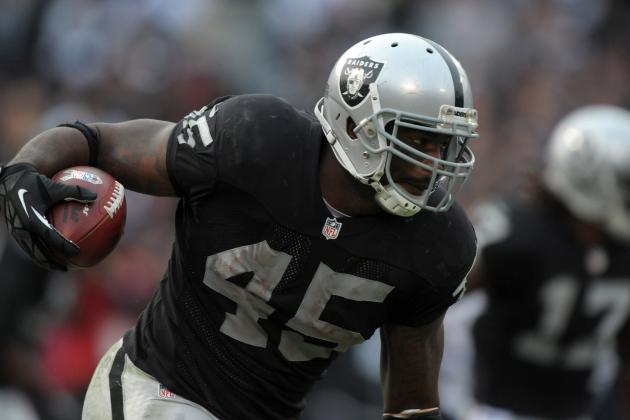 USA TODAY Sports

Marcel Reece provides the Raiders with an extremely unique offensive weapon from the fullback position.
The coaching staff should make a point of getting the ball in his hands in as many ways possible, allowing him to contribute both as a ball carrier and receiver.
If they can do just that, using Reece to exploit mismatches he causes for opposing defenses, he should finish the season with some impressive statistics.
Prediction:
250 Rushing Yards
2 Rushing TDs
45 Receptions
500 Receiving Yards
3 Receiving TDs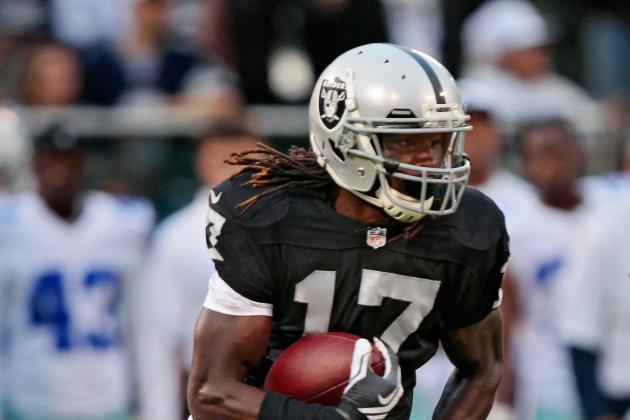 Brian Bahr/Getty Images

The 2013 season will be important for Denarius Moore, as his impressive rookie campaign was followed by a bit of an off year in 2012.
Simply put, the Raiders need to use Moore to the best of his abilities, allowing him to get vertical and make plays on the football downfield.
While he is impressive with the ball in his hands, running shorter routes does not quite fit his skill set as much.
With a Raiders' offense that has most certainly learned its lesson in the need to build schemes around the strengths of its players, expect Moore to get plenty of big play opportunities, and have a solid rebound year.
Prediction:
50 Receptions
800 Receiving Yards
4 Receiving TDs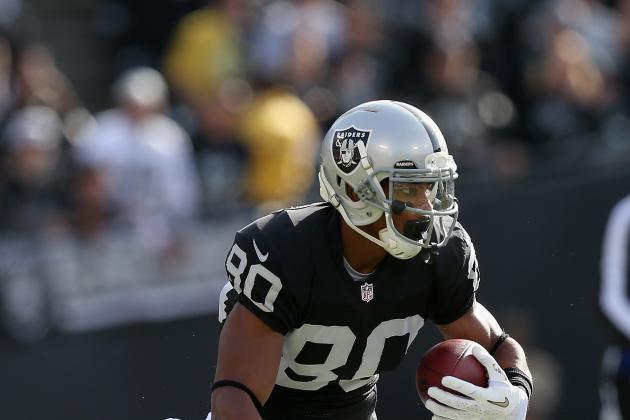 Ezra Shaw/Getty Images

Rod Streater will challenge Denarius Moore for the No. 1 receiver role on the Raiders' offense and could very well earn it.
Streater will not have as many downfield plays as Moore, but his ability to create separation on underneath routes fits the offensive scheme well.
While he may not put up the biggest yardage total, expect Streater to have the most receptions and touchdowns of any Raiders receiver in 2013.
Prediction:
52 Receptions
700 Receiving Yards
6 Receiving TDs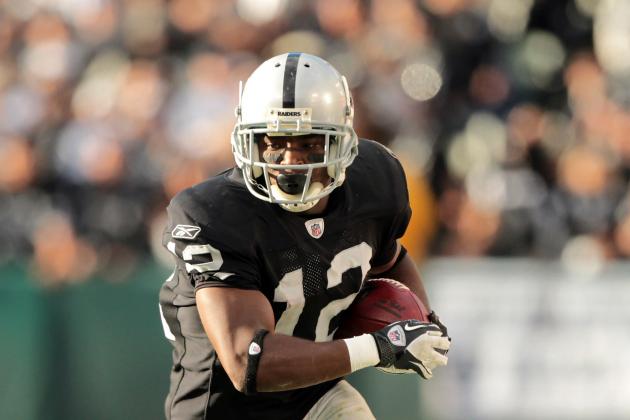 Ezra Shaw/Getty Images

Jacoby Ford has struggled with some injuries thus far in the preseason, but the hope is that those issues are now behind him with the regular season right around the corner.
If that proves to be the case, he will play an important role in the Raiders' offense as an underneath slot receiver with impressive vertical ability as well.
Ford is the kind of player that can break any play for a big gain, and the coaching staff should try to get the ball in his hands as often as possible.
Prediction:
37 Receptions
450 Receiving Yards
3 Receiving TDs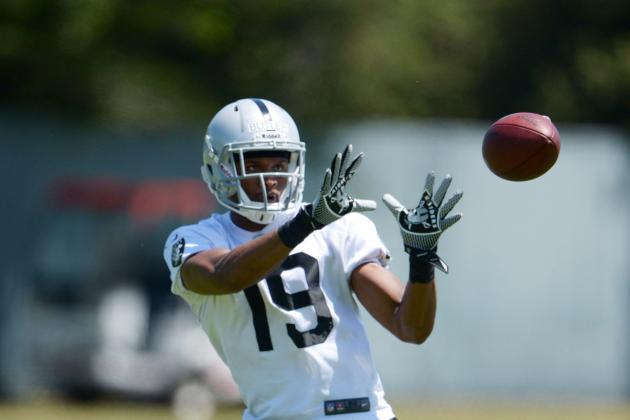 USA TODAY Sports

Brice Butler has made quite the impression thus far, standing out in each of the Raiders' first two preseason games.
While he could very well force his way into the starting lineup if he continues to play at this level when receiving first team snaps, he still remains behind the more experienced players on the depth chart.
As such, his stat projections may be on the lower end, but all of which would increase significantly if he continues to push for a bigger role in the offense.
Prediction:
25 Receptions
350 Receiving Yards
2 Receiving TDs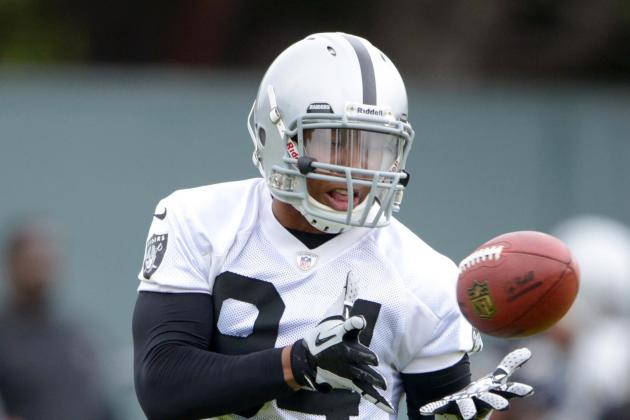 USA TODAY Sports

Juron Criner showed some promise in both the preseason and regular season of his rookie campaign, but is now part of a relatively crowded wide receiver group.
While he may be a candidate for a prominent role in the offense at some point, there are only so many receptions to go around in what will be a run-concentrated offense.
Prediction:
18 Receptions
250 Receiving Yards
1 Receiving TD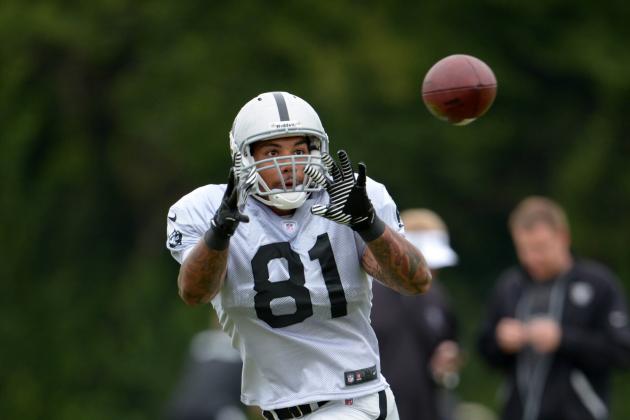 Kirby Lee-USA TODAY Sports

The Raiders' tight end situation is still very much in question, and especially so given the recent injury to David Ausberry.
Richard Gordon and Jeron Mastrud are the starting candidates in Ausberry's absence, but they will be used primarily as blocking tight ends.
As a result, Mychal Rivera should see a considerable amount of playing time in passing situations, thus becoming the most productive pass catcher of the group.
Prediction:
19 Receptions
200 Receiving Yards
3 Receiving TDs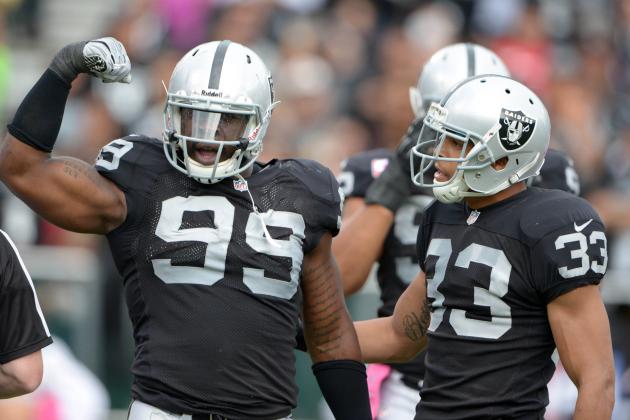 Kirby Lee-USA TODAY Sports

DE Lamarr Houston: 58 tackles, 7 sacks
DE Andre Carter: 32 tackles, 6 sacks
LB Sio Moore: 90 tackles, 4.5 sacks
CB D.J. Hayden: 46 tackles, 3 interceptions
SS Tyvon Branch: 87 tackles, 3 interceptions
FS Charles Woodson: 74 tackles, 4 interceptions