Joe Mixon vs. Racean Thomas: Which 5-Star RB Is Better?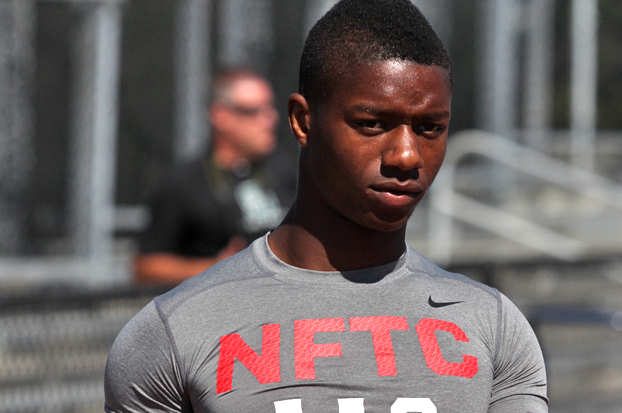 247Sports
Joe Mixon is a 5-star running back from California with a great set of skills. He has the talent to make an early impact in college, he works hard and has a good head on his shoulders.
Racean Thomas, who is committed to Auburn, is another 5-star running back and also can do an array of things on the field. Thomas, who is from Alabama, has Auburn head coach Gus Malzahn excited about working with him on The Plains.
The pair of running backs are great prospects, but it is time to break them down and decide who is better.
Player evaluations are based on review of tape at Scout.com, Rivals, 247Sports and ESPNU.
Begin Slideshow

»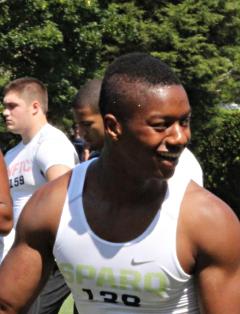 247Sports
Joe Mixon:
At 6'2" and 195 pounds, Mixon has tall and long frame with excellent muscle definition. He's not a slender athlete, but his length evident when looking at him on the hoof. He could weigh between 215 and 225 pounds before he leaves college.
Racean Thomas:
Thomas is a 5'11", 196-pound athlete with a frame that is more compressed than Mixon's. However, like his counterpart, he possesses great definition and tone throughout his body. Weighing 210-220 pounds while at Auburn should not be an issue for Thomas.
Advantage: Mixon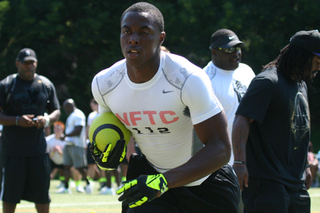 247Sports
Joe Mixon:
Mixon has only adequate initial quickness, as he is not a stop-and-start type of athlete. He's faster than he is quick, as he can build into his speed. Mixon, however, does show a second gear on the second level when sees he has a chance at a big gain. Once his legs get going, this is a back with solid speed.
Racean Thomas:
Thomas is essentially the opposite of Mixon in this category, as he is more quick than fast. He can explode through seams, jump the edges and sharply cut to get across to backside holes. He has good speed, but won't pull away from many defenders in college.
Advantage: Push - Mixon is faster, Thomas is quicker.
Joe Mixon:
Mixon is not a robot with the ball, as he displays good creativity on the field. He displays a solid feel for locating linebackers, quickly realizes when he's in traffic and flashes the patience to set up his blocks. His straight-line athleticism makes him a better north and south runner than a back who will skate laterally to backside holes.
Racean Thomas:
Patience is not Thomas' style, as he prefers to take a hand-off and explode to where he thinks he can make a play. He has adequate vision, but he simply is a decisive runner who trusts what he sees, almost to a fault.
Advantage: Mixon
Joe Mixon:
The California native will press inside holes, run with strength and does not seem to be fazed by arm tackles. He has good power at the point of attack, plus he flashes the ability to push piles. However, Mixon's height naturally forces him upright and he runs with a high pad level.
Racean Thomas:
Auburn is getting a running back who can slam inside and explode at the point of attack. Thomas runs a little bit bigger than his listed size, has deceptive power and will finish a run with force. He'll carry a defender or two after contact and can break for a few extra yards. Thomas needs to be more disciplined with his pad level.
Advantage: Thomas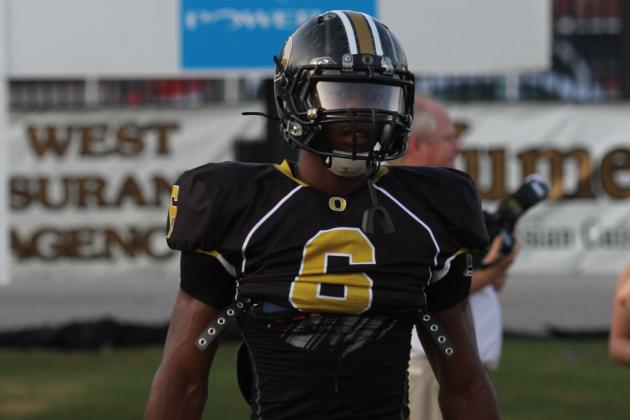 247Sports
Joe Mixon:
Mixon displays adequate ability to get to the edges, but he is not smooth when cutting. He's a straight-line athlete who has to decelerate to change directions, and this will lead to him getting caught on the second level at times in college. However, when he has space and can stay on his line, he can burst upfield and be dangerous on the perimeter.
Racean Thomas:
Thanks to being initially explosive, Thomas is a lethal outside-runner. He can jump to the edges, turn the corner and burst upfield to quickly get to the second level. He rarely allows defenders to deliver big hits on him, can wiggle his way out of traffic and has good moves in the open field.
Advantage: Thomas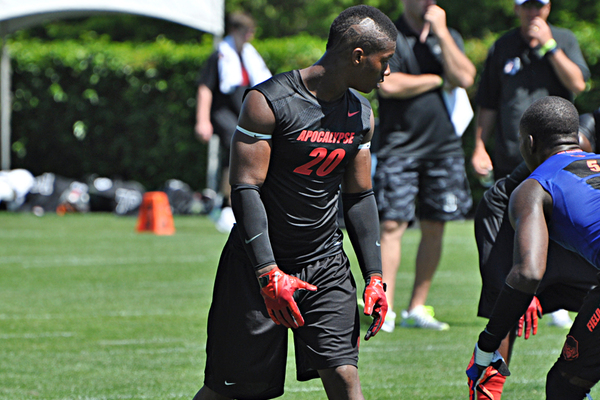 247Sports
Joe Mixon:
Catching the football comes naturally to Mixon, as he can be motioned to the perimeter, run a route and looks experienced in this category. He has soft hands, attacks the ball away from his body and will only body-catch in traffic. Mixon's receiving ability is among the best of any running back in the country. He will not need to come off the field on third downs.
Racean Thomas:
Thomas has good hands and is a threat out of the backfield on passing downs. He is not just a running back who can catch screen passes, as he has the ability to factor into the passing game as a true receiver. Thomas will be an excellent fit in Auburn's spread offense.
Advantage: Push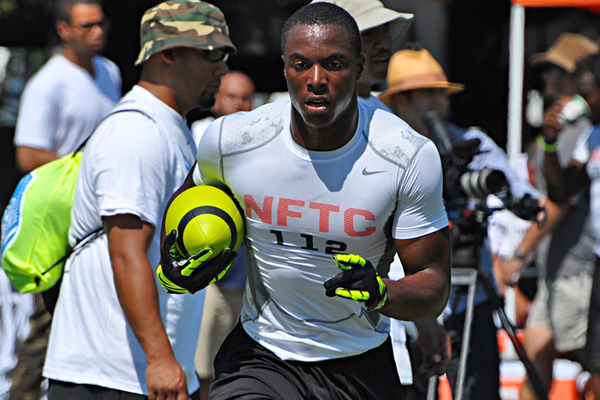 247Sports
Both backs are great players who will be good starters in college. However, after carefully breaking them down, Thomas is a superior prospect.
The Auburn commit is a good inside runner, has the explosive cutting ability to get outside and also displays terrific hands. Mixon has better size, good vision and equal hands.
But the running back who should be ranked higher is Thomas.
Joe Mixon and Racean Thomas are both featured in the 2014 Bleacher Report College Football Recruiting Heat Map!
This is a mobile-tool that should serve as your main resource for locating the top 2014 recruits.
Edwin Weathersby is the College Football Recruiting Analyst for Bleacher Report. He has worked in scouting/player personnel departments for three professional football teams, including the New York Giants and Cleveland Browns.