Ryan Braun Releases Statement on Suspension, Apologizes for PED Use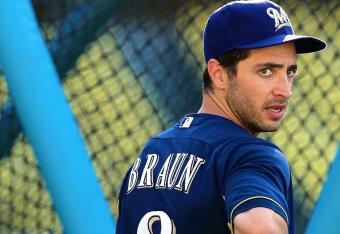 Milwaukee Brewers slugger Ryan Braun, who was suspended 65 games last month for violating Major League Baseball's drug policy, has become one of the most vilified players across the league.
On Thursday, he issued a statement both confessing to and apologizing for his PED use. Here is a portion of his full statement, via MLB.com:
Now that the initial MLB investigation is over, I want to apologize for my actions and provide a more specific account of what I did and why I deserved to be suspended. I have no one to blame but myself. I know that over the last year and a half I made some serious mistakes, both in the information I failed to share during my arbitration hearing and the comments I made to the press afterwards.

I have disappointed the people closest to me – the ones who fought for me because they truly believed me all along. I kept the truth from everyone. For a long time, I was in denial and convinced myself that I had not done anything wrong.
UPDATE: Friday, Aug. 23
According to the Associated Press (via ESPN), Braun's teammates are happy that he made his statement:
Brewers players are glad that Ryan Braun has acknowledged he took performance-enhancing substances that resulted in his 65-game suspension by Major League Baseball.

His teammates think it's a good step to explain when he used banned substances. CatcherJonathan Lucroy said it "was a good first step on the road to redemption."

Reliever John Axford says he's willing to forgive Braun and move on.
UPDATE: Friday, Aug. 23
From USA Today's Bob Nightengale:
MLB investigators: No evidence that Braun used PEDs beyond latter part of 2011 season. #Brewers.' http://t.co/E16y1V4aJX

— Bob Nightengale (@BNightengale) August 23, 2013
UPDATE: Thursday, Aug. 22
From USA Today's Bob Nightengale:
Ryan Braun: For a long time, I was in denial, and convinced myself that I had not done anything wrong. There is no excuse for any of this.

— Bob Nightengale (@BNightengale) August 23, 2013
UPDATE: Thursday, Aug. 22
Milwaukee-Wisconsin Journal Sentinel reporter Tom Haudricourt shows the statement that Braun crafted specifically for Brewers fans:
I have always been very grateful for the privilege of playing baseball in the great city of Milwaukee. I am so sorry for letting you down by being in denial for so long and not telling the whole truth about what happened. I am ashamed and extremely embarrassed by the decisions I made. There are no excuses for what I did and I take full responsibility for my actions. I apologize to all Brewers fans for disappointing you.

I came forward because I knew it was time for me to tell the truth and accept my punishment. I understand I have abused your trust and that of our great owner Mark Attanasio and the entire Brewers organization. Admitting my mistakes and asking for your forgiveness are the first steps in what I know will be a lengthy process to prove myself to you again.

It is an honor to represent the people of Wisconsin by wearing a Brewers uniform. I want all of you to know how much I have appreciated the support I've received from so many of you throughout my years with the organization. I will continue to work on improving myself and making amends for what I have done. I am deeply sorry for my actions and I apologize to everyone I have let down. I am committed to doing everything I can to earn back your trust and support.

Sincerely,
Ryan Braun
Original Text
In his full statement, he explained that in 2011, he was dealing with an injury and took "a cream and a lozenge" to speed up the rehab process.
Braun, who won the National League MVP that season after hitting .332/.397/.597 with 33 home runs and 111 RBI, failed a drug test in October, but was able to appeal and escape a 50-game suspension in February of 2012 on a technicality due to chain-of-custody issues.
Braun also discussed the statement/speech he made immediately following the reversal of his ban in his statement Thursday:
I deeply regret many of the things I said at the press conference after the arbitrator's decision in February 2012. At that time, I still didn't want to believe that I had used a banned substance. I think a combination of feeling self righteous and having a lot of unjustified anger led me to react the way I did. I felt wronged and attacked, but looking back now, I was the one who was wrong. I am beyond embarrassed that I said what I thought I needed to say to defend my clouded vision of reality. I am just starting the process of trying to understand why I responded the way I did, which I continue to regret. There is no excuse for any of this.
Before his suspension this season, the Brewers outfielder was hitting .298/.372/.498 with nine home runs, 38 RBI and 30 runs scored in 61 games.
He was named as one of several players connected to the Biogenesis clinic that supplied performance-enhancing drugs to a number of top MLB players.
Along with fellow MVP winners Alex Rodriguez—who is currently appealing his record, 211-game suspension—and Miguel Tejada, as well as many others across the league, Braun was hit with a lengthy suspension and won't be able to play again this season.
People can change, and although Braun can't reverse the immense mistakes he has already made—as he has certainly made plenty of enemies during this entire ordeal—hopefully this is a sign for a better future.
This article is
What is the duplicate article?
Why is this article offensive?
Where is this article plagiarized from?
Why is this article poorly edited?