WWE Summerslam 2013: Matches Fans Will Be Talking About for Years
Use your ← → (arrow) keys to browse more stories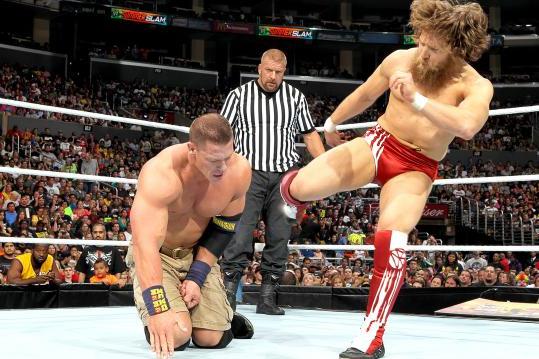 (photo courtesy of WWE.com)
There are four matches from SummerSlam 2013 that fans will still be talking about years from now.
Each of these matches was unique from one another in style and presentation. Some will be remembered more for their entertainment value, while others will be remembered more for their athleticism.
I attended SummerSlam live at Staples Center. It was an amazing experience. There is nothing like attending a WWE pay-per-view event live.
Kane vs. Bray Wyatt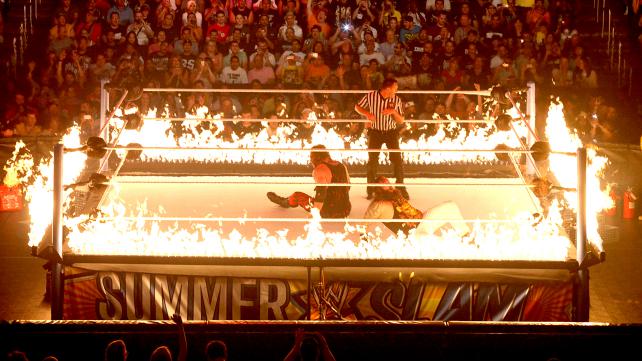 The Ring of Fire encounter between Bray Wyatt and Kane will mostly be remembered for the spectacle that it was. The match itself was far from a technical classic, but it was a memorable brawl that gave Wyatt an all-important win while still making Kane look strong. It took the entire Wyatt Family to defeat Kane.
If nothing else, this match could be remembered most for changing Kane's persona, as the Wyatt Family dragged him away after it was over. Kane could very well become a member of the Wyatt Family upon his return to WWE.
Christan vs. Alberto Del Rio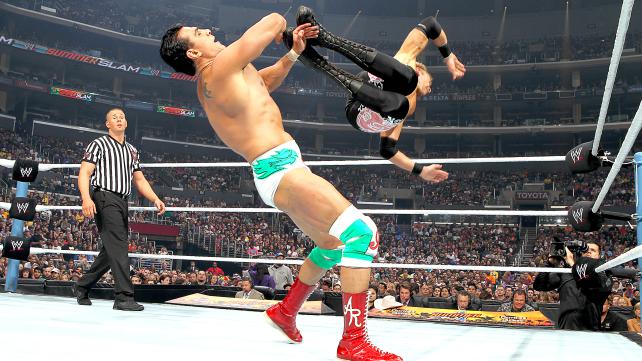 While the Ring of Fire match between Wyatt and Kane will be remembered for its unique presentation, the WWE World Heavyweight Championship match between Alberto Del Rio and Christian will continue to be discussed in the future for its technical physicality.
Christian tried his best to counter Del Rio's arm attacks with high-flying maneuvers. Del Rio's masterful brutal offense wore down Christian enough to take away his high-risk moves. It was amazing to see Christian keep coming back, but be held down by Del Rio's counters.
As the match progressed, the reaction from the crowd became louder and louder with each pin or submission attempt. By telling a compelling story through their movements in the ring, Del Rio and Christian gave the WWE Universe an intriguing technical match.
This match will be remembered for its excellent psychology and will hopefully be used as a blueprint for how a limb should be weakened for matches in the future.
Of course, the WWE Universe will talk about the two main-event matches for many years to come as well.
CM Punk vs. Brock Lesnar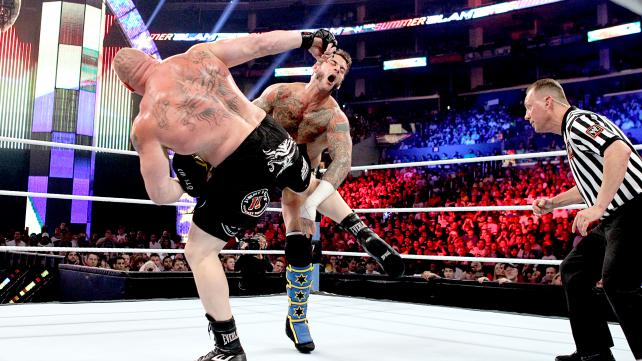 Brock Lesnar and CM Punk engaged in a battle that employed submission wrestling, mixed martial arts and, at times, brawling. Both Lesnar and Punk were able to employ their best offensive maneuvers in trying to one-up each other.
Lesnar and Punk also traded finishing move attempts and took each other to the limit in what at times looked more like a fight rather than a pro wrestling match.
Paul Heyman's interference and Punk's attempts to attack him helped to move the match along as well. Ultimately, Punk's wanting to get his hands on Heyman led to him losing the match.
This match is an excellent example of how a personal grudge can turn into an epic contest. From the opening bell to the end of the match, Punk and Lesnar delivered in giving the fans a match that had a little bit of everything.
SummerSlam's other main event will be remembered not only for its controversial final ending but also for the match itself.
John Cena vs. Daniel Bryan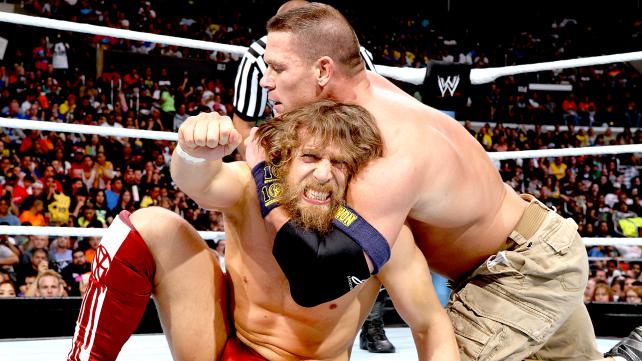 The most memorable match from SummerSlam will be the WWE Championship match between John Cena and Daniel Bryan. Triple H's attack of Bryan and Randy Orton's cashing in his Money in the Bank contract to defeat Bryan will hopefully not overshadow this fantastic match.
Cena and Bryan put on one of the best matches of their careers. Though their styles clashed, Cena once again proved the naysayers wrong by keeping up with Bryan's technical abilities. For Bryan, this match proved without a shadow of a doubt that he belongs in the WWE main event scene, as the crowd was riveted by his every move.
This match did represent a changing of the guard in WWE, if only for a matter of minutes. The raw emotion of Bryan after winning the championship made an excellent match into an instant classic. With attempted signature and finishing moves being attempted and executed throughout the match, Bryan and Cena pushed each other to try and outdo the other.
The ending of the match was unexpected, as Bryan nailed Cena with an amazing Shining Wizard to secure the pin. Being inside Staples Center, it was a bit of a shock at first and took a moment for the audience to realize that Bryan actually had won the WWE Championship from Cena.
SummerSlam 2013 did what every WWE pay-per-view should strive to do by having a little bit of everything for everyone. From entertaining spectacles to psychological showdowns to amazing athletic feats, this event will be remembered for years to come because of the amazing matches presented.
Read more from Sean McCallon on the Double Axe Handle Blog.

Follow Sean McCallon on Twitter @TheBlueMask246.