Patriots vs. Lions: Live Score, Highlights and Analysis
The Lions host the Patriots in the third preseason game. This week is normally considered the dress rehearsal for the regular season, the one where starters play the longest.
A few pregame notes:
Calvin Johnson will not play
Lions WR Calvin Johnson will not play tonight vs. Patriots BUT S Louis Delmas will make his preseason debut.

— Tim Twentyman (@ttwentyman) August 22, 2013
It's encouraging that Louis Delmas will play. Corner Chris Greenwood is expected to make his 2013 debut tonight as well.
Larry Warford will start at right guard. If he performs well against New England's starting defense, Warford could very well secure the job permanently.
Keep it right here for updates and analysis!
Thanks to everyone for following along! Look for full stat predictions for all the Lions in the morning.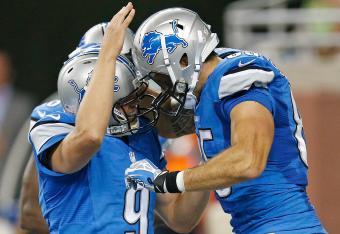 Post-game takeaways:
Jason Jones was fantastic. Two sacks, one fumble recovery, and frequent progenitor of chaos to the Patriots offense.
LaAdrian Waddle is making a strong case to not just make the team but take over as the starting right tackle. He was quite good vs. CLE last week and built on it. His run blocking is much more effective than either Fox or Hilliard. Corey Hilliard looks to be the first odd man out of the linemen that had a real chance.
Kellen Moore made the decision on his fate that much tougher. He was almost perfect and clearly blew away the more heralded Ryan Mallett. Could Moore have shown enough to make the Lions keep three QBs? Or did he show enough to recoup the lost Mike Thomas draft pick in a trade?
The penalties continue to remain a major thorn in the Lions paw. Eleven more tonight, including four personal fouls. Stop the madness!
It was great to see Louis Delmas back on the field and he made his presence felt with a fumble recovery and a tackle for loss on New England's first play.
Schematically, I thought the Lions defense executed the run blitz very effectively all night. That's something they did not do well a year ago.
Stafford looked good early, for once, but finished ice cold. He gets a bit of a pass for not having Calvin Johnson and zeroing in on Scheffler too much, but Stafford continues to struggle to drop throws between layers of the zone and he didn't throw receivers open well once again.
As much as it pains me to say it, David Akers will win the kicking job. If he kicks like he did tonight, even with a missed FG, I won't complain. Much.
The Patriots tack on a touchdown but miss the 2pt conversion thanks to a nice play by Chris Greenwood. Lions win 40-9.
I'm curious what the average distance of the pass is to Bush...maybe 4 yards?

Reggie Bush is averaging 1.2 yards per carry and 14.7 yards per reception in the preseason.

— Chris Burke (@ChrisBurke_SI) August 23, 2013
It's only one play but what Rocky McIntosh just did to Blount is something that Travis Lewis cannot do. Filled the hole on time and with authority.
The Lions offensive line reserves are dominating the Patriots reserve DL and LBs. Theo Riddick makes a sharp cut and finds the end zone. Lions 40, Patriots 3. Thaddeus Lewis directed that drive.
Have to hand it to Kellen Moore. I've never been a fan but he was very good tonight. Twitter agrees...
#Lions Kellen Moore is 9 of 12 for 150 yards, 2 TDs and a 156.3 QB rating. Perfect QB rating is 158.3.

— Paula Pasche (@paulapasche) August 23, 2013
Kellen Moore - 9/12 for 150 yards, 2 TD. WWSHD? (What Would Shaun Hill Do?)

— Scott Kacsmar (@FO_ScottKacsmar) August 23, 2013
Spurlock showed nice vision on that punt return, found a crease out of the corner of his eye. He's making a good case to stick between the returns & the TD reception on a crisp route and hands catch.
Chris Greenwood alert! Chris Greenwood alert!
Also, some guy named Tim about to take the field for the Patriots
Lions face an interesting decision on Moore. Do they keep three quarterbacks? If not, Moore will land somewhere else.

— Chris Burke (@ChrisBurke_SI) August 23, 2013
Kellen Moore throws a dart to Micheal Spurlock in the corner behind a confused Justin Green for an easy touchdown. Rugland nails the extra point and the Lions lead 33-3.
I agree wholeheartedly, Waddle has played well:
RT @bttaylor56: @cmccosky Waddle looks good. Could he make a late run for starting RT? -- Wouldn't rule it out. He's been good

— Chris McCosky (@cmccosky) August 23, 2013
Love the patience by both Moore and Bell on the long screen. Bell turns it north/south quickly and gets the Lions out of the hole. He's clearly the second-best back on the Lions roster. Also, Kellen Moore looks better than Ryan Mallett. I know, right...?
Some dueling, related tweets here...
Good coverage by Jonte Green stopping fourth and goal at the 4
— Chris McCosky (@cmccosky) August 23, 2013
Still no separation from Dobson. Can't shake man coverage

— Steve Palazzolo (@StevePalazzolo) August 23, 2013
Lions take a 26-3 lead into the fourth quarter after an inspired red zone stand.
Nice to see the home crowd force a timeout with the cacophony in the red zone!
On the Patriots side, the difference between Kenbrell Tompkins getting separation and every other receiver they have is stunning. He's a real handful for Green and Bartell on the outside.
David Akers once again perfect from 47 yards out. Lions up 26-3. I'm okay with Akers beating out Kickalicious as long as he earns it. He's earning it.
The Lions 2nd team OL is playing very well. Ladrian Waddle and Jake Scott both look very strong in the run game. Scott was also a standout last week vs. Cleveland.
Matt Willis with a great route, sold the inside move with a quick jab step and he spun the DB to the ground by pivoting outside.
Not a good drive for Jamie Collins. Tentative, got caught in the wash on a big run, missed a tackle, bit on play action for wide open TD

— Steve Palazzolo (@StevePalazzolo) August 23, 2013
Joseph Fauria streaks down the seam and hauls in a nice throw from Moore for the TD. Akers makes the extra point, 23-3 Lions.
Joique Bell is absolutely seizing the #2 running back job. Two very strong runs on this drive, showing vision, balance, and power.
Kellen Moore time. Depending on how you feel about Moore, his performance tonight will either make you very happy or frustrated. I strongly believe the Lions only keep two QBs
Scratch that Stafford number. Officially 12-for-25, 166 yards and one TD to Scheffler. Interestingly that is Scheffler'sonly reception on six targets.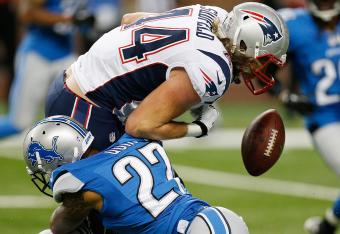 Quick halftime thoughts before I rush my kids to bed...
The turnovers were fantastic and the way they are forcing them is sustainable into the regular season.
Stafford started 9-for-13, finished the half 10-for-21. He really missed Calvin Johnson on the last two drives.
The running game? 8 carries, 3 yards. Yuck.
Jason Jones having a whale of a game.
David Akers missed a FG but the 49-yarder at the end of the half is almost a nail in Kickalicious' coffin.
This article is
What is the duplicate article?
Why is this article offensive?
Where is this article plagiarized from?
Why is this article poorly edited?

Detroit Lions: Like this team?