Firing Squad: European Club Managers Facing the Early Sack This Season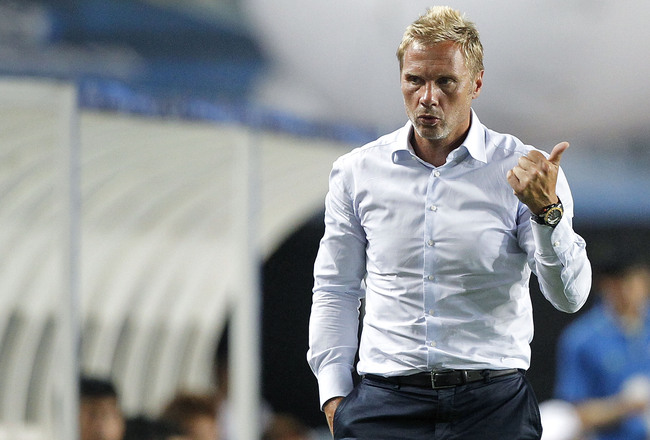 Kiyoshi Ota/Getty Images
It's a reality in football, albeit an unfortunate one, that sacking the manager is one of the cheapest ways to enact change at a club when results haven't been up to snuff.
In many cases a substantial outlay was required to assemble the squad, and as the transfer window system allows only a few months of the year for player movement, replacing the manager is often the quickest and most cost-effective means to modify the look of a team.
In many parts of Europe, the 2013-14 season is only just beginning, but a handful of managers who have experienced woeful starts or were never actually all that secure in their jobs in the first place are already feeling the pressure.
Here is a look at five managers who could face the firing squad in the early days of their campaigns.
Note: All statistics courtesy of Squawka.com.
Laurent Blanc, Paris Saint-Germain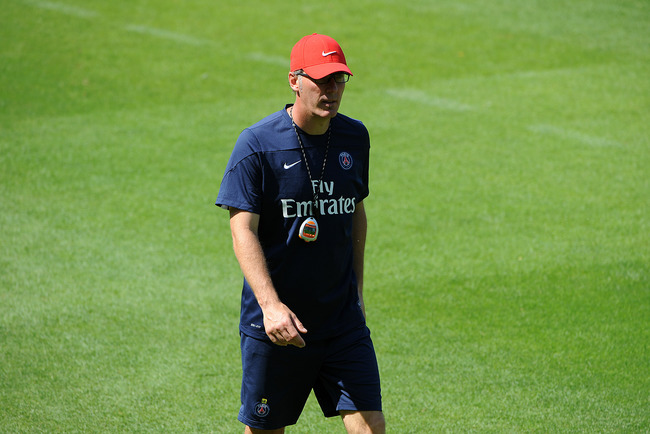 Antoine Antoniol/Getty Images
The 2013-14 Ligue 1 season is only two rounds old, but already pressure is growing on Laurent Blanc in the French capital.
Paris Saint-Germain, one of club football's most free-spending outfits, doled out more than €100 million on transfer fees once again this summer, and the club's owners can't be much impressed by the 1-1 draws against Montpellier and Ajaccio.
Given that PSG have created 34 goal-scoring opportunities between the two matches, it shouldn't be long before they enter the win column, but patience isn't about to become a hallmark of the current French champions.
Then there is the fact that Arsene Wenger's Arsenal contract expires next spring, and PSG would almost certainly part with Blanc if it meant getting the three-time Premier League winner.
Bruno Labbadia, Stuttgart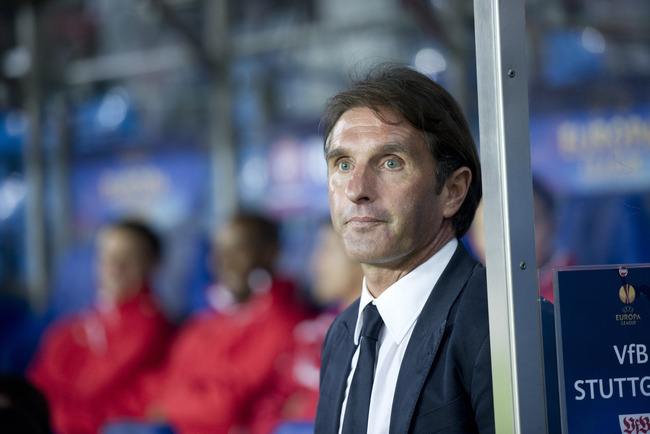 EuroFootball/Getty Images
Stuttgart did little to bolster their squad in the summer, and coming off a season in which they finished 12th in the table, their winless start to the 2013-14 season can hardly be blamed on Bruno Labbadia.
But the 47-year-old has been with the club since 2010, and with losses to Mainz and Bayer Leverkusen already this campaign, he may not have the staying power to hang around Mercedes-Benz Arena much longer.
Thursday's 2-1 loss away to Croatian side Rijeka won't have helped his cause, but any decision on his future will likely only come after next week's return match.
Paolo Di Canio, Sunderland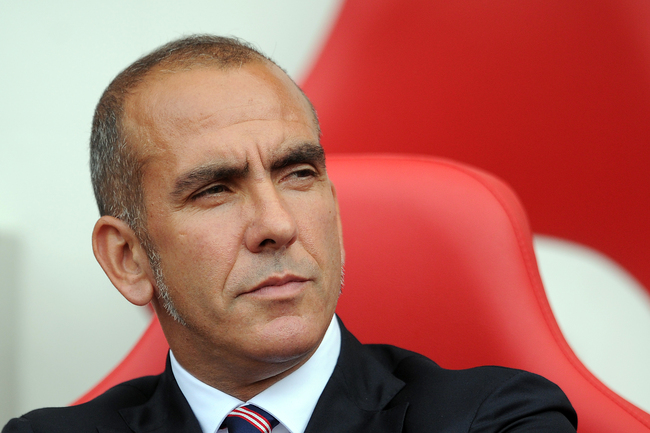 Chris Brunskill/Getty Images
First, Paolo Di Canio's appointment was hardly met with universal popularity in union stronghold Sunderland. Now, with Black Cats owner Ellis Short having spent nearly £20 million on a squad overhaul during the past few months, Di Canio, who has expressed fascist sympathies in the past, may not be long for the Stadium of Light.
After a mostly successful preseason, Sunderland were handed a 1-0 home loss to Fulham on the opening day of the 2013-14 Premier League schedule. Unless the club's performances in upcoming matches against Southampton and Crystal Palace show vast improvement, Short could decide to make a managerial change—something that many Sunderland fans would approve.
Following those two matches, Sunderland will enter a difficult stretch of the season that will see them host Arsenal, travel to West Bromwich Albion and face both Liverpool and Manchester United.
If they're not in the win column by the time the Gunners come north, it may be some time before they get there.
Alan Pardew, Newcastle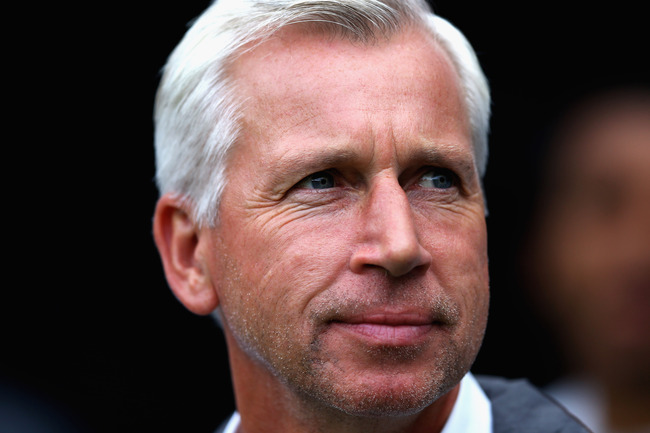 Matthew Lewis/Getty Images
You have to feel for Alan Pardew.
He had a reasonably successful track record in the transfer market, which saw him and his directors of football acquire Demba Ba, Papiss Cisse, Hatem Ben Arfa and Yohan Cabaye. Despite that, Newcastle owner Mike Ashley revoked his transfer powers this summer, handing them to former manager Joe Kinnear in a move that can only be described as bizarre.
Kinnear, who hadn't even worked in football since his Newcastle exit in 2009, delivered no meaningful signings to his manager during the summer, despite the fact that the Magpies narrowly avoided relegation last season.
On Monday, Newcastle were hammered 4-0 away to Manchester City. And if they don't get a few results under their belt—and fast—who knows what Kinnear will do.
At this point, escaping St. James' Park might be a relief for Pardew.
Thorsten Fink, Hamburg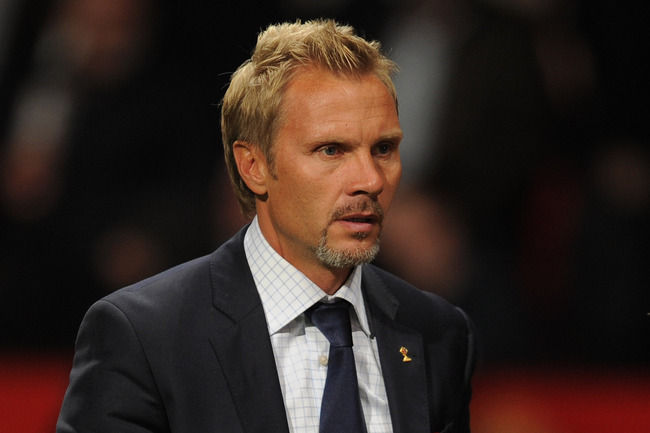 Michael Regan/Getty Images
Describing the situation at Hamburg as a "loony bin," German outlet Bild speculated on Wednesday that Felix Magath could return to the club where he starred as an attacking midfielder and then managed briefly more than 15 years ago.

Following last Saturday's 5-1 thumping at home to Hoffenheim, manager Thorsten Fink gave his players two days off to "think things over."
Dennis Aogo and Tomas Rincon spent the time on an unsanctioned holiday in Mallorca. Both were suspended by the club upon their return, but if Hamburg are on the wrong side of another rout when they face Hertha Berlin in the German capital on Friday, Fink could become the first Bundesliga manager to lose his job this season.
"We have had a very bad week," remarked playmaker Rafael van der Vaart in the Bild article, adding, "We must do all we can so that the fans love us again and we win back our honour."
Keep Reading