6 Unheralded Players Poised to Break Out for the Cincinnati Bengals in 2013-14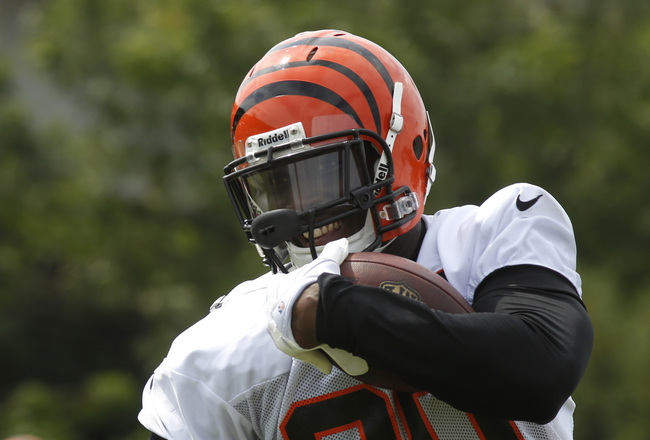 David Kohl-USA TODAY Sports
Unbelievably, we are only two weeks away from opening weekend in the NFL, and the Cincinnati Bengals are getting more attention by the day.
They are 2-0 this preseason and look like an incredibly deep team. No matter how many standout players they have, however, there are those that aren't garnering much attention from the league.
These are the guys that could burst onto the scene in 2013 and be surprise leaders for the Bengals. Which athletes fall into the category this season?
Emmanuel Lamur, LB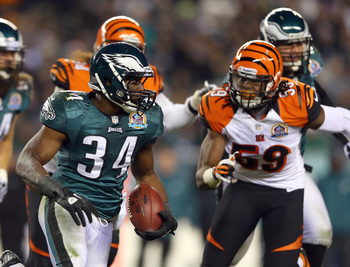 Elsa/Getty Images
Given the poor play of linebacker Rey Maualuga and incredible play by Vontaze Burfict, Emmanuel Lamur was largely overlooked during the 2012 season.
Lamur had great showings at training camp and OTAs last season as an undrafted free agent. He gathered 19 tackles in limited time.
He is now backing up Burfict as the Bengals weak-side linebacker. It's worth noting that Jamison Hensley reported that Lamur was replacing Maualuga in some training camp drills a couple of weeks ago. Is it possible that Lamur could be tossed into the lineup by the season's end?
He is a hard hitter with some decent speed for a linebacker, and you can't get worse than Maualuga. If things fall into place for Lamur, he could be another coming of James Harrison.
Dane Sanzenbacher, WR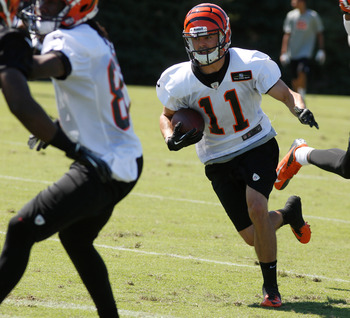 David Kohl-USA TODAY Sports
Former Ohio State Buckeye Dane Sanzenbacher is not altogether a stranger to the NFL field—he saw a decent amount of time in 2011 as a Chicago Bear.
He was largely irrelevant as a player in 2012, despite his being signed by the Bengals late last season following the injury to Mohamed Sanu. This preseason, Sanzenbacher is trying to make a name for himself in order to get onto the field more often.
During the first preseason game in Atlanta, Sanzenbacher scored twice, once on special teams. While the Bengals have a deep receiving corps, there could be occasions where he could see the field.
He and Ryan Whalen could see some slot receptions on rare occasions, and Sazenbacher may also play a role in the special teams game in the regular season. He's proven in the past that he can catch, and he definitely can run, so keep Sanzenbacher on your radar.
Devon Still, DT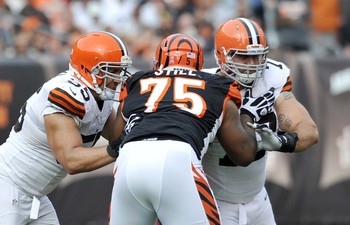 David Richard-USA TODAY Sports
A second-year player from Penn State, Devon Still is entering the season at a bit of a disadvantage—the Bengals have the best defensive line in the game.
Now, as a team player, that's good, but Still's time on the field is going to be limited. He is expected to back up Pro Bowl nose tackle Geno Atkins and may rotate in and out with Domata Peko.
Still was drafted in the second round of the 2012 draft to secure some insurance along that dominant defensive line. He saw some time in Mike Zimmer's defense in his rookie season, racking up 14 tackles, half a sack and a forced fumble—modest, but promising.
Along with Brandon Thompson, Still is good for the Bengals to have as backup, or should it come to it, if Geno Atkins leaves Cincinnati. He was considered a steal by some in the draft, and his power as a lineman will play a part against the run this season.
Dre Kirkpatrick, CB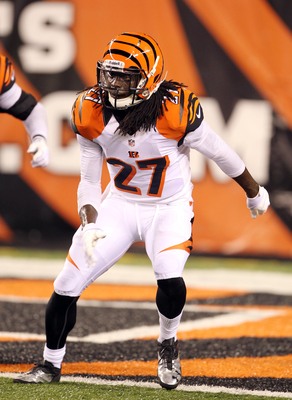 Brian Spurlock-USA TODAY Sports
Despite a good showing at training camp, it appears Dre Kirkpatrick may be playing as far back as third string to start the season. Terence Newman and Leon Hall will start, but Kirkpatrick may even be behind Adam Jones and Brandon Ghee.
This is unfortunate, especially when the team's first-round pick last season looked so good in training camp. Still, Kirkpatrick is willing to work his way back, and it seems that he's doing well learning the playbook after missing most of his rookie season.
He was never credited with being an interception machine, but Kirkpatrick is certainly quick enough to disrupt receivers downfield. For now, it appears he'll be in and out of games, but I fully expect him to take the reins by the season's end.
Orson Charles, H-Back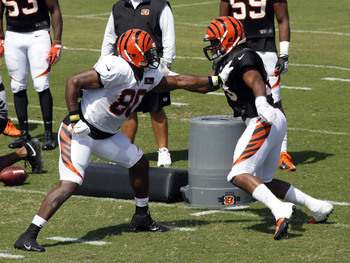 David Kohl-USA TODAY Sports
Orson Charles was drafted in the fourth round of the 2012 draft as a tight end, but offensive coordinator Jay Gruden has transitioned him to be an H-back of sorts. Essentially, it's a combination of a fullback and a tight end.
The current thought is that Charles is going to supply Andy Dalton with another passing option out of the backfield. He'll definitely be a more reliable target than John Conner or Chris Pressley, both of whom are also on the team's roster as fullbacks.
This makes the drafting of Tyler Eifert that much more effective—not only do the Bengals now have the luxury of a quality two-tight end set, but they have Charles on the field as well.
He can block very well and is certainly capable of catching the ball and running. Watch for Charles to make a huge impact on Gruden's offense.
George Iloka, SS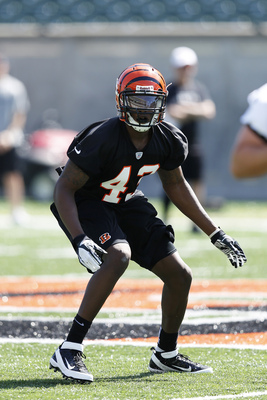 Joe Robbins/Getty Images
Entering the 2013 season, the biggest question mark on the Bengals roster was the strong safety. As training camp began, Taylor Mays, Shawn Williams and George Iloka were the candidates.
It seemed that it was truly a competition between the veteran Mays and the rookie Williams. As it turns out, Georg Iloka has been having a great training camp performance and now sits atop the team's depth chart.
Another 2012 draft class member, Iloka struggled with injuries last season and only saw seven games. All in all, he mostly didn't see the field.
Now that he's poised to start alongside Reggie Nelson, Iloka could be one of the better shutdown safeties in the league. He has the speed to keep up with NFL receivers and can adjust when he needs to. He's also got good hands, which teams with Nelson's open-field tackling abilities.
Keep Reading

Cincinnati Bengals: Like this team?