Randy Orton and Daniel Bryan Feud Will Elevate Wade Barrett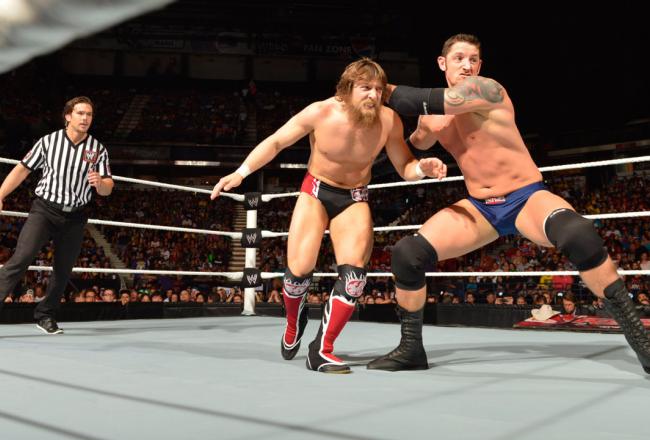 (Photo: WWE)

The sparks shooting off of Randy Orton and Daniel Bryan during their feud will set Wade Barrett aflame as well.
While Orton's return to villainy and Bryan's trek back to the WWE Championship are the primary elements of this story, Barrett stands to better his position as a corporate lackey and an enforcer. A narrative this big with so many components is sure to have spotlight to share beyond the main rivals.
After losing the Intercontinental Championship to Curtis Axel at Payback, Barrett seemed to be running in place.
He lost to Christian in just over three minutes, to Axel on SmackDown and watched Cody Rhodes and Damien Sandow become the talk of the world title Money in the Bank ladder match. Fans hoping for Barrett's barrage to begin in earnest only experienced disappointment.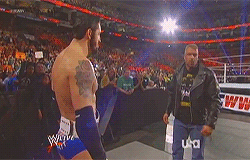 Here was a bruising brawler with a nasty attitude, directionless and forced to watch SummerSlam from the sidelines.
As Bryan now attempts to reprise the "Stone Cold" Steve Austin role in a battle against Vince McMahon and WWE's authority figures, Barrett acquires a spot up front in this burgeoning work of theater. WWE can't have Orton and Bryan fight every night, Triple H is semi-retired and Mr. McMahon isn't likely to step into the ring often now that he is 67 years old.
That leaves Barrett some opportunities to fight and, like he did in Dead Man Down, play the muscle.
Sure, it's several steps down from being the head of Nexus, but this is a role that offers Barrett a chance to show off his in-ring skills and be a consistent part of WWE programming in the coming months.
It all started with an attempt to shave Bryan's beard.
McMahon could have chosen anyone to come down and bully Bryan into shaving. It might have sounded like a silly gig at the time, but it has since translated into Barrett taking on the company's hottest star in the ring several times.
Barrett earned a win over Bryan thanks to a fast count by Brad Maddox. He later faced him in a No Disqualification match on SmackDown.
Expect Triple H and McMahon to use Barrett as a thug to keep Bryan from Orton, an obstacle for Bryan to overcome and a means to thrash Bryan backstage without getting their hands dirty. This will do for Barrett what being in The Corporation did for Big Boss Man in the late '90s, namely create an excuse to put him on TV more.
As beneficial as being menacing and unscrupulous is going to be for Barrett, it's the ring time with Bryan that helps him the most.
There are few wrestlers today capable of putting on great matches regardless of their opponent and Bryan is chief among them. Even if Barrett ends up on the losing end several times, every clash with Bryan is a potential Match of the Year candidate.
These two foes showed off their great chemistry at SummerSlam 2011.
Highlights of Bryan vs. Barrett at SummerSlam 2011
Barrett's brawling skills and power made him a fantastic dance partner for Bryan. Their contrast in styles made for a well-paced, memorable match.
Bryan will likely be facing Orton often, but Barrett will get his shots as well. There are likely to be tag matches involving Bryan, Orton, Barrett and whoever Bryan manages to recruit on his side. There are beatings to hand out and to take; expect Barrett to do both.
Being the goon and the stepping stone for a prospect doesn't sound like a promotion, but being a chief player in a rivalry that includes stars with the name recognition of Triple H and Orton can only be beneficial.
This article is
What is the duplicate article?
Why is this article offensive?
Where is this article plagiarized from?
Why is this article poorly edited?