Biggest Reasons to Be Concerned About NY Knicks Roster Before 2013-14 Season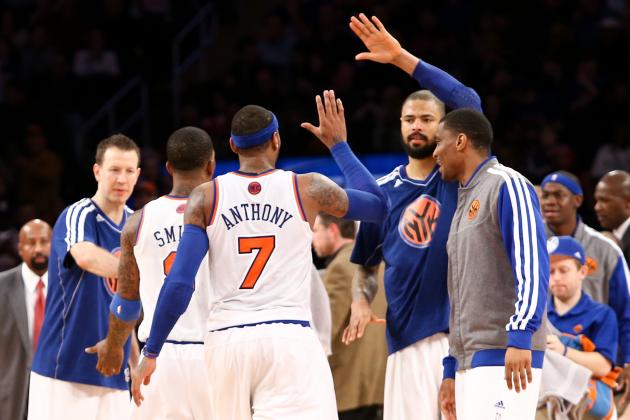 USA TODAY Sports

The New York Knicks have done a great job adding depth to an already strong squad this offseason, but there are still some concerns heading into the new season.
It's hard to fault the moves Glen Grunwald made with his hands tied this offseason. He had only the taxpayers' exception and veteran's minimum contracts to spend and managed to get either younger or more talented at every single position.
As with any team, however, things aren't perfect. Injuries are still a major concern, as is the way Mike Woodson will utilize the roster and whether or not there will be enough minutes for everyone in the backcourt.
The situation isn't exactly dire, but that doesn't mean there's nothing to worry about. Let's take a closer look at the main issues surrounding the Knicks' roster right now.
Begin Slideshow

»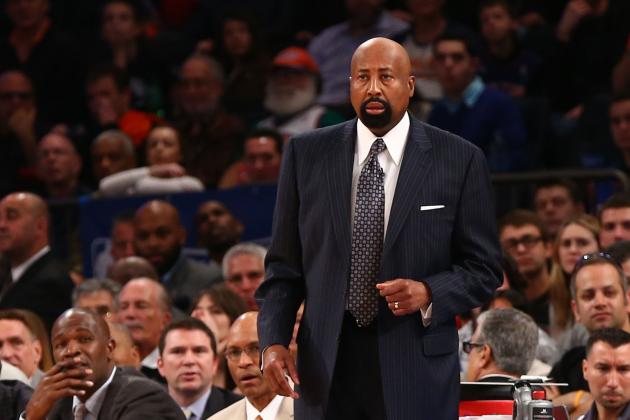 USA TODAY Sports

While on the surface the Knicks have plenty of options with their starting five after acquiring Andrea Bargnani and Metta World Peace, starting the former is the only way they will be able to field a balanced rotation.
Starting Bargnani will allow Carmelo Anthony to play the power forward role on offense without creating a logjam at the position on the bench. If World Peace starts, the team will have Bargnani, Amar'e Stoudemire and Kenyon Martin coming off the same bench, while if Stoudemire or Martin was to start, spacing would become an issue.
The fact that Mike Woodson isn't yet sure this is the lineup he's going to use is worrying. It's understandable not to make a final decision before training camp has even started, but it's pretty clear this is the five he should go with.
Starting World Peace situationally on occasion is fine, but keeping him there in the long-term is going to leave the Knicks with a very weak second unit on the defensive end.
More to the point, Woodson also doesn't see Iman Shumpert as one of his established starters along with Melo, Raymond Felton and Tyson Chandler. Starting Pablo Prigioni in his place could work, but again, that would leave the Knicks with Shumpert, J.R. Smith and Tim Hardaway Jr. all fighting for minutes at the same position off the bench.
For many, Shumpert is considered to be a major piece of the Knicks' future, but you couldn't tell by the way they've used him in his first two years. He's started at three different positions, been on the trading block twice and might be back on the bench next season. It's about time they gave him a consistent role and let him develop in his natural position at the 2.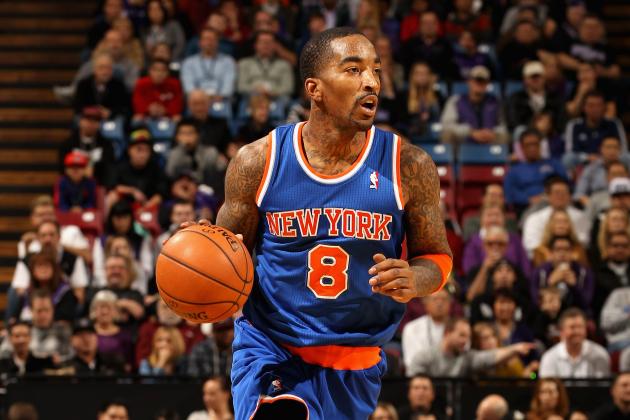 Ezra Shaw/Getty Images

After earning the second seed last season and improving in the offseason, New York definitely has a chance to compete in the East, but a few key injuries here and there and they could fall behind in a conference that's rapidly improving.
New York managed to get by despite a ton of injuries last season, but that was at a time when the Brooklyn Nets and Chicago Bulls weren't serious contenders at the top of the conference. If those injuries repeat themselves this season, it's hard to see the Knicks ending up with homecourt advantage in the first round.
That's why it's so concerning that, here in August, J.R. Smith is already out following knee surgery. There's a good chance he'll be back by opening day, but it doesn't bode well that injuries are already an issue before camp has even opened.
The extent of Smith's injury is hard to tell at this point and anyone who's paid attention to the Knicks over the last few years knows the information they release about injuries is often questionable. Amar'e Stoudemire, Rasheed Wallace, Marcus Camby, Tyson Chandler and Carmelo Anthony all had short-term injuries last season that ended up keeping them out a lot longer than expected.
Smith is in his athletic prime and hasn't had much of an injury history, so this hopefully won't have a major impact on the season. Missing camp, however, could keep him out of rhythm for a while, which may bring out the more erratic side of his game when he returns.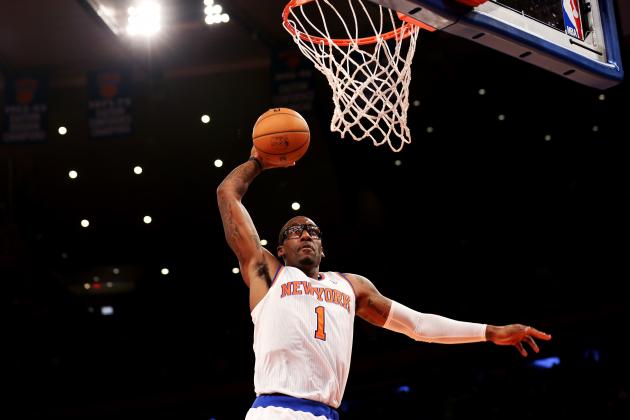 Nick Laham/Getty Images

With Tim Hardaway Jr. and Beno Udrih now on the roster, the Knicks can get by without J.R. Smith for a few weeks, but it's the injury history of the frontcourt that they should really be worrying about.
In terms of talent, New York has arguably the deepest frontcourt in the NBA, but Amar'e Stoudemire, Andrea Bargnani and Tyson Chandler are very injury-prone, while Kenyon Martin is also a worry at this stage in his career.
They'll be hard to stop when everyone's healthy, but it's conceivable that they could go through long stretches with three or four key players out of action. In fact, there was a point late last season when Stoudemire, Chandler and Martin were all out at the same time, while Bargnani was also out of action with the Toronto Raptors.
If that happens, it will have the added effect of forcing Carmelo Anthony to guard the 4 spot more often, which didn't work out too well for his shoulder last season. After spending significant time guarding bigger players, he went into the postseason with an injury, which is a big reason why New York was knocked out in the second round of the playoffs.
There is an argument to be made that things could improve. Bargnani is still only 27, and, now that he's had a debridement performed on both knees, Stoudemire should be less of an injury risk. Still, though, there's no ignoring the significance of this problem.
Chemistry, point guard play and spacing aren't major issues any more, but injuries could well keep this team from reaching its potential and getting past the second round. This is the biggest concern the Knicks have and, unfortunately, there's not really much they can do about it.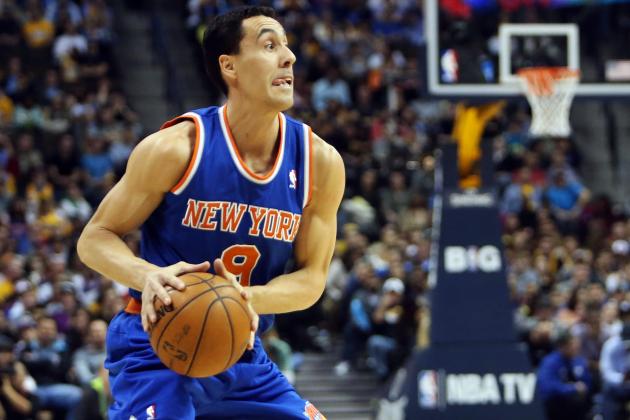 Chris Humphreys-USA TODAY Sports

Having too many options is a good problem to have, but nonetheless it's difficult to deal with when it comes to building a rotation.
While everyone should get ample playing time in the frontcourt—especially considering the age and penchant for injury of certain players—the same can't be said for the backcourt.
At both point guard and shooting guard, New York has three players who should be good enough for a spot in the rotation, but there aren't nearly enough minutes to go around.
This is the type of situation where you'd take the opportunity to rest the older players to keep them fresh for the playoffs, but outside of Pablo Prigioni this is a relatively young set of guards with no long-term health concerns.
If the Knicks want to continue using a dual-point guard backcourt, the likelihood is that Iman Shumpert will once again have to play out of position at small forward. That's not going to be good for his development, and starting him there will also have the knock-on effect of keeping Andrea Bargnani on the bench with Amar'e Stoudemire, Kenyon Martin and Metta World Peace.
Again, this isn't the end of the world and there are plenty of teams who'd love to be in this position, but I don't envy Mike Woodson's job in trying to keep everyone happy with their playing time.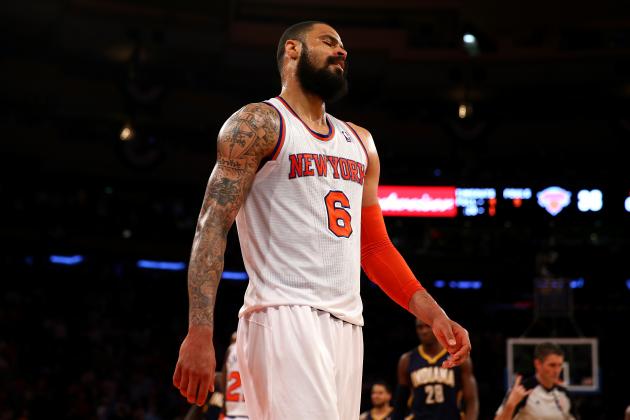 Elsa/Getty Images

Tyson Chandler is still a fantastic leader on the defensive end and an efficient scorer in the pick-and-roll, but he didn't look like himself at all late last season. He was worn out and if he doesn't get help quickly, we could see him break down rapidly this year.
Considering his injury history and that he's now played 12 years in the league, the Knicks should really be doing everything they can to take the pressure off him in the regular season. For two straight years, he's gone into the postseason hurt and they can't afford to have that happen again next season.
In an ideal world, Chandler won't average any more than 30 minutes per game in 2013-14, but that'll be difficult to pull off without quality depth behind him. Kenyon Martin is capable of playing at center, but he doesn't have the height to be the same kind of presence in the middle.
After signing him to a partially guaranteed contract, the Knicks will be hoping summer league standout Jeremy Tyler is the answer, but it's a big leap of faith to ask so much of an unproven player.
Free agency puts a premium on big men, and as a result New York really had no chance of getting a quality backup for Chandler. It might have been smart to use their first round pick on a center rather than another young shooting guard, but this is the situation they've put themselves in.
Despite the injuries he's faced, the Knicks are going into their third straight season with nowhere near enough depth behind Chandler and they'll pay for it unless Tyler can perform at the NBA level.