Tiger Woods at Barclays 2013: Day 1 Recap and Twitter Reaction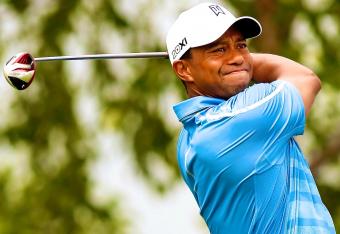 Golf's greatest spectacle is back at it, as Tiger Woods has taken the course at The Barclays 2013.
Competing with some of the world's best in Jersey City, N.J., Woods is attempting to offset a major-less season by continuing his reign of terror in other PGA Tour events.
So far, so good.
Hoping to win his first career Barclays title, Woods shot well early, battling a rain delay to build up momentum. In the end, Woods completed his round within three strokes of leader Kevin Stadler, who finished at seven under par.
Here's a full breakdown of Woods' first-round performance and what he did to take control.
Tiger Woods Scorecard - Round 1

| | | | | | | | | | | | |
| --- | --- | --- | --- | --- | --- | --- | --- | --- | --- | --- | --- |
| Hole | 1 | 2 | 3 | 4 | 5 | 6 | 7 | 8 | 9 | OUT | |
| Par | 4 | 3 | 4 | 3 | 4 | 5 | 4 | 5 | 4 | 36 | |
| Score | 4 | 3 | 4 | 2 | 4 | 5 | 4 | 5 | 4 | 35 | |
| Hole | 10 | 11 | 12 | 13 | 14 | 15 | 16 | 17 | 18 | IN | TOT |
| Par | 4 | 3 | 4 | 5 | 3 | 4 | 4 | 4 | 4 | 35 | 71 |
| Score | 4 | 3 | 4 | 5 | 2 | 3 | 3 | 4 | 4 | 32 | 67 (-4) |
http://www.pgatour.com/leaderboard.html
Major championship or not, can anyone stop Tiger but himself?
Woods made waves by telling Farrell Evans of ESPN that he believed he had a "great year," despite not winning a major championship. It's hard to argue, as Woods reclaimed his No. 1 world ranking and owns five PGA Tour victories.
Winning this event wouldn't make up for going 0-for-4 in majors, but it'd be a nice consolation prize.
Woods certainly looks like a contender, beginning the day well and pacing himself in a high-quality outing. After parring each of his first four holes, Woods came out with a barrage of birdies to bring his score down to three under par.
Three consecutive birdies served as a reminder of why Woods is the best in the world.
Three straight birdies for Tiger. Now just 1 off the lead at @TheBarclaysGolf.

— Brian Wacker (@pgatour_brianw) August 22, 2013
The rest of the leaderboard knows just how dangerous Tiger can be, and with a hot streak here, it's about that time when his opponents hear footsteps.
Poor weather left Woods and the rest of the field waiting for the delay to pass, but momentum had been established. Woods had proved just how strong he can be when focused, playing at an elite level and finishing his first nine holes with a score of three under par.
It was nearly a four-under, but a 20-foot putt rested on the lip of the hole. You know, because he couldn't make two 20-footers in one round.
Even still, Woods remained at three under, sinking par on each of his next five holes. While the leaders traded shots, Woods remained steady, staying focused on the task at hand by mixing a safe approach with necessary risks.
That paid off on hole No. 4, where Woods struck again.
That putt gets two p's - pretty and pure, to center of the hole. Birdie at 4 for Tiger, moves to -4 total

— GC Tiger Tracker (@GCTigerTracker) August 22, 2013
For the second time during the first round of the tournament, Woods landed a birdie on a par-three. Using the confidence gained while playing a nearly flawless first 12 holes, Woods found the green and sank a 10-foot putt to improve his standing.
As always seems to be the key for Tiger, a consistent approach has him within striking distance.
Woods failed to sink another birdie after the fourth hole, but finishing the day at four under par is hardly something to complain about. More impressively, Tiger overcame pain and tightness in his neck and back—the result of sleeping on a soft mattress, per Cindy Boren of The Washington Post.
Fortunately, Tiger will be ready for the second round.
Tiger Woods said back & neck were a 'bit stiff' after 2nd delay but he'll get treatment tonight & be ready to go tomorrow for rd.2

— Kelly Tilghman (@KellyTilghmanGC) August 22, 2013
As if he wasn't ready for the first.
Even with his health issues, Woods was strong enough to stay within arm's reach. In fact, he wasn't just strong at four under; he was close to perfect.
Woods finished without a single bogey putt.
Tiger cards bogey-free 67 to start Barclays http://t.co/X9W7SpCKjc

— ESPN (@ESPNHeadlines) August 22, 2013
If you're looking for Tiger to rebound and win a title, his first-round performance suggests The Barclays is the tournament to watch.
A bogey-free first day isn't just an encouraging sign. It's also unlike anything Woods had ever done in the opening round of the FedEx Cup playoffs. His four-under score is exceptional, but the focus should be on the absence of bogeys.
When Woods is setting personal bests, something special is happening.
Tiger Woods: bogey-free 67 today. It's the 1st time he's ever opened any tournament in the FedExCup Playoffs with a bogey-free round.

— Justin Ray (@JRayESPNGolf) August 22, 2013
The only thing to say is good luck to the field.
It's rare to see Woods enter the clubhouse without a bogey, and when he does, it generally means some must-see TV is on the horizon. While the leaders may have a three-stroke advantage, Woods needed a quality outing to get his head straight after a disappointing major season.
How much better could he have played than this?
This article is
What is the duplicate article?
Why is this article offensive?
Where is this article plagiarized from?
Why is this article poorly edited?