Full Stat Predictions for San Diego Chargers' Regular Season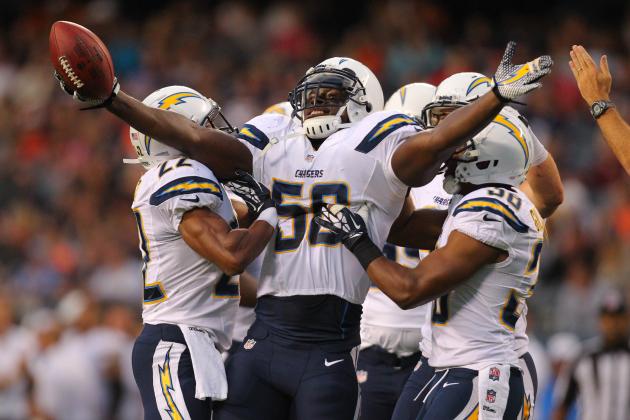 Dennis Wierzbicki-USA TODAY Spor

With the preseason winding down, the San Diego Chargers are hoping that training camp has prepared its players to have success in the upcoming regular season.
A number of players underperformed in 2012 and are building toward a rebound year, while others are getting ready to shatter their past seasons with improved numbers.
The following is a prediction of stat lines for all the relevant starters on the 2013 San Diego Chargers roster.
*Note: Tackles for defensive players are combined totals (solo and assisted). *
Begin Slideshow

»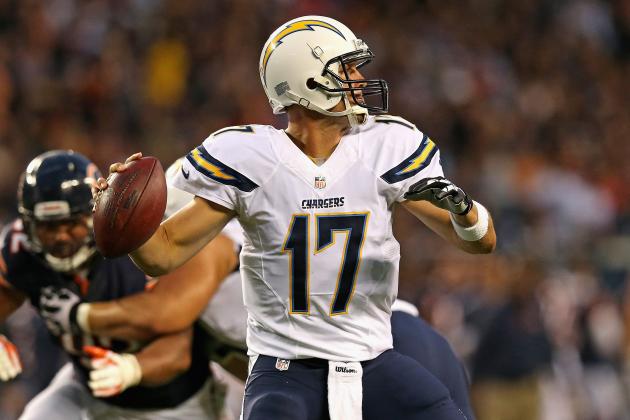 Jonathan Daniel/Getty Images

Philip Rivers
3,796 Yards Passing, 26 touchdowns, 13 interceptions, 64.3% completion percentage
Under the new coaching staff of Mike McCoy and Ken Wisenhunt, Philip Rivers is destined to have a better season than he did in 2012, but its hard to completely break a bad habit like turnovers in the course of a year.
As far as touchdowns go, 26 is a generous number, especially considering that Rivers will be without his leading receiver from a year ago, Danario Alexander, who caught seven touchdown passes in 2012. If McCoy elects to run the ball more next season, Rivers' passing yards could go down as well.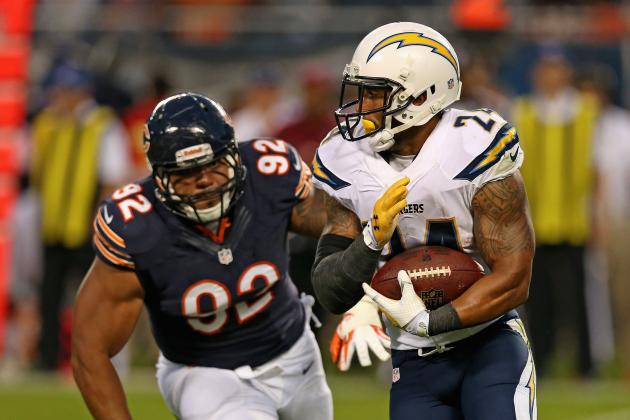 Jonathan Daniel/Getty Images

Ryan Mathews
202 attempts, 928 yards, four touchdowns; 43 receptions, 268 yards, two touchdowns
The numbers mentioned above rely heavily upon the health of Ryan Mathews next season. Since he was drafted in 2010, Mathews has yet to play a full 16-game season, with his highest total being 14 games in 2011.
This should be the year San Diego really pushes its running game in order to alleviate pressure off of Philip Rivers. Mike McCoy's Denver Broncos ran the ball 481 times in 2012, even with an elite passer in Peyton Manning, so expect to see a more balanced attack in San Diego this season.
Danny Woodhead
71 attempts, 306 yards, one touchdown; 50 receptions, 455 yards, three touchdowns
The Chargers won't ask Danny Woodhead to do anything different from his three-year career in New England. He'll get his carries here and there, but his primary usage will be in the passing game.
Woodhead was targeted 55 times by Tom Brady in 2012 and amassed 446 yards on 40 receptions, so its not outlandish to believe that he could potentially top these predictions in 2013 with his new team.
Ronnie Brown
37 attempts, 128 yards; 33 receptions, 228 yards
Ronnie Brown saw an increased role in San Diego's offense after Ryan Mathews suffered a clavicle injury early last season, but he was practically useless in the ground game. Brown did, however, prove to be an effective option in the passing game, catching 49 passes for 371 yards.
Danny Woodhead's arrival this season certainly won't help Brown's numbers, but that shouldn't stop him from seeing some action in 2013.
Le'Ron McClain
15 attempts, 52 Yards; eight receptions, 28 yards, one TD
Le'Ron McClain has been vastly underused since he left Baltimore after the 2010 season, and people tend to forget that he's still got some juice left in his 28-year-old body.
The big fella will help lead the way for Ryan Mathews this season as a lead blocker, but it's a shame that he won't touch the ball more.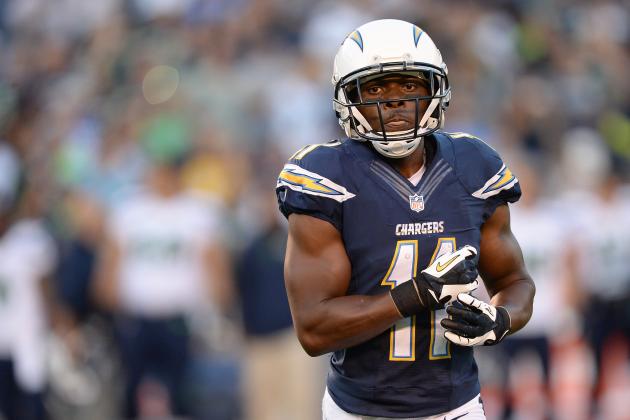 Harry How/Getty Images

Malcom Floyd
59 receptions, 795 yards, six touchdowns
Malcom Floyd has long been considered Mr. Reliable in the Chargers' passing game. Since 2010, Floyd has averaged more than 700 yards receiving and at least five touchdowns in each of the past three seasons.
The number that has gotten progressively bigger, however, is his number of receptions. Floyd caught 37 balls in 2010, then 43 in 2011 and a career-high 56 in 2012.
Assuming his recent injury scare doesn't cause him to miss extended time this season, Floyd should continue to be Philip Rivers' top target, especially with no Danario Alexander in the lineup.
Eddie Royal
43 receptions, 496 yards, three touchdowns
Despite a bust season last year, the Chargers appear to be moving forward with Eddie Royal and have faith that he'll make more of an impact in his second year in San Diego. Royal hasn't produced a decent stat line since 2010 (the last time he was healthy enough to play 16 games).
Injuries forced Royal to miss six games last year and four games the year before that. Last Saturday's trip to the hospital after a hard fall at practice isn't a reassuring sign for Royal, but even if he misses Week 1 as a result, this team still has a dire need for him from week to week.
A healthy Royal would double the above predicted stats, but he needs to prove he can be injury free. Mike McCoy knows what Royal is capable of when the receiver is at 100 percent, as he demonstrated in 2010 with 59 catches for 627 yards and three touchdowns when McCoy was Royal's offensive coordinator in Denver.
Vincent Brown
58 receptions, 736 yards, seven touchdowns
The long-awaited return of Brown in the regular season is getting closer. And it's crucial that he stays healthy in 2013, because the Chargers don't have too many receivers left on the depth chart after what happened to Alexander.
This year is supposed to be Brown's coming-out party after he was forced to miss all of last season with a broken ankle.
Keenan Allen
31 receptions, 370 yards, three touchdowns
Allen couldn't have have been drafted at a better time in San Diego.
The receiving corps is desperate for playmakers, and if the rookie Allen plays well early on, he could move up higher on the depth chart.
Robert Meachem
13 receptions, 221 yards, one touchdown
Assuming Meachem is kept in San Diego, it's difficult to predict that he'll do any better than he did last season with the Chargers.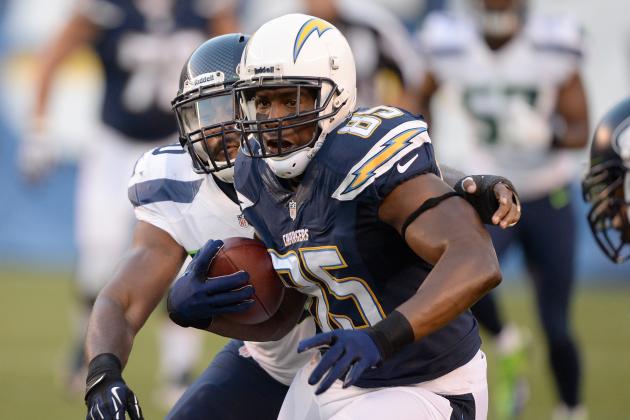 Harry How/Getty Images

Antonio Gates
50 receptions, 580 yards, seven touchdowns
Gates continues to play at a high level, despite getting up there in age.
The 33-year-old was heavily targeted by Philip Rivers in 2012 and delivered with seven touchdown catches.
John Phillips
10 receptions, 85 yards, one touchdown
Phillips was brought to San Diego in the offseason to replace blocking tight end Randy McMichael, but he's also good for a handful of receptions and could serve as a possible red-zone threat when Gates is double-covered.
Ladarius Green
Eight receptions, 71 yards, one touchdown
Green was drafted last year as a project the team could work on, but if he wants to stay on this team in 2013, he'll have to show his coaches some improvement.
Backup tight ends got substantial playing time last season with the Chargers (i.e. Dante Rosario's three-touchdown performance against the Titans in Week 2), so the opportunity for him to earn playing time is there.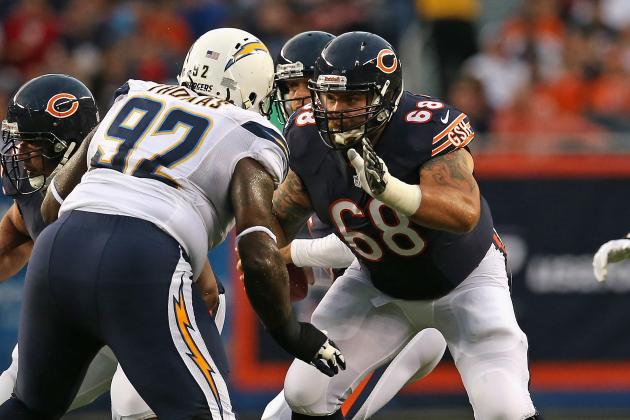 Jonathan Daniel/Getty Images

Cam Thomas
26 tackles, two sacks
Thomas will be the starting defensive tackle in 2013 after sharing time with Aubrayo Franklin and Antonio Garay last season.
While a rotation may be in place yet again for the defensive line, Thomas will make each snap count.
Kwame Geathers
12 tackles
The undrafted rookie out of Georgia should make the team based on the thin depth at defensive tackle, and he will help plug the running lanes on San Diego's defensive line.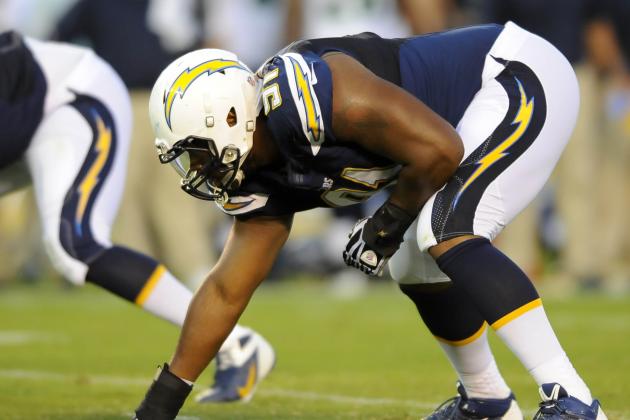 Christopher Hanewinckel-USA TODA

Corey Liuget
38 tackles, eight sacks
Liuget enters his third year and is coming off a breakout season in which he tallied seven sacks.
If opposing offenses pay too much attention to Dwight Freeney this season and forget about Liuget, they could be in for a rude awakening.
Kendall Reyes
31 tackles, 6.5 sacks
It didn't take long for Reyes to adjust to the NFL, as he collected 5.5 sacks in his rookie season last year.
The Chargers are expecting their second-round pick from a year ago to build upon his impressive inaugural season and prepare to see more playing time.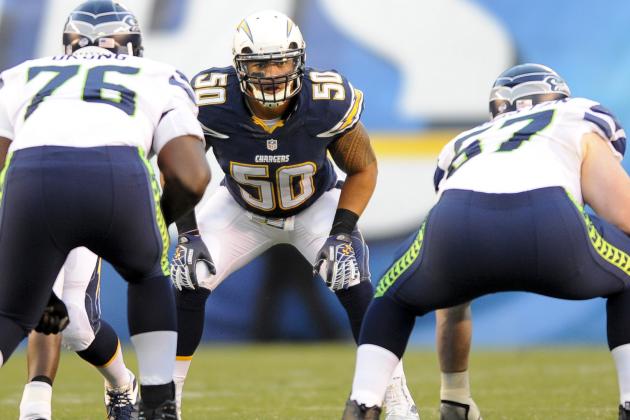 Christopher Hanewinckel-USA TODA

Donald Butler
107 tackles, two sacks, three forced fumbles, two interceptions
Butler is a lock for another breakout season if he continues to excel like he's done over the past two years in San Diego. Takeo Spikes may be gone, but that only means more opportunities for Butler.
80 tackles, one sack, one interception
Te'o will have to mature quickly in his rookie season because he is guaranteed to see action at inside linebacker.
Butler didn't even hit the 80-tackle mark in his first successful year with the Chargers, but Te'o is a special player with good instincts.
Dwight Freeney
27 tackles, 9.5 sacks
You can't expect Freeney to do anything more than what he was brought to San Diego for. The question is: can he still get to the quarterback in a new defense?
Jarret Johnson
43 tackles, one sack
Johnson does his part to stop running backs in their tracks, and he'll continue to do so in his 11th year.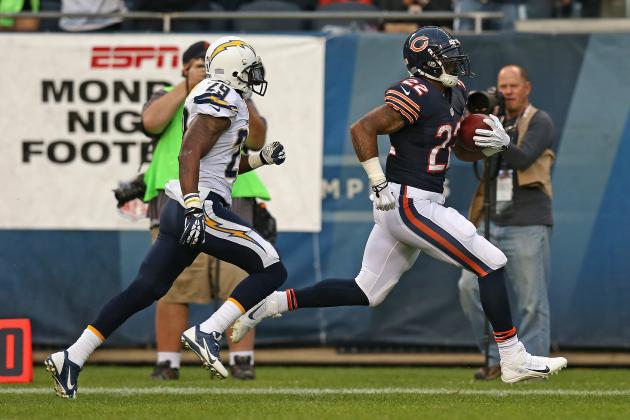 Jonathan Daniel/Getty Images

Derek Cox
60 tackles, four interceptions, 13 passes defensed
Cox has collected four interceptions in three of his past four seasons with the Jacksonville Jaguars, and the hope is that he'll be able to do the same for the Chargers.
Shareece Wright
49 tackles, one interception, eight passes defensed
Wright is entering untested waters in his first year as a starter, and that could mean a lot of mistakes for the third-year defensive back.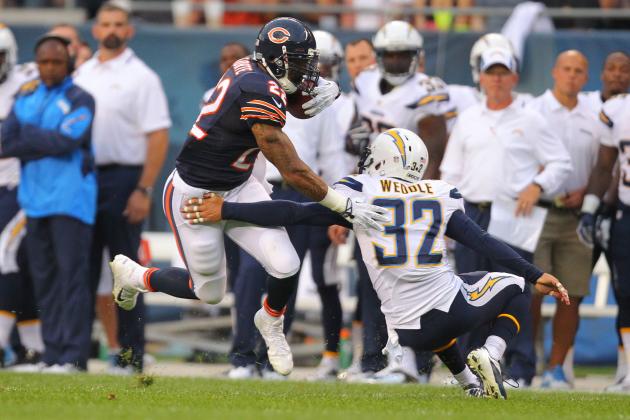 Dennis Wierzbicki-USA TODAY Spor

Eric Weddle
101 tackles, one sack, two forced fumbles, four interceptions, 10 passes defensed
In a thin secondary, Weddle will have to produce another All-Pro-caliber year, and he's certainly capable of doing it.
At 28, Weddle is in the prime of his career, and the Chargers will need him to make big plays on defense and create turnovers.
Marcus Gilchrist
58 tackles, one interception, seven passes defensed
Taking over at strong safety after the departure of Atari Bigby, Gilchrist will move from the slot corner position, which he played last season, to a position he's familiar with back in his high school and college days.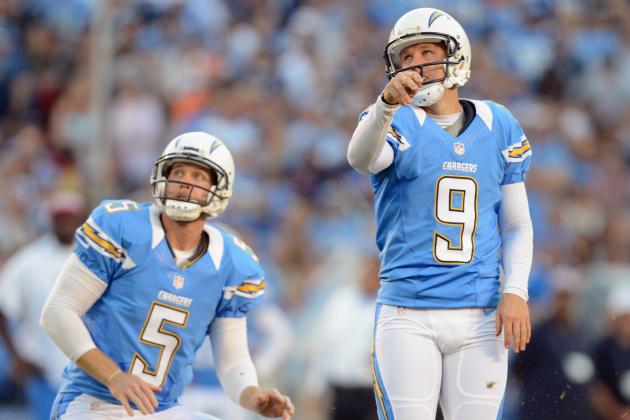 Harry How/Getty Images

Nick Novak
23/30 FGs, 33/33 PATs
In 2012, Novak converted 18 of his 20 field goal attempts, missing two from 50-plus yards. The Chargers rewarded Novak in the offseason with a four-year, $6.6 million contract and $1.5 million signing bonus.
If the offense struggles next season—just as it's projected to—then Novak will have his number called more often in 2013.
Richard Goodman
33 kick return attempts, 716 yards, one touchdown
Goodman's best season on special teams came in 2011, when he returned 34 of the team's 43 kickoffs for 936 yards and a touchdown. The following year, Goodman returned just 18 kicks, splitting attempts with Micheal Spurlock and a handful of others.
If Goodman can survive the final cuts before the start of the regular season, he should be able to resume the kick return duties.
Eddie Royal
16 kick return attempts, 185 yards
Royal returned 12 punts last season for a whopping 64 yards. While Royal was forced to share attempts with Spurlock, that didn't appear to be the main reason for his ineffectiveness.
In fact, Royal returned the same number of punts in 2011 with the Broncos and recorded 194 yards and a touchdown.
Royal was bothered by a hamstring injury all season in 2012, which could have resulted in such low numbers, but that should change as long as he's healthy this season.
Keenan Allen
12 kick return attempts, 397 yards; 11 punt return attempts, 198 yards, one touchdown
San Diego's 2013 third-round pick out of Cal has a history of muffing punts that has apparently followed him to the NFL, as he so graciously demonstrated in last Thursday's preseason game against the Chicago Bears.
Still, Allen can be a dangerous return man when he gets possession of the ball.