Arsene Wenger is running out of time.
The transfer window is slowly swinging shut, and Arsenal are still woefully understaffed. Thus far, The Gunners have only signed little-known French forward Yaya Sanogo. For all Arsenal's boasting of renewed financial power, they have failed to make a significant acquisition this summer.
With under a fortnight to go in the transfer window, Arsene Wenger is confident that Arsenal will still manage to pull off the signings they require. The Arsenal manager told The Telegraph:
Less than two weeks is a long time and 75 percent of things happen in the last 10 days. We are not there yet but a lot will happen in the next 10 days. When we think we have the right players, we do it.
Arsenal fans may not share Arsene Wenger's confidence.
They have seen this pattern before, and know it generally ends in one of two ways. It's possible Arsenal could fail to bring in any new players, electing to stick with the squad they already have. Alternatively, they may embark on an ill-advised late splurge as in the summer of 2011.
Arsenal fans may be desperate for new signings but even they do not want to see more players like Andre Santos and Park Chu-Young arrive.
The fear is that Wenger may have left it too late to make this a successful summer.
Perhaps Wenger feels that by waiting until the last moment he will be able to snare his targets for a bargain price. It's a sound theory. Late in the window, clubs are forced to make snappy decisions when back in June they might have chosen to stall and negotiate.
However, such brinkmanship is only a good idea when you have a cohesive plan. Worrying for Arsenal fans, there doesn't seem to be any clear strategy to their transfer activity.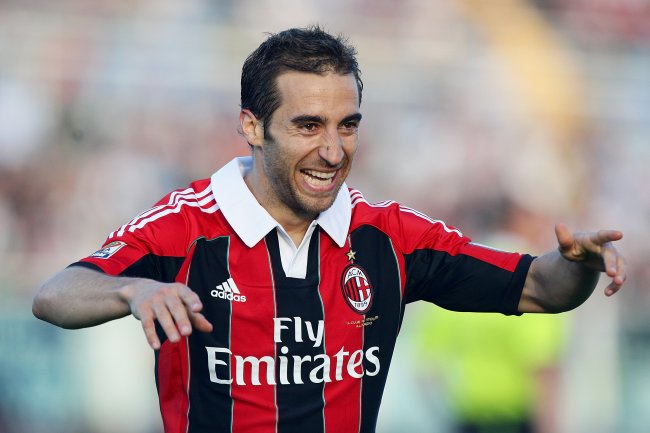 Paolo Bruno/Getty Images
On Monday, Arsenal were linked by the BBC with a £10 million bid for Newcastle's Yohan Cabaye. However, today The Guardian suggests The Gunners are close to finalising a move to sign former player Mathieu Flamini on a free transfer.
Cabaye and Flamini are very different types of midfielders in very different price-brackets. This switching between targets stinks of a scatter-gun strategy.
It's a pattern that has repeated throughout Arsenal's summer: they were linked for a long time with Gonzalo Higuain before switching their interest to Luis Suarez.
Arsenal look like a club who can't make up their mind about what they want.
Indecision is not a luxury they can afford any longer. Arsenal need to forget about what they might want, and focus on what they need. The signing of Flamini might not be the most glamorous but it would fill a gaping gap in the squad.
The time has come for action, not deliberation. Arsene Wenger has less than two weeks to save Arsenal's summer.
James McNicholas is Bleacher Report's lead Arsenal correspondent and will be following the club from a London base throughout the 2013/14 season. Follow him on Twitter here.