Breaking Down How Commentary Makes or Breaks a Successful Match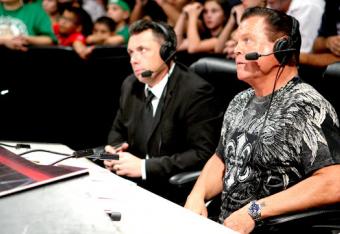 (Photo: WWE)

Great pro wrestling commentary does for a match what a powerful score does for a movie: it gives it wings.
The spandexed, masked and gritty men and women in the ring do much of the work, of course, but high-level commentary adds layers to the in-ring story, amplifies the emotion of the battle and punctuates the action with memorable lines.
Who could forget Gorilla Monsoon's famous line to open Andre the Giant and Hulk Hogan's WrestleMania III showdown or what it sounded like when Mick Foley won his first WWE Championship?
Mastering the art of wrestling commentary is difficult as it asks the announcer to be many things.
The commentator must be equal parts poet, storyteller, fan and performer. The greats have excelled at all of those elements. They explain the anger fans witness between the ropes and help us understand why victory means so much to the combatants.
They bring in elements of the rivals' past, laying out the plot while giving the match energy and helping us forget that the action onscreen is scripted.
On the other hand, bad commentary is a missed opportunity.
Potentially great matches become just good ones and potential classics don't reach their full height. Perhaps the voices at the announcing table are too intrusive, too bland or simply fail to improve upon what happens.
To examine commentary's power on a match let's look at a sample apiece from three eminent men in the field; Gordon Solie, Bobby Heenan and Jim Ross.
Gordon Solie
Solie gave pro wrestling matches a sense of realism that no other announcer has since been able to do.
Thanks in large part to him, Ric Flair's battle with Harley Race for the NWA World Heavyweight Championship at the first-ever Starrcade in 1983 felt like one of Muhammad Ali's fights.
Solie played up the importance of the cage as a means to keep intruders out and to make sure this was a decisive win. As to what would determine the victor, he said it would be "the man who has the greatest intensity and the best execution."
His voice was calm, smooth and controlled. He picked perfect spots to interject and where to let the wrestling speak for itself.
The Walter Cronkite of professional wrestling ... Gordon Solie. pic.twitter.com/MH3Rys0t

— Mike Mooneyham (@ByMikeMooneyham) August 2, 2012
As Race struggled to put Flair away and missed some of his trademark moves, Solie speculated that maybe Race's inner timing was off and the monumental nature of the moment was getting to him.
Even though he stumbled at a few points, this kind of narration amplified the sense of story among all the violence. Both champion and challengers soon found themselves bleeding, offering Solie a chance to add a touch of verbal flair.
"The sight of crimson has given Flair that added impetus," he said.
Solie spoke of both men's toughness and of how prestigious the championship was, all while letting the right moments breathe. When it was time to add something, he often did it with authority.
With Flair and Race pounding each other in a bloody ring, Solie talked of "watching these two tremendous gladiators battle it out for the World Heavyweight Championship, 10 pounds of gold."
Bobby Heenan
He may be the funniest man in pro-wrestling history, but Bobby "The Brain" Heenan's commentary was more than his rapid-fire wit. He made us believe in the characters and stories playing out on TV.
When Jake Roberts took on The Undertaker at WrestleMania VIII, Heenan created an atmosphere of danger and intrigue. He helped make The Undertaker seem like a hellish, unbeatable force.
As Undertaker skulked down to the ring, Heenan said, "Somebody's going to get hurt here."
That simple line worked to create an aura of intensity as Roberts and Undertaker readied for their fight. It was neither a wrestling clinic nor a bout that tops many greatest hits list, but thanks in large part to Heenan, this felt like a peek into the supernatural.
Heenan sounded both scared and thrilled at what he was seeing in the ring.
When Undertaker choked Roberts right in front of the referee, Heenan screamed that he'd held the choke past the five seconds he was allowed. Monsoon asked if he'd like to go in the ring and stop the big man himself and Heenan quickly dropped the issue.
His commentary was playful, but poignant.
"You win some and you lose some, unless you're Virgil, then you lose them all" - Bobby Heenan pic.twitter.com/tEIhzxV8bR

— Jay Hunter (@OSWreview) April 29, 2013
He asked what was in Undertaker's urn, "a loved one, a hated one?" and began to sing a funeral song when it looked like Roberts had finally gotten the best of Undertaker. Undertaker soon sat up despite taking Roberts' famous DDT.
This prompted Heenan to say, "He's not human."
His commentary not only made this match much better than it was, it helped to add to Undertaker's mystique.
Jim Ross
Ross has done matches featuring more famous lines, but his work during the Shawn Michaels and Kurt Angle 30-Minute Iron Match in 2005 is a prime example of how his passion and precision makes him the best announcer of his generation.
As Angle marched to the ring, Ross got us amped up for the match by saying, "Take a deep seat, ladies and gentleman, you're about to see a classic."
He did an excellent job of building up both men, spelling out their accolades and making them seem evenly matched. Ross also reminded us of the strategy involved in the Iron Man match, talking about the importance of going up a fall early and putting the match "on deep freeze" with a late pin or submission.
Ross discussed the WWE Championship implications of the match and reminded us of blows that Angle and Michaels had taken earlier to make getting hit in the back or having one's ankle twisted more dramatic.
One of Ross' greatest traits is a mark of many other folks who excel at the craft—energy fans can feel through the screen.
@TheJoeOmega @BretHart @WWE @JRsBBQ The commentary , to me, elevated the match to a whole other level.

— Sean Waltman (@TheRealXPac) August 21, 2013
During this match and during his entire career, Ross sounded genuinely impressed by the athletes he was watching and in awe of their art. He often sped from professionalism to exploding with excitement, going from Pat Summerall to Gus Johnson in a flash.
Much of that is expressed by him saying, "Oh my god" or just letting out a gleeful noise.
Other times, he delivers sharper lines. As Angle and Michaels battled—tied at two falls each with just over two minutes left—Ross said, "What athleticism, what drama we are seeing unfold before our eyes tonight."
As that classic came to a close, Michaels hit Angle with Sweet Chin Music and appeared to knock him out. Time ran out as Michaels covered him and Ross bellowed, "Michaels had him!"
Thus ended a great match bettered by a great commentator. Angle and Michaels would have been treasured with another voice guiding fans through the story. However, when commentary is done as masterfully as Ross does and Solie and Heenan did before him, the action is aided by added layers, carving its way into our memory.
This article is
What is the duplicate article?
Why is this article offensive?
Where is this article plagiarized from?
Why is this article poorly edited?