Players and Coaches That Will Lead the Oakland A's to the AL West Title
Jason O. Watson/Getty Images

Oakland Athletic fans are used to things coming down to the wire.
Last year, the A's made the playoffs with two games left in the season, and then, on the last day, they won the division. Can't get closer to the end than actually being at the literal end of the season.
This year seemed different, though. At the All-Star break, the A's had a two-game lead over Texas, a record of 56-39 and Yoenis Cespedes brought home the Home Run Derby trophy for the first time since Mark McGwire did it 1992.
But something is happening that A's fans can't understand. The team has gone 15-16 since the All-Star game, it's been banged up at every position (especially catcher) and now, instead of the six-game lead it had in late July, Oakland is 2.5 games behind Texas.
Something has to click for the A's in order for them to make it back to the top of the AL West.
Check out these five players that will lead them to the promise land again.
Begin Slideshow

»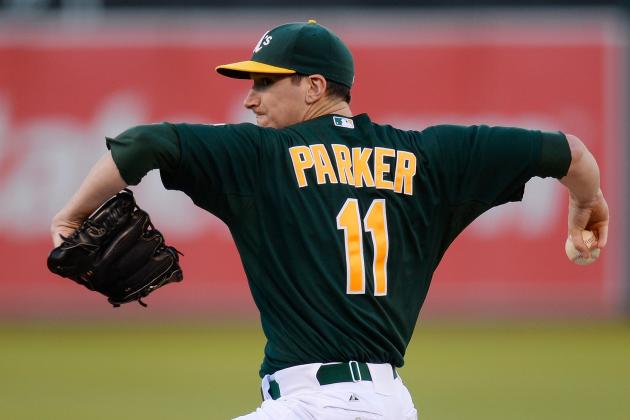 Thearon W. Henderson/Getty Images

To say that Jarrod Parker has been on a tear lately is an understatement. Since early June, he's gone 7-0 in 15 starts with an ERA of 2.59. Sixty-four percent of his pitches have been strikes, he's scattered 73 hits over 100-plus innings and has only walked 26 total batters.
Parker has pitched himself into the No. 1 spot in the Athletics rotation.
After his last win against Seattle, head coach Bob Melvin told Jane Lee of MLB.com, "He's the guy that's pitching the best right now, and we feel great about him, he's worked his way into the ninth two times in a row, and that means he's not only throwing the ball well, he's getting quick outs and giving himself an opportunity to pitch deep into games."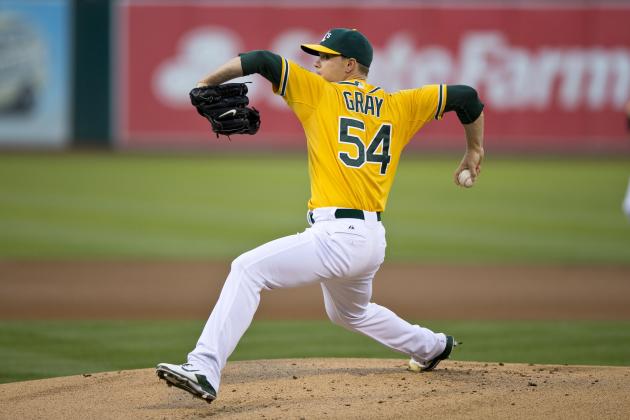 Jason O. Watson/Getty Images

Well, new kid, you've done it. You gave us hope, and we're looking at you as our No. 2.
In his first three starts in the big leagues, Sonny Gray has pitched 25 innings, struck out 27 and has only given up four earned runs, which include two home runs.
His minuscule 1.44 ERA can be attributed to his mid-90s fastball or his 12-to-6 power curve ball that has opponents swinging and missing.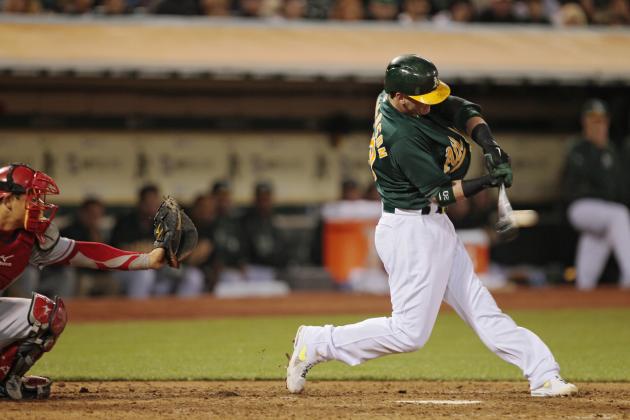 Brian Bahr/Getty Images

A leading candidate for MVP going into the All-Star break, Josh Donaldson was on fire. He had 107 hits, 61 RBI and 50 runs in the A's first 93 games.
However, after the break, A's fans noticed a slump.
The worst part is that Donaldson did too. He started swinging for the fences on each pitch, wasn't patient at the plate and started putting undue pressure on himself to continue to perform. However, this August has been very kind to him, and he's getting back to where he should be, batting .307 with 16 hits and seven RBI.
Donaldson's composure at the plate and his stellar defense will take the A's into first place.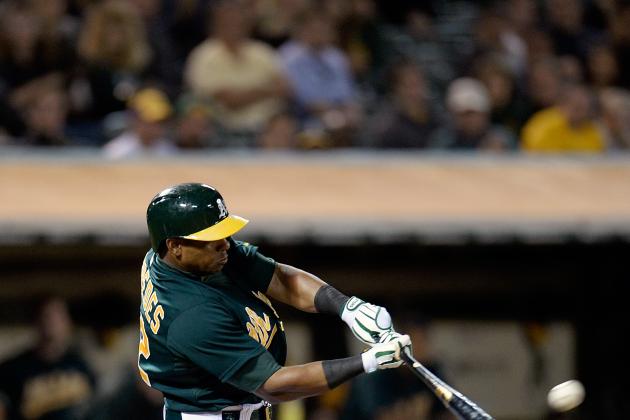 Thearon W. Henderson/Getty Images

Quit noodling around out there and catch the ball, Yoenis Cespedes!
Other than a few miscues over the last week or so, Cespedes has been doing well on offense for the A's. He hasn't done the big power hitting that most people would expect of the Home Run Derby champ, but he's put together three- and four- game hitting streaks and has hit safely in 14 of 18 games in August.
The intimidation factor is what Cespedes needs to bring to each game moving forward.
Every time he's at the plate, there's a collective hold-your-breath moment when he hits the ball deep. If Cespedes is able to connect and get some extra-base hits, the A's will be in good shape for the rest of the season.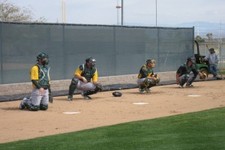 Pic courtesy of eastBaymode.com
This last spot is a bit more difficult. Obviously, Bob Melvin is the key to leading the A's to victory. He's the coach, he's making the decisions. However, one of the biggest decisions he has to make is who will be the team's day-to-day catcher.
Let's see what he has to work with:
John Jaso—15 Day DL
Derek Norris—Fractured Toe
Stephen Vogt—Hurt
Yikes. That's a tough one, Melvin.
He can bring up Luke Montz, who is currently on the Rivercats, but even he is on a seven-day DL.
Hopefully, Norris will be able to play through the pain, Vogt won't be hurt for too long and Jaso can come back and provide some decent hitting. However, the decision all rests with Melvin. Melvin obviously knows how to work this team and play to its strengths; otherwise, how did we pull it out last year?
In Billy Beane and Melvin we trust.