Predicting Which Chicago Blackhawks Will Compete in 2014 Sochi Olympics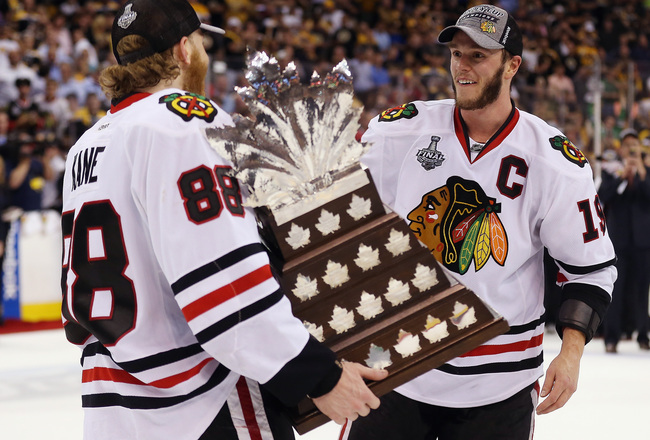 Bruce Bennett/Getty Images
The Chicago Blackhawks are a team that is loaded with talent.
They proved themselves when they went on a record 24-game streak without a regulation loss at the start of the 2013 season and then finished their season in style by beating the Boston Bruins in six games in the Stanley Cup Final.
The Stanley Cup was the team's second in four years, and it means that players like Jonathan Toews, Patrick Kane and Duncan Keith will remain legends in the Windy City long after their careers come to an end.
Since the talent level on the team is so high, it has a number of players who will be serious candidates for their country's Olympic teams. Here's a look at the team's most serious Olympic candidates along with a prediction as to whether they will make those teams or not.
Corey Crawford, G, Canada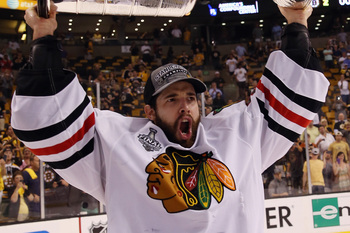 Bruce Bennett/Getty Images
Canada won the gold medal in Vancouver in 2010, and Roberto Luongo was the country's No. 1 goalie. Despite the difficulties he has had since then, Luongo remains a serious candidate to make Canada's Olympic team once again.
He is likely to be joined by Carey Price of the Montreal Canadiens. However, neither Luongo nor Price have been the kind of consistent puck stoppers that can make head coach Mike Babcock feel confident.
Babcock will look very hard at Corey Crawford. Not only did Crawford help backstop the Blackhawks to their brilliant regular season, but he also started every game for them in the postseason. Crawford may not have an outstanding pedigree, but the did get to raise the Stanley Cup.
Crawford excels at putting his mistakes behind him, which is something that Luongo and Price both struggle to do on a regular basis. After Crawford's "glove hand" was exposed when he gave up five goals in Game 4 of the Stanley Cup Final against the Bruins, he gave up three goals over the next two games, and the Blackhawks raised the cup.
Prediction: While he is going to have to beat out Cam Ward and Mike Smith, look for Crawford to make the team and start the majority of the games for Canada.
Duncan Keith, D, Canada
Duncan Keith is the Blackhawks' most dependable defenseman. He played a key role for the Canadian Olympic team in 2010, and he should make the team in 2014, barring serious injury.
This former Norris Trophy winner is an outstanding skater and puck carrier. He can turn defense into offense in an instant, and his defensive skills are often overlooked because of his skating speed and offensive talent.
Keith is also one of the most courageous players, as he will sacrifice his body in order to break up a pass or a shot.
Prediction: A skilled defenseman with the ability to play his best game when it matters most to the team. Keith will make the Canadian Olympic team.
Jonathan Toews, C, Canada
Sidney Crosby may have scored the golden goal that gave Canada the championship and the gold medal at the 2010 Vancouver Olympics, but Jonathan Toews may have been Canada's best all-around player by the end of that tournament.
Toews is an absolute lock to make Canada's team. He figures to be the team's No. 2 center, just behind Crosby and just ahead of Boston's Patrice Bergeron.
Toews is a throwback player who is just as committed to defense as he is to scoring. He is a remarkable skater with the ability to pick the corner and make pin-point passes.
Prediction: Not only will Toews make the team, but if Canada is going to defend its gold medal, he will most likely end up as the team's best all-around player.
Patrick Sharp, RW, Canada
Patrick Sharp scored 34 goals in 2010-11 and 33 goals the following year. He is one of the Blackhawks' best clutch scorers.
While he was injured throughout much of the 2013 regular season, he scored 10 goals during the postseason, and he was one of the key contributors to their Stanley Cup effort.
Sharp, 31, is not a sure thing to make the Canadian Olympic team. He has special skills when it comes to skating and shooting, but he is no better than a longshot because Canada has so many talented forwards.
Prediction: While he would undoubtedly make a strong contribution to the team, Sharp will fall short, and he won't make the Canadian Olympic team.
Brent Seabrook, D, Canada
Brent Seabrook has a tendency to score big goals. He scored the series-winning goal in overtime against the Detroit Red Wings in the conference semifinal round of the playoffs, and he also had an overtime winner against Boston in Game 4 of the Stanley Cup Final.
The ability to score those goals should make a big impression on head coach Babcock and assistant coach Claude Julien. However, Seabrook may not be as consistent as he needs to be in order to make the Canadian Olympic team. While he made it in 2010, the Canadian team now includes candidates like P.K. Subban and Kris Letang.
Prediction: While it will be touch and go, both Babcock and Julien will remember what Seabrook did to their teams in last spring's playoffs and will invite him to join the team.
Marian Hossa, RW, Slovakia
Marian Hossa will be one of the driving forces on the Slovakian Olympic hockey team. There is little doubt that he has the strength, speed, skill and know-how to be a difference maker in the Olympics.
As long as Hossa is healthy—he has had some injury problems in recent years—he will skate on the first line. He is Slovakia's best offensive player.
Prediction: Hossa would probably like the time off, but he knows his responsibility, and he will play for his country in the Olympics.
Niklas Hjalmarsson, D, Sweden
The retirement of Nicklas Lidstrom at the end of the 2011-12 season has opened up a spot on the Swedish defense.
Hjalmarsson is not anywhere close to Lidstrom's class, but he can be a solid contributor for Sweden. Hjalmarsson is a smart defensive player who can carry the puck and also play with courage. He will block shots and sacrifice his body to help his team win.
Prediction: While Hjalmarsson has scored just six goals in the last three seasons, he can play the defensive game well enough to earn a spot on the Swedish Olympic team.
D Johnny Oduya, Sweden
Johnny Oduya is not a superstar, but he does a lot of things well. He has picked up his play quite a bit since coming to the Chicago Blackhawks late in the 2011-12 season.
Overall, if Oduya is going to make the Swedish team, it's because he is a solid all-around player. He plays solid defense, he can carry the puck and he can put his shots on net. While he does not have a rocket, he can create rebounds and deflection opportunities for his teammates.
Oduya was plus-12 in both the regular season and the playoffs. That last figure stands out, and could help be one of the deciding factors for the Swedish coaching staff.
Prediction: Oduya won't be in Sweden's first or second pairing, but he is a solid player who can come through with big plays at key moments. He will make the Swedish Olympic team.
Patrick Kane, RW, USA
Like his teammate Toews is a sure thing for Team Canada, Patrick Kane is an absolute lock to make the U.S. Olympic hockey team.
Kane will be one of the most vital players on the American team. If you look at the projected American team, the forwards are all well-rounded players who have an aggressive and hard-nosed side. Kane is probably the most skilled offensive player on the team.
Few players in the world can match his quickness and skill with the puck. He's going to have to find a way to put the puck in the net consistently if the U.S. team is going to have a chance to repeat its silver-medal performance of 2010.
Prediction: Kane will make the team, and he is certain to be a first-line forward.
Keep Reading

Chicago Blackhawks: Like this team?