Ranking the Winnipeg Jets' 10 Most Promising Prospects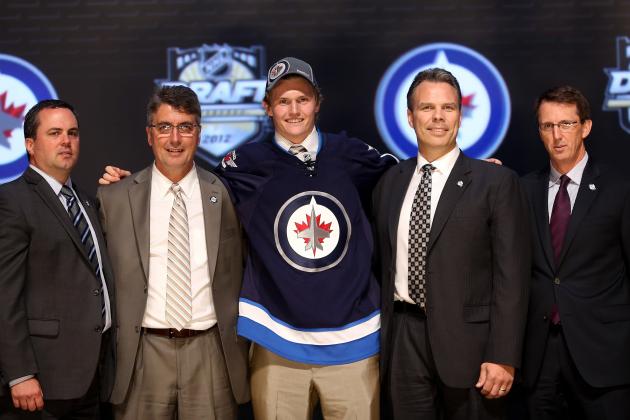 Bruce Bennett/Getty Images

The Winnipeg Jets like to build from within. It's a theme that this organization has followed since returning to Winnipeg.
It's sort of the theme that the organization likes to live by.
You won't see the Jets signing superstars in free agency every year. You won't see them trading away young prospects or draft picks for old veterans or soon-to-be unrestricted free agents. You won't see them waste prospects for a rugged attempt at a playoff run.
Kevin Cheveldayoff knows where the Jets stand. He understands that championship teams aren't built without building through the draft.
The Jets build through the draft. And it's working.
Cheveldayoff and the rest of the Jets management have done a great job at drafting since they took the team over in 2011. Cheveldayoff's plan—since day one—revolved around the draft.
Preaching patience will soon pay off because it's the young prospects that the Jets have been drafting who will soon emerge as superstars.
The Jets are starting to build a solid foundation of prospects. Some of them are household names that people will start to notice. A lot of them aren't known yet. Regardless, the scouts deserve much credit in targeting these players.
My latest edition of the Jets' top 10 prospects has a lot of new faces on it. Some are ranked much higher than before while some have fallen off quite a bit. Some may even surprise you.
First up, coming in at number 10…
Begin Slideshow

»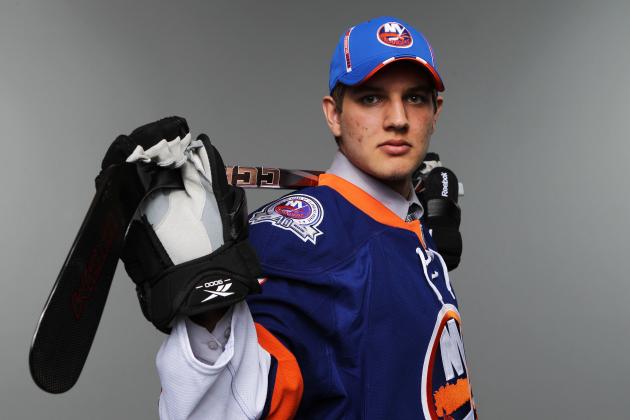 Nick Laham/Getty Images

You might start off reading this and ask yourself, why is there a photo of a New York Islanders prospect? Well that's because Brenden Kichton was a draft pick of the Islanders back in 2011.
Without getting into to much detail, Kichton was re-entered into the 2013 NHL Draft and was then selected in the seventh round by the Jets.
Kichton, a defenseman, spent his entire WHL career with the Spokane Chiefs. Last season, Kichton put up 22 goals and 85 points in just over 70 games. That's pretty solid numbers for an offensive-defenseman in the WHL.
I could have slotted a few prospects at the number 10 spot (my last update had Zach Yuen at 10 and he isn't even with the Jets organization anymore), but I'm comfortable with putting Kichton there. He has a chip on his shoulder and will set out to prove a lot of people wrong, especially the Islanders who didn't sign him to an entry-level deal.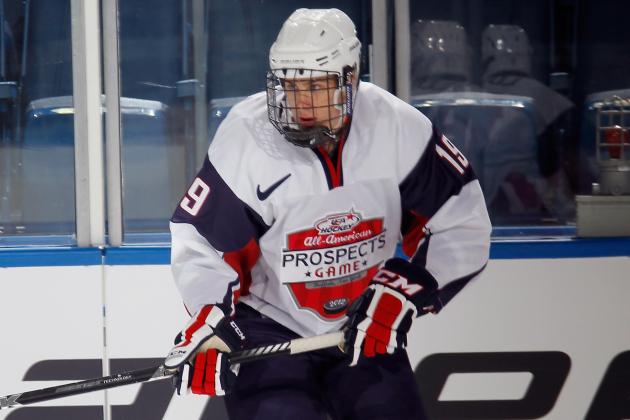 Bruce Bennett/Getty Images

Jimmy Lodge makes the top 10 ranking right at number nine. Lodge was drafted in the third round in the 2013 NHL Draft.
At 84th overall, he is an absolute bargain.
He currently plays in the OHL with the Saginaw Spirit. He finished last season with 28 goals and 67 points in 64 games. Lodge started off the season very slow. The interesting thing to take away from last season is the fact that he posted 48 of his points in his final 32 games.
Talk about an offensive outburst. Can he keep up that torrid pace next season without slumping in the beginning?
Lodge is a player to keep a keen eye on going forward. His production in 2013-14 will tell us a lot.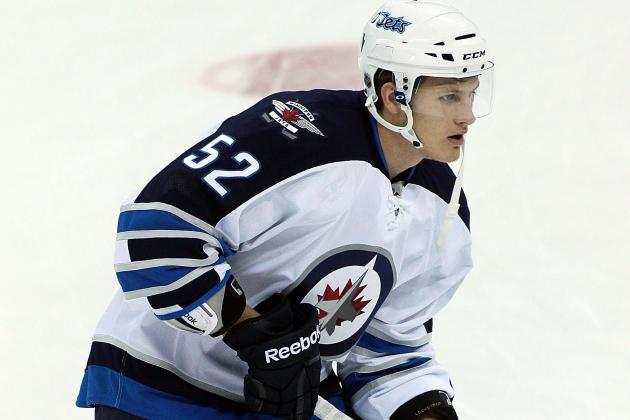 Marianne Helm/Getty Images

Ivan Telegin hasn't found his stride in the AHL and has fallen down my list.
Last year, in 34 games with the St. John's IceCaps, Telegin only scored three goals. It's safe to assume he's still adapting to a more professional level.
Telegin was a dominant sniper in the OHL, but he has to translate that over to the AHL. It'll be difficult for him, but he has to gain confidence playing against better talent. When he finds his stride, he'll make some noise in the AHL.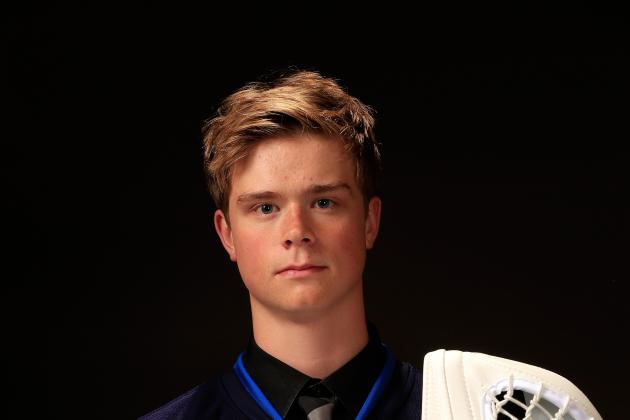 Jamie Squire/Getty Images

The Jets' top goalie prospect ranks in at number seven on the list.
They drafted Eric Comrie in the second round of the 2013 NHL Draft. Comrie was the third goalie selected in the entire draft.
He has potential to one day challenge for a roster spot on the Jets as long as injuries don't hold him back.
Could he even challenge for the starting job one day? As long as he stays the course, his upside will take him to all levels.
Bruce Bennett/Getty Images

I'm very high on Scott Kosmachuk, probably more than most. I think he could be a productive forward in the NHL someday.
Kosmachuk was drafted in the third-round of the 2012 NHL Draft. Kosmachuk skyrocketed up my list last year and would be even higher up my list now if it weren't for recent draftees and the emergence of others.
In 2011-12, Kosmachuk scored 30 goals and 59 points with the Guelph Storm of the OHL. He picked up right where he left off last year when he scored 35 goals and 65 points. Expect him to have another productive season with 40 goal potential on the horizon.
Kosmachuk has the ability to be a quality goal scorer and he has other intangibles that can't be taught.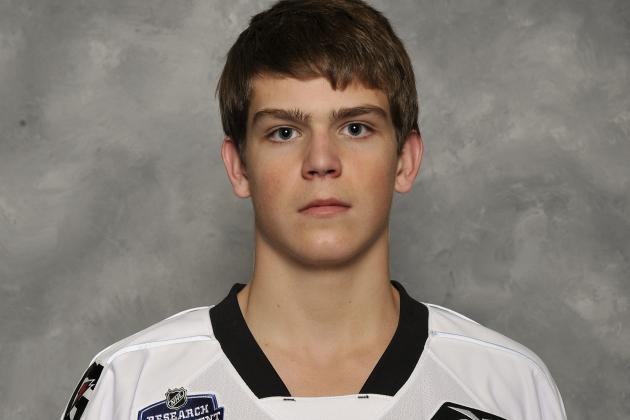 Graig Abel/Getty Images

Adam Lowry was drafted in the third-round of the 2011 NHL Draft. It's looking like this selection will be considered a "steal" in a few years—if it isn't already.
Lowry absolutely skyrocketed up my rankings this past year.
He exploded onto the scene last season with the Swift Current Broncos of the WHL. He finished the year with 45 goals and 88 points. He hasn't even come close to those numbers in his prior three seasons with the Broncos.
He is a special player because he can effectively play both wing and center and—at 6'5"—has the size and ability to become a unique power-forward in the NHL.
Lowry should get a prime opportunity to prove himself in training camp and preseason. However, it may be a little too early for him to make the Jets roster. He should have a great campaign with the IceCaps this season and could be a mid-season call up for the Jets.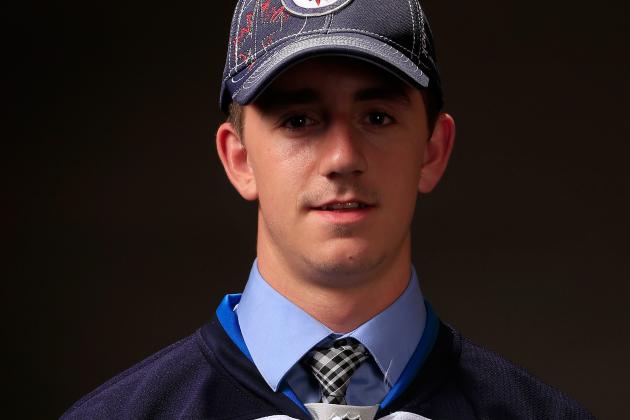 Jamie Squire/Getty Images

Nic Petan ranks in at number four which may seem very high for some that aren't too familiar with his game. He'll probably be ranked even higher when I evaluate prospects again next year.
If all goes well, Petan may be one of the biggest steals in the entire 2013 NHL Draft.
Statistically, Petan put up some mind boggling numbers in the WHL last season. In 71 games with the Portland Winterhawks, Petan scored 46 goals and 120 points. How in the world will he top those numbers this year?
He doesn't have to top those numbers, but his outstanding offensive skill will pull him close.
The knock on Petan is his height. He's approximately 5'8" which is considered undersized for an NHL player. Many undersized forwards are dominant in today's NHL so there's no reason to believe he can't become a dominant center as well.
Petan will continue to grow over the next couple of years. He's someone the Jets are keeping a close eye on because of his top-six potential.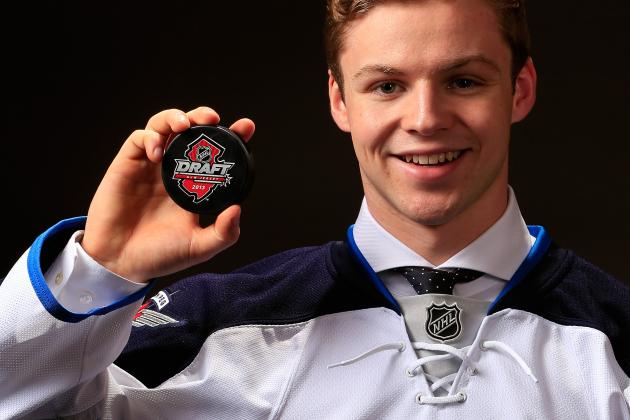 Jamie Squire/Getty Images

Ranking in at number three is one of the Jets most recent draftees.
Josh Morrissey was one of those surprise picks at the 2013 NHL Draft. Jets fans in general were very shocked when they heard the name of Josh Morrissey going 13th-overall. It only took about 10 minutes to realize that this was an outstanding pick, the type of selection that grows on you over time.
The Jets are building their core with defensemen and what better way then to select one who has a ton of potential and upside both offensively and defensively.
It'll take a few years before Morrissey is actually ready to step in at the NHL level, but there's no rush from the Jets side. The Jets have to be patient and let Morrissey grow in the WHL. The wait may seem long, but it will pay out in dividends.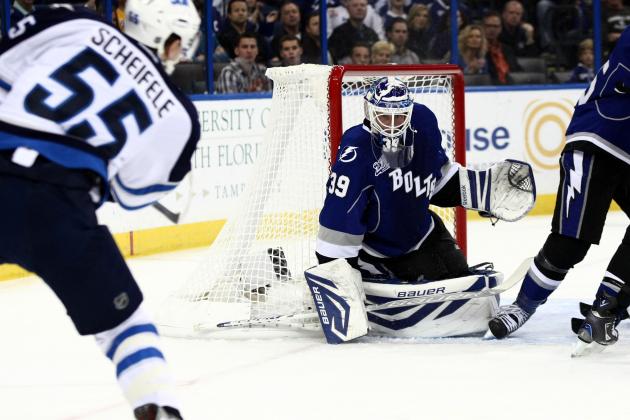 Douglas Jones-USA TODAY Sports

Mark Scheifele is the second best prospect in the Jets system, but his potential is through the roof.
Scheifele has had some small opportunities with the Jets in the past but has yet to stick with the big club. If there's ever a player that's done it all in minor leagues, it's Scheifele. He was arguably the most dominant player in the entire OHL last season. He dominated the league and has been doing so for a few years now.
It's time for Scheifele to translate that play to the NHL.
Scheifele is expected to be a top-six center for the Jets. How soon will that happen? Only time will answer that, but Scheifele will get the opportunity to be the Jets second line center in 2013.
If worse comes to worse, he'll start out in the top-nine this year, but Scheifele is poised to work his way into the top-six. It'll happen sooner rather than later.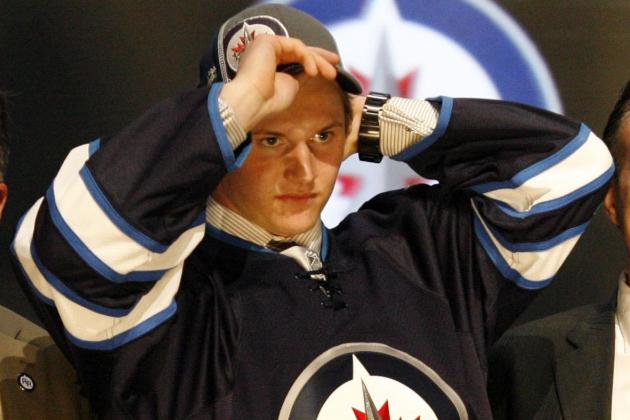 Charles LeClaire-USA TODAY Sports

There's not much of a debate here at this point. Jacob Trouba is the top prospect of the Winnipeg Jets. He's one of the top prospects in all of hockey.
The Jets found a diamond in the rough. Though he hasn't played a single game at the NHL level yet, Trouba is drawing comparisons to the likes of Shea Weber. Trouba is a goal scorer, a shutdown defenseman and a heavy hitter.
Trouba has improved tenfold since the time he was drafted by the Jets in 2012.
He was already a standout at the University of Michigan before exploding onto the scene during the 2013 IIHF U20 Championships. Trouba helped the United States win the Gold Medal. He was also recognized for his individual play when he received the award for best defenseman throughout the tournament.
Trouba was signed by the Jets late last season, but he didn't see any action. He'll have his chance to make the Jets lineup this year, and I predict he will.
Seriously, he might even challenge for a spot on the U.S. Olympic roster in 2014. He's that good.