2014 MLB Free Agency: Ranking Suitors for Top Hitters Set to Hit the Market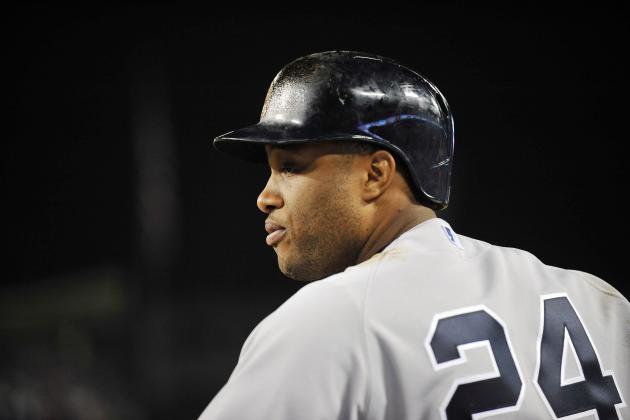 Gary A. Vasquez-USA TODAY Sports
Suitors for Cano will be limited due to his contract demands.
The 2014 MLB free-agent market for hitters is strong overall, although it's extremely outfield-heavy, while there appear to be slim pickings in catching and infield talent. If this sounds familiar, that's because last offseason's group was similar.
Outfielders Michael Bourn, Josh Hamilton, Angel Pagan, Cody Ross, Nick Swisher and Shane Victorino each received contracts for three or more years, while only three infielders got at least a three-year deal.
While most of the free-agent money will be spent on outfielders and starting pitchers once again, there's a good chance that a catcher, first baseman and second baseman will all get big-money, multi-year contracts this offseason.
Here are the top 10 hitters expected to hit free agency after the season and the teams expected to pursue them most aggressively.
Begin Slideshow

»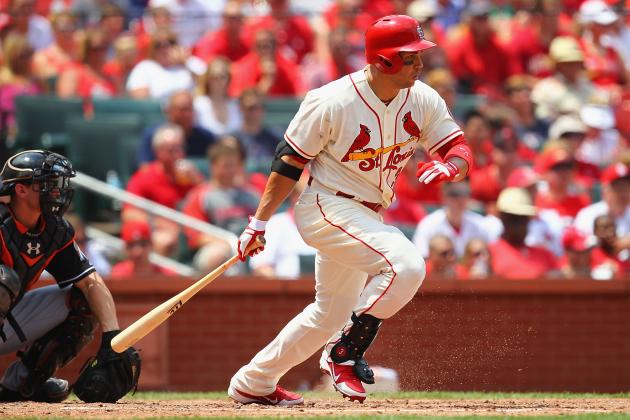 Dilip Vishwanat/Getty Images

Two offseasons ago, the Cardinals made a risky two-year, $26 million signing of a soon-to-be 35-year-old outfielder with a history of knee problems. It paid off, however, as Carlos Beltran has stayed healthy and given them back-to-back All-Star seasons.
So will it be any less risky for a team to sign him to another two-year contract for what will be his age 37 and 38 seasons? If not for the free-agent outfield depth, I might even predict a three-year deal for Beltran.
On pace for his third consecutive season with at least 142 games played, Beltran will seek a deal for at least the same amount of his expiring one. Here are three teams most likely to give it to him:
Seattle Mariners
Texas Rangers
Chicago Cubs
The Mariners were aggressive this offseason, although they fell short of signing any big-name free agents to long-term deals. With several players eligible for free agency this offseason, they could be big players again with Beltran a target to be their starting right fielder and occasional designated hitter.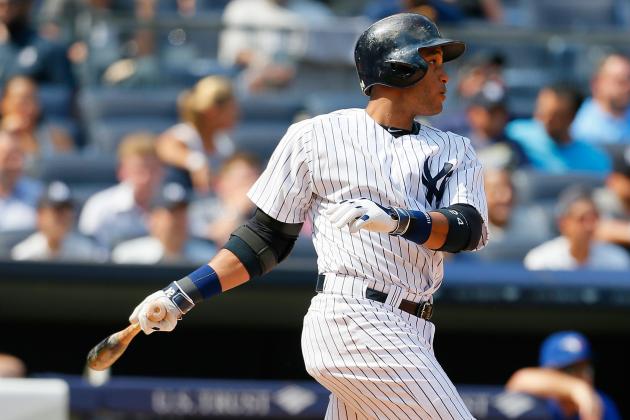 Mike Stobe/Getty Images

Expected to be the highest-paid free agent this offseason, Robinson Cano won't find too many teams willing to pay him close to what he's likely seeking.
According to Jon Heyman of CBS Sports, that figure could be in the $275 million range, while the Yankees are thinking more along the lines of Mets third baseman David Wright's eight-year, $138 million deal. That's why a contract extension is unlikely.
But that doesn't rule out the Yankees, because it's highly doubtful that any team in baseball will give the 30-year-old Cano anything close to $275 million, which would probably require a nine- or 10-year deal that pays him through his age 39 or age 40 seasons.
When it's all said and done, look for his price tag to drop and these teams to come closest to matching it:

New York Yankees
Los Angeles Dodgers
The Yankees will have to be patient, but it could pay off after Cano realizes no other team will meet his demands. With the savings from Alex Rodriguez's suspension, assuming it's upheld, they'll feel more comfortable paying up to keep their best player in town for the remainder of his career.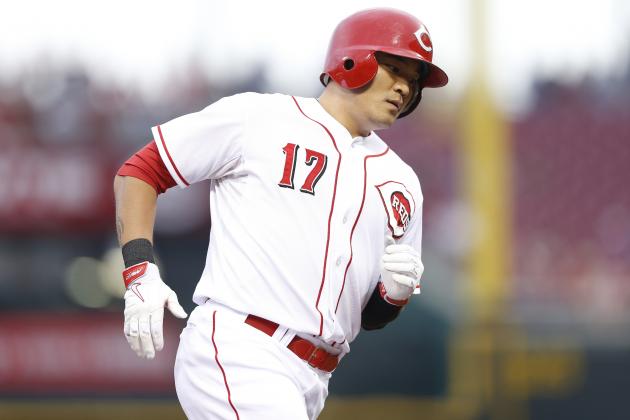 Joe Robbins/Getty Images

Shin-Soo Choo is having his typical solid season, but his 1.054 OPS and nine homers during the first month-and-a-half catapulted him near the top of the upcoming free-agent market, and he's done enough to stay there.
On pace for his third 20-20 season (20 homers, 20 stolen bases), the 31-year-old also has a career-high .416 on-base percentage while leading off and playing center field for the Reds. While no team is going to sign him to be its center fielder for the next four years, he's likely capable of filling in as a stopgap for another season, if necessary, before shifting back to a corner spot for the remainder of his contract.
Here are the three teams most likely to give Choo the minimum four-year, $60 million deal he'll demand as a free agent:
New York Mets
San Francisco Giants
Cincinnati Reds
The Reds could be in the mix if they're willing to keep Choo in center field one more season before shifting him to left field after Ryan Ludwick's contract expires. But there are simply too many other big-market teams looking for outfield help, and the Reds' needs aren't as dire. The Mets, arguably, have two spots to fill, and they'll have a lot of money coming off the books. Choo is likely to be a top target.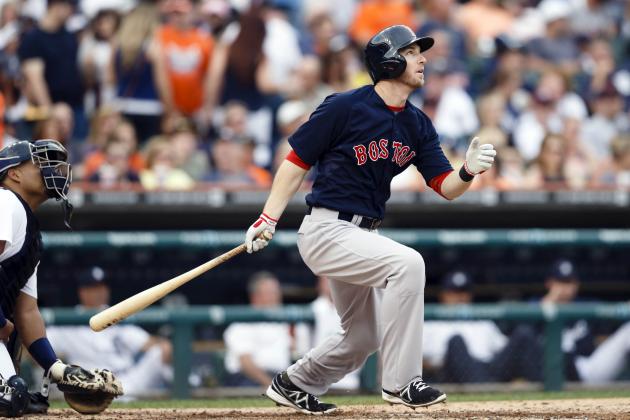 Rick Osentoski-USA TODAY Sports

After an awful start (5-for-42, 0 HR, 15 K), Drew has dug himself out of the hole and has very respectable overall numbers in his first season with the Red Sox. In his last 83 games, the 30-year-old has a .798 OPS with 10 homers, 19 doubles, five triples and 49 runs batted in, which will set him up nicely heading into free agency.
Jhonny Peralta's suspension for his involvement in the Biogenesis scandal also makes Drew the clear-cut favorite for teams looking for shortstop help. There are no other options even close. By signing a one-year contract after struggling in 2012 after coming back from ankle surgery, he allowed himself an opportunity to rebuild his value with a strong season. Good move.
Here are the three teams most likely to give Drew the minimum three-year, $39 million deal he'll require:
St. Louis Cardinals
New York Mets
Boston Red Sox
The Cardinals' 25-man roster is filled with talent, yet that is not the case at one of the most important positions on the ballclub—shortstop. Just as Stephen is playing on one of his older brother's former teams this season, he could do the same in 2014 and beyond. J.D. Drew posted an .875 OPS with the Cards from 1998 to 2003 and then finished his career in Boston, where he had an .824 OPS from 2007 to 2011.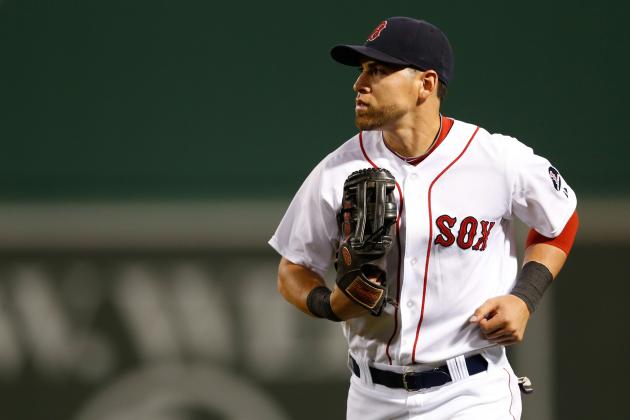 Greg M. Cooper-USA TODAY Sports

By remaining healthy in 2013, Jacoby Ellsbury has solidified his value for the upcoming offseason. Of his four big league seasons in which he's remained relatively injury-free, this one is closer to his 2008-2009 seasons (.751 OPS, eight HR and 60 SB per season), while his 2011 season (.928 OPS, 32 HR), in which he was second in AL MVP voting, stands out as a bit fluky.
Just because he probably won't come close to his 2011 season again doesn't mean the 29-year-old won't get a nice paycheck for at least the next five years. This offseason, teams will be bidding on a leadoff man with a career .351 on-base percentage who is capable of stealing 60 bases per season and playing stellar defense in center field.
If Michael Bourn can get four years and $48 million, Ellsbury can get at least the five years and $75 million B.J. Upton got from Atlanta. Here are the three teams most likely to give it to him:
Chicago Cubs
Boston Red Sox
New York Mets
The Red Sox can afford Ellsbury, but the presence of Jackie Bradley Jr. will allow them to utilize their resources elsewhere. The Cubs, on the other hand, do not have a top prospect in waiting, and Theo Epstein and company would probably love to reunite with Ellsbury to help bring the team back to contention during Year 3 of his tenure.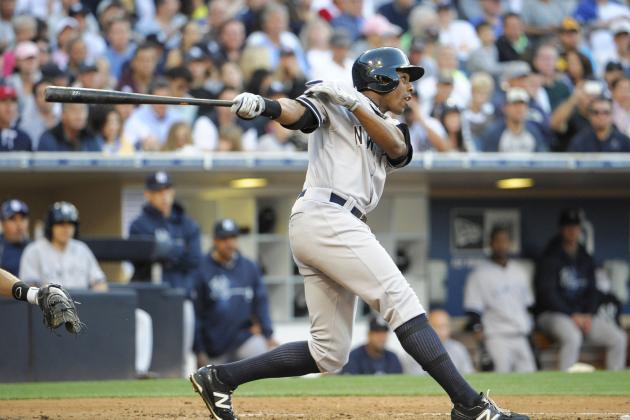 Denis Poroy/Getty Images

Despite Curtis Granderson missing much of this season with multiple injuries, his consecutive 40-plus home run seasons in 2011-2012 are enough to ensure a big-money deal when he hits free agency after this season.
The 32-year-old hasn't hurt his value in the 26 games he has played this season either. He has an .814 OPS with three homers and five stolen bases. Even if he's a better fit for a corner outfield spot over his ages 33-35 seasons, his left-handed power bat is still probably worth the $15 million salary he's earning this season.
Here are the three teams most likely to give Granderson at least a three-year, $45 million contract:
Chicago White Sox
New York Yankees
Philadelphia Phillies
Granderson is a terrific fit in Yankee Stadium, but with Ichiro Suzuki, Alfonso Soriano and Brett Gardner all under contract for 2014 and several other needs on the roster, expect another team to be the top bidder for his services. The Chicago native could feel right at home with the White Sox, especially when they reinvest the savings from the Jake Peavy and Alex Rios trades to bring him into the mix.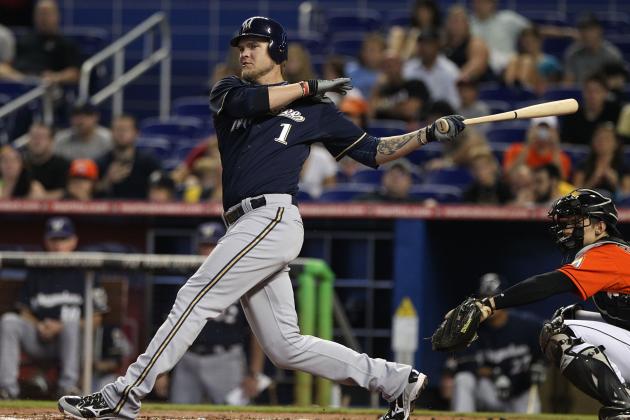 Marc Serota/Getty Images

Considering he missed the entire season with separate injuries to both knees, Corey Hart may be the forgotten man when lumped in with the other corner outfielders on the free-agent market.
But when you look at his numbers from the previous six seasons with Milwaukee (.830 OPS, 24 HR, 78 RBI, 33 2B, 13 SB per season) combined with his ability to play first base, he won't be forgotten for long.
Hart will be just 32 years of age at the start of the 2014 season, and while there is risk involved because of the knee injuries, several teams have been looking for a right-handed power bat during this season, and things are unlikely to change a few months from now.
The two-time All-Star will have plenty of suitors, many of which will drop out once they realize that his lost season hasn't dropped his value as much as they had hoped. Here are the three teams that will stay in it to the end and not shy away from giving Hart at least a three-year, $33 million contract:
Boston Red Sox
Milwaukee Brewers
Chicago White Sox
The Red Sox might not be willing to bid high on Ellsbury, but they could still bring in multiple free agents at a fair price that won't handcuff the team's payroll down the road. Hart would fall into that category as a productive veteran who won't come at an outrageous price. He'd fill Mike Napoli's role as the regular first baseman.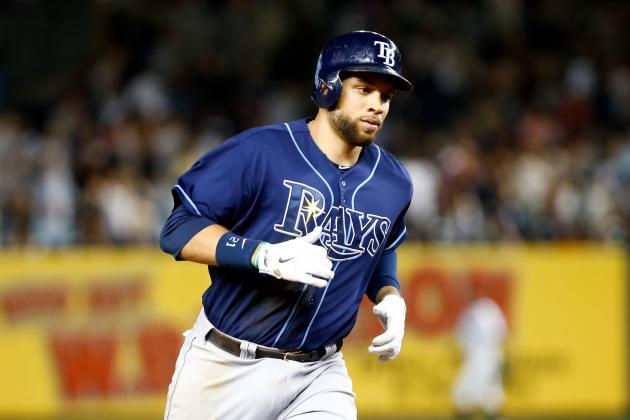 Debby Wong-USA TODAY Sports

His power outage during the second half of the season (nine home runs in first half, one home run in second half) could hurt the dollar value of his next contract, but the fact remains that James Loney is a .300 hitter with 15-homer ability, and he'll be just 29 years old on Opening Day 2014.
He's also likely to be the top first baseman available in free agency.
Those kinds of credentials should get the left-handed hitter a three-year deal, although he may have to settle for something in the range of $7-10 million per season. If he kept up his homer rate of the first half, that salary could've been in the $12-15 million per season range.
There won't be too many teams looking for first base help this offseason, which should keep his price tag down enough to allow his current team, the Rays, to remain in the mix. They're included in the list of top three Loney suitors, but he'll sign elsewhere:
Milwaukee Brewers
Colorado Rockies
Tampa Bay Rays
Milwaukee has some very good right-handed hitters in its lineup, including Ryan Braun, Carlos Gomez, Jean Segura and Jonathan Lucroy. Veterans Aramis Ramirez and Rickie Weeks, also right-handed hitters, have been very good in the past. The Brewers are in need of a left-handed bat to balance out the lineup, and they have a hole at the first base spot.
Unless they're really intrigued by Juan Francisco's home run power, it makes sense to bring Loney into the mix. He's a much better player.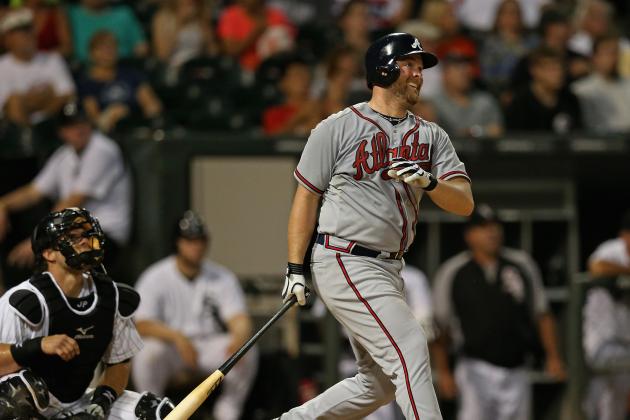 Jonathan Daniel/Getty Images

A seven-time All-Star and one of the best all-around catchers in the game, Brian McCann will be a hot commodity this winter if the Braves aren't able to sign him to a contract extension before the free-agency period begins.
Still just 29 years of age, McCann has bounced back from an injury-plagued 2012 season to post an .854 OPS with 18 homers through 78 games. He's also done a terrific job leading a fairly young and inexperienced pitching staff while throwing out 27 percent of attempted base stealers.
While McCann is, arguably, in the tier just below Cardinals catcher Yadier Molina, it wouldn't be a surprise if he got a five-year deal that pays him in the neighborhood of what Molina is getting for his age 30-34 seasons ($72 million). Here are the three teams most likely to offer him that amount:
Boston Red Sox
Los Angeles Dodgers
Atlanta Braves
The Georgia native playing his entire career with the Braves would be a great story. But unless they can match what the Red Sox can give him, it's probably not going to happen.
If the Sox go more than three years on a free agent, McCann would make a lot of sense for his ability to handle a pitching staff and hit in the middle of the lineup. He'd also be reunited with David Ross, who backed him up in Atlanta from 2009 to 2012.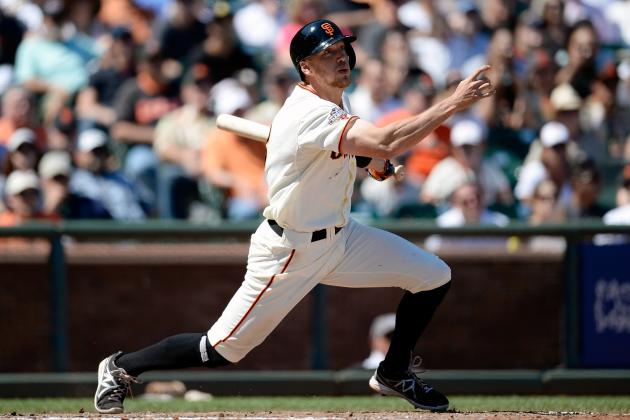 Thearon W. Henderson/Getty Images

The Giants will reportedly try to re-sign Pence, but they'll have plenty of competition with several teams hoping to address their corner outfield woes. The 30-year-old is having another solid season with a .775 OPS, 15 homers and 18 stolen bases. His best years were in Houston, though, where he was an All-Star in 2009 and 2011.
One of the teams looking for a corner outfielder this offseason will be the Rangers, who just happen to play in the city of Arlington. Just because Pence went to Arlington High School and the University of Texas at Arlington doesn't make the Rangers the favorite to land him. But if they're willing to pay him market value—a five-year, $70 million deal seems about right—I'm guessing they're near the top of his list.
Here are the three teams most likely to sign Pence:
Texas Rangers
San Francisco Giants
Houston Astros
Texas already found Nelson Cruz's replacement for 2014 when it traded for Alex Rios earlier this month. But it'll also lose left fielder David Murphy to free agency after the season and has space to bring Pence back home to Texas.