Every Thursday on The SEC Blog, we feature questions from the Bleacher Report inbox, Twitter and email at bsallee@bleacherreport.com.
You have SEC questions, and I have SEC answers. Thank you for your questions this week. If I didn't get to them, they will be saved and used in the future.
And we're off:
@BarrettSallee I think the gap is still wide but which conf can hang top to bottom with the sec... I think its the acc or pac12

— m shannon smallwood (@woodysmalls) August 15, 2013
Top to bottom, no conference can hang—no matter what Oklahoma head coach Bob Stoops says.
The gap is huge, but the Pac-12 is the No. 2 conference in America because the top end is elite and the middle is solid.
Oregon is very much a national power. While the style of offense angers Alabama head coach Nick Saban and Arkansas head coach Bret Bielema, the Ducks fine-tuned that system to maximize the talent they have on that side of the ball. Defensively, they're going to give up yards. That's unavoidable. But they've finished in the top three in the Pac-12 in turnover margin in each of the last three seasons and led the conference twice (2010, '12).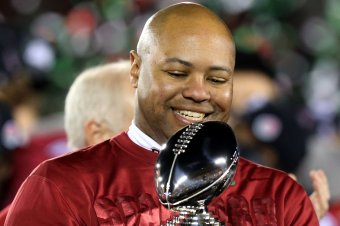 Stephen Dunn/Getty Images
A potent offense plus an opportunistic defense is typically a recipe for success.
Stanford is the polar opposite of Oregon, but still a top-tier program. David Shaw has kept that train rolling in the right direction after Jim Harbaugh left for the NFL, and if there's any team in America outside of the SEC that plays like an SEC team, it's the Cardinal.
UCLA is a dangerous Top-25 team, Arizona State is on the rise and Oregon State is almost always overlooked. I'll take those five teams over the top five teams of any conference outside the SEC.
The back end of the Pac-12 is problematic (looking at you, Colorado), but that's true of every conference.
The Program: Will Oregon Go Undefeated?
@BarrettSallee does a UT blow out loss to Oreg hurt national perception of the SEC - w/ no loss pc12 and one more and a 1 loss SEC team

— Brian Campbell (@bscampbe) August 15, 2013
No, not at all.
Tennessee is, at best, a middle-of-the-road SEC team in 2013; while Oregon is a bona fide BCS National Championship contender.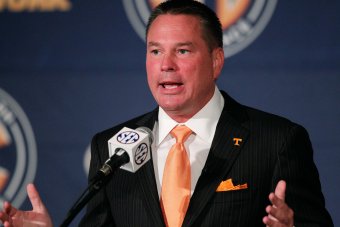 Marvin Gentry-USA TODAY Sports
The Vols are breaking in a new quarterback, new corps of wide receivers and are changing back to the 4-3 on defense after the one-year Sal Sunseri 3-4 debacle. I expect them to get blown out by the Ducks, who no doubt will use that SEC patch on its opponent as motivation.
This is one of several big-time out-of-conference matchups that shouldn't be used as a barometer for conference power, along with Mississippi State vs. Oklahoma State in Week 1 and Kentucky vs. Louisville in Week 3.
If any of those games are used as anything more than a judgment on those particular teams, people are reaching.
Now, if Virginia Tech upsets Alabama or Clemson blows out Georgia, then we can start making judgments on conference power.
Randy Sartin-USA TODAY Sports
@BarrettSallee What kind of year should we expect from Tyler Russell given an experienced line and good run game?

— Al Killingsworth (@AKills1865) August 15, 2013
That's the biggest question facing Mississippi State in 2013. Quarterback Tyler Russell set single-season school records last season with 2,897 yards and 24 touchdowns. But he struggled down the stretch, throwing nine interceptions in the season's final six games—five of which were losses.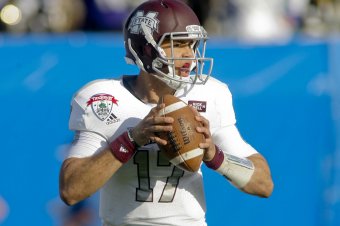 Phil Sears-USA TODAY Sports
He's likely bound for a similar season. Solid at times, but frustrating enough to cause concern.
Gabe Jackson leads that solid offensive line and running back LaDarius Perkins is the best 1,000-yard rusher that you've never heard of. If things go south for Russell, he can always rely on the running game.
With the questions at wide receiver, they may go south.
All three of Mississippi State's top options at wide receiver are gone. That means 6'1", 225-pound junior Robert Johnson, speedster Jameon Lewis, junior college transfer Jeremey Chappelle and a new host of Bulldog receivers are going to have to step up.
Can they do it?
Maybe enough for Russell to be consistent. But don't expect a major step forward.
Do you have a question for next week's Q&A? Send it to SEC lead writer Barrett Sallee via the B/R inbox, on Twitter @BarrettSallee or at bsallee@bleacherreport.com.