Jose Mourinho Brings New Angle to Mind Games at Chelsea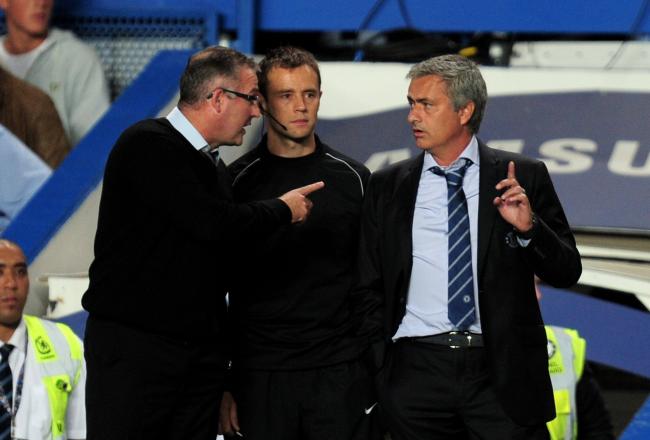 Jamie McDonald/Getty Images
Players have plenty of mental aspects that can change a football game within a matter of seconds. Having the mental strength to score a penalty, for instance, is something that can be vital in the world of football.
So what can you do to make the difference when you're not involved with the action and can only observe from the touchline?
Managers can set up the team with the best statistics in the league and deeply detailed tactical movements. They can motivate their players enough to win a game, but the pre-match buildup is essential to the events that follow.
Press conferences are the best opportunities for journalists to interact with managers and ask any probing questions in an attempt to get a scoop, but in turn, it's also an ideal time for managers to unleash their persona into the limelight.
In the scenario where a team has just lost its best player to injury, a manager can use this to his advantage to either undermine the team's rivals or detail the impact of how it might affect their performance.
Turning it around the other way, the manager could talk up the opposition, which consequently can add pressure, thus taking it off his own players and allowing them to play in a relaxed manner.
And one of the advocates of mind games, Jose Mourinho, has been busy in the limelight. Despite taking over at Chelsea only three months ago, he has already been involved in a war of mind games with Manchester United manager David Moyes over the future of Wayne Rooney.
The 27-year-old striker is reported to be a top target for Chelsea, per The Mirror's David Maddock. According to BBC Sport, Mourinho warned the England star that any player's chances of playing at the World Cup could be harmed if he was "second choice" at his respective club, hinting that Rooney should join Chelsea, where he would be the key man.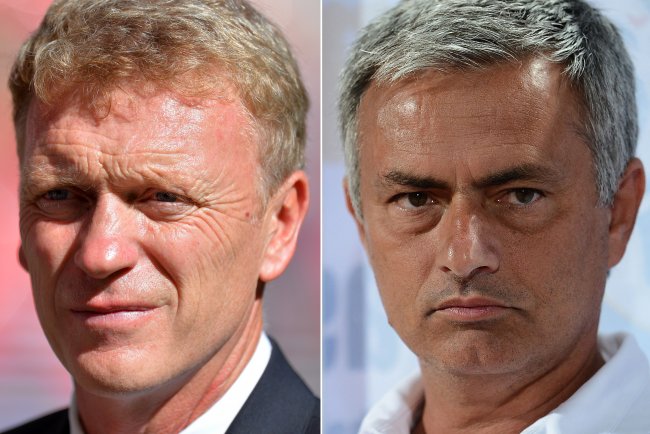 Getty Images/Getty Images
After witnessing his Chelsea players scrape past a determined
Aston Villa
side with a 2-1 victory at Stamford Bridge,
Mourinho
took the mind games to a new level with a sensational blast aimed at Aston Villa manager Paul Lambert.
The Portuguese tactician became embroiled with a touchline spat with opposite number Lambert after several decisions seemed to go against the Villains, including what appeared to be a handball by John Terry as the game entered stoppage time.
And, instead of talking about the incidents in the game, Mourinho focused on the reaction of his counterpart Lambert, who was furious with referee Kevin Friend and made his feelings clear once the final whistle was blown.
The Scot told reporters after the game, per John Percy of The Telegraph:
Everyone makes mistakes. I just thought especially when they are as big as that, you can't get them wrong. Little ones you can understand because of the pace of the game, but when they're as blatant as that, you can't get it wrong.
When quizzed about Lambert's actions, Mourinho's response was as purposeful as ever, telling BBC Sport: "Paul needs more maturity. He was complaining for every decision. He wanted to be manager, player and referee."
With this example, it's clear that the Chelsea manager was trying to gain the upper hand with Lambert, with comments such as "when I was Paul's age, I acted the same 10 years ago," almost like he was the wise old man giving advice to a young protege.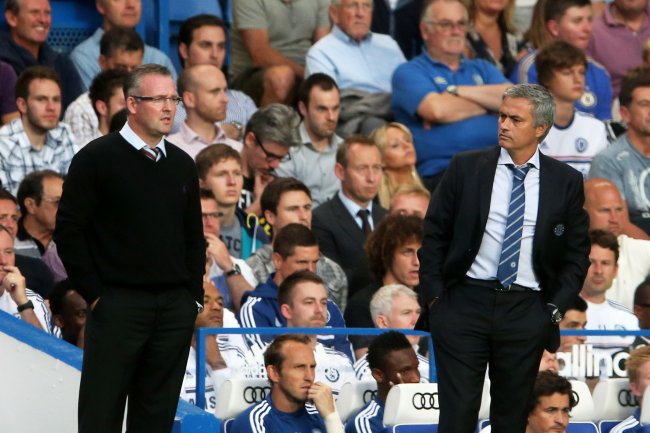 Scott Heavey/Getty Images
With all due respect to "The Special One," it was only back in May that he was sent off for protesting a refereeing decision in the
Copa
del
Rey final defeat to
Atletico

Madrid
during his time at
Real Madrid
.
The patronisation is clear to see, but it's only enforced to present Mourinho as the mature, perfect manager who can do no wrong.
It's not a form of hypocrisy; rather it's similar to a parent trying to advise his children not to make a mistake because he has already experienced the consequences.
Mourinho sees himself as above the rest, and it's fairly simple for him to reduce the impact of other teams or coaches, which inevitably sees him tagged as "arrogant" or "idiotic." In fact, to base the majority of his coaching on mentality and physicality, rather than pure ability, is fascinating.
To label the 50-year-old as anything other than a mastermind would be offensive. Love him or hate him, we are in the presence of one of the world's most successful managers in the history of football.
He has a massive admirer in Sir Alex Ferguson. Gaining the approval of the legendary Scot shows how influential Mourinho has been for English football.
His latest incident of mind games demonstrates that the new Mourinho is not quite so different from the cunning, confident character we once knew before.
Six years after leaving, he's very much the same. With his mind games from his previous tenure still doing the rounds, it's like he never left.
This article is
What is the duplicate article?
Why is this article offensive?
Where is this article plagiarized from?
Why is this article poorly edited?

Chelsea: Like this team?