Santonio Holmes Injury: Update on Jets WR's Foot, Potential Return Date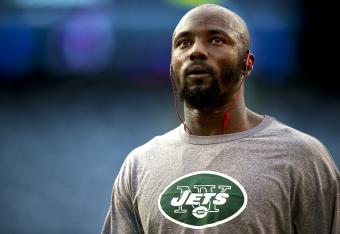 UPDATE: Sunday, Sept. 8
From Kimberly Jones of NFL.com:
Santonio Holmes will start for Jets.

— Kimberly Jones (@KimJonesSports) September 8, 2013
UPDATE: Sunday, Sept. 8
NBC Sports' Mike Florio reports a decision has yet to be made regarding Santonio Holmes' availability for Week 1 against the Buccaneers:
Per the source, a decision will be made based on how [Santonio] Holmes feels when he's on the field in pre-game warmups. The foot injury has responded slowly and unevenly, with mixed signals and conflicting messages about when or if he'll be able to play in September, or beyond.
UPDATE: Thursday, Sept. 5
From the Jets:
Santonio Holmes (foot) had a scheduled day off today. Rex Ryan hopeful he will play.

— New York Jets (@nyjets) September 5, 2013
UPDATE: Thursday, Sept. 5
From Brian Costello of the New York Post:
Was told the Jets expect Santonio Holmes to play Sunday but his snaps will be limited. #NYJ

— Brian Costello (@BrianCoz) September 5, 2013
UPDATE: Wednesday, Sept. 4
From the New York Jets:
Practiced on a Limited Basis: Antonio Cromartie (hip) Kenrick Ellis (low back) and Santonio Holmes (foot).

— New York Jets (@nyjets) September 4, 2013
UPDATE: Tuesday, Sept. 3
Brian Costello of the New York Post reports Santonio Holmes is expected to be ready when the Jets' open the season against the Buccaneers on Sunday:
[Santonio] Holmes practiced yesterday and appeared to be moving well during the 30-minute window the media was permitted to watch.

A source indicated the Jets believe the receiver would definitely play.
Costello also passed along a statement from Holmes' teammate Stephen Hill:
'[He's making] great cuts,' wide receiver Stephen Hill said. 'The speed is going to always be there. But just breaking and cutting, he looks the same as last year.'
UPDATE: Sunday, Sept. 1
Rich Cimini of ESPN New York spoke with guard Willie Colon about the status of Holmes entering Week 1 against the Tampa Bay Buccaneers:
He seemed rather confident that Holmes, the mercurial wide receiver with the surgically repaired foot, will play in Week 1.

"Santonio is back," said Colon, who also mentioned the experienced offensive line, the additions of Chris Ivory and Mike Goodson (suspended) and the promising preseason of Bilal Powell as reasons to believe.

"He looks good to me," Colon said.
UPDATE: Wednesday, Aug. 28
Matt Ehalt of ESPNNewYork.com passes along a statement from Santonio Holmes regarding the recovery of his foot injury and his availability for the Jets' season opener against the Tampa Bay Buccaneers:
'That's coach's decision. Doctors still have to continue to evaluate me,' [Santonio] Holmes said about the opener. 'It's been a long process. I've come a long way up to this point and can't put any timetable on it.'

'Just because of my progress of doing something to your guys' attention, [it] doesn't really boost the trainer's push for me to be on the field right away...'

... 'I have a long career ahead of me,' Holmes said. 'I'm going to take the best risk and the best chances for myself and for the team...'

... 'Still looking forward to that day," Holmes said of the opener. "And when it comes, hopefully I'm ready.'
Ehalt followed with a statement from Jets head coach Rex Ryan:
'He knows himself better than anybody. What I've observed, I think he's in great shape, I really do,' [Rex] Ryan said. 'I was being truthful when I said that. I'm not trying to hold anything back. I believe that he's in phenomenal shape. I saw him run, he looked pretty good to me.'

'I'm optimistic about it. We'll see. Obviously the young man has to sign off before anybody plays. ... We're not going to put a player ever at risk. So we'll see.'
UPDATE: Tuesday, Aug. 27
From Brian Costello of the New York Post:
Rex says they're just phasing Santonio Holmes into practice at this point. #nyj

— Brian Costello (@BrianCoz) August 27, 2013
Santonio: "I have a long career ahead of me." Says he'll do the best thing for himself and the team. #nyj

— Brian Costello (@BrianCoz) August 27, 2013
UPDATE: Monday, Aug. 26
Ian Begley of ESPN New York wrote about Holmes' first day back at practice:
During the portion of practice open to the media, Holmes looked smooth cutting on the field, though he was running routes at less than full speed.

It is unclear if Holmes will play in Thursday's preseason finale against Philadelphia or in the Jets' regular season opener against Tampa Bay on Sept. 8. But the fact that Holmes returned to practice Monday is promising. If the Jets didn't expect him to play early in the season, they would've left him on the physically unable to perform list to start the year, meaning he'd miss a minimum of six games.
QB Mark Sanchez commented on how Holmes looked as well (via Begley):
"He looked pretty good. He's running around and catching passes, so it's nice to see him with a helmet on and ready to go."
UPDATE: Monday, Aug. 26
From Seth Walder of the New York Daily News:
Santonio Holmes is practicing. #nyj

— Seth Walder (@SethWalderNYDN) August 26, 2013
UPDATE: Friday, Aug. 23
From ESPN's Rich Cimini:
Well, look at this: Santonio Holmes has been moved from PUP to the active roster, the #Jets announce.

— Rich Cimini (@RichCimini) August 23, 2013
Original Text
According to The New York Post's Brian Costello, many among the Jets organization have begun losing patience with the veteran wideout and believe Holmes is exaggerating the severity of his injury at this point in the recovery process in order to avoid training camp:
An organizational source said many people around the team believe the mercurial wide receiver is just trying to avoid training camp and he is healthier than he is letting on. In fact, a source said Dr. Robert Anderson, the foot specialist in North Carolina who operated on Holmes, has cleared Holmes to begin football activities, but Holmes has resisted.
Holmes claims that he still feels pain in the injured foot every day, per Costello:

I can't pinpoint a day when it will feel better because every day has been the same up until this point. I feel good some days. I don't the others. This pain won't go away. It's something I can't predict because I have to get up and I have to run. I have to cut. I have to put pressure on it and apply as much pressure as I can to run routes and to feel comfortable.
According to ESPNNewYork.com's Rich Cimini, Holmes suffered a Grade 4 injury to his foot, the "most severe kind." There was not only a muscle tear but also joint separation in the foot that required doctors to insert screws for a temporary period.
But as Costello reports, many closely involved with the Jets organization are confident that Holmes will "suddenly" be ready to suit up once the regular season kicks off in September.
The 29-year-old was targeted 41 times last season and recorded 20 receptions for 272 yards and one touchdown before going down and being placed on injured reserve.
2012 marked the first season of Holmes' seven-year career in which he failed to appear in at least 12 regular-season games.
Holmes is set to begin his fourth season with the Jets, who acquired him in April 2010 via a trade with the Pittsburgh Steelers that sent a fifth-round draft pick to the Steel City in exchange for the former Ohio State star.
This article is
What is the duplicate article?
Why is this article offensive?
Where is this article plagiarized from?
Why is this article poorly edited?

New York Jets: Like this team?