Early Look: My Top 10 Senior Quarterbacks for the 2014 NFL Draft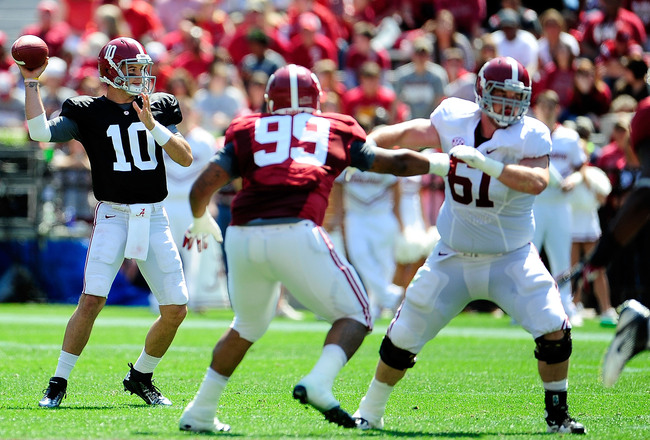 Stacy Revere/Getty Images
With the college football season nearly upon us, I wanted to put out my annual top 10 senior quarterback list for your consideration. This list is only seniors, not juniors or draft-eligible sophomores, so no, you won't be seeing Teddy Bridgewater or Johnny Manziel here.
In previous years I've put this list out in other publications, but this will be my first time posting it here, exclusively for Bleacher Report.
When evaluating a quarterback for transition to the NFL, I use a blend of personal metrics and my own evaluations of the quarterback's velocity, accuracy, ability to manipulate the pocket and most importantly if and how he elevates the talent around him.
Great quarterback prospects elevate the talent around them every time. Many of the "busts" in recent years were players who were, instead, elevated by the talent and systems around them. One needs to look no further than the parade of USC quarterbacks following Carson Palmer for evidence of that.
So without further ado, here is my preseason list of the top 10 senior quarterbacks for the 2014 NFL draft.
1. Stephen Morris, Miami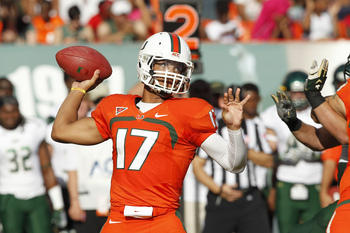 Joel Auerbach/Getty Images
Stephen Morris doesn't exhibit overwhelming size, but at 6'2" and 218 pounds, he does meet the arbitrary "minimum size" teams look for in an NFL-caliber quarterback prospect. Morris has exceptional arm strength and can easily complete throws to all nine routes on the route tree, including the "deep out."
Aside from the "well-spun" (tight spiral) pass, the thing that pops out at me most on that play is how Morris uses his natural athleticism to elude rushers and buy time, all while keeping his eyes up and downfield. Too many "athlete" quarterbacks these days drop their eye level and lose the developing play, causing them to be forced to take off with the ball, trading a potential big gain for the outcome of a scramble.
Morris also posted an impressive 21-7 touchdown to interception ratio. While hardly gaudy numbers when juxtaposed with the stat lines from the "air raid" quarterbacks, it does show that Morris is effective in getting the ball in the end zone without turning it over, a must for any aspiring NFL quarterback.
2. Jeff Mathews, Cornell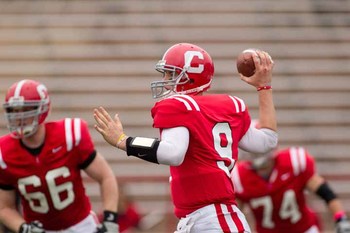 What, you haven't heard of Jeff Mathews? Given that he plays for Ivy League member Cornell, it's doubtful most have. NFL teams are paying attention, though.
Mathews is going into his fourth year as a starter for the Cornell Big Red in an offense that's as versatile as they come. The 6'3", 224-pound Mathews has played out of shotgun, pistol and under-center formations and shows an eagerness to learn the intricacies of each.
As a prospect, the first thing you notice is the way the ball flies out of his hand. The second thing you'll notice is how many of his passes are dropped by his receivers. He displays an impressive ability to read the complete field and zip the ball in where only his receiver can get it. He has an impressive feel for the pocket and isn't afraid to try to create with his feet, though he doesn't possess elite athleticism. Mathews displays a willingness to hang tough and take a shot to get the pass out. He always keeps his eyes up and downfield looking for the receiving target, feeling the rush rather than watching it. He possesses a good pump fake and a quick release.
3. David Fales, San Jose State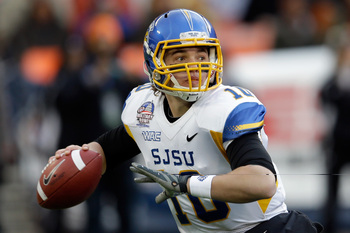 Rob Carr/Getty Images
The well-journeyed David Fales caught the attention of scouts last season with his opening performance against Stanford, in which the Spartans very nearly upset the Cardinal. Fales finished the season leading San Jose State to a Top-25 finish, a Military Bowl win, and an 11-2 season. Fales completed an absurd 72.5% of his passes on 9.2 yards per attempt with 33 touchdowns to 9 interceptions. Perhaps most impressive, though, were his red-zone numbers for the year: 28-47 for 277 yards 17 touchdowns, and a meager one interception (hat tip: @JuMosq). Those numbers really speak volumes about Fales' accuracy and ability to put velocity on the ball in the short and mid game, as defenses are compressed in the red zone and the windows to throw the ball into are much smaller.
At just under 6'2", Fales is slightly shorter than ideal height for an NFL quarterback. He compensates for this with his fantastic pocket movement, finding throwing lanes and making highly accurate passes. He has also been noted to have small hands, though they don't seem to have troubled him in gripping collegiate footballs. Scouts will also wonder about Fales arm strength, and three stops (Nevada, Wyoming and Monterey Peninsula Community College) before finally earning the starting job at San Jose State.
Fales isn't a fit for every offense at the NFL level, but he should be considered a solid West Coast concepts offensive option.
4. Tajh Boyd, Clemson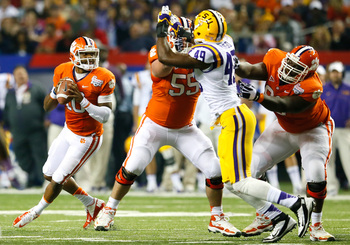 Kevin C. Cox/Getty Images
Tajh Boyd is a prospect that divides many evaluators. Some see the potential or upside and think that he'll grow into the prospect they want him to be; others see a talented athlete surrounded by a lot of talent at the skill positions who may or may not be a quarterback at the next level. That he works from a primarily one- or two-read spread offense doesn't make evaluating him easy.
Boyd certainly has athleticism and a live arm but has shown a maddening inconsistency when it comes to reading the field and delivering the ball on target. At 6'1" and 225 pounds, Boyd posses a short, thick frame, more in line with a tailback than a traditional quarterback.
He does get the ball out quickly and uses different throwing platforms to vary his release, but this may be systemic to the overall accuracy problem he has. Boyd has had an embarrassment of riches at the skill positions around him in his time at Clemson. Many (myself included) feel that players like Sammy Watkins, DeAndre Hopkins and Andre Ellington as well as the quarterback-friendly system Boyd plays in have done more to elevate him than he has to elevate his team.
Boyd received a lot of hype following Clemson's dramatic Chick-fil-A Bowl victory over LSU, but even in that game, where Boyd threw for 346 yards and two touchdowns (chipping in an additional touchdown on the ground), he was maddeningly erratic with his ball placement. Several times his much-heralded receivers bailed him out, making spectacular plays on otherwise poorly thrown balls.
This season will be huge for those evaluating Boyd and trying to determine whether he is a product of the system and players around him, or whether he is the one, in fact, elevating them.
5. Derek Carr, Fresno State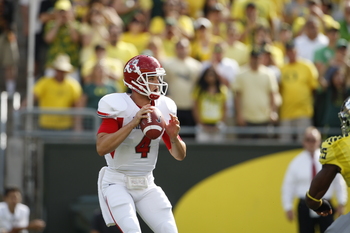 Kevin Casey/Getty Images
Derek Carr is the younger brother of New York Giants backup and former Houston Texans No. 1 overall pick David Carr. He has been highly statistically successful at his brother's alma mater and goes into his senior season looking to lead the Bulldogs to a Mountain West Conference championship.
Mechanically, Carr is pretty sound. He certainly has a strong grasp of the fundamentals of playing the quarterback position, and that's likely in no small part due to tips from his big brother. Carr has all the tools you look for out the classic pocket passer: strong arm, efficient motion and a quick release. He doesn't turn the ball over often either.
Where some are concerned with Carr is his propensity to implode in the face of pressure, eerily similar to the quarterback his brother became after the shellacking he took in his first two seasons behind the Houston Texans offensive line. Carr has also been a bit dinged up over his career. He possesses a thin frame and will need to bulk up a bit for the next level.
6. Aaron Murray, Georgia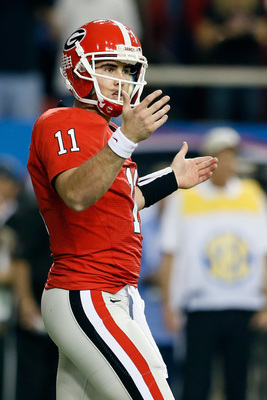 Kevin C. Cox/Getty Images
The recent successes of shorter quarterbacks in the NFL like Drew Brees and Russell Wilson have people thinking Aaron Murray can be the next undersized star quarterback in the league. It's a notion buoyed no doubt by the ringing endorsement of former Tampa Bay Buccaneers and Indianapolis Colts head coach Tony Dungy. It should be noted that Dungy's son, Oregon Ducks wide receiver Eric Dungy, was a high school teammate of Murray's.
Murray is an athletic, undersized passer who displays an ability to throw well on the move. He has above-average velocity, but he struggles with keying on primary reads and holding the ball too long. His height doesn't seem to hinder him, but I think comparisons to Drew Brees are overwrought, as his game reminds me much more of Brees' former backup, Chase Daniel
Murray is a four-year starter in the toughest defensive conference in football. He seems to, at times, struggle getting into the flow of a game and excels more as the game progresses. His second half touchdown-to-interception ratio last year was an astounding 20 to 1 (h/t @RussMitchellCFB).
I think Murray has what it takes to stick in the NFL as a career backup with spot-start ability, but I highly doubt he's viewed as a franchise quarterback, much less the top overall pick, with apologies to coach Dungy.
7. Bryn Renner, North Carolina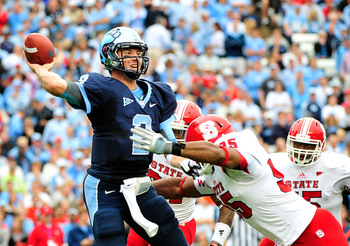 Grant Halverson/Getty Images
With a great season last year in new head coach Larry Fedora's pass-happy attack and an impressive performance at the Manning Passing Academy this offseason, North Carolina Tar Heels quarterback Bryn Renner's stock has certainly been on the rise.
Renner impresses me in that he takes very few negative plays. He had only seven interceptions last season and was sacked only 11 times in 433 dropbacks (compare that to Alabama's A.J. McCarron who took 22 sacks in only 314 dropbacks). He has sneaky athleticism and uses that to manipulate the pocket, buying him extra time to make plays. He does have a propensity to throw the ball off his back foot and probably the widest base I've ever seen a quarterback throw with.
Renner showcases upper-level arm strength and the ability to progress through his reads to the third man pretty quickly. He'll take the checkdown when nothing is there instead of trying to squeeze a pass in that he shouldn't. In the coming season, scouts will want to see him clean up his mechanics and continue to exhibit the growth he did last season.
8. A.J. McCarron, Alabama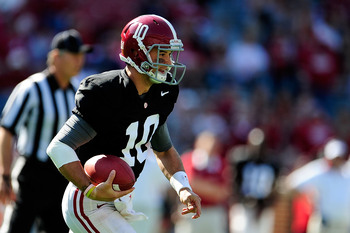 Stacy Revere/Getty Images
A.J. McCarron gets a lot of hype for being the starting quarterback of the back-to-back BCS Champion Alabama Crimson Tide, and occasionally for other reasons too. When I look at McCarron on tape though, I just don't see it.
He's certainly a cerebral quarterback; efficient, and not prone to mistakes or turnovers, but he also shows limited tools. If you watch last year's Texas A&M game, McCarron cost his team no less than three chances to score in the second half, underthrowing wide receivers who were wide open deep. McCarron was nursing a rib injury at the time, but you can go back and look at other games earlier in the season and see that McCarron lacks velocity in the deep game.
When looking at a quarterback, one thing I ask myself (as previously mentioned) is "how does this guy elevate the play of the teammates around him?" In McCarron's case you don't really see it. Despite playing behind an offensive line that would have been the envy of several NFL teams last year, he was sacked 22 times in only 314 dropbacks. He also was the beneficiary of backfields that included the likes of Trent Richardson, Eddie Lacy and T.J. Yeldon over the last few years, as well as having the services of top wide receiver prospect Amari Cooper at his disposal.
When I look at McCarron, I see all the traits I look for at the NFL level—in a backup quarterback. He's efficient and not going to turn the ball over, but then he's never going to put a team on his back either. McCarron looks like the type of quarterback best suited as a career backup with some spot-start ability in a pinch. At a minimum he'll need a strong run game and solid defense behind him to be successful at the professional level.
9. Zach Mettenberger, LSU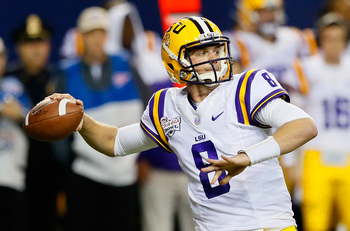 Kevin C. Cox/Getty Images
Between Aaron Murray, newly minted starting Auburn Tiger quarterback Nick Marshall and Zach Mettenberger, the Georgia Bulldogs will have no less than three current or former quarterbacks starting in the Southeastern Conference this year. Mettenberger was dismissed from the Bulldogs for a violation of team rules and wound up taking the JUCO route before catching on at LSU.
Mettenberger is built in the classic pocket passer mold at 6'5" and 230 pounds. He has plus arm strength and reminds me a lot of Derek Anderson in his style of play. He's not a threat to gain yardage with his feet, but he has shown ability to throw the ball on the move in some of LSU's waggle concept plays last year.
Mettenberger isn't very efficient with the football, showing an exaggerated throwing motion at times. He takes longer to get the football out than most quarterbacks I've charted. This is reflected in his being sacked on eight percent of his total dropbacks (once every 11 passing attempts). When he does get the ball out, Mettenberger spins a clean football with plus velocity.
He hasn't shown much of an ability to manipulate the pocket, preferring to simply stand there until someone comes open or he is sacked. He doesn't show much of an ability to look defenders off, usually keying in on one target and attempting to force it in and rarely progressing through his reads. This is reflected in his relatively poor (58 percent) completion percentage.
LSU hired deposed Baltimore Ravens offensive coordinator Cam Cameron as their new offensive coordinator this offseason, and this has lead to some optimism that Mettenberger will take the next step as a prospect, a progression I'd love to see. At this time, however, the tape shows a prospect more on par with former San Diego State quarterback Ryan Lindley than a franchise/first-round type quarterback.
10. Cody Green, Tulsa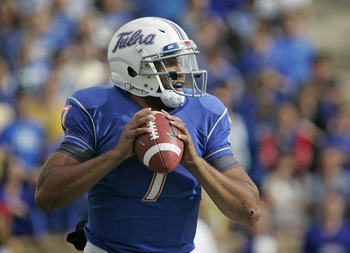 Brett Deering/Getty Images
Another prospect many aren't as familiar with is former Nebraska Cornhusker Cody Green. A former Rivals top 10 quarterback, Green transferred to Tulsa and hasn't looked back.
At 6'4" and 247 pounds, Green is exceptionally well built for the quarterback position. He moves exceptionally well in the pocket and only took eight sacks in 419 dropbacks. He does have mobility, having been clocked at 4.6 in the 40-yard dash, but he uses his feet to buy time in the passing game rather than for taking off and running. He does well keeping his eyes up and downfield, looking for the passing play and feeling the pass rush naturally rather than focusing on it.
Green does have a low release point for quarterback of his height. At times, he exhibits a sidearm release and will have balls tipped. He also shows a lean in his throwing stance that will put him off balance on throws, leading to interceptions.
Green isn't a guy you draft to be a day-one starter; but if you have the roster room for a two-year project, he has a lot of potential. He needs a mechanical and fundamental makeover, but a guy with patience and experience in doing that for quarterbacks, Chris Weinke or Mike Shula for example, could really see their time pay off with a guy like Green.
Keep Reading