Arsene Wenger: Right Man, Wrong Place, Wrong Time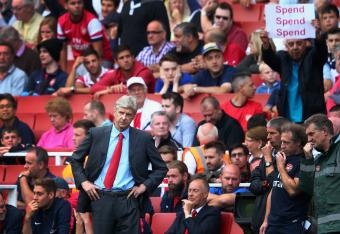 Clive Mason/Getty Images
Moneyball, the true story of Billy Beane's visionary approach to building a winning baseball team with vastly inferior finances to his competition, hit the big screen in 2011. Beane's Oakland Athletics used advanced saber-metrics to try and decipher which players were most undervalued and therefore build a team worth far more than it cost.
With each passing transfer window it appears more likely that Arsene Wenger was in the audience. And while most movie lovers swoon for the romance of Casablanca, A Brief Encounter or whatever story tugs best at their heart strings, Wenger appears to have fallen for the tale of two middle-aged men talking about on-base percentage.
In the Athletics' 2002 season—the one chronicled in the film—they lost their best players, Johnny Damon and former MVP Jason Giambi, before the season began. They signed replacements for peanuts.
Similarly, despite the departures of Cesc Fabregas, Samir Nasri, Gael Clichy and Robin van Persie in past couple of seasons, Wenger has spent moderately at best.
Financially speaking, Wenger has become tighter than Ledley King's hamstring after walking to the fridge.
But while the players flow in and out of the club as Jack Wilshere does to the treatment room, they are all tied together by a single theme: value.
Wenger would much rather discover a Robin van Persie for pennies and finish fourth than sign him as a star and win the league. The former takes skill, research and intelligence. The latter takes money.
"Le Professeur" wants to give everyone a lesson in footballing acumen. The problem is no one's taking his course.
One of the most intriguing insights into Wenger's frame of mind was when he publicly described the debated transfer fee for Tottenham's Gareth Bale as "crazy." And he's right. Real will need to break the world transfer record to sign Bale as that's the only way to prise him away from White Hart Lane.
But that doesn't make him worth that much. Arsenal could have done the same to sign Luis Suarez. £60m would have probably done the job, and he would improve the Arsenal team immensely the way Bale will Real's. But he he's not objectively worth that much. That's how Wenger's mind operates and that's why Luis Suarez is suddenly happy to be a Liverpool player again.
Another thing Wenger's arms-crossed stoicism opens up is the wider debate about footballing finances.
Everyone loves the idea of financial fair play. So long as it's not their team cutting back.
I've yet to meet one fan who doesn't want their team to produce more players from their academies, or homegrown players for that matter. But if your team has the chance to sign Willian instead, who cares?
This mindset optimises the footballing version of what Garrett Hardin called "the tragedy of the commons" that the sport is currently engulfed in.
Football clubs are becoming more commercial, more exclusive and less likable each season.
Maybe what Wenger is showing as much as backbone is a sense of perspective.
The Premier League has a net spend well over £300m this window. Almost £200m more than any other league. The gossip chaos and Harry Redknapp car-window interviews (unfortunately we'll miss those this year) are all very entertaining, but they are not good for the game more generally. Yet fans are understandably short-sighted, focusing solely on the last result and the next game.
This brings us on to the other main factor working against Arsene Wenger: Arsenal.
Were Wenger doing this at say Everton, like David Moyes for the past decade, then he'd be thought to be acting in that manner largely due to circumstances. Billy Beane also had no choice but to spend frugally because his stars left as free agents, leaving him to rebuild from scratch.
But with fans desperate for a return to the top table and money pouring in from player sales and commercial revenue, Wenger still can't be swayed. And I love it.
One of the main reasons Beane was so adulated was because he wasn't supposed to be successful. Arsenal are, and that is the biggest drawback in Wenger's plan.
In 2002, the Oakland Athletics won their division, qualifying for the playoffs against all odds, but were eliminated in the first round. Beane's club effectively finished joint-fifth in that MLB season, but if Wenger finishes fifth this season he'll be fired.
Why? Because back in 2002 when Beane's Athletics were turning heads, Wenger's Arsenal were winning the League. Both men have done the remarkable. But the differing expectations will separate their fates.
This article is
What is the duplicate article?
Why is this article offensive?
Where is this article plagiarized from?
Why is this article poorly edited?

Arsenal: Like this team?