Predicting the Top 3 NBA Rookies at Every Position in 2013-14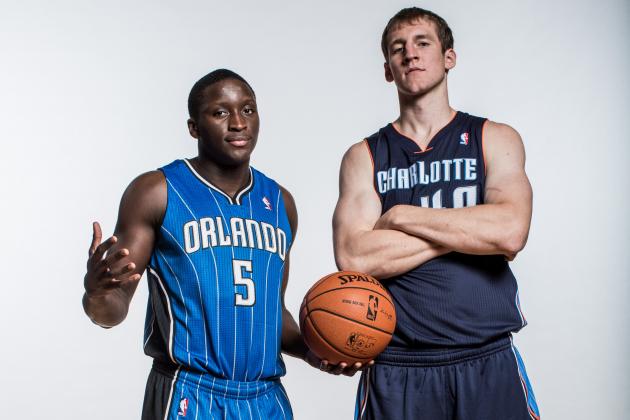 Nick Laham/Getty Images

When ranking NBA rookies by position, there are two main elements to take into account: readiness and playing time.
Unfortunately, not many rookies from the 2013 class will have the opportunity to contribute in their first pro season.
We predicted who the top three rookies at each position will be by the time their first season ends. Remember, these aren't projected final career rankings—they're just based on how we expect them to perform in their first year.
Begin Slideshow

»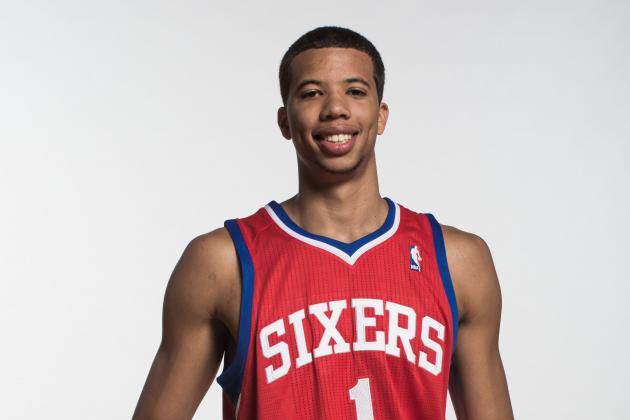 Nick Laham/Getty Images

Minutes won't be a problem for Michael Carter-Williams, who looks to have the starting point guard spot locked up.
But Carter-Williams isn't necessarily NBA-ready, and with a supporting cast unlikely to lend much support, this could be an ugly year statistically for Philly's new rookie point guard. The projected starting lineup looks like MCW, Jason Richardson, Evan Turner, Thaddeus Young and Spencer Hawes.
He turned the ball over nearly five times per game in summer league, and it won't get any easier against NBA starting lineups. Carter-Williams has also struggled to shoot the ball, which has restricted him in other areas.
He'll flash his strengths as a dynamic playmaker on a routine basis, but due to his projected inefficiency, I'm expecting two other point guards to look more impressive as rookies.
This says nothing about Carter-Williams' long-term outlook. I'm just not a fan of the current situation the Sixers have put him in.
Dennis Schroeder may not get the starter minutes that Trey Burke and Michael Carter-Williams will receive, but it's possible he impresses more than both in a limited role.
He'll start his career backing up Jeff Teague. This seems to me like it has the makings of a Chris Paul-Eric Bledsoe situation. Teams are going to start finding out that Atlanta has a gem on its bench that it can't fully use because of its current starter at the position.
I'm expecting Schroeder to make a statement in whatever his role is as a rookie, and ultimately generate interest around the league as a potential future starter.
He's got the skill set, breakdown quickness, length and shoulders to fit right in once he adjusts and develops. I wouldn't be surprised if Schroeder finished his career as the top point guard in the 2013 draft class.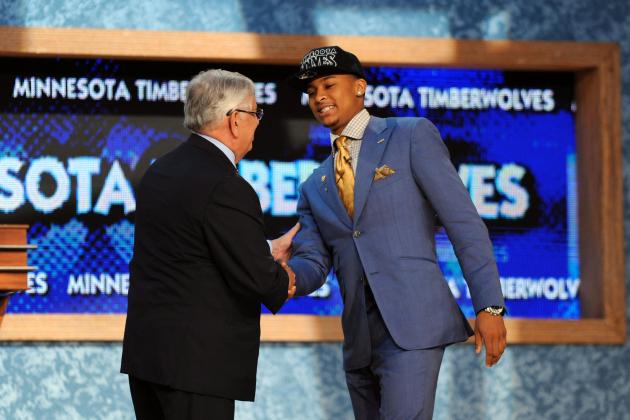 Joe Camporeale-USA TODAY Sports

Trey Burke was the first point guard off the board, and he'll have as good of a shot as anyone to take home Rookie of the Year honors in Utah.
With John Lucas the only other point guard on the roster likely to see any meaningful playing time, you can be sure that Burke will get a ton of reps as a rookie. That's good news for Burke, who needs the playing time and experience to adjust to the size and speed of the game.
Burke is bound to have plenty of downs with the ups he'll eventually flash, but only Michael Carter-Williams will have his freedom as a rookie. And simply put, I'd take Burke before MCW.
The reigning National Player of the Year should put up solid numbers in his first year in the league, something few other point guards will have the chance to do in 2013-14.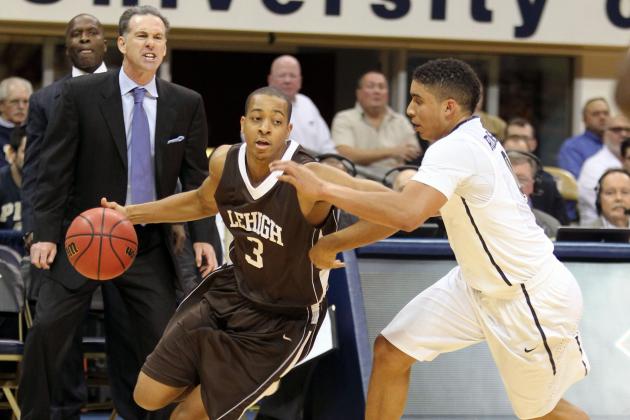 Charles LeClaire-USA TODAY Sports

With the addition of Mo Williams, C.J. McCollum appears to have moved from backup point guard to backup shooting guard.
This is probably good news for McCollum, who can now just focus on doing what he does best: scoring.
His role for Portland will be to come off the bench and put points on the board. He averaged at least 19 per game in four years at Lehigh, so this isn't anything new. McCollum can generate his own offense from anywhere on the floor, whether he's creating his own shot or freeing himself up off the ball.
He's easily the most polished scoring guard coming out of the draft. The only question will be his workload, as Portland now has Damian Lillard plus two veteran guards in Williams and Wesley Matthews.
Either way, his lights-out long ball and advanced offensive repertoire will allow him to step in right away and knock down shots from all over the floor.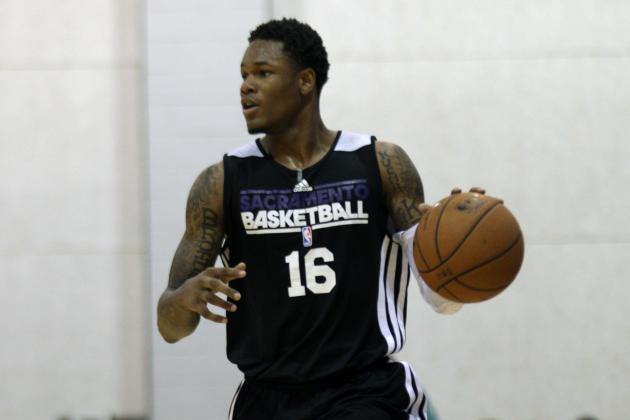 Stephen R. Sylvanie-USA TODAY Sp

I'm expecting Ben McLemore to lead all rookie shooting guards in scoring, though I've got inconsistency holding him back from taking the No. 1 positional ranking.
He certainly has the highest upside of any rookie guard. With one of the sweetest strokes you'll see, McLemore is capable of taking over a game on the perimeter. In summer league, he showed an improved ability to separate and knock down shots off the dribble.
We know how sharp he is off the catch-and-shoot and how explosive he is in the open floor. McLemore is a guard who can get his team easy buckets in the half court and transition.
The key for McLemore will be managing those cold streaks. Considering how much of his offense comes from the outside, he's prone to cooling off.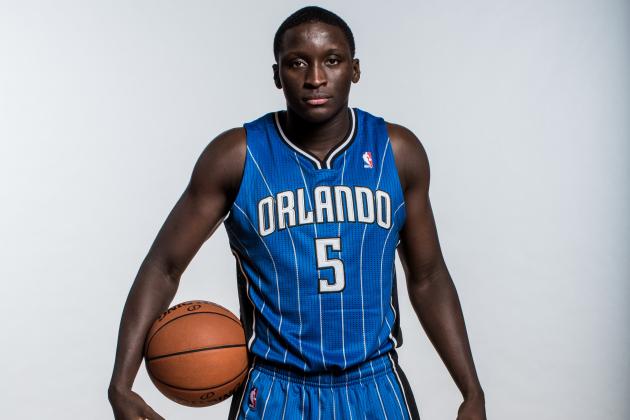 Nick Laham/Getty Images

Victor Oladipo appears to be the most NBA-ready rookie in the class after he tore up the Orlando Summer League for 19 points and five assists per game.
His ability to impact a game even without scoring is what puts him on another level from the other rookie 2-guards. However, his improvement as a playmaker with the ball in his hands has been noticeable. He's doing a better job of creating his own shot and setting up teammates for open looks.
Oladipo's jumper is also seemingly becoming more accurate by the day. He knocked down over 50 percent of his threes in summer league after boosting his long-range percentage at Indiana to 44 percent as a junior.
He'll enter the season as one of the favorites for Rookie of the Year and the top rookie shooting guard in his class.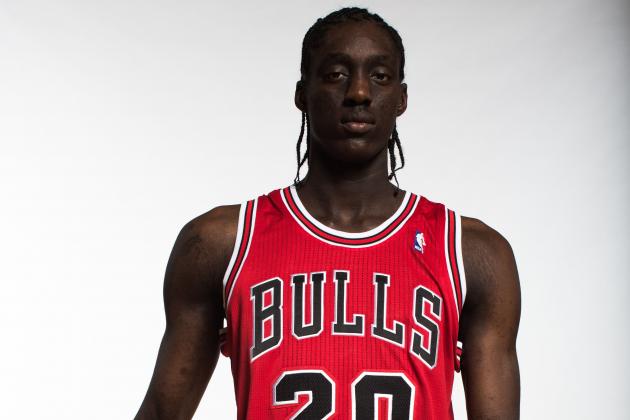 Nick Laham/Getty Images

I'm not sure how NBA-ready Tony Snell is, but Chicago isn't too deep at the wing position. It has two strong starters in Jimmy Butler and Luol Deng, but Mike Dunleavy is the team's only backup.
If Snell proves to be a reliable three-point threat and can quickly pick up on Tom Thibodeau's defensive rotations, the Bulls might not have a choice but to play their first-round pick.
Snell had been knocked in the past for having an inconsistent motor, while his off-the-dribble game and shot creativity are both lacking.
But Snell has great length, athleticism and defensive potential, as a well an accurate jumper with three-point range. Given his strengths, the Bulls actually have a reason to play him in a limited role. I'm just not sure how much he'll be able to produce this season.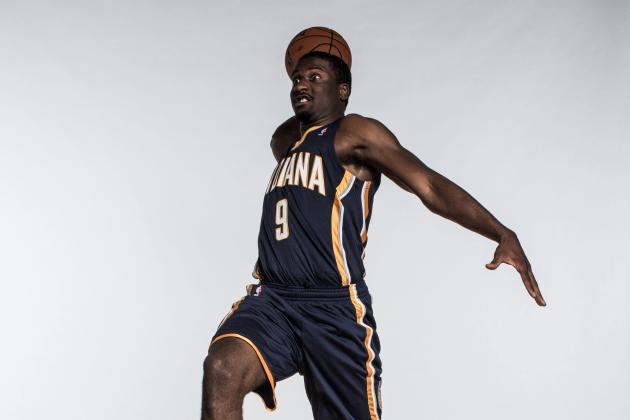 Nick Laham/Getty Images

I know what you're thinking, because I was thinking it too: Solomon Hill can't possibly be the No. 2 rookie small forward.
But take a look at some of his competitors. Not many of them are in a position to play this upcoming season. Shabazz Muhammad has a boatload of wings ahead of him on the depth chart and has already been threatened with the D-League. Sergey Karasev isn't likely to contribute this upcoming season, while Reggie Bullock sits behind veterans Jared Dudley and Matt Barnes.
Hill is physically NBA-ready and looked sharp during the summer. He's really only a Danny Granger "knee soreness" away from being forced into the rotation as a wing, depending on how Indiana uses Chris Copeland.
Either way, the Pacers took a four-year senior in the first round with the understanding he'd be able to contribute sooner rather than later.
If Granger remains healthy and Copeland shines as a backup 3, then Hill might not see the court and this ranking is totally shot. But he's still in a better position to play than some of the other rookie small forwards.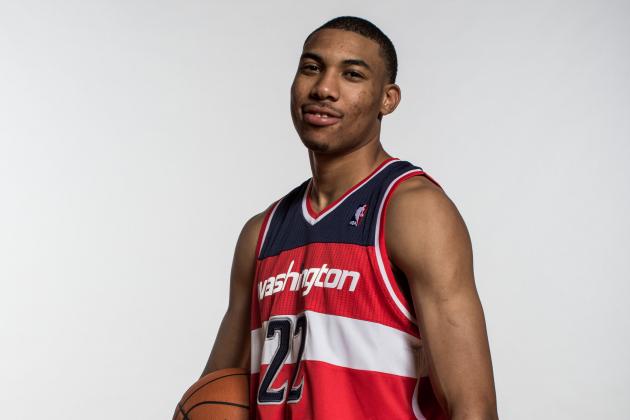 Nick Laham/Getty Images

Otto Porter doesn't have much competition for the top rookie small forward. The No. 3 pick in the draft is likely to step right into the rotation and make an immediate offensive impact.
Or at least that's the plan.
Porter is a versatile offensive player with a high basketball IQ and live motor. Though not the greatest shot-creator, Porter is a reliable shot-maker—he can knock them down in the mid-range, behind the arc, fading away or off one foot.
But without the ability to create, Porter can be vulnerable to disappearing. He's sound in every department of the game but doesn't have any one standout skill.
Regardless, he's not a guy who's going to ruin the offensive flow or shoot you out of a game. He's a non-risk for Washington and the favorite to emerge as the top small forward in his class.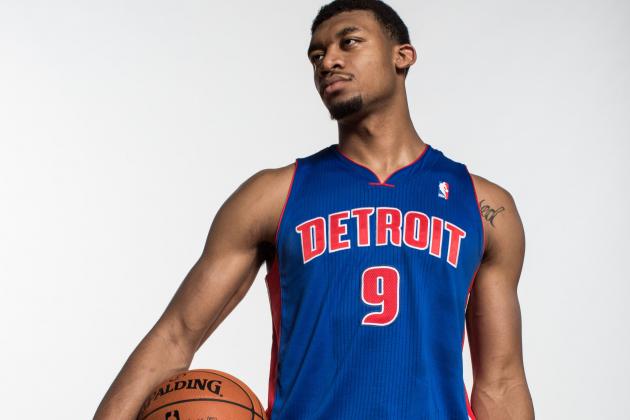 Nick Laham/Getty Images

This had to be one of the shallowest power forward drafts in recent memory. Anthony Bennett and Cody Zeller were really the only 4's to go in the first round (I'd consider Andre Roberson a 3).
That leaves Tony Mitchell as the only other power forward with a realistic shot to make an impact as a rookie.
Mitchell is awfully raw offensively, but chances are he'll be the top athlete on the floor whenever he takes it. In a limited role, sometimes it's not always necessary to have a refined skill set. Mitchell can add to Detroit's frontcourt athleticism and help it pick up easy buckets above the rim and in transition.
He can also be used as a defensive asset, as Mitchell blocked a ton of shots at North Texas (2.7 per game last season).
I wouldn't bet on Mitchell jumping right into the rotation, but he at least has a shot at cracking it sometime throughout the year.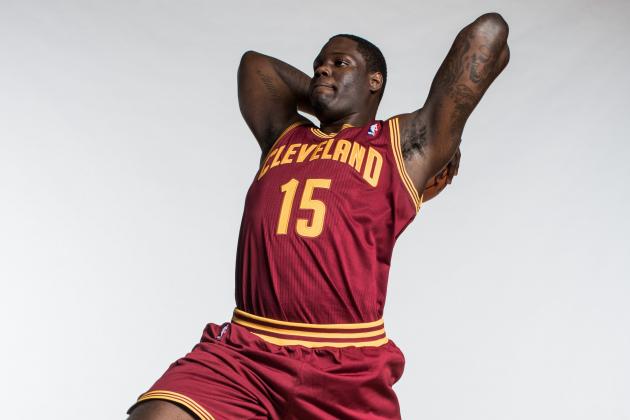 Nick Laham/Getty Images

Anthony Bennett is entering his rookie year without having participated much in offseason activities (shoulder surgery).
He's also entering a loaded frontcourt consisting of Tristan Thompson, Anderson Varejao, Andrew Bynum, Earl Clark, Alonzo Gee and Tyler Zeller. There's a good chance Cleveland chooses to ease Bennett into the lineup and make him earn his spot in the rotation.
The Cavaliers are also still trying to figure out what his natural position will be. He's got the game of a power forward with the size of a wing (6'8'').
Still, Bennett is physically NBA-ready. His strength, athleticism and explosiveness alone should contribute to a few highlight plays per game that flash his towering ceiling.
But Cleveland took Bennett No. 1 overall because it loves his long-term upside, not his short-term outlook.
In terms of power forwards, this draft class just didn't produce many. Bennett is essentially No. 2 on this list by default. Don't expect No. 1-type results in Bennett's rookie year in Cleveland.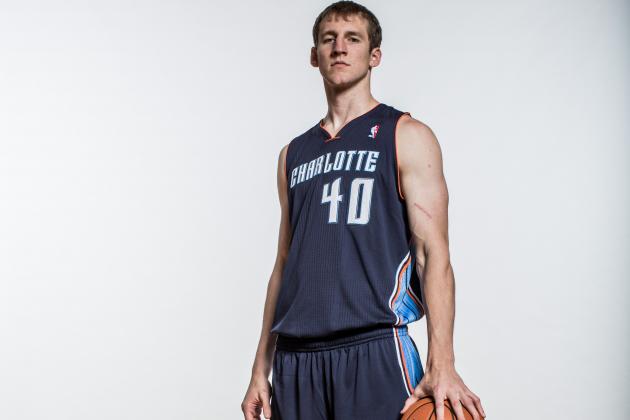 Nick Laham/Getty Images

Cody Zeller will likely make the transition from center to power forward with the addition of Al Jefferson. This shouldn't bother Zeller, whose skill set and foot speed are far more dangerous away from the rim.
He looked awesome in summer league. Zeller was attacking his man off the bounce and finishing after contact with both hands. He was also knocking down jumpers from 20 feet away.
Slower big men just won't feel comfortable defending Zeller out on the perimeter.
A polished scorer with top-notch athleticism and instincts for a 7-footer, Zeller should pose as an immediate impact player for Charlotte and a sleeper candidate for Rookie of the Year.
There's no reason he shouldn't be given regular starter minutes right off the bat.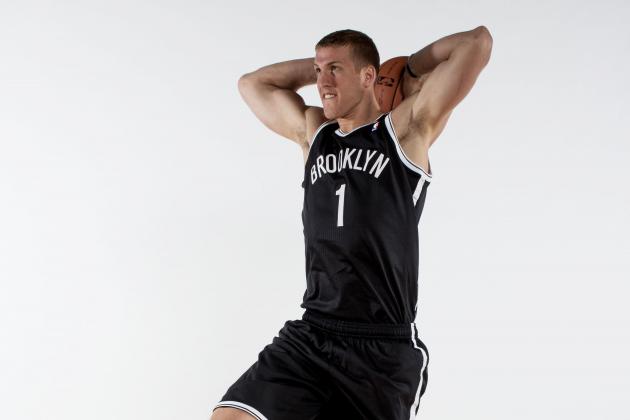 Nick Laham/Getty Images

Mason Plumlee might not see time to start the season, but take a look at Brooklyn's frontcourt. Between Kevin Garnett, Reggie Evans, Brook Lopez and Andray Blatche, Plumlee immediately becomes the Nets' most athletic big man on the team.
And with Garnett unlikely to play heavy minutes during the regular season, Evans' inability to play above the rim and Lopez's health concerns, I'm expecting Plumlee to play a bigger role than most people would think.
He may not be the scorer that his 17-point-per-game average as a senior suggests he is. Still, Plumlee's ability to clean the glass and make plays off the ball as a finisher are both coveted skills—especially coming from a true 7-footer.
I wouldn't count on Plumlee putting up many double-doubles, but he's one of the few rookie centers who projects to have a role on their respective team.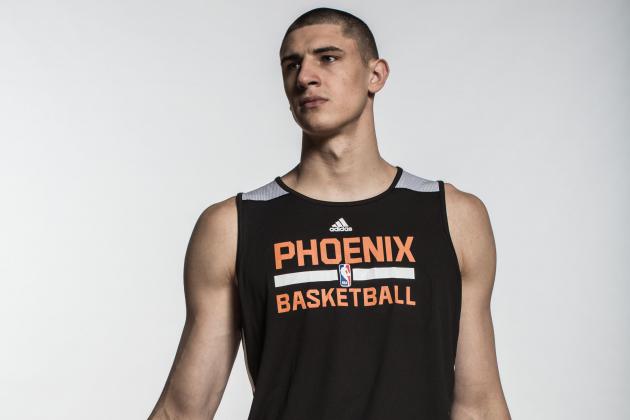 Nick Laham/Getty Images

Don't get too excited with regard to Alex Len's immediate future. There aren't many rookie centers in line for minutes in 2013-14. Guys like Steven Adams, Gorgui Dieng and Rudy Gobert are all D-League material, while we're not even sure when, and if, Nerlens Noel will play.
Alex Len should see time as Phoenix's backup center behind Marcin Gortat. And given that the Suns aren't exactly going anywhere, there's no reason not to find out what the kid can do.
At 7'1'', 255 pounds, size and mass will not be a problem. With a ball-dominant backcourt consisting of Goran Dragic and Eric Bledsoe, Len will have to convert on the few scoring opportunities that are likely to come his way.
He's got the mid-range touch and above-the-rim athleticism to finish the plays he's set up for, which is what puts him No. 2 in the 2013-14 rookie center rankings.
He is coming off surgeries on both ankles, but Len told Paul Coro of The Arizona Republic that he will be ready for the start of the regular season.
Streeter Lecka/Getty Images

Kelly Olynyk has made it look easy both in the West Coast Conference and the NBA Summer League, scoring in volume with consistency and efficiency.
He offsets a lack of athleticism and a weak max vertical (29.5'') with an incredibly high skill level for a true 7-footer. Olynyk is very clever with the ball and has a counter for every challenge.
Olynyk should be prepared for a heavy workload in a rebuilding year, and there's no sense in letting him learn from the bench. He'll get minutes right away, and if past history tells us anything, Olynyk shouldn't have a problem finding and converting open looks.
I'd give Olynyk the second-best shot at winning the Rookie of the Year award, right behind Victor Oladipo.