Chelsea vs Aston Villa: 6 Things We Learned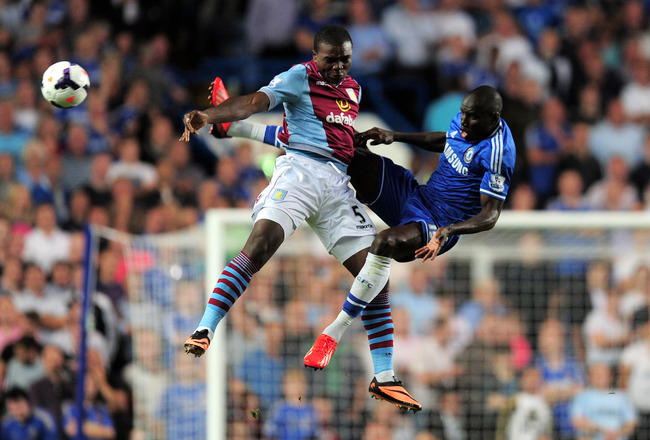 Jamie McDonald/Getty Images
Chelsea welcomed Aston Villa to Stamford Bridge for their second Premier League match of the season just three days after their 2-0 win over Hull City. The match had been brought forward from August 31 to allow for Chelsea's involvement in the UEFA Super Cup in Prague on August 30.
Villa were looking to avenge their last visit to Stamford Bridge that saw them suffer an 8-0 defeat just before Christmas in 2012. Paul Lambert's side were buoyed by their 3-1 win over Arsenal in the opening game of the season and refused to be intimidated by the Blues.
Chelsea's early breakthrough came via an own goal that Antonio Luna could do nothing to prevent, but Christian Benteke's leveller on the stroke of half-time changed the game.
The Blues were dominant in possession but struggled to find the breakthrough in the second half, until a Frank Lampard free kick found Branislav Ivanovic to give them a 2-1 win. The defender had been booked for a foul on Benteke that many thought deserved a red card, and there were plenty of shouts for a John Terry handball late in the game.
Still, Jose Mourinho's men hung on and were rewarded with all three points, putting them top of the table ahead of their crunch clash with Manchester United on Bank Holiday Monday.
Here are some important lessons learned from this hard-fought Chelsea win.
Statistics from Four Four Two StasZone app unless otherwise noted.
'Route 1' Football Is Alive and Well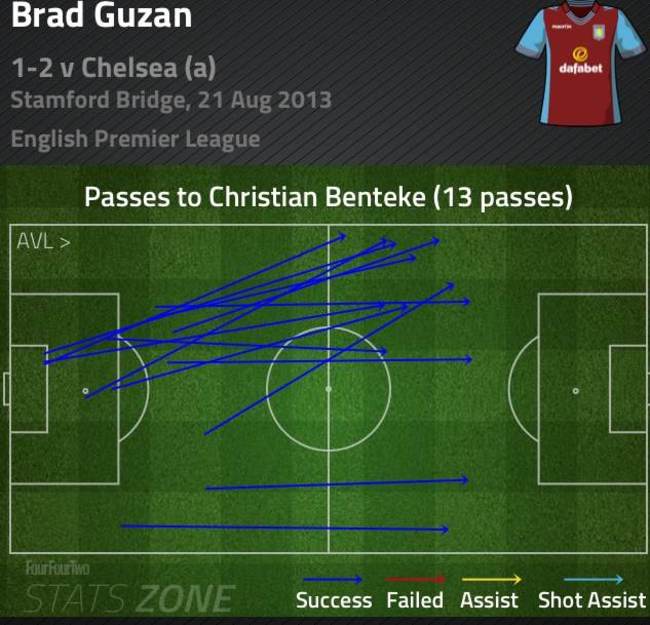 Scott Heavey/Getty Images
One of the main reasons for Chelsea's frustration despite their dominance in possession was Villa's effective use of the so called "route one" tactic. Brad Guzan made 13 successful passes to Christian Benteke throughout the game, bypassing the midfield entirely in search of a goal.
It worked on the stroke of half-time and caused problems for the Blues' back four all night. Although Villa only had 32.5 percent overall possession, the effective use of this tactic was key to their seven chances to score.
Eden Hazard and Oscar Are All-Round Players; Juan Mata Is Not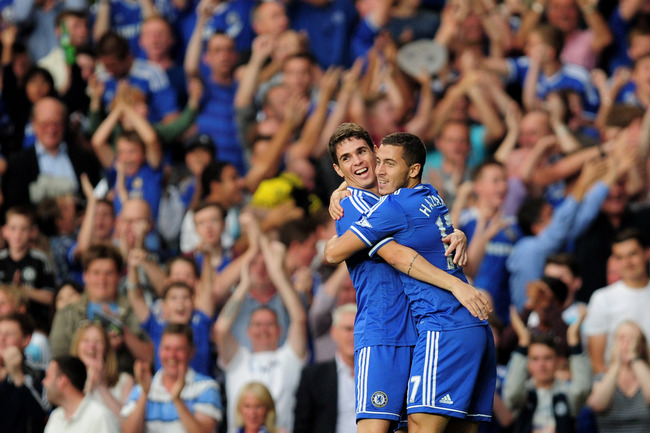 Jamie McDonald/Getty Images
According to a report from ESPN, Jose Mourinho has stated his aim to improve Eden Hazard's all-round game; from the look of things so far, it's paying dividends.
Hazard was here there and everywhere against Villa, and it was his shot that hit the unfortunate Luna on the way into the net for Chelsea's first goal. As well as the three chances he created, he recovered the ball seven times and made one successful clearance.

Oscar was already established as the most all-round amigo, and he performed superbly again. Although his two shots were off target, his passing accuracy was 89 percent. He also created two chances for his teammates and recovered the ball four times.

Juan Mata is returning from injury and was not at his magical best against Villa. Still, his passing was 96 percent accurate, and he chased the ball down three times.

Although he made a successful tackle, it is clear that Mata is not a defensively minded player. That is by no means a bad thing. Gianfranco Zola is a Chelsea legend, but even his managerial record suggests that his immense talents lie on the attacking side of the halfway line.

It makes the most sense for Mata to operate in the midfield and final thirds of the pitch as a roaming attacking threat. His two-footed crossing ability, speed and skills pose defenders all sorts of problems when he's fully fit, and although Mourinho likes his players to contribute across the park, he should let Mata do what he does best as an all-out attacker.
Mourinho's Men Never Say Die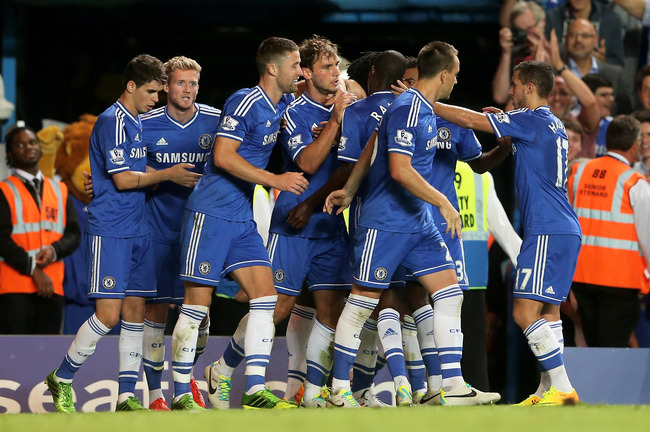 Scott Heavey/Getty Images
Mourinho's first Chelsea had a reputation for battling through to victories when all seemed lost. That never-say-die attitude was back in evidence against Villa as they struggled to break through the defence.

The Blues' 67.5 percent of the possession was often frustrated in the middle of the park, and the Villans' speed on the counter-attack caused problems for the back four. Were it not for their dogged determination and a healthy dose of good fortune, Chelsea would have had to settle for a draw.
All-Seater Stadia Are Strangling Traditional Support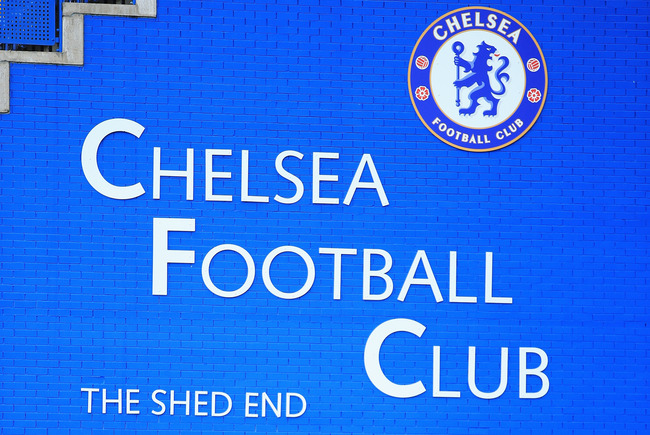 Richard Heathcote/Getty Images
Heated discussions between supporters and safety stewards are commonplace at grounds up and down the country. The standing-versus-seating debate is one that needs to be had at another time, but it is a natural fact that fans who want to vocally support their team will need to stand up to do so.

On a biological level, it's simple. You cannot expand your lungs to shout as loud when you're sitting down. A report from Sky Sports says Mourinho himself has made it clear that they need the fans backing, especially at Stamford Bridge.
When Chelsea were struggling to break through the Villa defence in the second half, the supporters were unable to fully get behind the team as stewards enforced the persistent standing regulations.

If Barclays are right and the fans are indeed football, why can a sensible dialogue not be held with the fans as to how they want to support their club?
If it's good enough for the Bundesliga, surely the men at the FA could make it work in the Premier League?


Romelu Lukaku Needs to Start Against Manchester United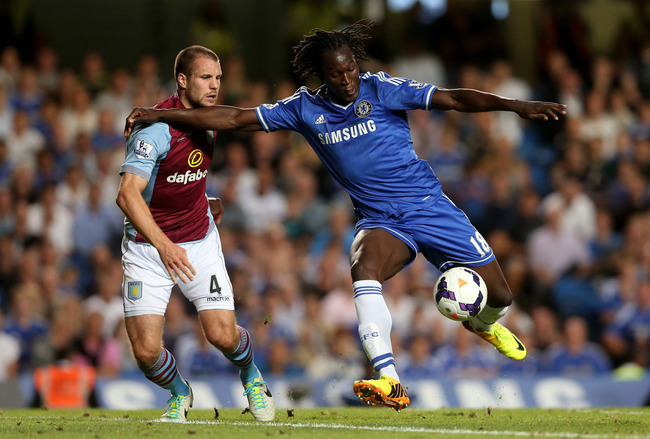 Scott Heavey/Getty Images
Demba Ba was preferred to Fernando Torres in the starting XI against Villa. Although he looked very eager to get involved, he was caught offside a worrying five times. He had one shot saved by Guzan, but his inability to beat the offside trap will be a cause for concern.

WhoScored recognises offside awareness as one of Romelu Lukaku's weaknesses from the 2012-13 season. However, he is much better at timing his runs than either Ba or Fernando Torres.

Lukaku's strength, power and pace suit Chelsea's style of play, and there should be no question over who starts against Manchester United. The Belgian spoiled Sir Alex Ferguson's final hurrah in the last match he played on loan at West Bromwich Albion by scoring a second-half hat-trick from the substitutes bench.

This will give him the belief that his fellow strikers are lacking, and that confidence will be all too necessary at Old Trafford.
Chelsea Still Need Another Striker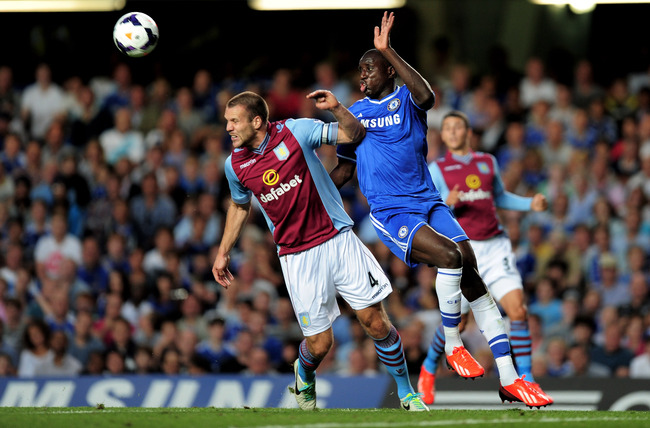 Jamie McDonald/Getty Images
Demba Ba's performance against Villa and Torres' against Hull show that Chelsea will rely on Lukaku heavily this season. If he gets injured, the Blues will need a solid backup to avoid the over-reliance on their midfield trio that characterised last season.

A report by James Dickenson in the Express claims that Jose Mourinho has said he doesn't want to play games by unsettling Wayne Rooney any further before the Blues travel to Old Trafford. With United refusing to sell up until this point, Mourinho will need to ensure that the "plans B and C" he mentioned to BBC Sport are surefire deals or risk making his first few months in the job far more difficult than they need to be.
Keep Reading

Chelsea: Like this team?