Dallas Cowboys' Biggest Preseason Disappointments so Far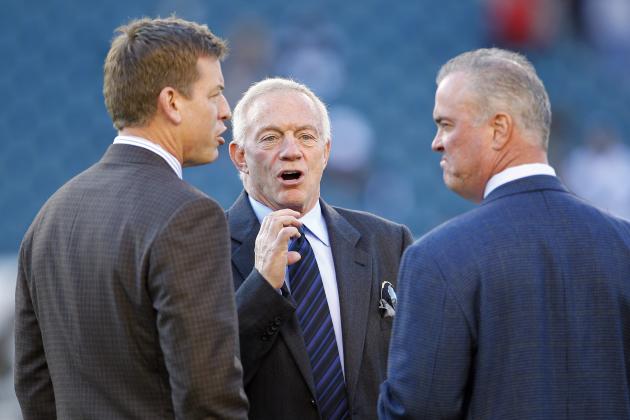 Rich Schultz/Getty Images

The Cowboys are getting even closer to their season-opening matchup against the New York Giants, and the anticipation is starting to build up to monumental levels. Two disappointing seasons of finishing 8-8 and two consecutive winner-take-all defeats to division rivals have a fan base that is starving for a winner.
This franchise spent time this offseason retooling the coaching staff, switching philosophies, adopting new schemes and adding some new faces in order to achieve success. But is it enough to match the sustained success of some of their most bitter rivals and immediate competition?
Every team probably feels the want or need to add some more pieces to their puzzles, but it's time to dance with the date you showed up with. For the Cowboys, getting through the rest of this preseason schedule without more injuries would be a victory in and of itself.
Most of the roster is starting to mold itself into what was reasonably expected to be along with a few pleasant surprises. But what about the disappointments, the anticipation of having that players-to-watch list fall short of expectations and simply failing to see certain players never get on the field?
The Cowboys have certainly had their share of this feeling of disappointment and so have 31 other franchises. It's hard to isolate them all but we have to identify the biggest ones.
Let's take a look.
Begin Slideshow

»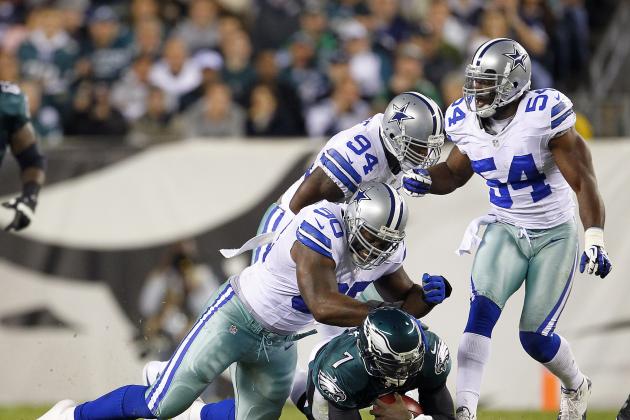 Rich Schultz/Getty Images

You hate to pick on a player when they've suffered injuries, but at what point does the issue of durability and the cumulative effects of wear and tear start to creep in? Last season was a disaster for Jay Ratliff and maybe all those years of being an undersized nose tackle have finally caught up to him.
His current hamstring injury has left him, well, quite hamstrung, and he has yet to participate in any sort of practicing, let alone play in any preseason games. The Cowboys did not address the defensive line in free agency, they passed on Sharrif Floyd and will be relying on Ratliff to perform in 2013.
A big key in Monte Kiffin's 4-3 scheme is the ability of the defensive line to attack the gaps, be disruptive and stop the run. Ratliff, when healthy, is someone who plays with great leverage and he is explosive and strong off the ball.
In a one-gap system Ratliff is likely to flourish because his size is better suited to the scheme and the simplicity that it carries with it. But Ratliff's inability to stay on the field raises even more concerns about his ability to play all 16 games and why the Cowboys didn't pursue any other options.
There is never a substitute for live game action and the events that can unfold on any given play, and that's what is hurting Ratliff now. Will he suit up on opening night? Will he face limited reps? Is his body ready to sustain a full season?
These are the questions we will be waiting on for the answers, and that is very disappointing.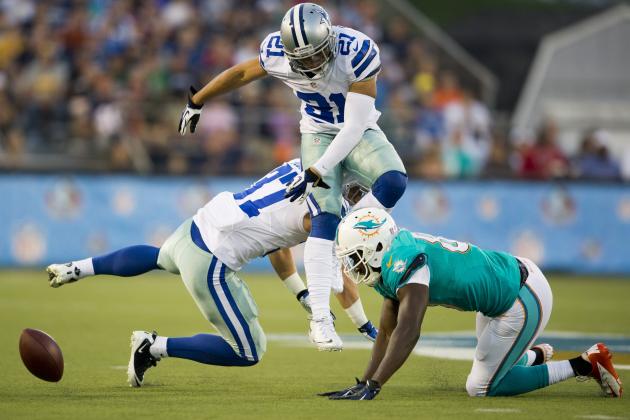 Jason Miller/Getty Images

I think every Cowboys fan wants to see Matt Johnson succeed, but this is either a classic case of bad luck or it could be time to cut ties. On the surface, Johnson has all the tools to be a successful player; he was a huge playmaker in college and he seemed like a good fit for this team.
But a redshirt rookie season, followed by his most recent setback, really put his status with this team in danger. Again, it is hard to be critical of a player in a violent sport, but even Jason Garrett is questioning his durability.
Johnson is either going to emerge a better player from all of this when he is healthy or this is another Justin Beriault. The problem is whether time has run out on him or not. Some factors to consider with Johnson is that he does have upside, great instincts, a nose for the ball and a throwback style of play.
He has a lot of traits that make him a nice fit for this scheme, but he has got to get on the field and display those qualities.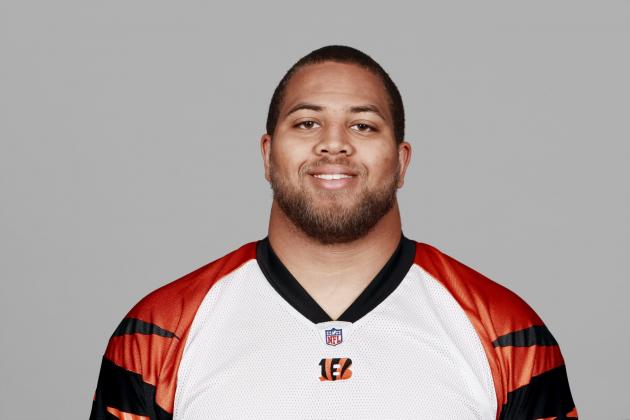 Getty Images/Getty Images

The disappointment meter for Nate Livings probably hit epic levels when it was announced that he would be needing a second surgery on his troublesome knee. Last season's free agent acquisition has been an all-around disappointment due to his inconsistent play.
The Cowboys have been hit hard by the injury bug at guard and his inability to stay healthy just causes further complications and more shuffling of the deck. With guard being such an area of concern and need for this team, it's hard to establish any continuity along the interior line.
What further complicates matters is that if the Cowboys do cut Livings, it would cost this team $2.4 million against the cap. So while his fate with this team doesn't entirely rest on how the balance sheet looks, it certainly is a factor.
All Livings is doing is leaving the door wide open for his successor.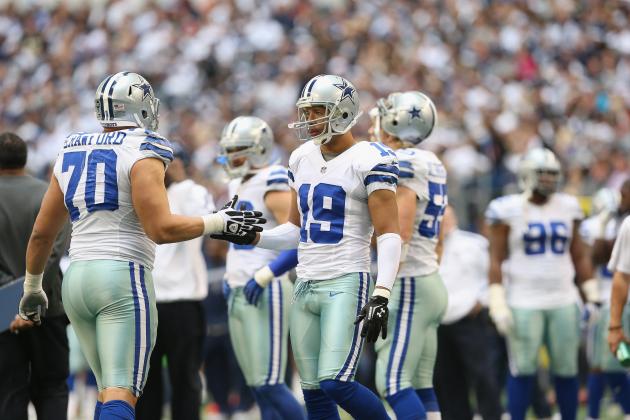 Ronald Martinez/Getty Images

Probably one of the biggest disappointments of the entire camp, and up until now, is the loss of Tyrone Crawford to an Achilles tear. It's hard to say what his final production would have been at the end of the season, but this was going to be a crucial year in his development.
With Anthony Spencer and Jason Hatcher all but gone after the season, the logic here was that Crawford was priming for a role next year while earning significant snaps this year. He has the ability to play both inside and at the end position, and that versatility is what will be missed this season.
But he is a young player and he will bounce back and eventually do big things for this football team. It would've been nice to get solid production and a source of depth from last year's third-round pick and continue the solid production from recent drafts.
We will just have to wait.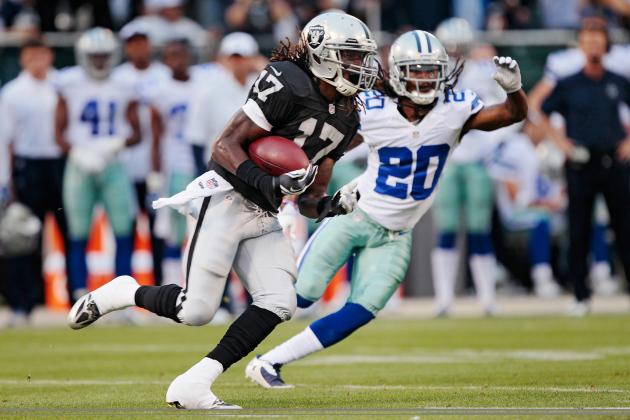 Brian Bahr/Getty Images

Most fourth-round picks aren't expected to make huge impacts on NFL rosters, but embracing the fundamentals and not becoming huge liabilities are requirements. Webb did feel some of Jason Garrett's anger after muffing a punt in the Oakland Raiders game and he should now know what is expected of him.
In the Arizona game he ran away from a few punts and almost looked like he wanted no part on another one. At times he has looked lost in coverage and he took some bad angles on more than a few tackles. This is no time for panic but to even think he is close to taking snaps away from Orlando Scandrick is crazy.
Many feel the Cowboys drafted him more for next year and Scandrick's imminent departure, but this rookie has a long way to go. He does have two more preseason games to improve his standing and I, for one, will be watching closely.
You can never have enough good cornerbacks on an NFL roster, and watching young ones develop into solid contributors is vital to a team's success. Webb is no different.