Tiger Woods at the Barclays 2013 Tracker: Day 1 Score, Highlights and Analysis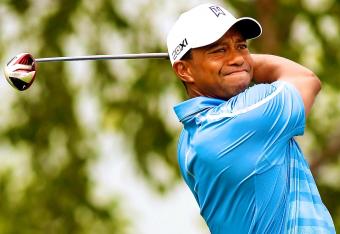 Tiger Woods came into the first round of The Barclays hoping to put his imprint on the first FedEx Cup playoff tournament.
Tiger plays best when he either has or is close to the lead. So far, so good. While Tiger's round was delayed twice by rain, he came through with a four-under-par 67 in the first round.
Although he's not in the lead, he's close enough to the leaders that it looks like he should be a factor throughout the weekend.
Tiger was accurate throughout the majority of his round at Liberty National Golf Course in Jersey City, N.J.
You know Tiger, he can clean up his messes. He gets out of the thick stuff and he will have a par putt from six feet. It was a tough one, but he ran it slowly to the right edge and it dropped. Tiger finishes his round at four-under par.
After waiting for the green to clear, Tiger pulls his second shot into the thick rough. He will have to do some excellent scrambling to get up and down for his par.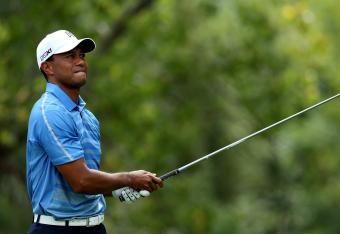 Screaming drive on the par-4, 474-yard ninth hole. Stinger down the middle, just where he wants it.
Tiger needs to improve on the par-5 holes in the second round tomorrow.
Tiger fails to birdie any of the par 5s after narrow miss on 8 but is still -4 and tied for 7th @TheBarclaysGolf

— Robert Lusetich (@RobertLusetich) August 22, 2013
The birdie putt on 17 just misses. It looked like it was in most of the way, but at the last minute it slides by.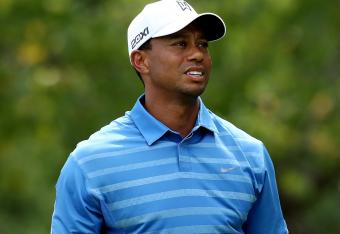 Tiger will have a birdie putt at 17 after his wedge hit within eight feet of the hole. However, that shot rolled back and he appears to have 16 feet on this birdie attempt.
Throughout most of this round, Tiger has worn the expression of man who is exasperated with himself. That's because he's not satisfied with four birdies and 12 pars. He wants 12 birdies and four pars.
One-time phenom Rory McIlroy has his ups and downs in the first round.
3 double bogeys, an eagle & 4 birdies for Rory McIlroy today. A ride similar to his rollercoaster 2013.

— Kelly Tilghman (@KellyTilghmanGC) August 22, 2013
On the monster 611-yard, par-5 17th hole, Tiger takes a mighty whack and blasts the ball, but he can't keep it in the fairway.
Tiger has the right line as he goes for the birdie on No. 7, but he has too much speed. He goes four feet beyond the hole.
The par putt is uphill, and he bangs it home the par without any trouble.
Camilo Villegs currently -8 through 13. Four times he's opened w/ 65 or better this year. Best finish T48 and once went first to MC.

— Brian Wacker (@pgatour_brianw) August 22, 2013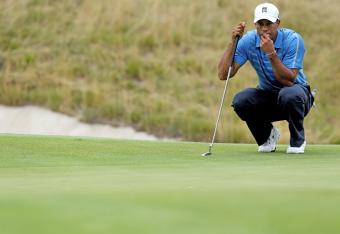 Tiger knocks his second shot on the green. He's perfect for distance, but the direction is just a tad off. He's going to have about 20 feet for a birdie putt that would get him to five-under-par.
Tiger unleashed his best drive of the day on the par-4, 467-yard seventh hole. Not only was it a monster in terms of distance, it was right down the middle.
Hit driver at 7 and he liked it

— GC Tiger Tracker (@GCTigerTracker) August 22, 2013
Tiger's approach shot came up a bit short of the green, but he still had a chance to putt for the birdie. He played a left-to-right break, and it didn't move enough. He has to settle for a par, which he tapped in without a problem. Still, he expected much better than a par on the par-5 sixth hole.
Tiger stripes power draws on range. But on course he sets up for cut and it's often too far right. As in, now. F'way bunker on birdie hole 6

— Robert Lusetich (@RobertLusetich) August 22, 2013
The par-5 sixth should be his kind of hole. He bombs his driver but it ends up in the bunker.
Hits driver at the par-5 sixth, asks for it to get down. And it does.

— GC Tiger Tracker (@GCTigerTracker) August 22, 2013
The birdie putt slides left. Tiger went for it aggressively, but the putt broke more to the left than he was expecting. Woods was left with a testing par putt, and he makes no mistake with it. You guessed it, dead center of the cup once again.
Tiger grimaced after his second shot on the fifth hole because he was unhappy with his direction. His shot ended up hole high, but it's 22 feet from the flag. He wanted to get his ball 10 feet of less from the hole.
Where's Will Ferrell when you need him?
Perfectly struck 3-wood down the center of FW ... Fan aptly yells "You're my boy, blue!"

— GC Tiger Tracker (@GCTigerTracker) August 22, 2013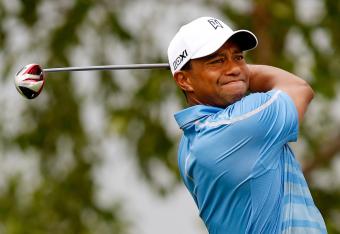 The 427-yard par-4, and Tiger bombs his drive down the middle. He's got that confident swagger again, the kind that he's had in so many non-major tournaments.
Tiger got to study Snedeker's and Kuchar's birdie attempts, and the lesson did him well. He rolled a 10-foot birdie putt dead center, and now Tiger is four-under-par for the opening round.
A stellar tee shot at the par-three fourth hole.
Hits another, what's that word...right, pure iron at the par 3 4th. Looking at roughly 15 ft for birdie

— GC Tiger Tracker (@GCTigerTracker) August 22, 2013
Tiger rolled the ball nicely up the ridge, so he should be able to make his six-foot par putt. That's because he's Tiger, and he rolled it confidently in the center of the cup.
Beautiful shot of Tiger putting with the New York skyline in the background.
After a perfect drive on No. 3—he used his 3-wood—Tiger's wedge was errant. It landed on the left side of the green and rolled down an incline. That means he's almost certainly going for a par once again.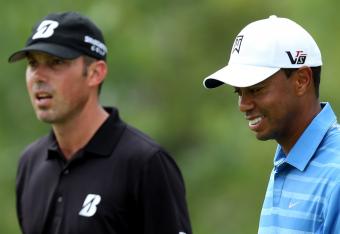 Much of the talk about Tiger's game and why he's no longer winning majors centers on the loss of the intimidation factor. You might have seen it on the last hole as Tiger grew more intense, while Matt Kuchar seemed to get looser. Kuchar has now birdied two straight holes while Tiger has four consecutive pars.
This article is
What is the duplicate article?
Why is this article offensive?
Where is this article plagiarized from?
Why is this article poorly edited?